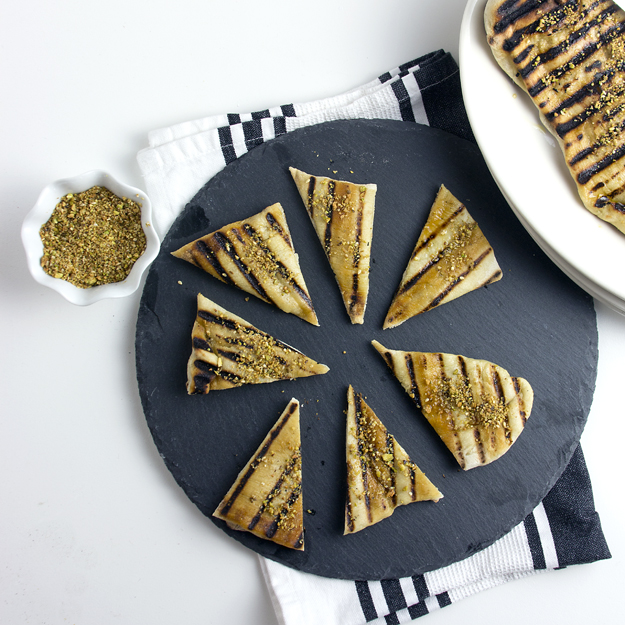 Aside from baking challah every week, it's been way too long since I've had any fun with yeast. I have really missed that culinary alchemy that happens when you combine flour, water, salt and yeast. I decided to take it outside and grill some flatbread.
This is a gorgeous dough that comes together in the food processor in about 2 minutes flat.  Made with bread flour and just a touch of nutty whole wheat flour, this dough is super hydrated with water and olive oil. A wet dough is how you achieve, what bread freaks call, an "open crumb structure". That just means that the inside of the grilled flatbread has those airy bubbles, that make it so chewy and delicious to eat.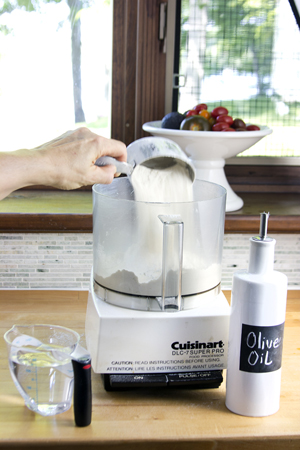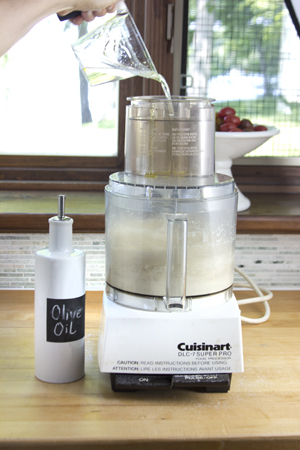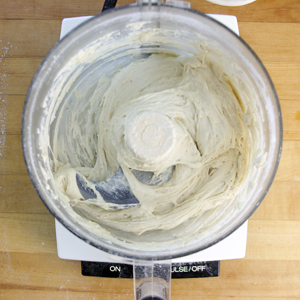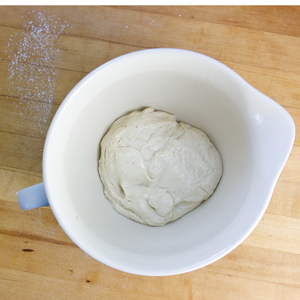 I will admit it takes a leap of faith to put this thin super stretchy dough onto the BBQ and not be riddled with anxiety that it will fall right through the grill. But, miraculously, it doesn't. In about 4 minutes the flatbread is charred to perfection. I like to brush it with a really fruity olive oil as soon as it comes off the grill and then sprinkle it with Dukkah.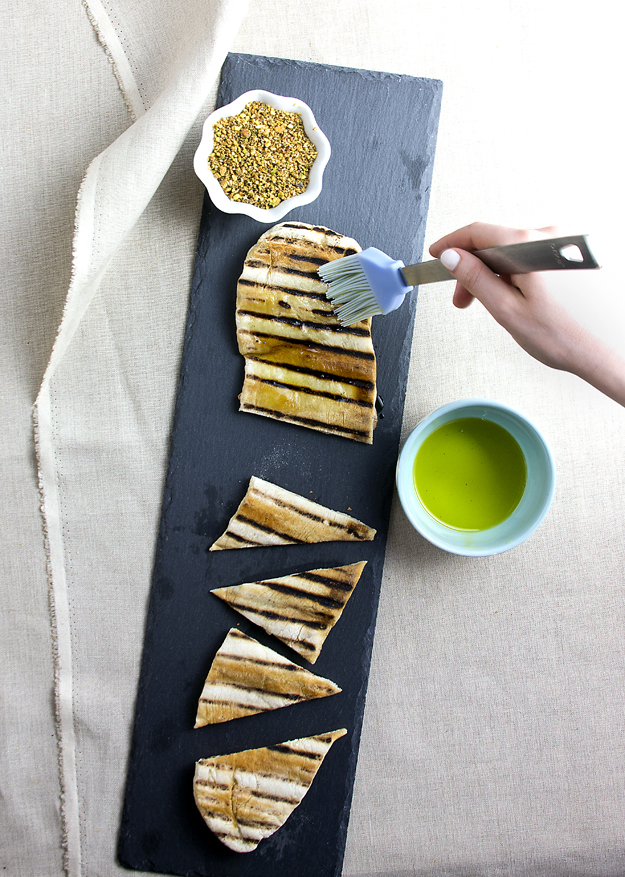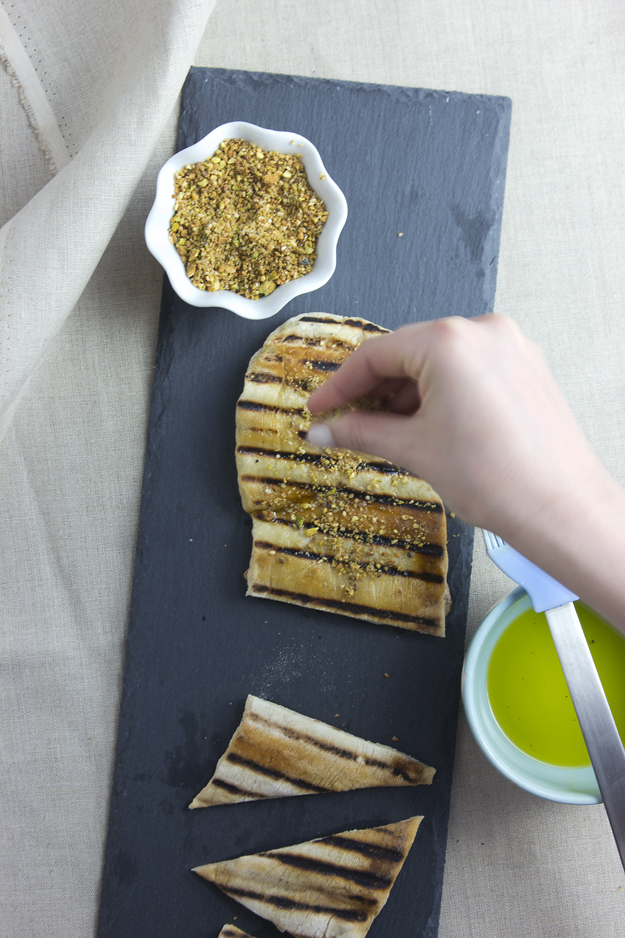 Dukkah is a Middle Eastern nut and spice mix. The first time I had it was at Mahane Yehuda Market  (The Shuk) in Jerusalem. Vendors there sell small paper cones filled with dukkah, along with strips of grilled pita bread.  You dip the bread into the vendor's bowl of olive oil, dunk it into the cone of dukkah and then joyfully crunch and munch your way to a very happy place.

The name dukkah originates from the Egyptian word "dakka," which means "to crush," which is what you do to many of the ingredients that go into the mix. There really is no classic recipe for dukkah. Just follow the basic ratio of 1 cup nuts: 1/2 cup sesame seeds: 4 tablespoons spices: 1 teaspoon kosher salt.

I settled on a combo of hazelnuts, pine nuts, pistachios, sesame seeds, cumin and coriander seeds and salt. Go wild and create your own custom Dukkah mix. Peanuts or macadamia nuts would be fantastic. Fennel or caraway seeds would add a really unique flavour.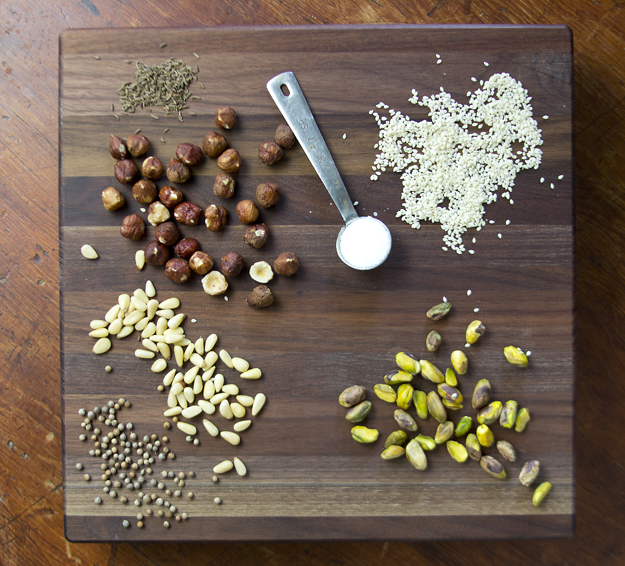 When I am having family or good friends over, it is great fun to watch them greedily dip the warm chewy charred bread into fruity olive oil and then into the bowl of dukkah. Double dipping almost always ensues as this mix has all the hallmarks of an outstanding snack; crunchy, spicy and just a little bit salty.
And hey, if you decide not to make your own flatbread and just buy some pita bread to serve with the dukkah, I won't judge. One of my very best friends called me after reading my post about Lemon Poppy Seed Baby Bundts to tell me that she was going to buy a few of of those adorable mini bunt pans and fill them with Duncan Hines Lemon Poppy Seed Cake mix!