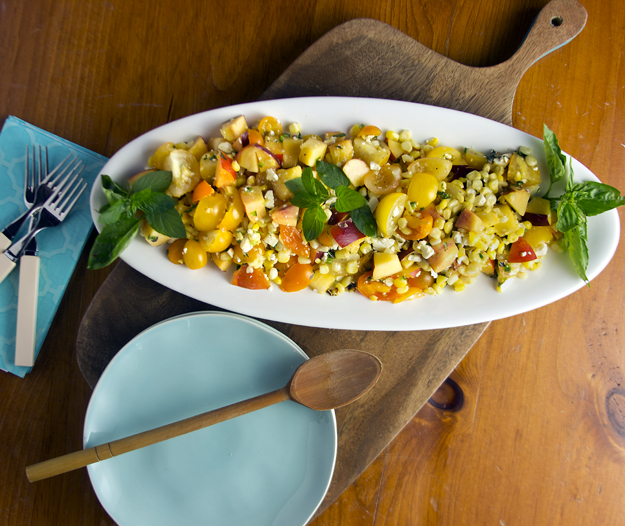 Had I presented this salad to Mr. Langley, my former culinary school instructor, I would have miserably failed the assignment. His mantra of "Balance, in colour, texture, size and shape" plays in the soundtrack of my memories, right before Stacy and Clinton's "Colour, texture, pattern and shine!" (Anyone else mourning the end of WNTW, as much as me?) This all yellow salad would not have pleased him. Thankfully, I'm not in Culinary School anymore and I just cook to please myself. This sunny summer salad pleased my daughter and I greatly!
We were rummaging around in the kitchen trying to figure out what to make for lunch last week. I suggested our usual standby; tomato, watermelon and feta salad but we had no watermelon. We did have some gorgeous ripe nectarines, with wildly blushing skin and flesh reminiscent of goldenrods. They got chopped up, along side some tiny sun gold tomatoes and some mini yellow pear tomatoes. Of course I sautéed some corn (fresh corn goes into every salad I make in the summer!) We diced up some feta cheese and chopped up some fresh basil and mint for brightness.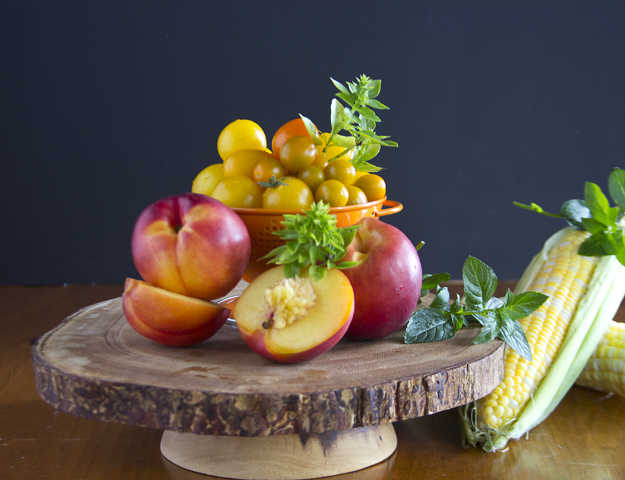 The sweet crunch of the sautéed corn played so well next to the creamy salty tang of the feta. Mildly acidic tomatoes balanced the lushly sweet nectarines. Harmony in every bite, despite the  monochromatic ingredients. I think if we blindfolded Mr. Langley and gave him a taste, he would give this salad an A+.