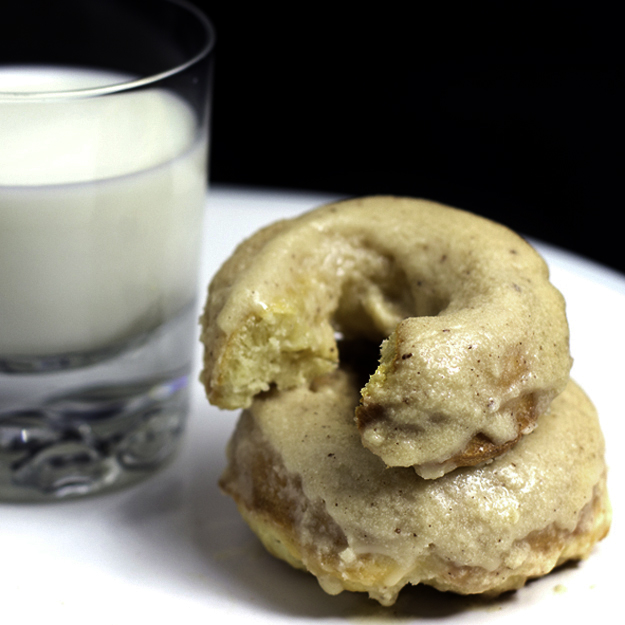 Sometimes, when I'm in the shower, belting out "My Man" from Funny Girl, there's a little voice inside my head that tells me I could be Barbra's vocal doppelgänger. But then the steam in the bathroom clears and I realize that, no, I can't sing like Barbra Streisand. But that's ok, because you know what I can do? I can bake donuts.
Yes, I said bake donuts, not fry. Who even knew such a thing was possible? Well, as it turns out, lots of people, particularly two of my favourite bloggers, Joy over at joythe baker, created Apple Cinnamon Baked Donuts with Brown Butter Glaze and Naomi over at bakersroyale crafted Baked Apple Donuts with Caramel Drizzle. 
Before I knew it, that bossy little voice in my head, ordered me to go online and get these baked donut pans from Amazon. Never mind that I had recently declared a moratorium on online shopping after my girlfriend Paula whispered to me that she was going cold turkey, especially with shoes. She sensibly pointed out "We only have two feet you know. How many pairs could we possibly wear?" The little voice in my head agreed with her and said, "Yeah, no more online shopping for me anymore either." However, in my defense, I will say that these pans are way cheaper than my current shoe crush.
The big question was, should I make the yeast style donuts that Naomi crafted or the cake style ones that Joy featured? The Cake vs. Yeast Donut debate can get almost as heated as the New York vs. Montreal Style Bagel debate. Apparently, people are very passionate about their foods with holes in the middle.
Yeast style donuts rely on yeast to do the leavening work. They have a more open crumb structure and a chewier texture. Cake donuts, on the other hand, rely on baking powder and/or baking soda to do the heavy lifting. They result in a donut with a tighter crumb structure, and are denser and more crumbly than yeast donuts. Unable to decide which ones to try, I ended up making both. That way you don't have to. You're welcome!
Truthfully, I have no business making any variety of donut this week as there are more pressing matters at hand. Instead of baking donuts, I should be reading Chapter 12 in my Canadian Securities textbook, clearing all the food photography props off my dining room table so I can set it for the Rosh Hashanah lunch I am hosting later this week for 21 people, and watching the season premiere of Big Bang Theory.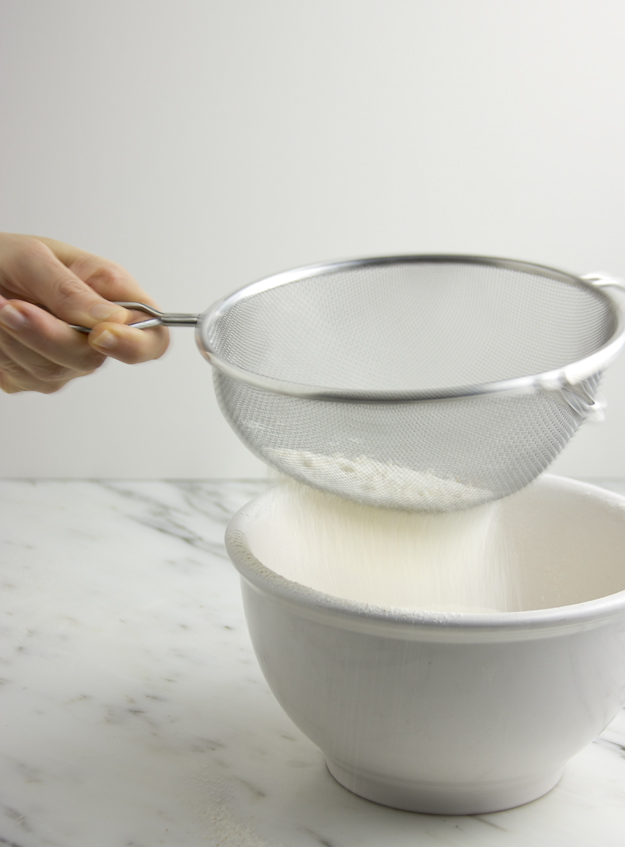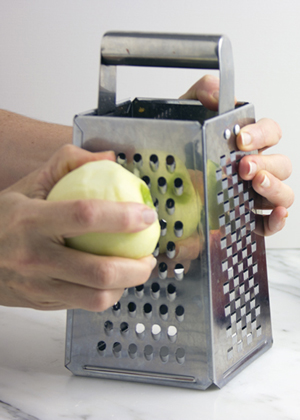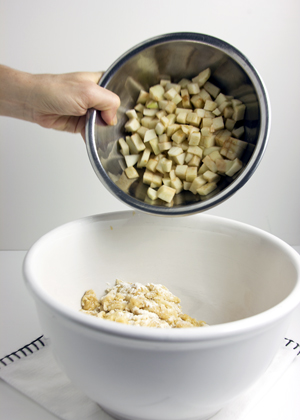 The cake donut batter is quite loose and can be piped. The yeast donut batter needs to be formed by hand. They are really fun to make.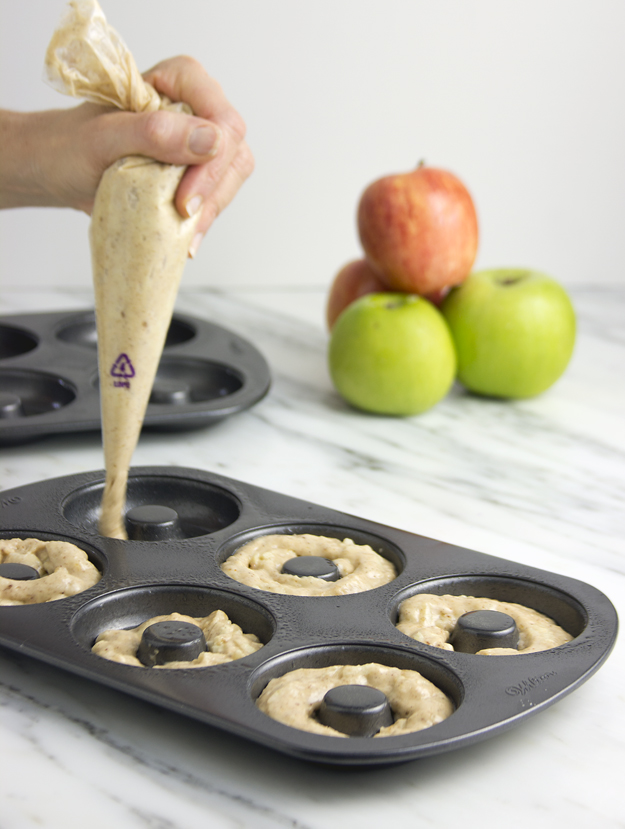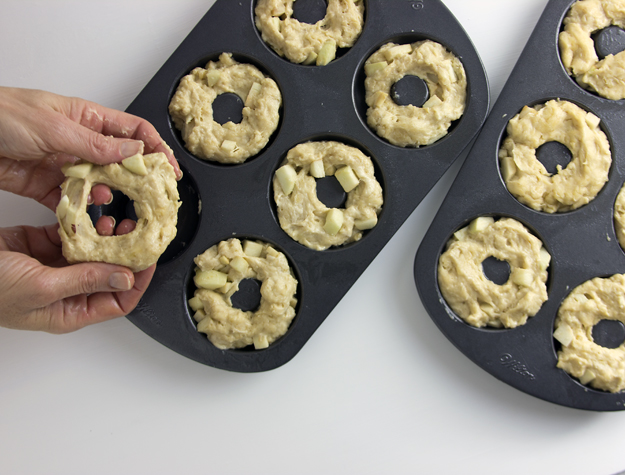 Both varieties were delicious. My friends at yoga inhaled (deeply!) the cake variety and the staff at my hair salon quickly gobbled up the yeast ones. My personal preference was for the yeast donuts. I really liked the chewy heft of the dough. The yeast ones do take longer to make, but it is not hands on time, just dough resting time.
I adapted Naomi's recipe by adding cinnamon, ginger and nutmeg to the dough and instead of topping them with a caramel drizzle, I crowned them with a Maple Brown Butter Glaze. You can either chop or grate the apples. If you chop them, you end up with little bits of apple poking out from the dough and they look quite rustic. I love it when my baking looks like it didn't come out of a factory, but rather was made with love in my kitchen. If you prefer a tidier donut, grate the apples so they remain inside the dough.
The topping for the donuts can be made quite thick, so it needs to be spooned on or spread, or thin so you can dip them like a glaze. The main difference is the amount of liquid, in this case, maple syrup, that you add. The other liquid ingredient in the glaze is brown butter. This is a small extra step that makes a huge difference in flavour. If you have never made brown butter, give it a try. It is as simple as melting butter over medium heat until it browns. The nutty aroma and taste will astound you and you will soon be browning butter for everything. One of my favourite restaurants here in Ottawa makes brown butter and then lets it solidify, whips it and serves it with their house made bread. Genius!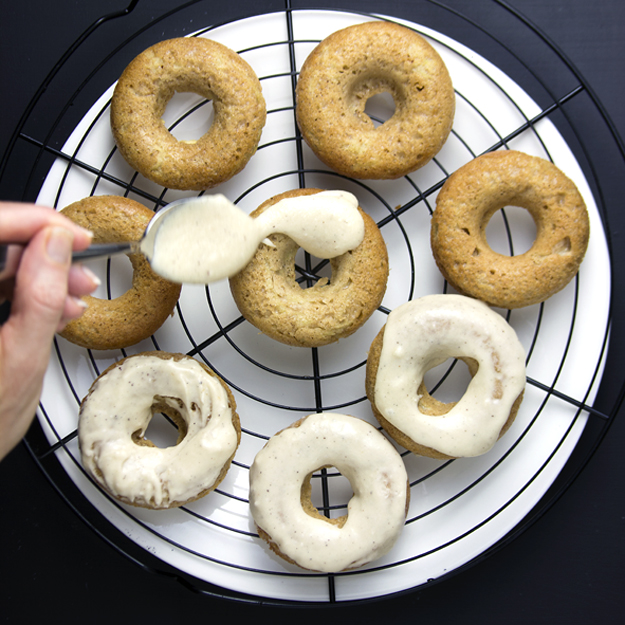 I don't want to say goodbye to the summer, but Baked Apple Spice Donuts make saying hello to fall very sweet indeed.