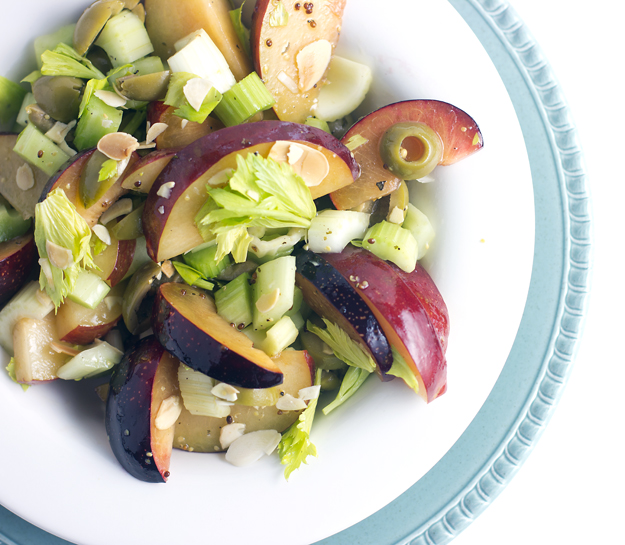 If you are anything at all like me, then there's a pretty good chance that even though there's not much to eat in your home, and you are in desperate need of a trip to the grocery store, there are always some olives and a few stalks of celery, albeit, a little limp and bendy, in your fridge. So you would be forgiven if the title of this post has you believing that this is one of those, "Clean out the Fridge" deals.
That is precisely what my husband thought when he discovered this salad on our dinner table last night. Au contraire, my dear husband. Although this salad does contain said limp celery and the dregs of the olive container, it is actually one of the most delicious flavour combinations I have come across in quite a while. Thanks to Chef Bonnie Reichert, for this inspired combo.
Instead of using plums in this salad, as in Bonnie's original recipe, I substituted my fruit crush of the month, Plumcots. Can we just talk about plumcots for a minute please? A super sweet cross between a plum and an apricot, plumcots (sometimes called pluots) are consistently delicious. The sweet apricot cancels out any hints of sourness from the traditional plum. Plumcots are available June through late-October and each variety is only available for a few weeks. Seek them out. You will thank me later!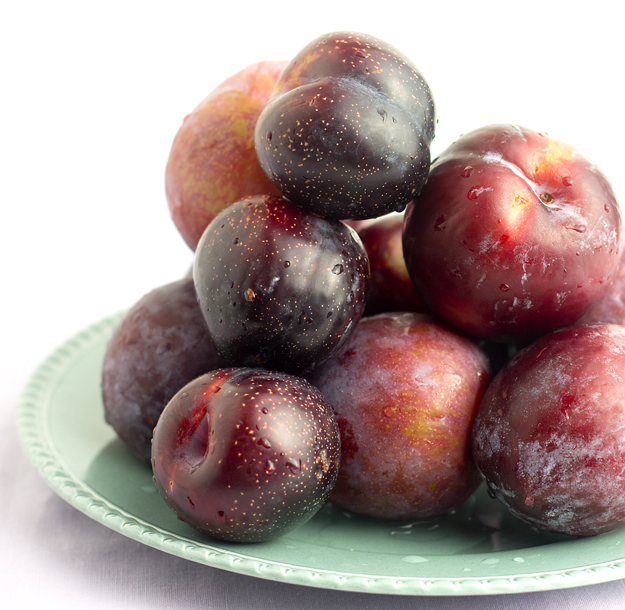 Sweet juicy plumcots and fat salty green olives make such excellent playmates in the bowl. The crunch from the celery stalks add a very welcome crispness to this salad. The tender celery leaves, from the heart of the celery, which most people sadly discard, are chopped up and added to the salad and provide a lively hit of pale green freshness.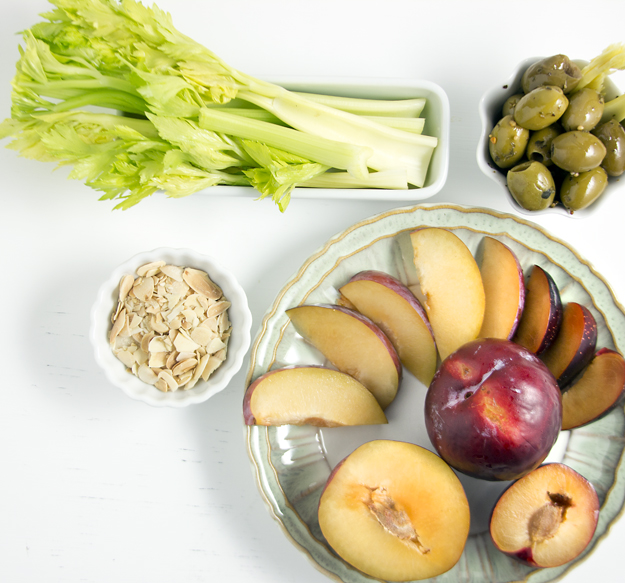 A simple vinaigrette, boosted by a dash of grainy mustard and dollop of sweet honey, make all the flavours of this salad start to hum. Toasted sliced almonds, scattered over top make this salad literally sing. Cleaning out your fridge has never been this delicious.