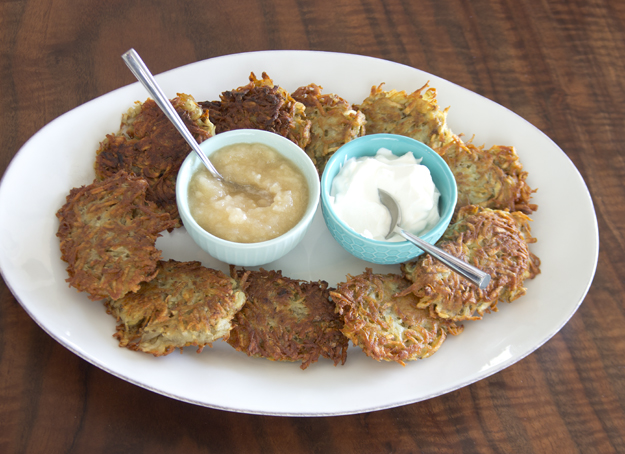 I realize that Chanukah ended last week and I'm a little late to the party, but you may forgive me when you find out that I am sharing the ultimate latke recipe with you. So, if you only make latkes once a year, do yourself a favour and bookmark these for next December. You will thank me!
The first time I posted about potato latkes on this blog Taylor Swift was dating  Jake Gyllenhaal. The second time, a month later, Taylor and Jake were still being spotted canoodling in public.  The third time I posted about latkes, Taylor was keeping company with Harry Styles. My final latke posting was last November and Taylor was trying to make Harry Styles jealous by stepping out with Douglas Booth.
From the above paragraph you might conclude that: a) For a woman over the age of 50, I have an inappropriate fascination with Taylor Swift. (Sadly true!), and, b) I also have an unhealthy love of potato latkes (also, sadly true).
I used to believe that I had the very best latke recipe. And then I tried the Cook's Illustrated version and discovered that I was wrong! These latkes were light, not at all heavy or greasy. The outer crust was crunchy to the point of almost shatteringly crisp and insides were creamy, tender and pillowy soft. These are everything that all self respecting latkes aspire to be.
Leave it to Cook's Illustrated to crack the code and perfect the latke.  A typical tuber contains 80% water by weight! The secret, it seems, is to rid the potato of as much of it's water content as possible. This means a little extra work to squeeze out all the moisture that potatoes exude, but trust me, the effort is worth it.
Russet potatoes are the best variety to use. Grating them by hand on a box grater will give you the best texture. Just scrub the potatoes. No need to even peel the potatoes, just scrub well.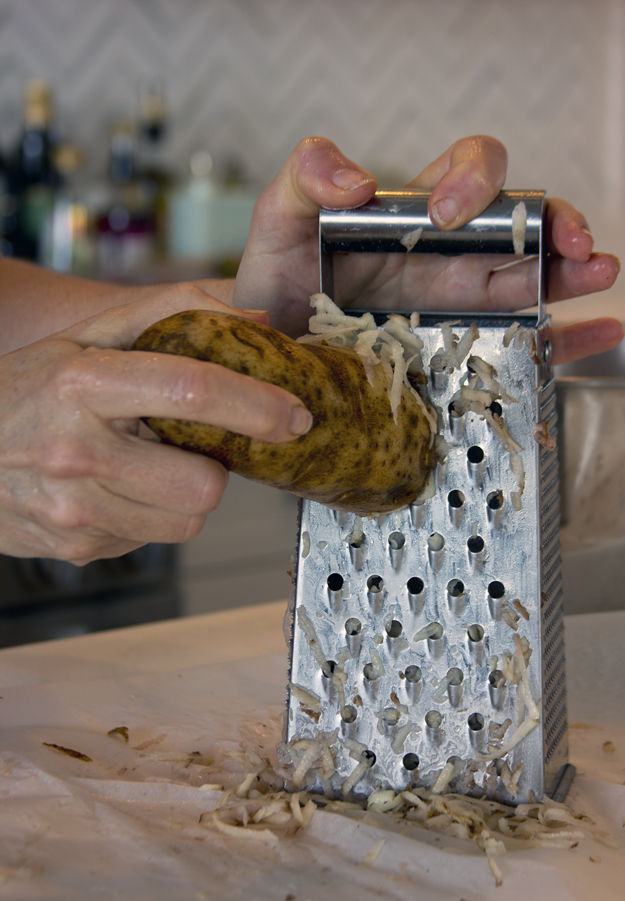 The grated potatoes are mixed with a small grated onion and some salt. The mixture is transferred to a tea towel and all the moisture is wrung out. Let the drained liquid sit for 5 minutes and all the potato starch will sink to the bottom of the bowl. Drain off the liquid and save the starch. This starch is what will hold your latkes together. No need to add any additional flour or matzoh meal.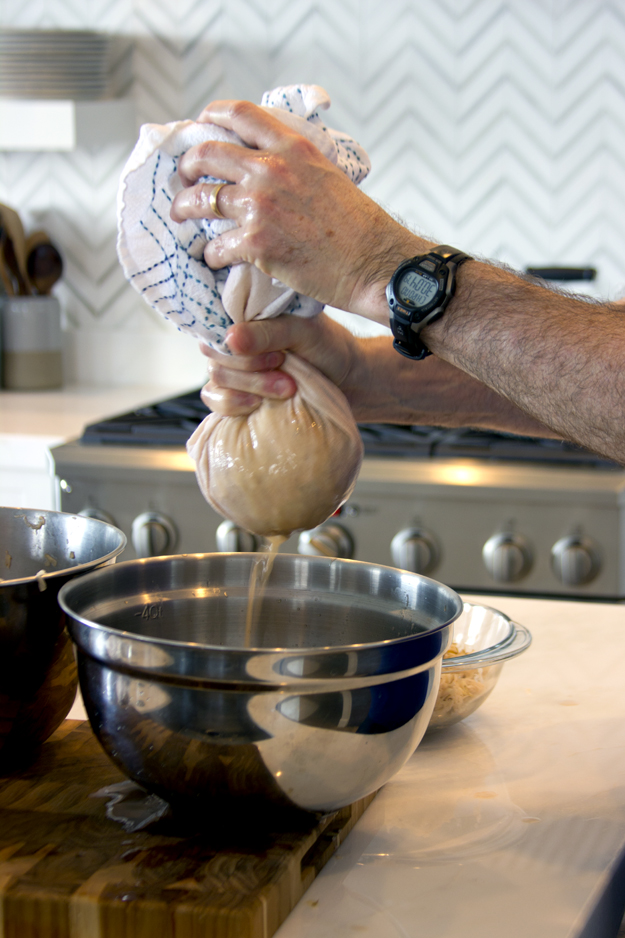 The potato mixture gets heated in the microwave for 2 minutes. This allows the potatoes to release even more moisture and assists in making the latkes crispier and prevents them from becoming greasy by absorbing too much oil.