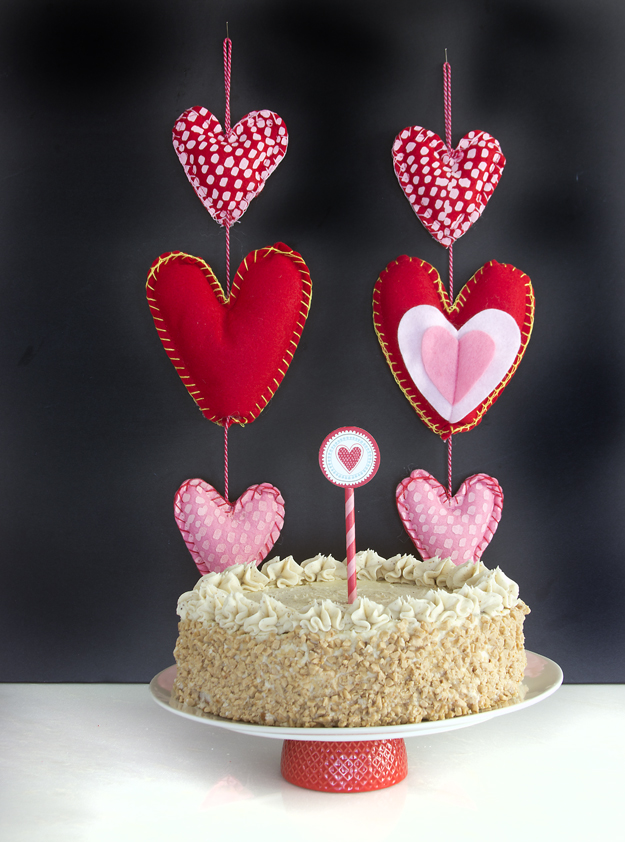 In your teens and early twenties, love often resembles the flu. No appetite, sleepless nights, trouble concentrating at work, dizzy and lightheaded. No doubt about it, this is love. However, love begins to look very different once you have been in a relationship for a while. As someone who has 30 years of marriage (to the same man!) under her belt, I speak from experience.
Here's what love looks like after all those years. My husband and I share not only an office but the same desk. It's one of those partner desks where we sit across from each other. Last week we were both hard at work when he looked up at me and asked me if I was almost done. When I inquired why he was asking, he told me he needed a break and really wanted to eat his apple. He knows that I suffer from Misophonia. Hearing him crunch and chew his way through an apple literally sends me into a rage. How sweet that he wanted to check that my work was done so that one of us could leave the room while the other one enjoyed his snack.  That's why I love this man.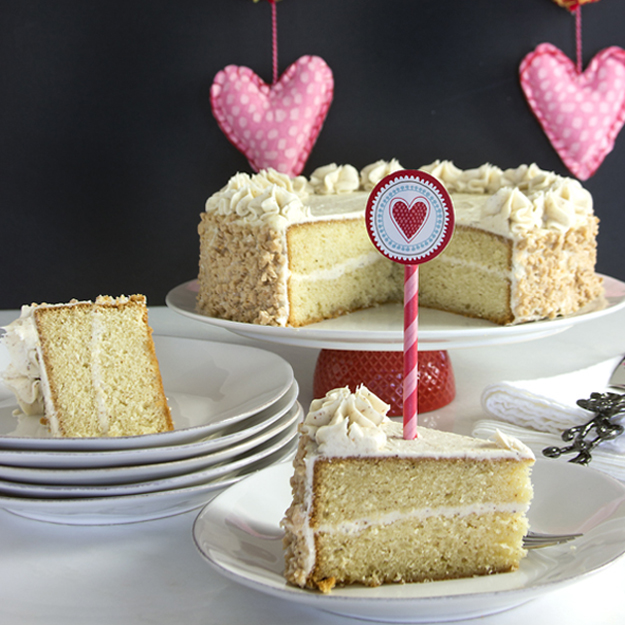 This is a very special cake to make for someone who really understands and loves you. Both the cake batter and the frosting call for brown butter. If you have never had brown butter before, you are in for a treat. It adds a layer of toasty, nutty deliciousness to anything it touches. Making it couldn't be simpler. Butter is composed of butterfat, milk protein and water. When you brown butter, you are essentially toasting the milk protein. As you heat the butter, and it begins to bubble and sputter away, the water evaporates and the hot butterfat begins to cook the milk solids, turning them from creamy yellow to a splendid speckled brown colour and your whole kitchen smells like toasted hazelnuts. It's insanely gorgeous!
It is best to brown the butter in a light coloured pot, so that you can easily monitor the browning process. Note that only the milk solids will turn brown. the butterfat stays clear. As soon as you reach the perfect brown colour, pour the butter out of the hot pot to let it cool completely.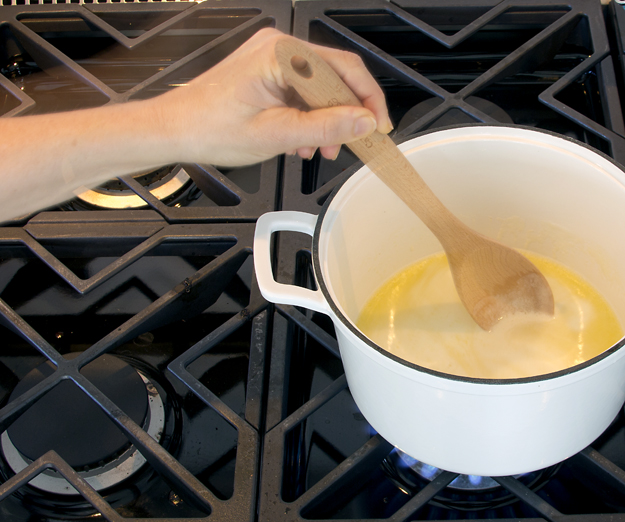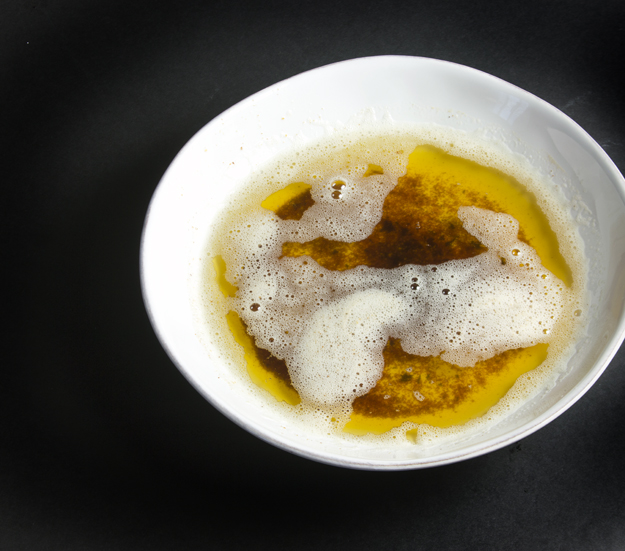 I first saw the idea for this cake on Serious Eats. It was created by contributor Nila Jones. She baked it in a loaf pan. I decided to give it a makeover and turned it into a fancy layer cake, with lots of brown butter frosting and a lavish coating of Skor (or Heath if you live in America) Toffee Bits.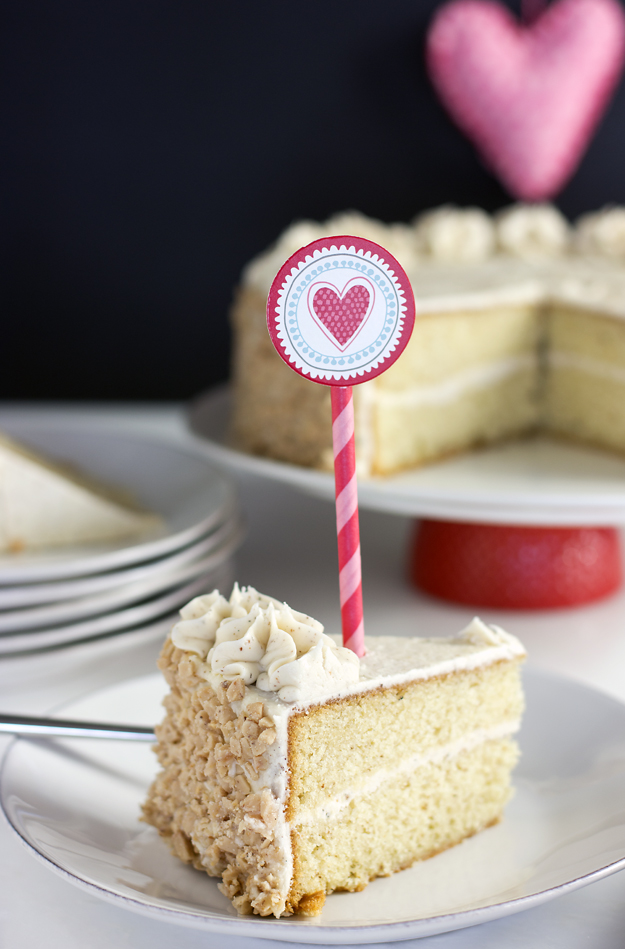 The trick to baking with brown butter is to chill the melted butter completely in the fridge. Then you must let it soften on the counter for about 30 minutes before using it. If you try to cream fridge hard butter, it will be impossible to beat air into the cake batter, which is necessary for the perfect crumb structure.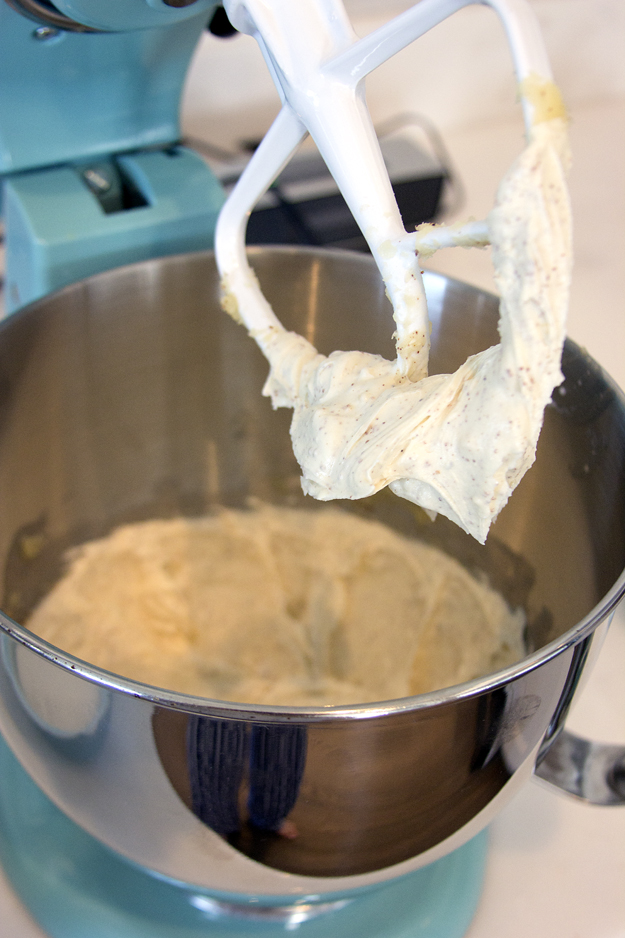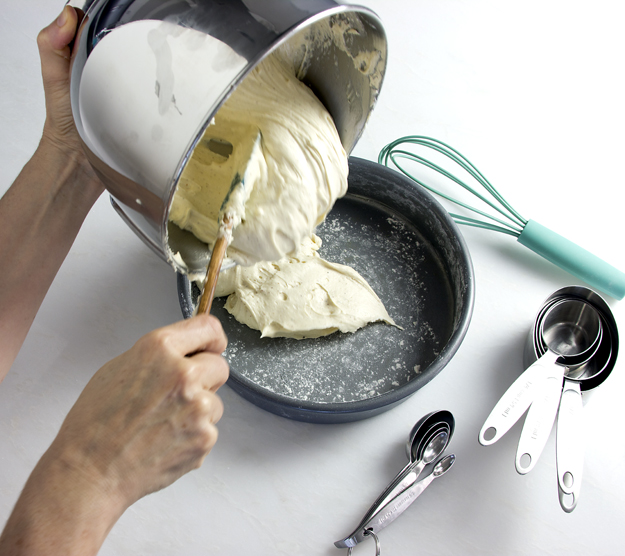 I found these adorable heart mobiles and straws online at Target.