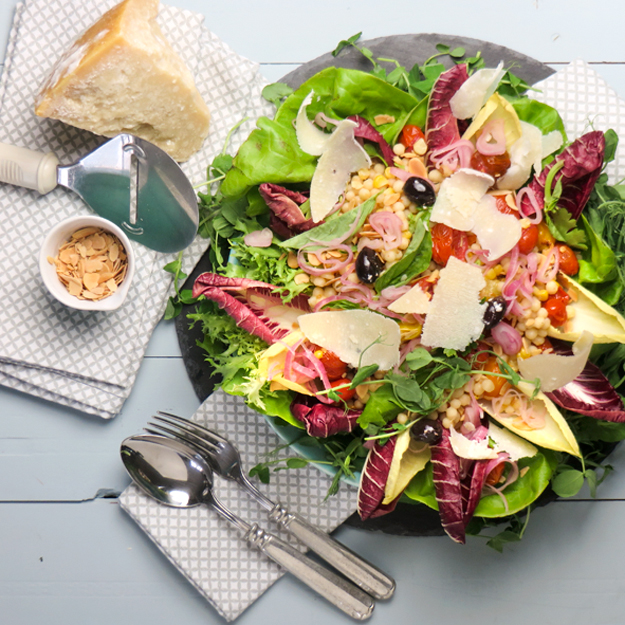 I was visiting with my nephew and his girlfriend last month and she asked me a question that kind of shocked me and got me thinking. She has been following my blog for a while now and she wondered if I gave out the real recipes, or if I held back and left out an ingredient or a crucial step in the recipe. Huh??
I assured her that I always gave the legitimate recipe and included every step, plus probably a few extra (sometimes my recipes run long!), to ensure success. As we chatted a bit longer I understood where her question was coming from. She was born in Venezuela and the culture in her family was to guard their recipes very carefully. Perhaps the idea of secret family recipes stems from one generation wanting to pass something valuable down to the next. After all , many imigrant families came to North America with nothing of material value. All they had were these recipes from the "old country" to pass on to their children and grandchildren.
This secretive behaviour is the antithesis of how food bloggers operate. I have been blogging since 2009 and have come to discover that most of us approach food blogging with a generosity of spirit. We are a giving bunch, willing to share our knowledge and expertise. There is actually a code of ethics for food bloggers. Acknowledging sources and linking to others that provided inspiration is part of the modus operandi. We are a passionate bunch, but humble as well, fessing up to our flaws and our less than perfect results.
I have found my tribe and I feel blessed to be a part of this generous fraternity of food bloggers. 
This salad was inspired by a similar recipe in the July 2014 issue of Bon Appetit.
While ripe, warm-from-the-vine summer tomatoes are still a few months away, roasting or grilling tomatoes can bring out the sweetness in any tomato. Begin by coating some grape or cherry tomatoes and corn with a few glugs of olive oil and a generous sprinkling of salt and pepper. A few fresh rosemary sprigs will perfume the whole lot.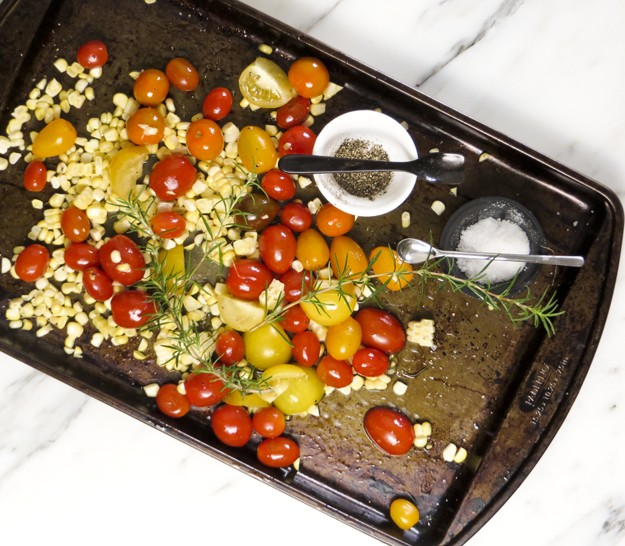 Israeli couscous is 2-3 times larger than the traditional North African couscous. While both are made from semolina and wheat flour, Israeli couscous is toasted while the North African variety is simply dried. The toasting gives it a nutty taste and chewier texture. I like to give it an additional toasting in a bit of olive oil, before cooking it in water.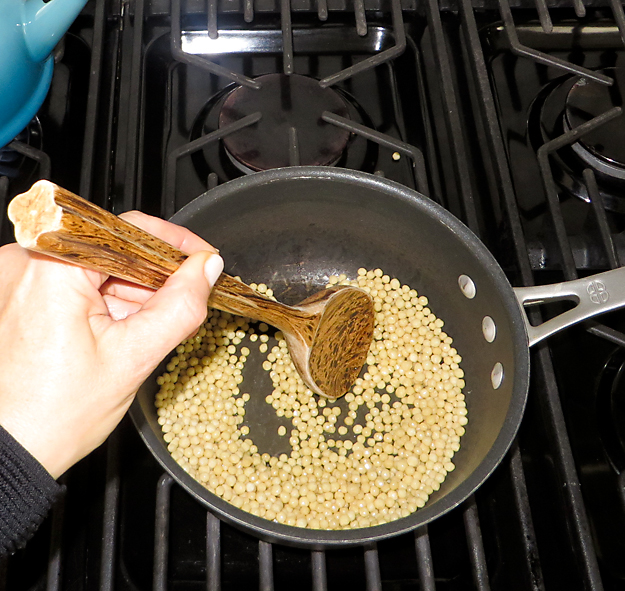 I decided to serve it on a bed of mixed lettuces (arugula, belgian endive, radicchio and pea shoots), but you could also serve it without. Some toasted sliced almonds add great crunch and a few shavings of Parmesan cheese add a wonderful salty accent. I added some pickled shallots because I love the bright acidity that pickling brings to the party.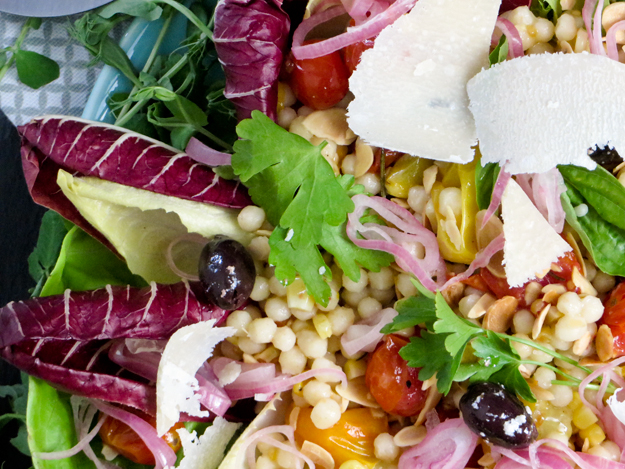 In the spirit of generosity, here are some of my favourite food bloggers!
Caroline of The Patterned Plate.
Steph of Raspberri Cupcakes.
Bobbi of Bob Vivant.
Hannah of Honey and Jam. (she has a new cookbook coming out very soon!)
Tara and Maria's cookin' and shootin'.
Kellie of Le Zoe Musings.
Wendy of The Monday Box.
Joy of Joy the Baker.
Ashley of Not without Salt. (Her beautiful new cookbook just came out!)
Lindsey of Dolly and Oatmeal.
Rosie of Sweetapolita. (Check out her gorgeous new cookbook.)
Belinda of The Moonblush Baker.
Phyllis of dash and bella.
Jessie of CakeSpy.
Thalia of butter and brioche.
Molly of My Name is Yeh.
Tara of Seven Spoons. (See her lovely new cookbook)