I am very blessed to have just returned from an amazing trip to Africa with a group of 18 friends. (Several of the photos in this post were taken by my very talented friends) We spent a few days in Capetown and then visited the wine region of Franschhoek. Then it was time for Safari! We visited 2 different game reserves. The first was in Botswana, in the Okavango Delta region. The second was in the Sabi Sands region of South Africa. Safari life has a rhythm all its own, unlike any other type of holiday.
Many African animals are most active during the crepuscular hours (from the Latin meaning Twilight, it refers to dusk and dawn). What this means is that your day begins with a 5:00 am wakeup call! We quickly jumped into our clothes and downed a cup of coffee before setting off on our first game drive of the day.
Our Land Rover was captained by Ranger Ross and his able sidekick, Tracker Johnson. The tracker sits high up in the jeep and is constantly scanning the landscape looking for animals. He also scans the ground, looking for footprints and other clues in the sand. It blew my mind that he could accurately identify the species as well as determine exactly how long ago the animal was there by identifying the freshness of the animal droppings. The animal's footprint also tells you which direction he was headed in.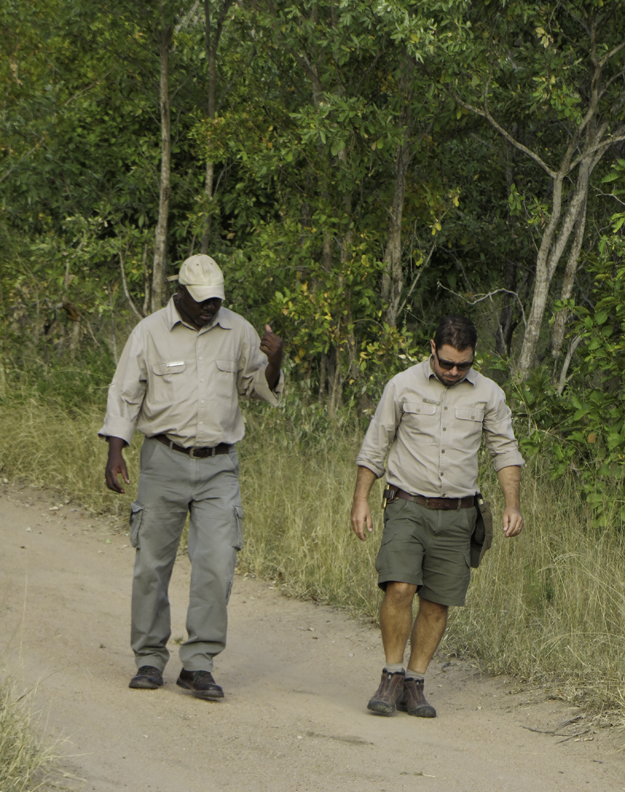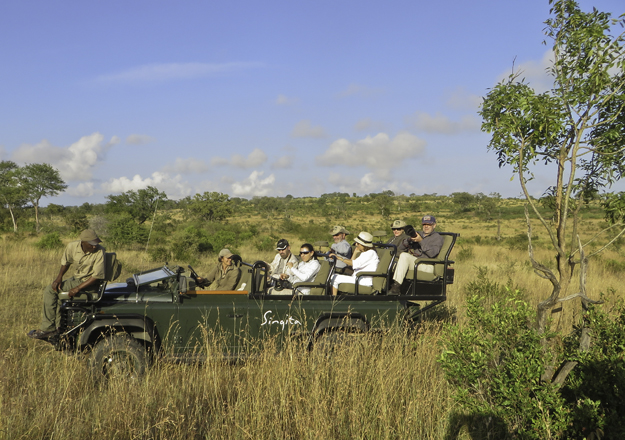 The goal of most neophyte Safari goers is to check the "Big 5" (elephant, lion, rhino, cape buffalo and leopard) off their must-see list. The term "Big 5" originally referred to the difficulty in hunting and bagging these large animals, mostly due to their ferocity when cornered and shot at. More recently it has become a marketing term used by safari tour operators.
The rhythm of the Land Rover, bouncing up and down on the uneven terrain is a bit hypnotic and I must admit, during the early morning hours, I nodded off a few times. But I was jolted awake on our second morning when we almost ran over a herd of elephants crossing the road! There were over 40 elephants, all lined up, crossing the road. They stopped in the middle of the road and started putting on a show for us. They were really quite playful and it almost seemed as if they were performing for us.After about 20 minutes the alpha female shook her ears and trumpeted quite loudly, and the whole herd gently ambled off. 
Elephants form deep family bonds and live in tight matriarchal family groups. When a calf is born it is raised and protected by the whole matriarchal herd. Each herd is made up of mothers, daughters, sisters and aunts. They are guided by the oldest and largest female of the herd. The babies are mothered by all the females of the herd.
Some masterful tracking by Johnson revealed two female lions, up on a ledge. Ross explained that lions are very social animals and travel in a group known as a pride. These lionesses were part of a pride of 17 lions, known around here as the "Mhangene" tribe.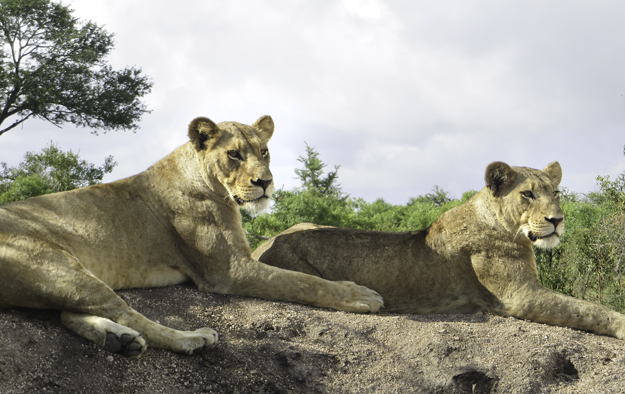 We soon spotted one of the male members of this tribe.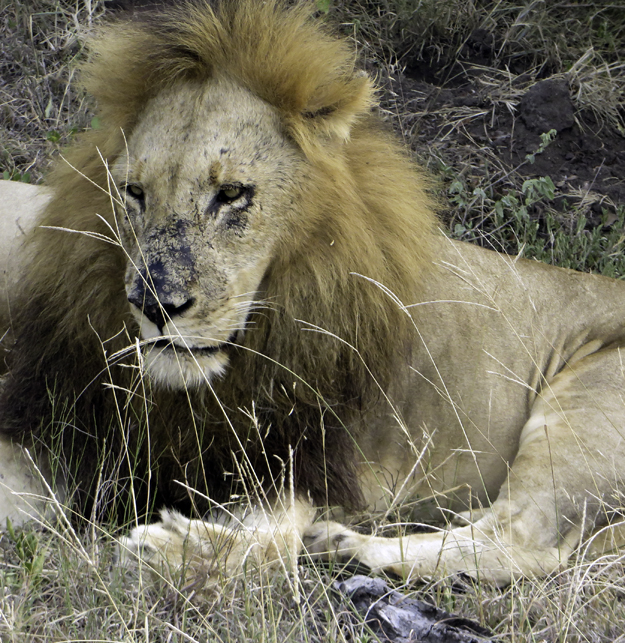 And not too far away, we discovered the rest of the pride, lazing around.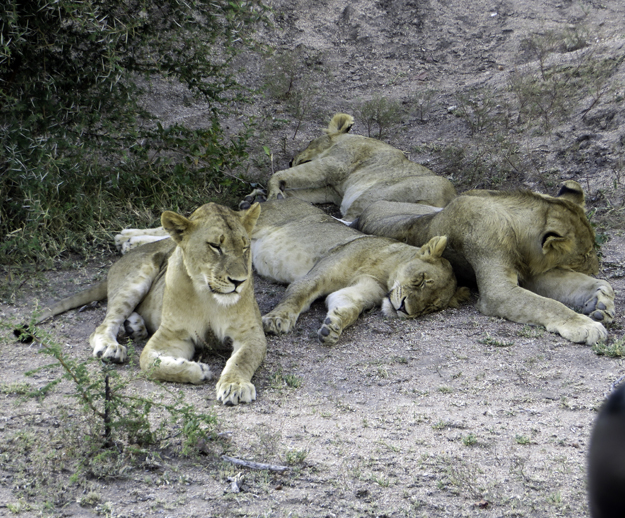 After we left the lions, we came upon a "crash" of white rhinos, just leaving the watering hole. Ross explained to us the sad plight of rhinos in South Africa. Rhinos are being poached for their horns. The demand for rhino horn stems from the age-old myth that they can be used to cure cancer. One horn goes for over $25,000 on the black market.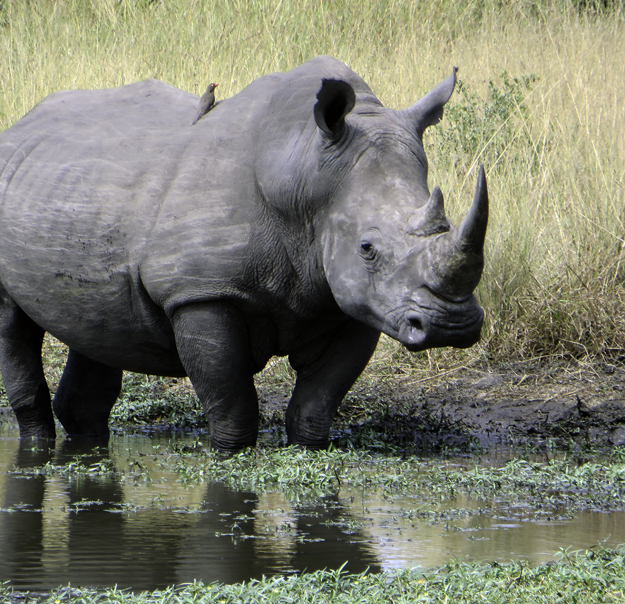 We checked # 4 , The Cape Buffalo, off our list just before 9:00 am. Johnson spotted a large herd of them off in the distance and our Land Rover became the Safari Ferrari as we flew up to catch up with them. They kind of reminded me of my Marlo Thomas Barbie doll I had when I was a little girl!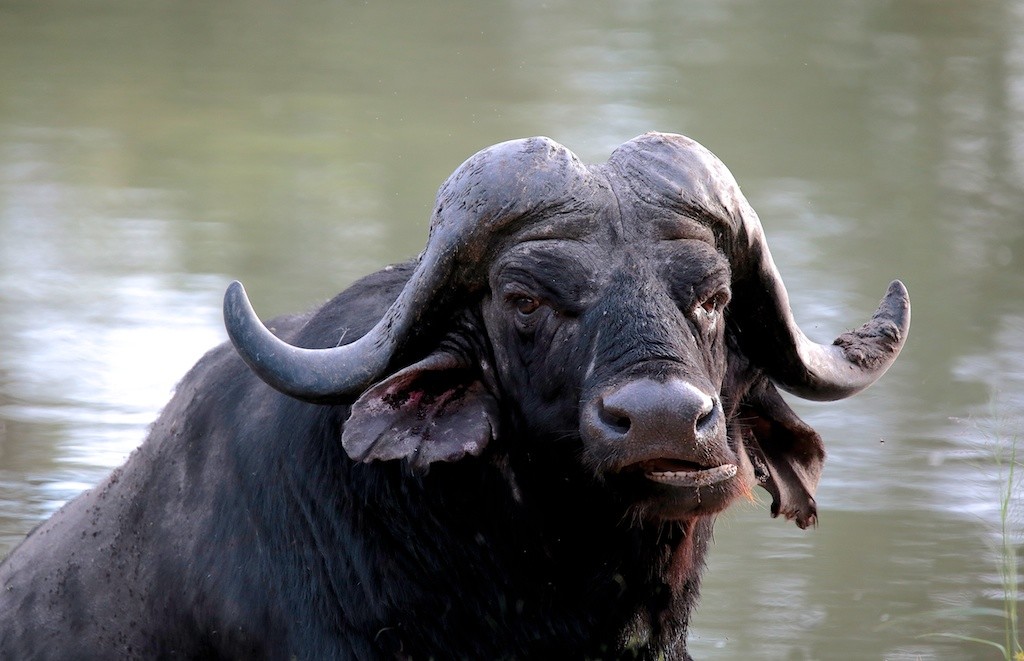 The final member of the Big 5, the leopard, is one of the most elusive animals to spot. One of the other Rangers from our group radioed Ross to let him know where the leopard had just been spotted. (bad pun, I know!!). We quickly drove to the location just in time to see the leopard. She was just chilling in the lower branch of the Ebony tree, her happy place.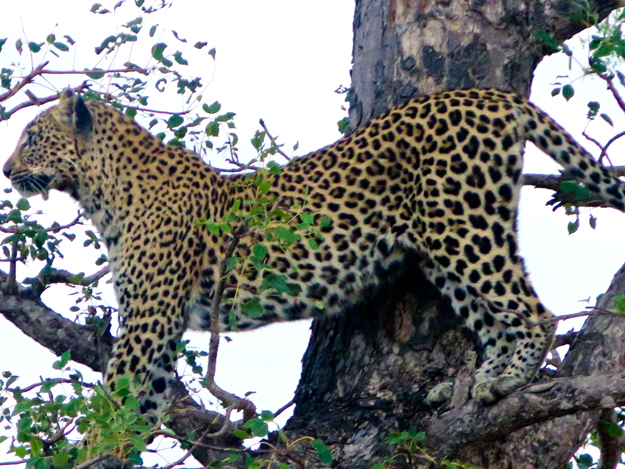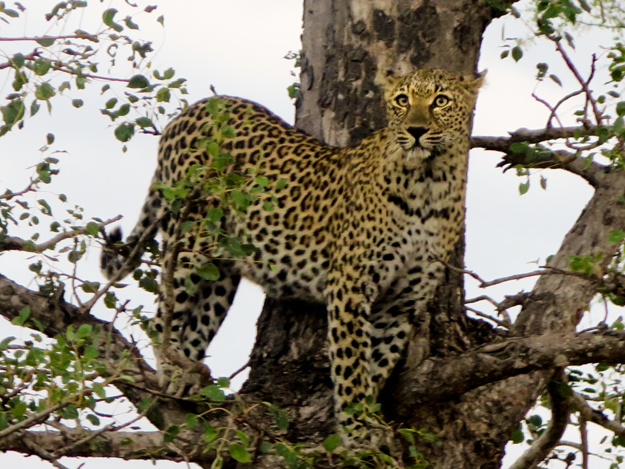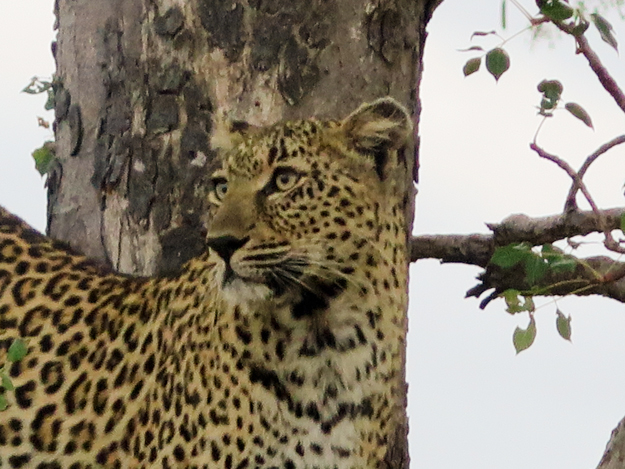 She climbed down, proceeded to walk towards our jeep and then crawled under the vehicle and came out the other side. We all stopped breathing for a minute! Then she just ambled off, with a quick glance back at us, as if to say, "You guys coming, or what?"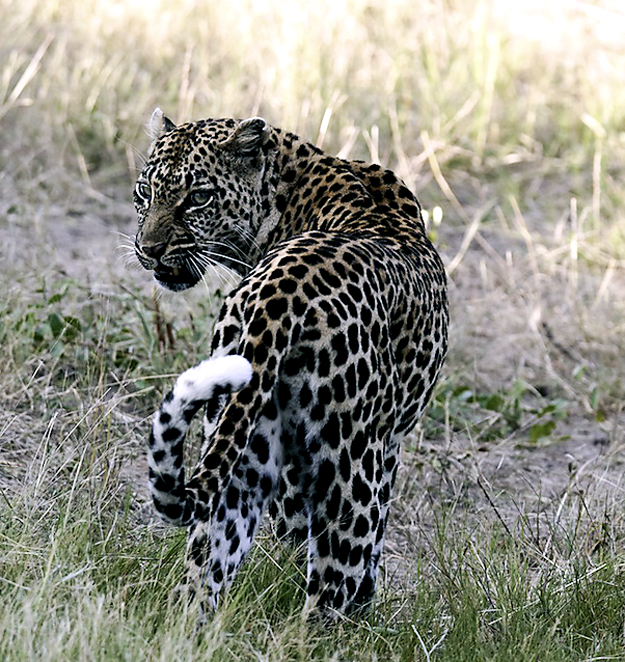 Ross explained that this female (her name was "Hlaba' Nkunzi) had recently given birth and she was probably on her way to check on her cubs. Once female leopards give birth, they must protect their babies by hiding them away to provide safe shelter from predators for the first several months of their young lives. This female had actually hidden her cubs underneath the Lodge's General Manager's house.
Later that day, mom was spotted wandering through our camp, on her way to visit her babies. Two of my friends got pictures of her outside their rooms.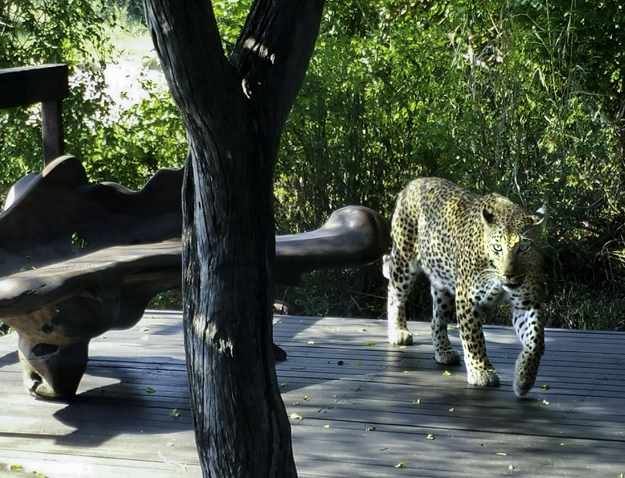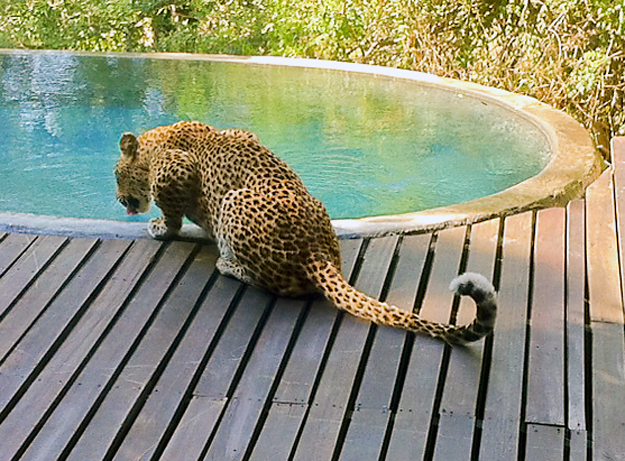 It was only later in the day that we realized what an incredible morning drive we had just experienced. We thought that spotting all those animals in one short drive was the norm. Our Ranger explained that many Safari goers never get to see the Rhino or the Leopard so we were extremely fortunate.
Stay tuned for Part 2 of our Adventure when I share with you one of our favourite Safari snacks!