Certain restaurant meals stand out in your mind for ages. Although it has been almost 30 years since devouring Emily Luchetti's Gingerbread Cake with Warm Apples and Cider Sabayon at Stars in San Francisco, l vividly recall that heady aroma and taste of the molasses and spices as if it were yesterday. That cake blew me away. I had no idea that gingerbread could be anything but a cookie, and that it could taste so heavenly. (Sadly Stars closed down in 1999, but if you are a gingerbread lover, bake this cake!)
I am certain that the memory of the meal I had at The Tasting Room (Franschhoek, South Africa) this past March will remain strong in my cerebral cortex, long after the names of my kids and husband have totally escaped me. Dutch born chef, Margo Janse, celebrates South Africa through food. Her philosophy is to make fine dining approachable and not intimidating. Her dishes are whimsical, playful, consistently surprising, visually stunning and very delicious.
Before we went on Safari in Botswana and South Africa, we spent a few days in Capetown and then made our way East, to the wine region of Franschhoek. We spent the afternoon biking to several wineries. I must admit, I approached the biking with some trepidation. I love going to spin class on a stationary bike, but biking where there are cars makes me very nervous. And biking and drinking… well let's just say, that seemed like an accident waiting to happen. We were assured that the roads were not heavily travelled by cars. I suited up and vowed to just have 3 sips at each winery.
My husband has been trying to get me to go outdoor biking with him for years. He was so thrilled that he snapped a photo of me in my bike helmet, standing next to my bike, and texted it to our kids. My eldest son responded with scepticism. He said, "Just because she's wearing a helmet, doesn't mean she actually rode the bike" We followed up with proof later that afternoon.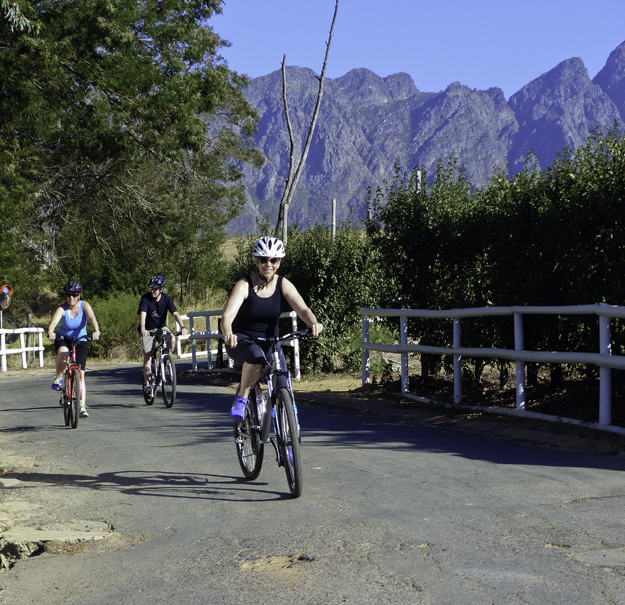 It was actually a very easy ride, as there were almost no hills or cars. The scenery was breathtaking. These shots were taken by my friend Jack.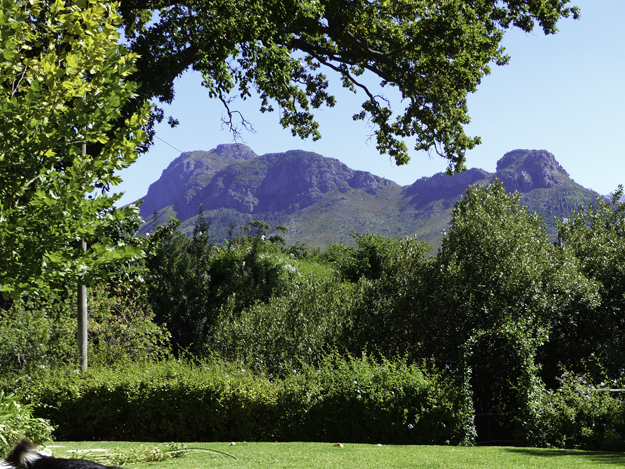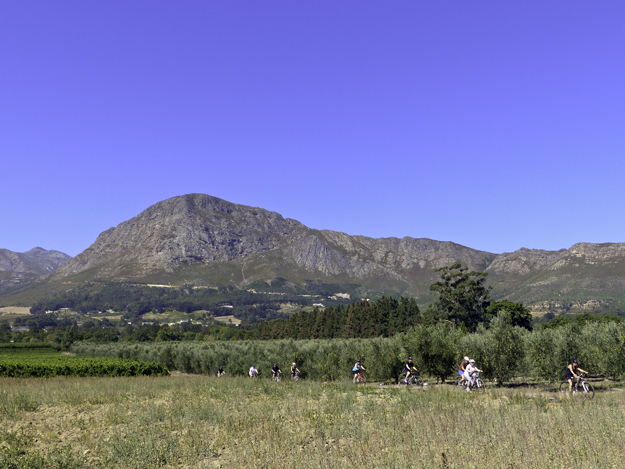 We checked into our hotel for a quick shower and headed out to dinner at The Tasting Room.
Our amazing travel agent, Linda, made all the arrangements for us. All we knew about the restaurant was that it was ranked "Top Restaurant in Africa " and "53rd Best Restaurant Worldwide".  We were told that they served an 8 course African inspired surprise (there is no menu to choose from) tasting dinner, with wine pairings for each course. We arrived hungry and very excited.
I'll do my best to guide you through it. Ready? Oh, wait a minute, You just might want to unbutton the top button of your pants to make room for what's coming. (FYI, I wore a jumpsuit to dinner, with an elastic waistband – a wise choice if you decide to eat here!)
I only brought my phone to dinner, so some of my pictures were not so great. Luckily, I found some beautiful images on two great travel blogs – SFO777 and A Table for Two to add to my own photos.
The first dish that landed on our table was "Onion-Lime Chips with Black Pepper Snow. "Crunchy, salty, tangy and completely addictive. I am still utterly befuddled by the fact that the black pepper snow was white!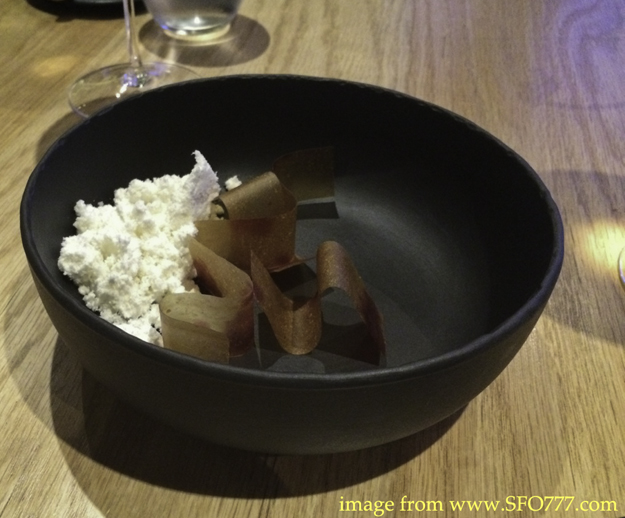 I have often thought of restaurant bread as a harbinger for the rest of the meal. When I took my first bite of "Cornbread in a Can", I was filled with great hope that the rest of the dinner would be just as delicious. The cornbread was baked in a beautiful Lucky Star Pilchard can. The waiter tipped the tin upside down the cornbread slid out. We slathered it with the whipped salted browned butter and there was silence at the table while we all chewed in wonderment.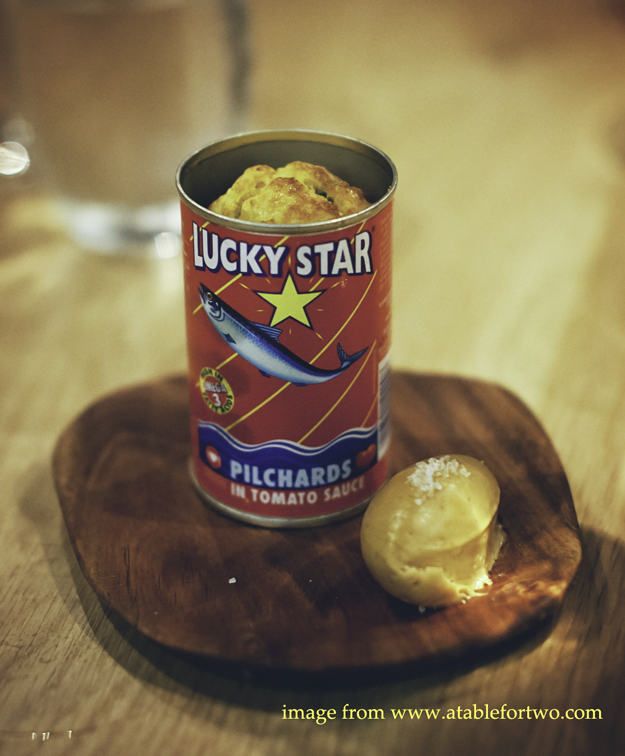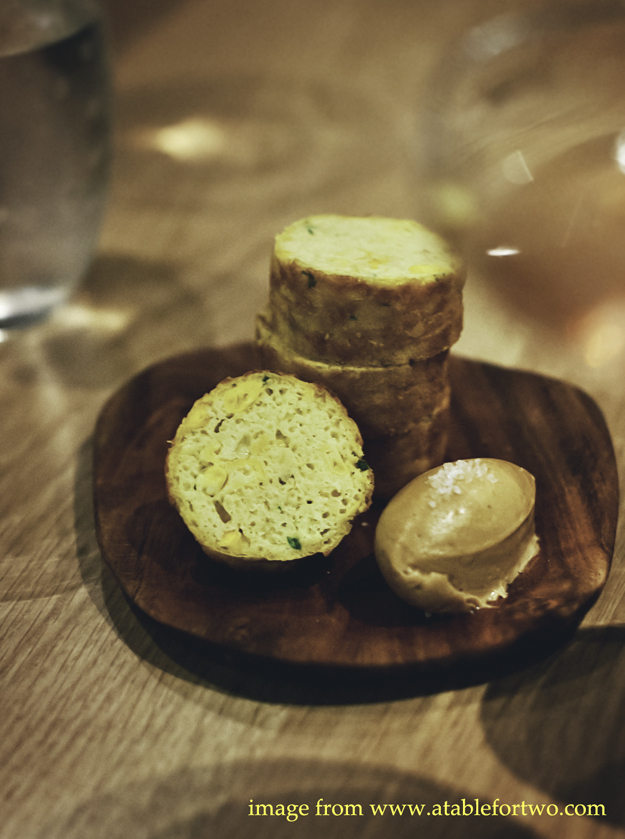 Then the waiter arrived with what looked to be a tray of miniature desserts. Surprise! Turned out to be "Prawn and Avocado Cupcakes, Rooibus Macarons and Barley Madelines".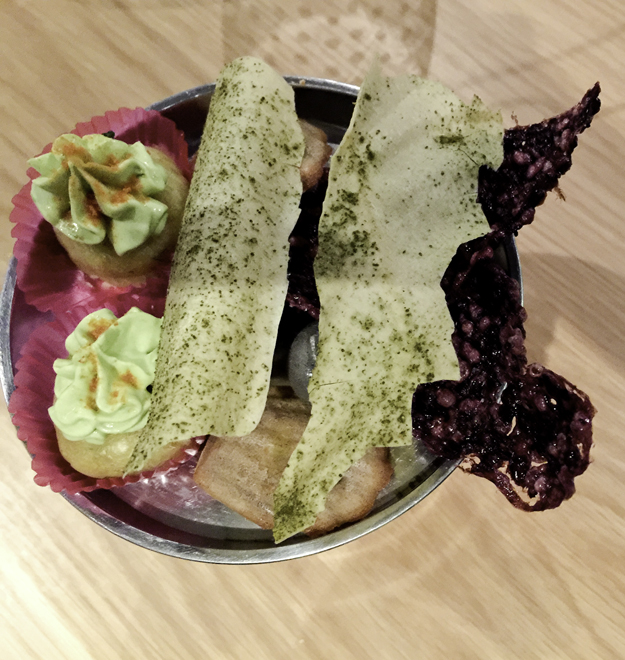 Our faux desserts were followed by "Confit tomato and potato tumbleweed". The potatoes had been shredded and then formed into a hollow round sphere and deep fried. Need I say more?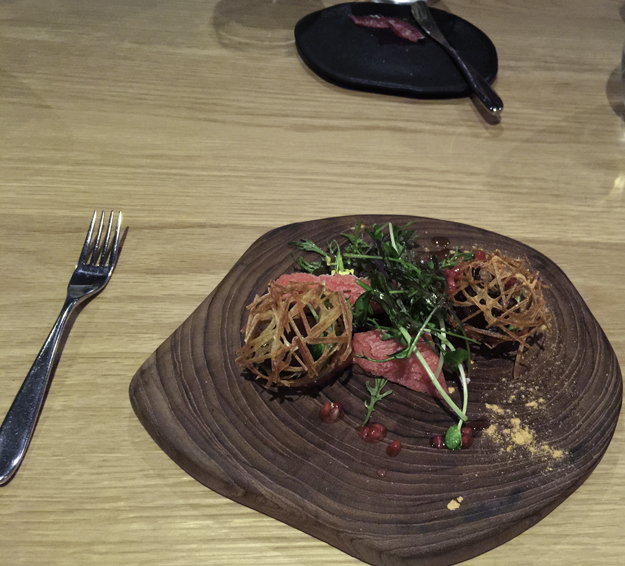 The next course was simply called "Broccoli, Broccoli, Broccoli". Three different preparations of broccoli that equally thrilled the carnivores and omnivores at our table.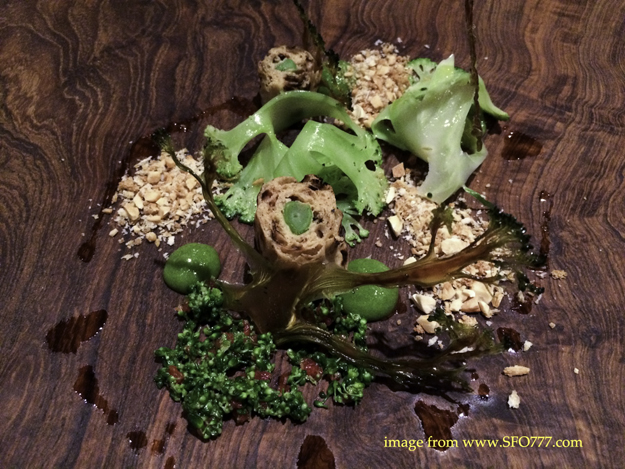 "Foie gras molded to look like chocolate, topped with edible gold leaf". Really!!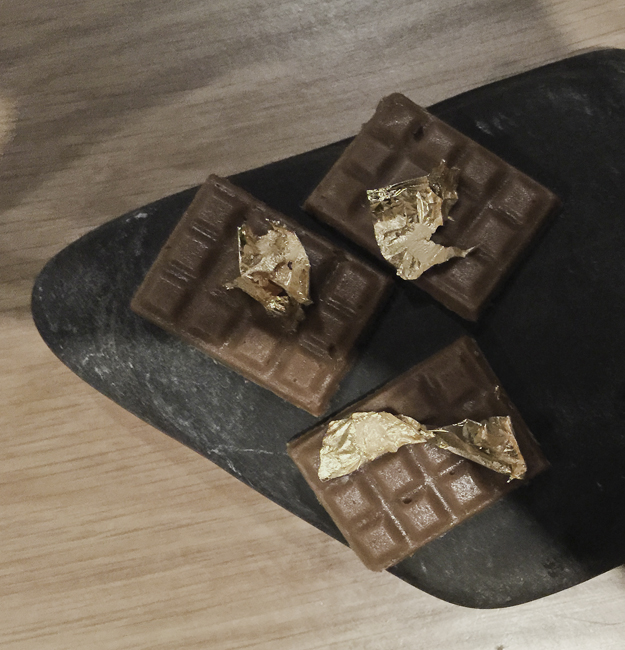 Up next: "Paradyskloof (a nearby town) quail, amasi, sweet corn, granola."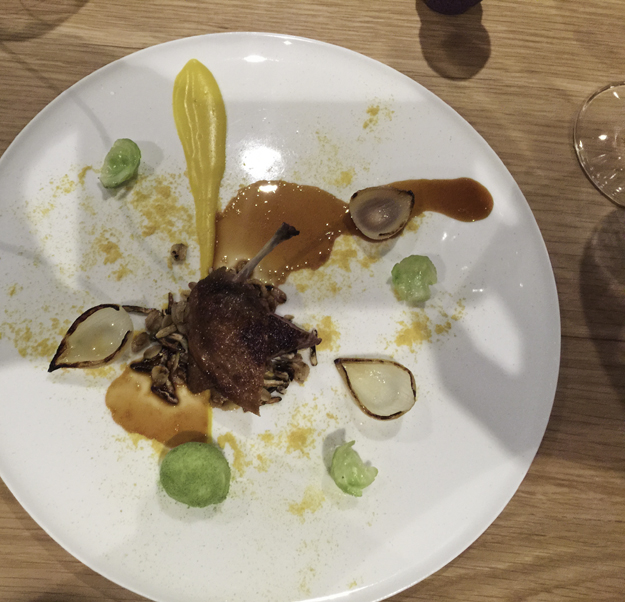 Our very sweet waiter noticed that my friend Ed was not eating all his food. When Ed explained that he was getting over a stomach bug, the waiter smiled and said he had just the thing. He returned with a pot of Buchu tea. Buchu is a herb that grows in South Africa. It is said to have excellent detoxing abilities when steeped in hot water and served as a tea.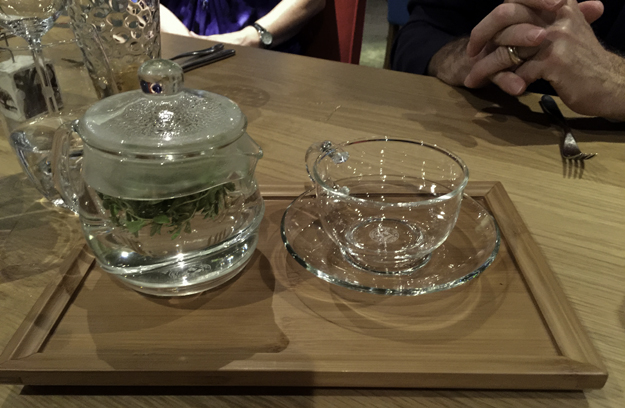 Cheese course: "Dalewood huguenot matured cheddar, rusks, mebos custard, currants."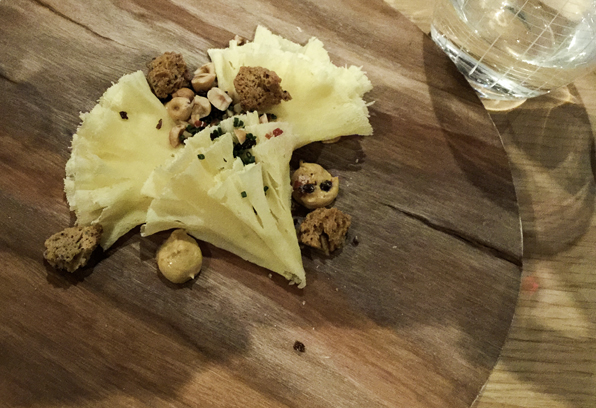 Just when we thought we could not eat another bite, dessert arrived at the table. The waiters silently placed a bowl containing what looked like a giant white snowball in front of each diner. They instructed us not to start eating, just yet. They left the room and returned with glass beakers filled with what looked like caramel sauce. In a totally synchronized move, the waiters poured the sauce on each diner's snowball. Here's what happened next:
The snowball was actually a white chocolate dome coated in finely shredded coconut. The hot baobab caramel sauce melted the chocolate to reveal a scoop of coconut ice cream inside. Magical!
This was truly a very special evening. There was one more surprise in store. I had sent the chef a recipe for my husband's favourite birthday cake. They lovingly baked it for him to help celebrate. It was almost as good as mine!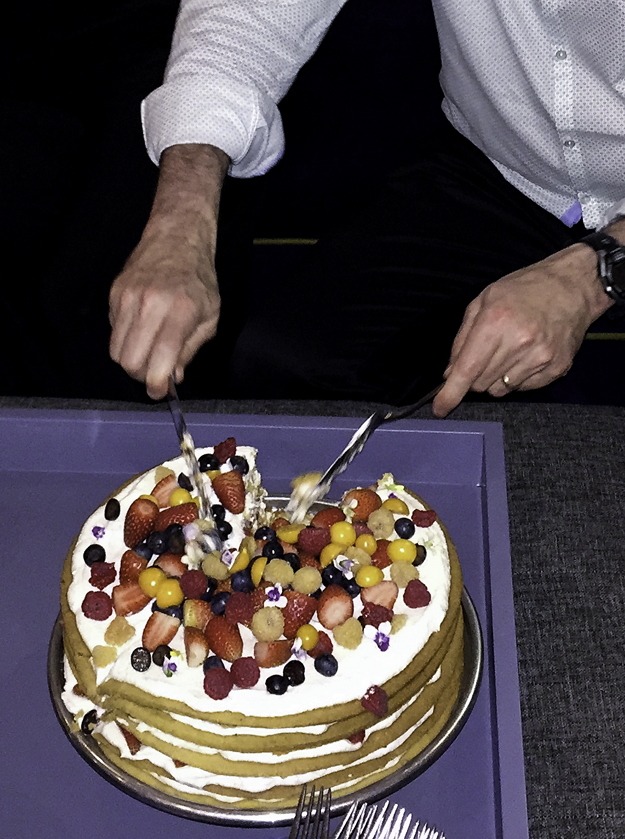 In my next post, I'll share with you how to recreate that cornbread in a can!