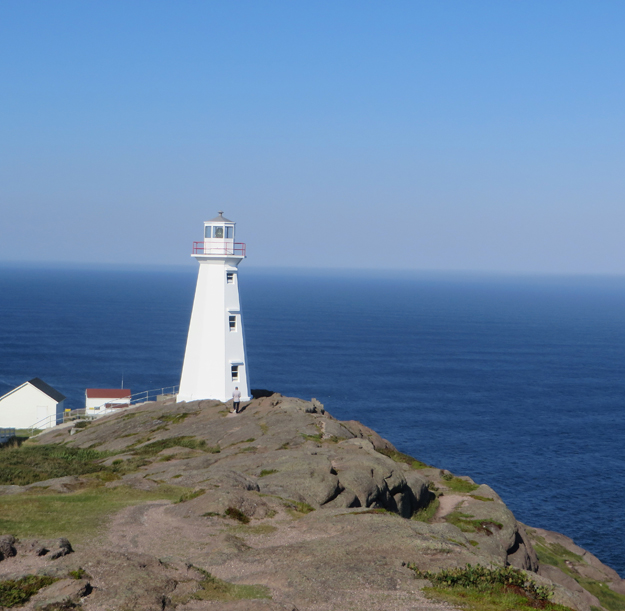 You know it's been an awesome holiday when you leave thinking about how soon you can return again. We usually go to New York City each fall with our friends "The Grizzlies." I have written about our previous sojourns to Manhattan with them in this space, here and here. This fall, Mrs. Grizzly suggested we stay in our own country and visit Newfoundland instead.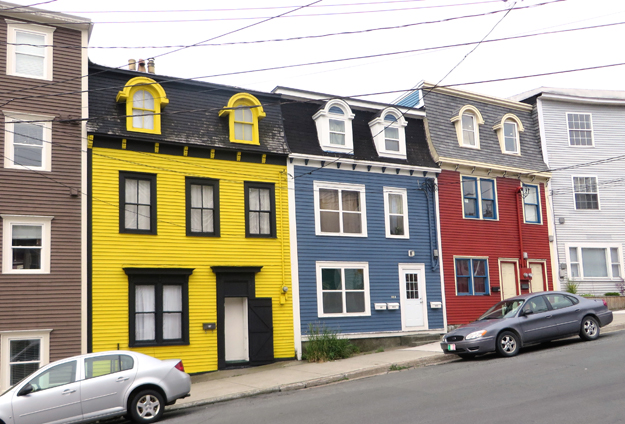 For some reason I have always attributed the quality of quirkiness to Newfoundland and it's citizens. This most likely stems from hearing promotional ads on TV announcing upcoming stories on that night's news. "That's 10:00 tonight on The National, 10:30 in Newfoundland."  Newfoundland's time zone is just one of those unique things that makes it special.  It veers from the regular standard time zone system by a half-hour. No other state or province in North America deviates from Coordinated Universal Time (UTC) on the half-hour. Curious to see if my perception of "quirky" Newfoundland met reality, I told Mrs. Grizzly I was up for it!
I have never visited any other place where the locals are so friendly. Everyone we met was eager to share with us his or her opinion of what we needed to do, see, eat and drink. Upon arrival at our hotel in St John's, the  receptionist at our hotel sent us off to a great lunch at The Merchant's Tavern. Owned and operated by the team behind Raymonds restaurant, the talented duo of Jeremys, (Charles and Bonia) have done it again!
Newfoundland is blessed with amazing access to fresh seafood, wild game and produce. The Merchant Tavern has taken advantage of this and adopted a sustainable approach to dining, foraging and sourcing locally grown ingredients.
For my main course, I scarfed down possibly one of the best pasta dishes I have ever eaten: Ricotta Cavatelli with Braised Lamb and Merguez Sausage. Savory, a bit spicy and salty in the very best way possible, with fresh peas and mint to add a perfect verdant freshness, I will be thinking about this dish for a very long time. The nuggets of toasted breadcrumbs that topped the pasta stayed perfectly crunchy as they tumbled down to the bottom of the bowl and soaked up all the rich sauce.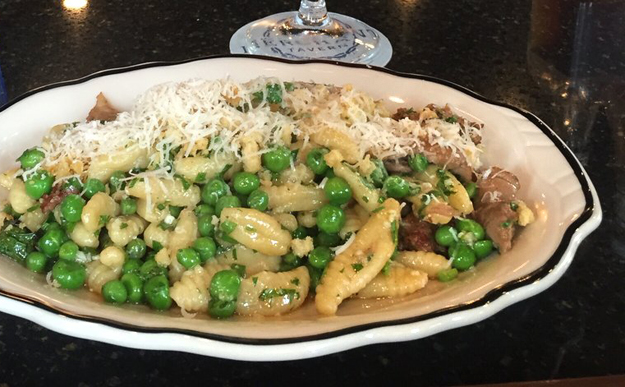 Our waitress heard that we were hiking to Signal Hill that afternoon. She suggested we take the trail that ends in the historic fishing village of Quidi Vidi. (Pronounced "Kiddy Viddy", as much fun to visit as it is to say!) Her boyfriend works at The Quidi Vidi Brewery, where they make lager brewed with water from 25,000-year-old icebergs. Every Friday at 5:30 they host a kitchen party featuring a live band and fresh seafood chowder. The place was packed when we arrived and The Brew Crew band was in full swing.
Somehow, even with our bellies full of cod chowder and Iceberg beer, we still
managed to be hungry for dinner and headed off to
The Reluctant Chef
. They serve a five-course set tasting menu with optional wine pairings, carefully selected to go with each dish. No surprise here that we opted for the wine pairings, but truthfully, by the fourth course (and glass of wine), we were no longer able to discern whether or not the wines were oaky, flinty or earthy, nor did we really care. They all tasted good though! The Thai soup and the lamb were truly outstanding. The dessert was beauiful to look at but a little too bitter for me.
The next morning, after fortifying ourselves with a hearty breakfast, we headed off to the St. John's Farmer's Market, where I had a chocolate dipped oat cookie, finished with a sprinkling of fleur de sel, that had my name all over it! I am still daydreaming about it. I plan to recreate it as soon as possible.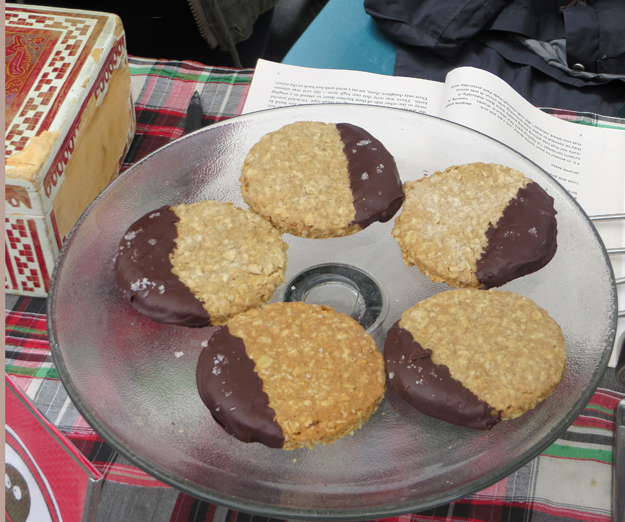 We headed back to Quidi Vidi for lunch at Chef Todd Perrin's "Mallard Cottage". Chef Perrin captured my attention on the first season of Top Chef Canada when he bravely cooked a "seal flipper slider" (on a chive biscuit) for the judges. (Spoiler alert, it didn't go down too well!)
He has restored one of the oldest buildings in Newfoundland and created a charming rustic spot, featuring  an impressive brick and stone fireplace in the center of the dining room, that my husband, a card carrying pyromaniac, greatly admired. Chef Perrin is cooking Newfoundland comfort food taken to the next level.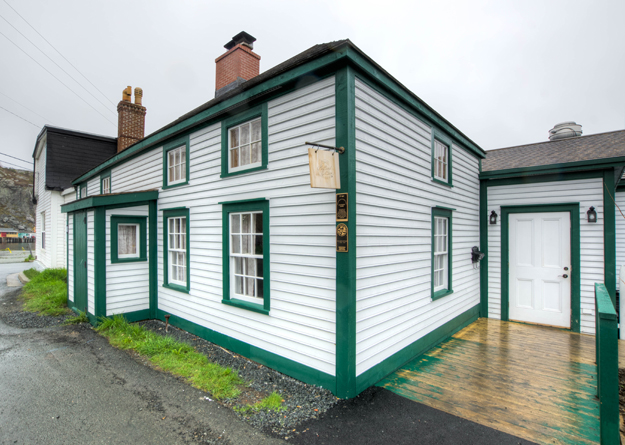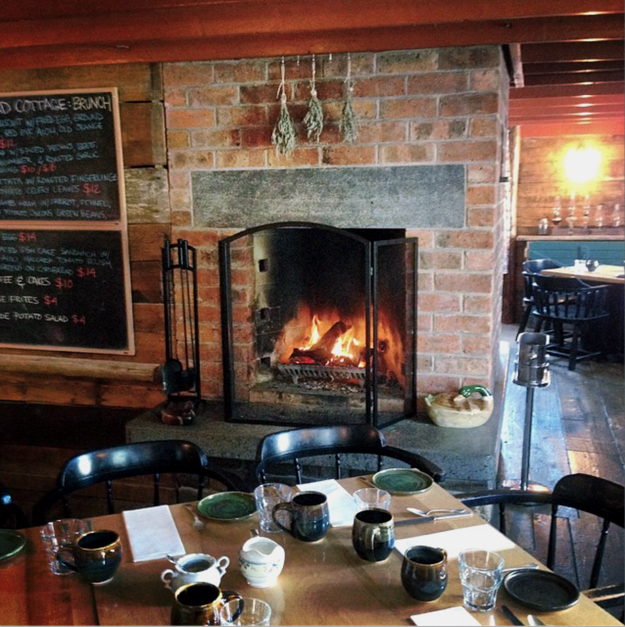 Pulled pork on cornbread was sweet and tangy and served with fresh lettuces from Lester's Farm, just across town.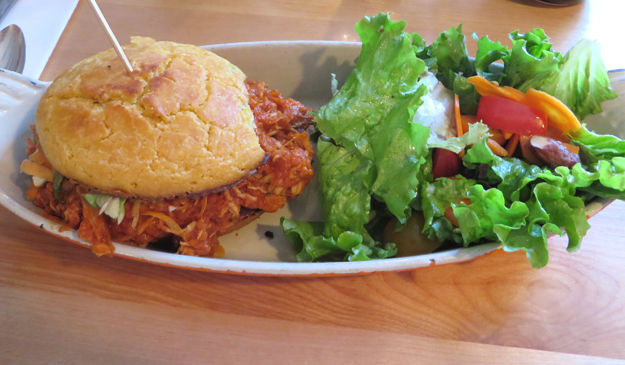 Mrs Grizzly had scallops pulled fresh from the ocean.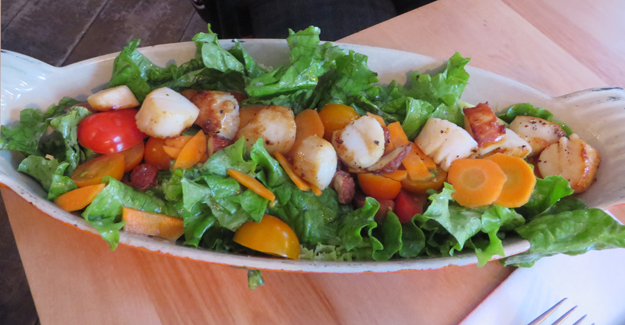 Chef Perrin reimagines traditional Newfoundland dishes, like the salt cod cakes that my husband immensely enjoyed. 
We asked our waiter about the "Cake plate" on the dessert menu. He informed us that you can fill a small plate with as much pastry as you can manage, all for $10. We send Mr. Grizzly to the dessert table and he accomplished the task admirably. Our favourite was the caramel apple coffee cake.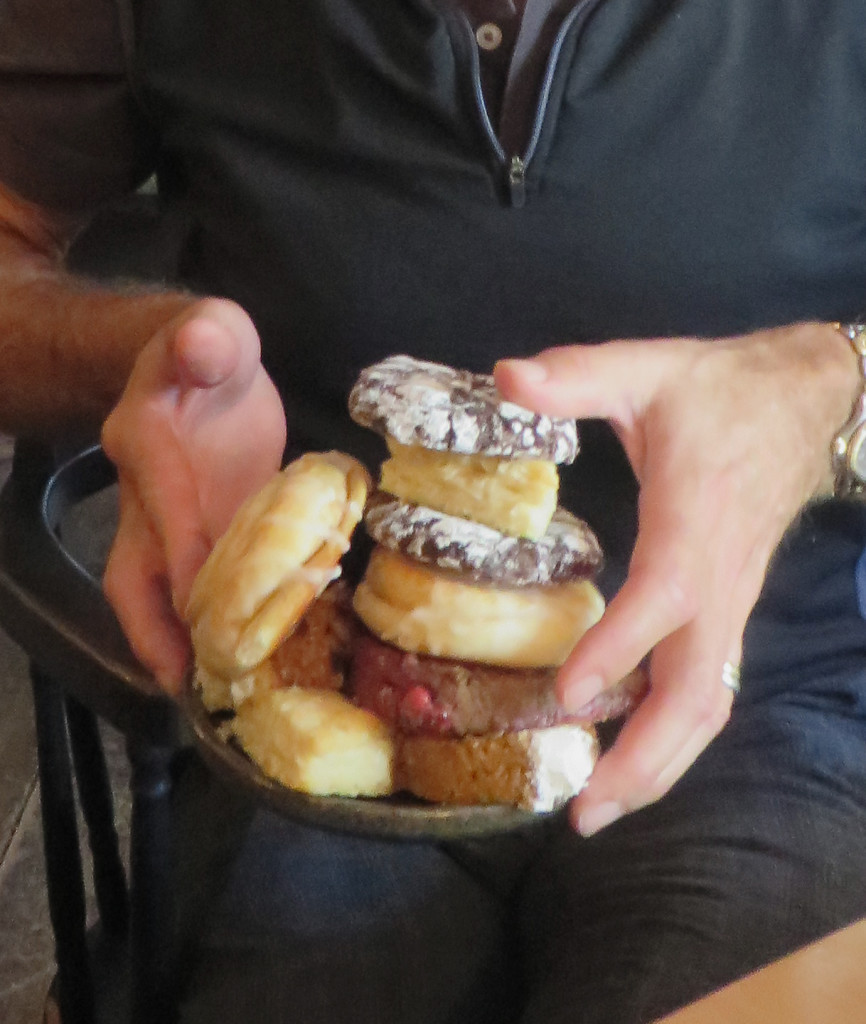 After lunch we waddled off to hike up to the Cape Spear Lighthouse National Historic Site.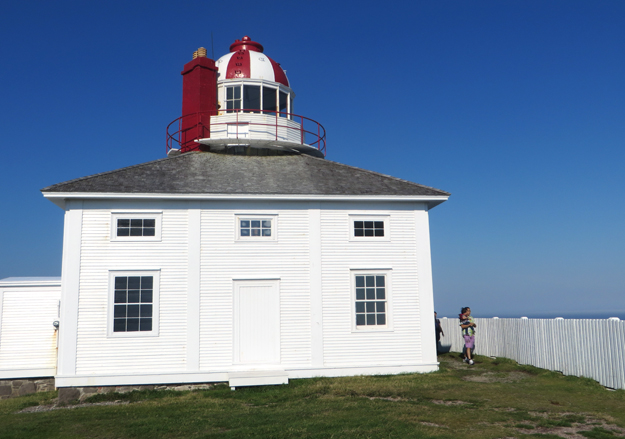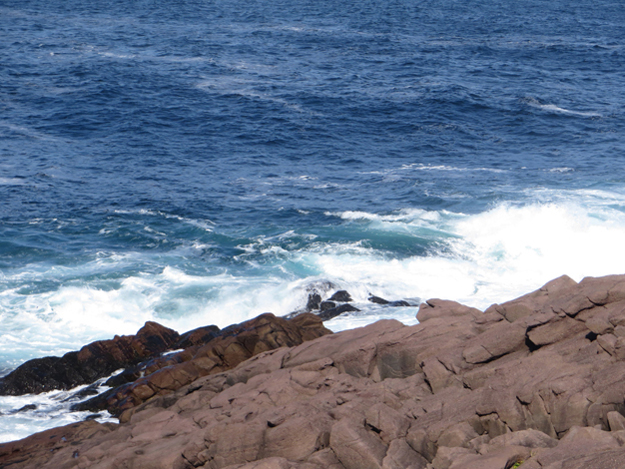 Set high on a rocky cliff, on the most easterly point of land in North America, the Cape Spear Lighthouse provided an important approach light to St. John's harbour for more than a century. Kind of cool to think we were standing where Canada begins (or ends, depending on if you are facing the ocean or the land!). Watching the waves crashing on the rocky shore, you can appreciate how terrifying it would have been to be approaching by boat at night.
For our last night in St John's we had a wonderful dinner at Saltwater Restaurant. We really had no idea that Newfoundland is in the midst of an incredible restaurant renaissance. Meal after meal we were served rustic East Coast food, elevated from it's humble roots. Comforting and familiar, yet completely new.
You really get to know your friends intimately when you travel with them. We had a 5 hour drive, early the next morning, from St. John's to Farewell, where we were catching the ferry to Fogo Island. After dinner we stopped at the corner store to stock up on Mr. Grizzly's road trip essentials. Twizzlers, All- Dressed Chips, Classic Cheetos, Jalapeño Cheetos, Peanut M&M's, Beef Jerky, Peanut Butter Cups and a large bag of Sour Gummi Worms completed his shopping spree.
Stay tuned for the next instalment of Being Present in Newfoundland and find out how we survived our road trip.