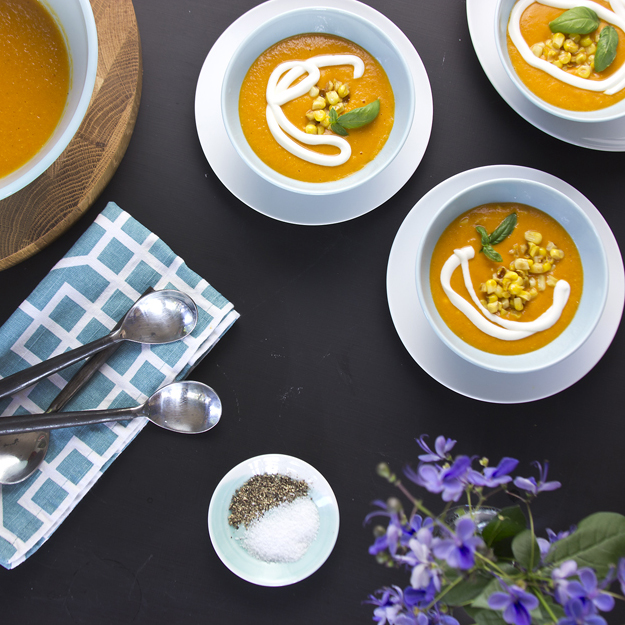 It strikes me as quite ironic that while we consider the cracks and crevices in the skin of
heirloom tomatoes beautiful and even desirable, the same qualities in the skin of an aging woman are not. Yet I digress. We're here to talk about tomatoes, not the skin of mature women. There's enough conversation about that topic everywhere we turn these days.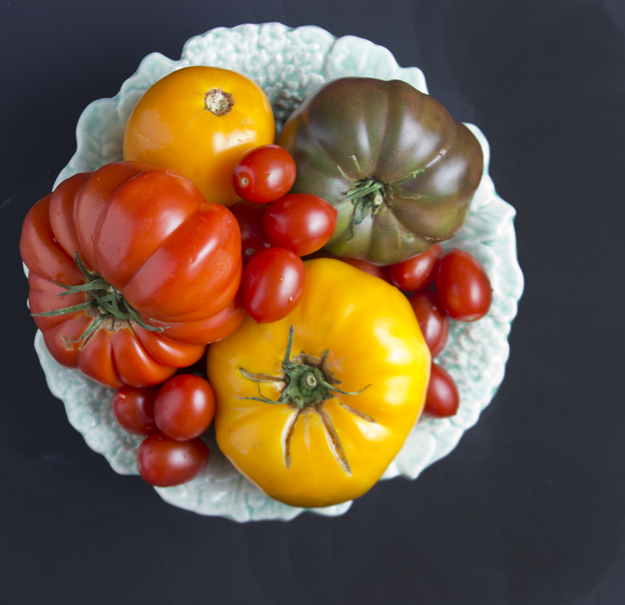 I feel as though I have eaten my weight in heirloom tomatoes this summer. I buy them every time I see them, which has been every few days over the past 6 weeks. The local supermarket near my cottage has been carrying them all summer. Heirloom tomatoes just taste better than hybrid tomatoes. There are actually a few reasons for this. Most heirloom plants produce only 2-3 tomatoes. What that means is that all the energy of the plant is concentrated into fewer tomatoes. Heirloom tomatoes have more locules, those little cavities in the tomato where the seeds are housed, than hybrid tomatoes.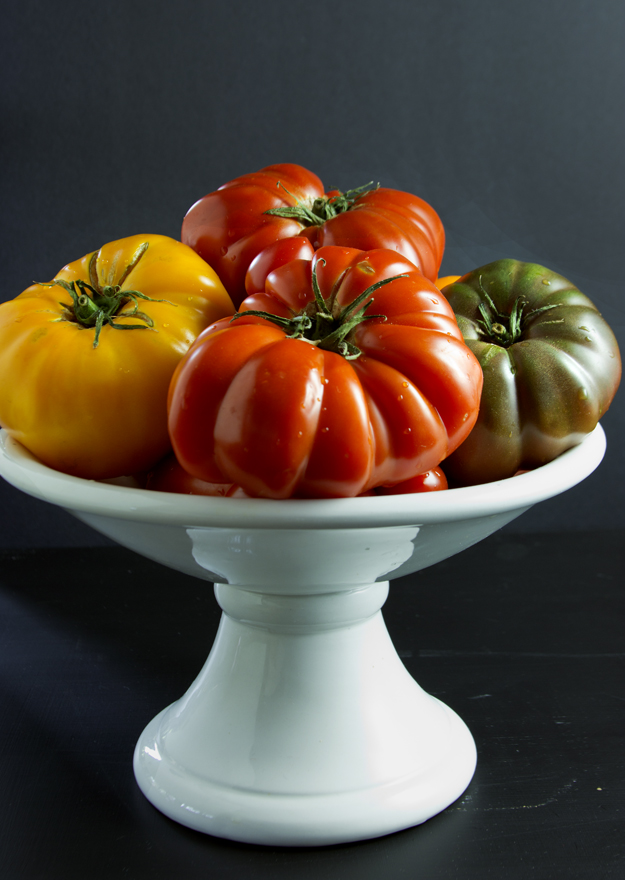 According to Christopher Kimball of Cook's Illustrated, the seeds are the most flavourful part of the tomato. "It turns out the seed in [the tomato] jelly … has three times more flavor compounds called glutamates than the flesh, so when you seed the tomato… you're actually throwing out most of the flavour."
Mostly I have been slicing the tomatoes, sprinkling them with salt and basil and just eating them that way. Some days I get fancy and dice them up, mix with a bit of garlic, olive oil, coarse salt and basil and let them macerate for about an hour. Then I toss the tomatoes with some hot pasta and grated Parmesan cheese.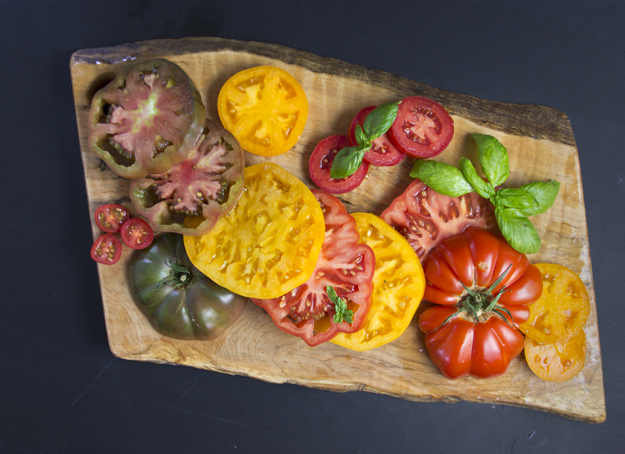 The other morning there was a bit of nip in the air, before it rose to 30°C (86°F), and I started craving something roasted. I was over raw.
This soup was inspired by a roasted tomato and corn soup created by blogger Adrianna Adarme, over at PBS's food blog, Fresh Taste. if you can't find heirloom tomatoes, just substitute some large beefsteak tomatoes.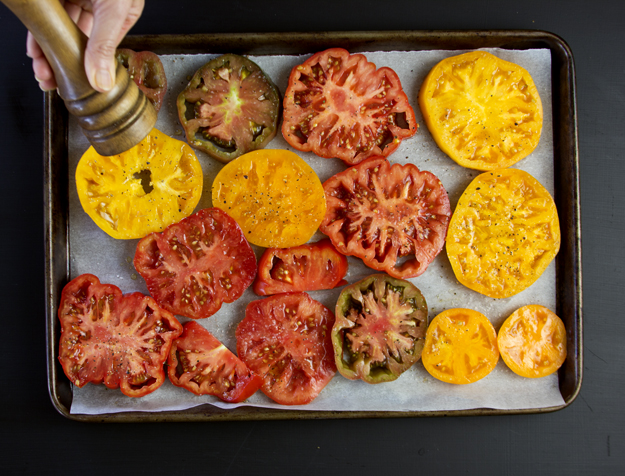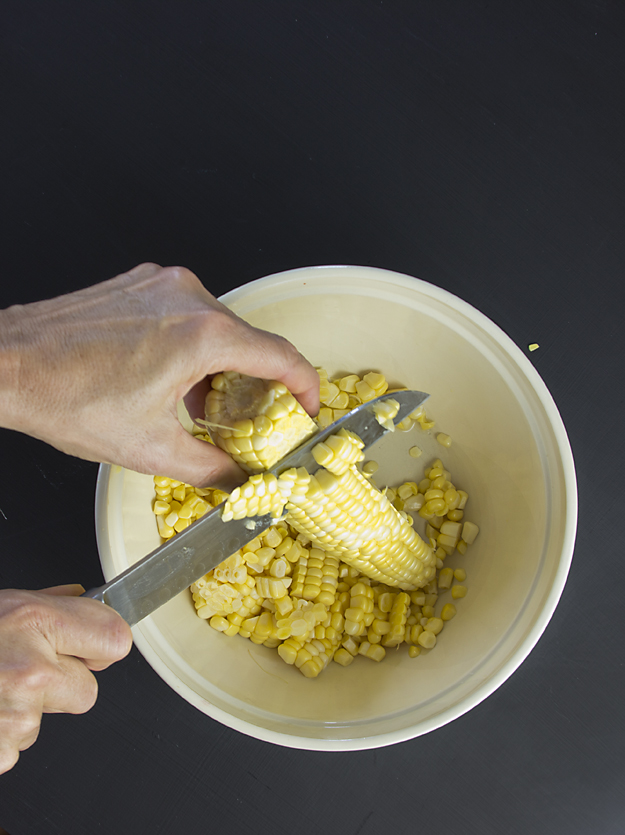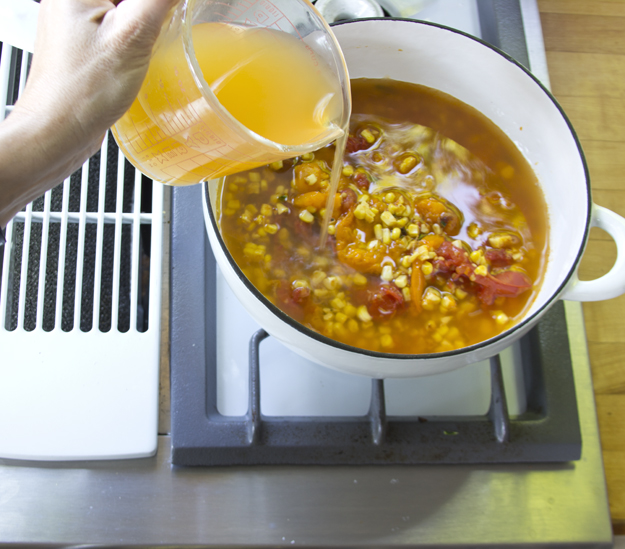 The spice in the soup comes from a combination of of heat sources: jalapeño, ancho chile powder and a bit of cayenne. Some cumin and smoked paprika round out the seasoning. The sweetness of the corn is a perfect complement to acidic juicy tomatoes. I pureed the soup and then strained it for an extra velvety texture. This is the perfect transitional soup to help you manage the difficult shift from summer to fall.