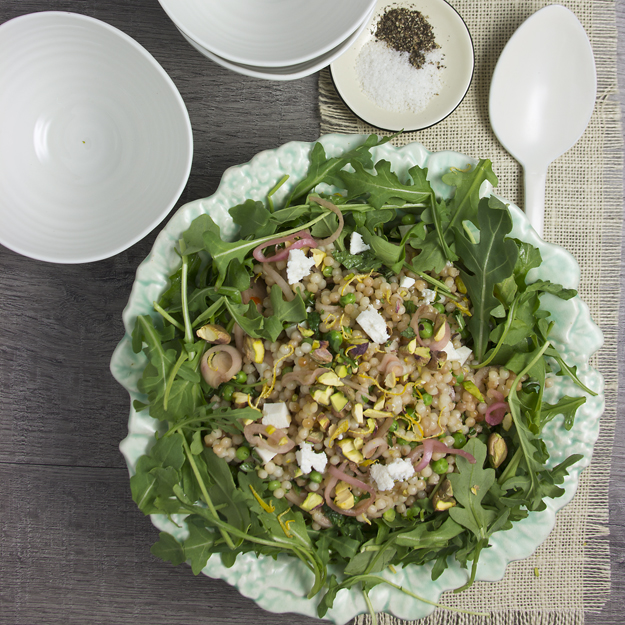 I have never understood the appeal of traditional couscous. It simply does not have enough texture or heft for me. Even when steamed and fluffed properly, so that the grains stay separate, it fails to satisfy me. I like my carbs with a bit of bite to them. Israeli couscous is more my jam. It is dense with a bouncy, chewy texture. I had always assumed that Israeli couscous was just bigger balls of regular couscous. I only recently learned the true difference.
Traditional couscous is actually tiny ground pasta made from semolina flour. It is made by rubbing semolina between wet hands until teeny-tiny balls are formed. The couscous is then dried and steamed. Israeli couscous is also made from semolina flour, but the similarities end there. Israeli couscous is made by mixing semolina flour with water, into a dough. The dough is then machine extruded through a round mould, about 1 millimetre in size.  These tiny pearls are then toasted dry, which adds a nutty flavour. 
Traditional couscous has been around, some believe, since the 9th century, but Israeli couscous is just a baby. It only came into existence in the 1950's. Following the War of Independence in 1948, many immigrants arrived in the newly formed country from all over the Middle East. Most of them relied on rice as a staple in their cuisine, but there were rice shortages. Israel's first Prime Minister, David Ben-Gurion, asked the Osem food company to develop something that they could substitute for their beloved rice. They created "Ptitim". It was nicknamed Ben Gurion rice, since it was originally extruded in the shape of rice grains. They later introduced a round version which they called Israeli couscous.
This delicious salad is my adaptation of a Cook's Illustrated recipe. I have only made a slight change. I substituted ricotta salata for the feta cheese they suggested. I prefer the drier texture and less salty taste of ricotta salata. Many Italian grocers carry it. Feel free to use feta if you like, or even some crumbled goat cheese, if that's your thing.
Begin with pickling the shallots. Nothing too complicated here. You will need red wine vinegar, sugar, a pinch of salt and some thinly sliced shallots.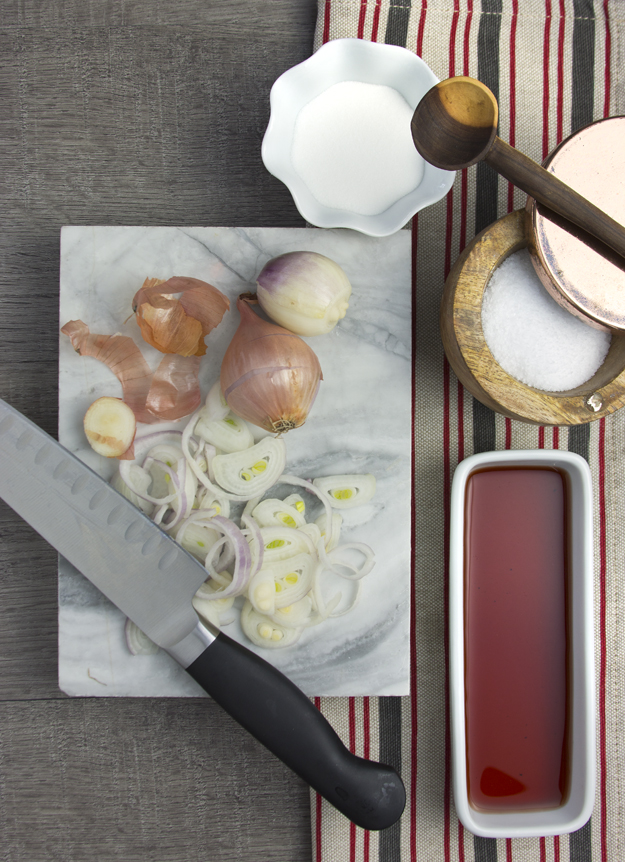 Simmer vinegar, sugar and salt until the sugar dissolves. Add shallots, turn off heat, cover pot and let macerate for 30 minutes. That's it. I always thought pickling was so complicated.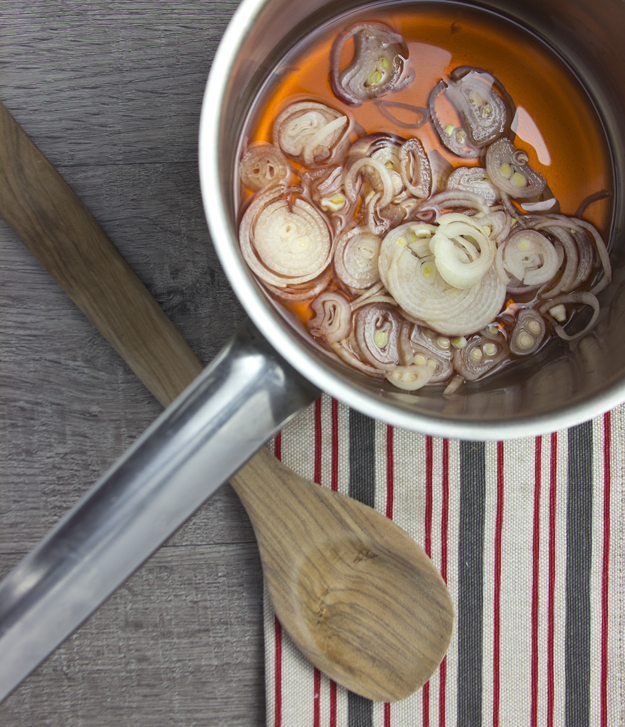 To properly cook Israeli couscous, begin by sauteeing in a bit of olive oil until about half the grains turn brown. Then add water and a pinch of salt and bring to a boil. Reduce to a simmer and cook covered for 12 minutes. The ratio of Israeli couscous to water is 1:1.25.  (For every cup of couscous, add 1¼ cups water)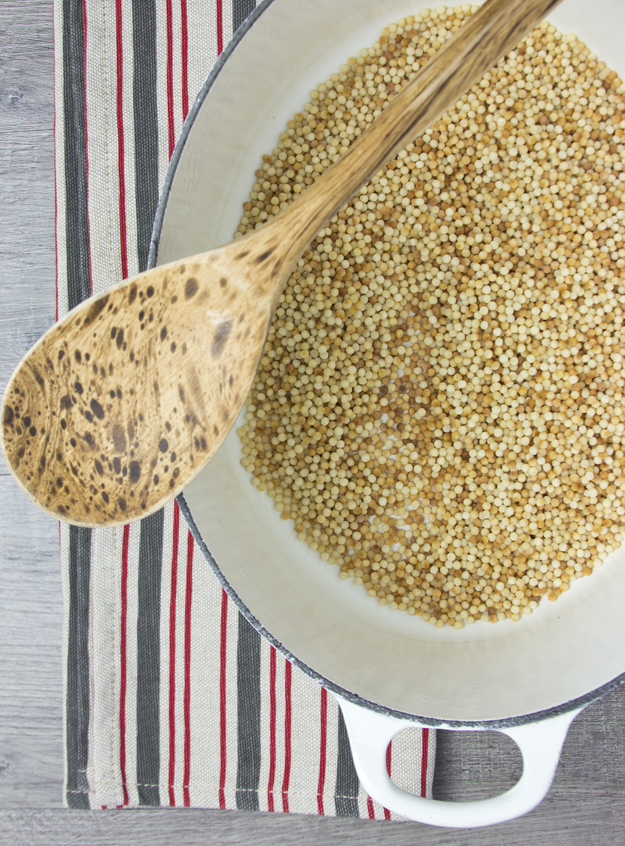 Once cooked, spread couscous out on a baking sheet to allow it to cool before tossing with other salad ingredients.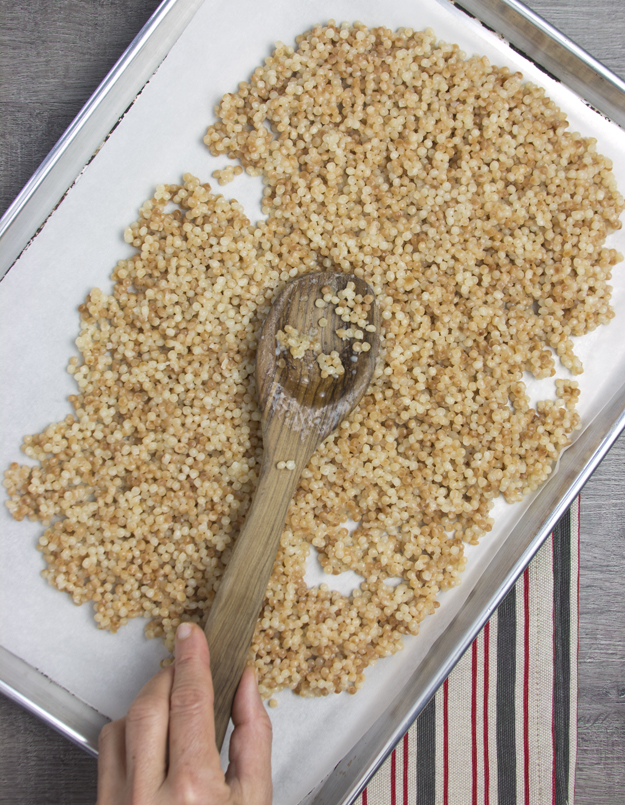 Prepare the dressing. The mild flavour of couscous can stand up to a bracing dressing of Dijon, lemon juice, red pepper flakes and olive oil.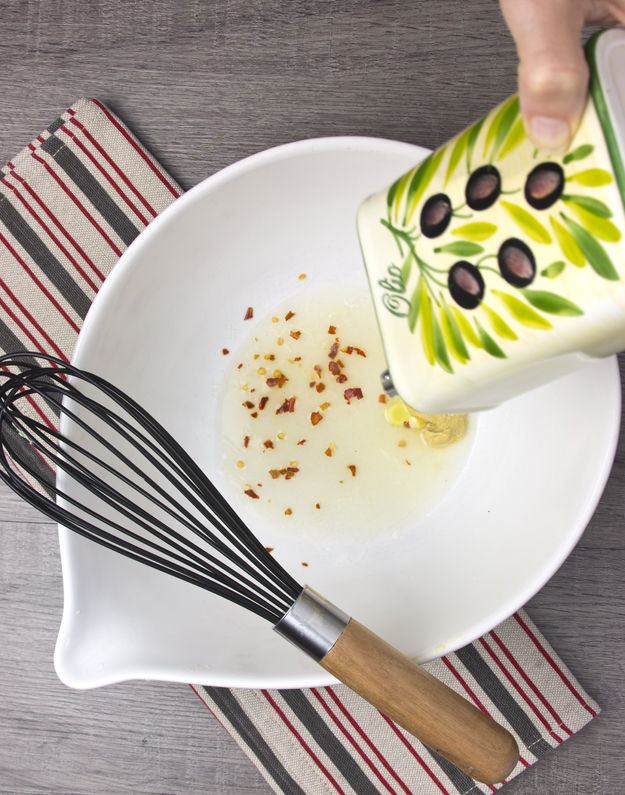 Then it's simply a matter of assembly. I thawed some green peas (no cooking necessary), drained the pickled shallots, washed some baby arugula and mint, toasted and chopped pistachios and diced up the cheese. Sugar snap peas or asparagus would also be excellent friends with this salad.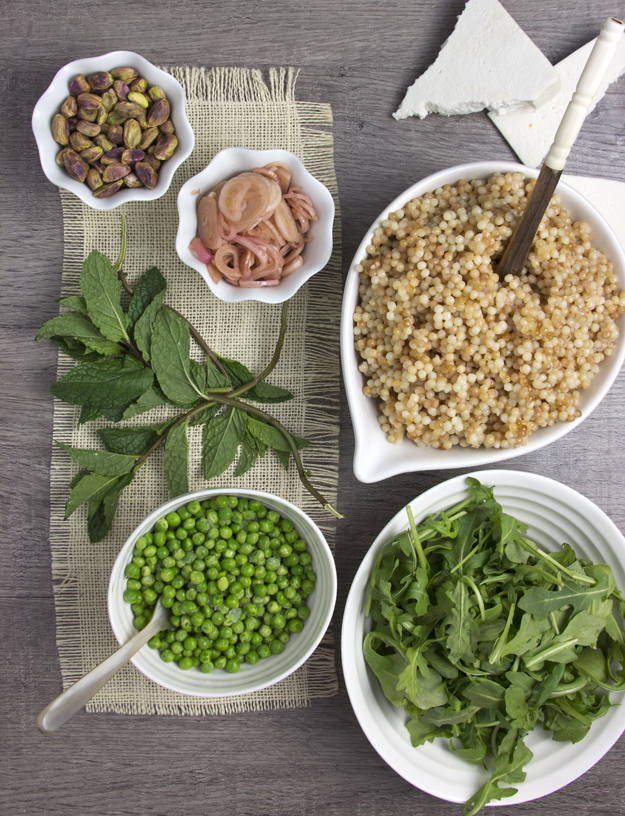 I loved the combination of all these ingredients. Chewy, nutty couscous, bitter arugula, sweet mint, crunchy pistachios, salty cheese and the zingy pickled shallots. Each bite had me craving more.