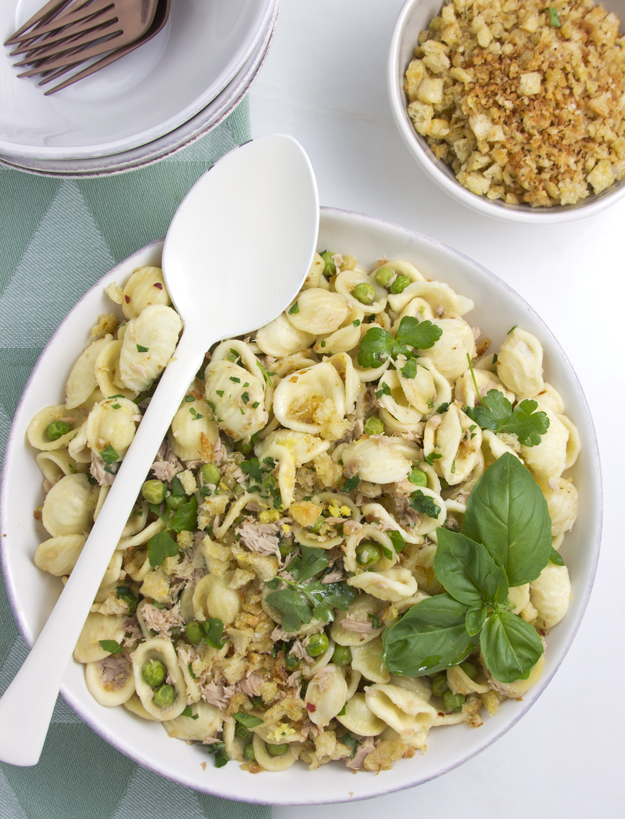 When I was growing up, my mom was at the culinary forefront of our neighbourhood. While other moms were making Jello, she was creating whipped jello molds, a raspberry jello and frozen raspberry concoction that had sour cream or whipped cream folded into it. Kind of looked like this. While other moms were making KD, my mom was making macaroni salad. Elbow macaroni, coated in mayonnaise, chopped celery, a squeeze of lemon juice, and, if she was feeling extra fancy, she'd toss in some diced red peppers.
Then, when I went to camp, I had my mind blown by what else you could do with boxed mac and cheese. On overnight camping trips, dinner was a delicacy known as  "Tripper's Stew." We'd be sent out into the woods to collect firewood. Some of the campers would actually use that time to hide and smoke cigarettes! With the campfire blazing we'd boil up a few boxes of Kraft Dinner. Once the noodles were cooked, in went the powdered cheese, and a few cans of tuna, peas and corn. It was my favourite camp meal.
When I saw Serious Eats contributor Lauren Rothman's recipe for Spicy Orecchiette With Tuna, Peas, and Lemon, I was instantly transported back to my summer camp days. This is a more grownup version of Tripper's Stew. It uses tuna packed in olive oil, (Italian if you can find it), rather than the dry water-packed tuna of my childhood. Red pepper flakes and garlic give it some zip and lemon zest wakes up all the flavours. I adapted Lauren's recipe by adding a toasted lemon breadcrumb topping to give the dish a welcome crunch. My final adaptation was to add some coarsely grated Parmesan cheese. Please don't yell at me and tell me that pasta dishes containing fish are not topped with cheese. I already know the Italian rules, I just don't care. It's delicious with cheese.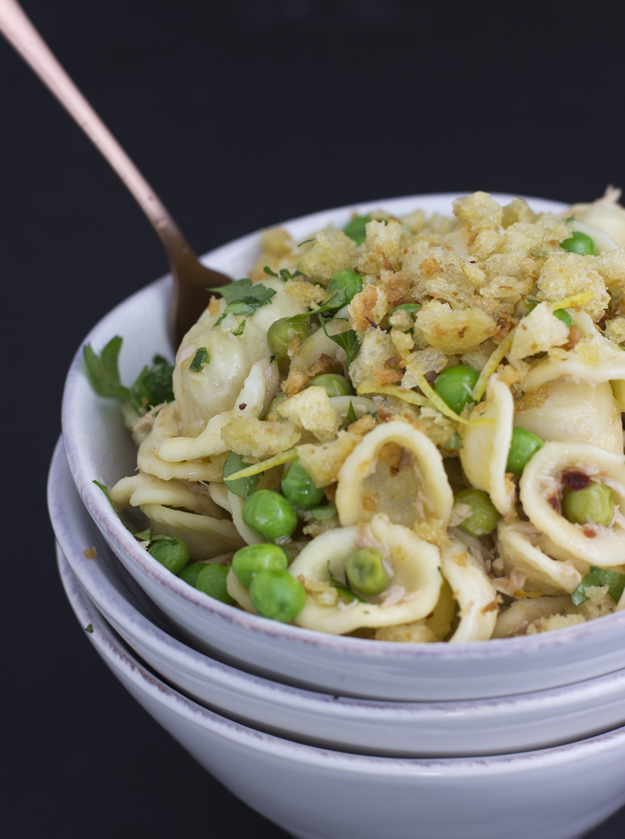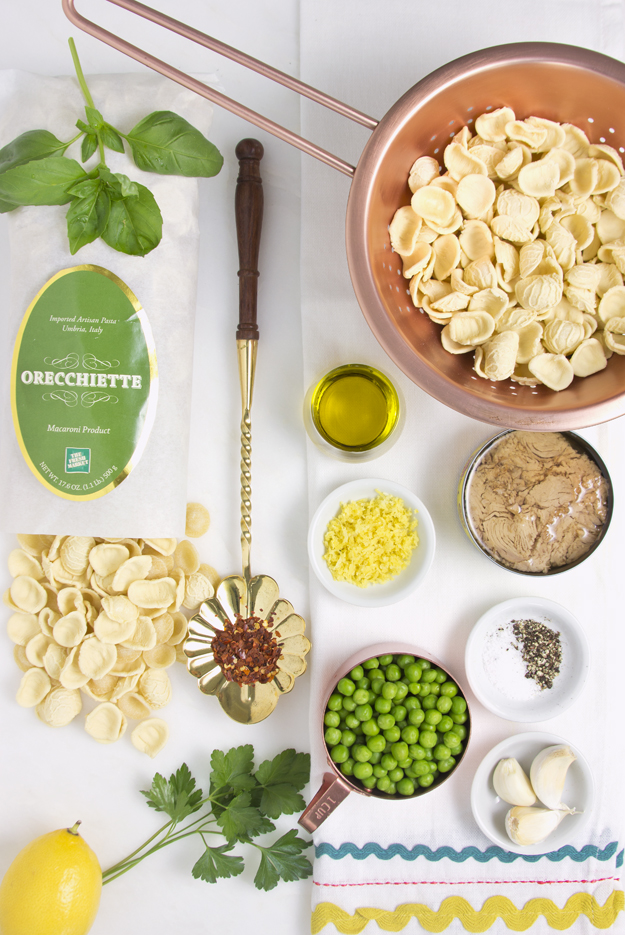 The breadcrumbs take a bit of extra time, but I think that the textural contrast they make to the chewy pasta, makes them worth the additional effort.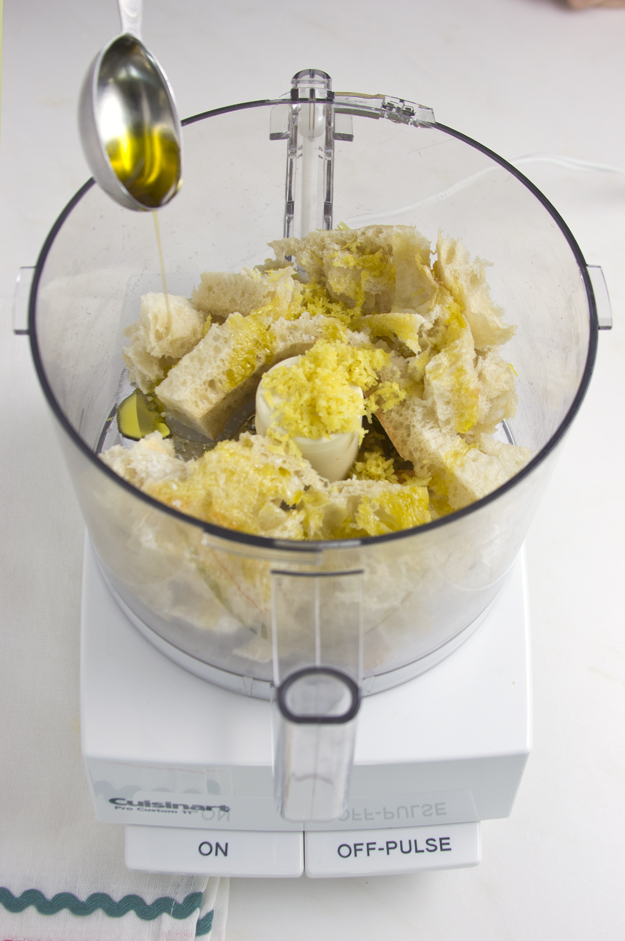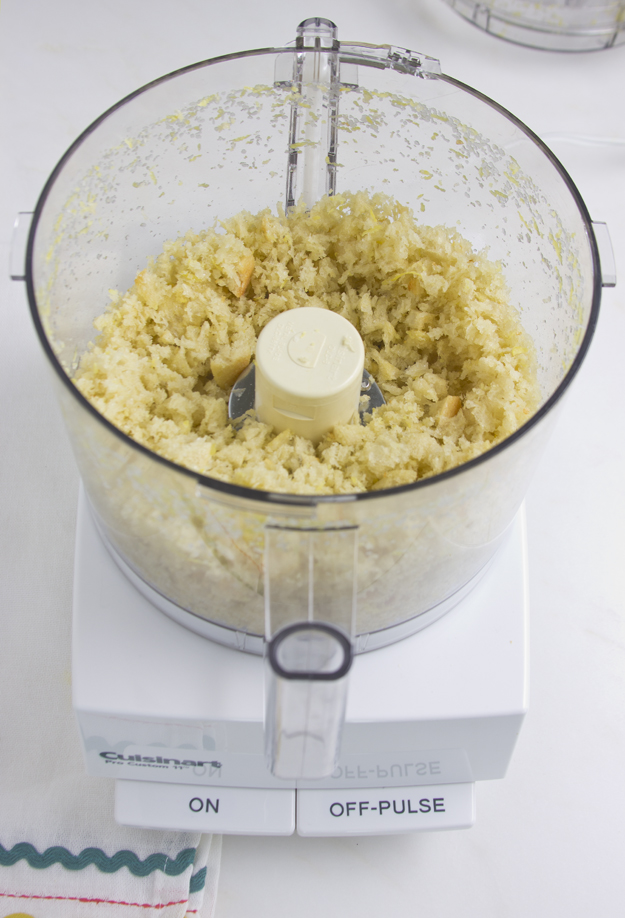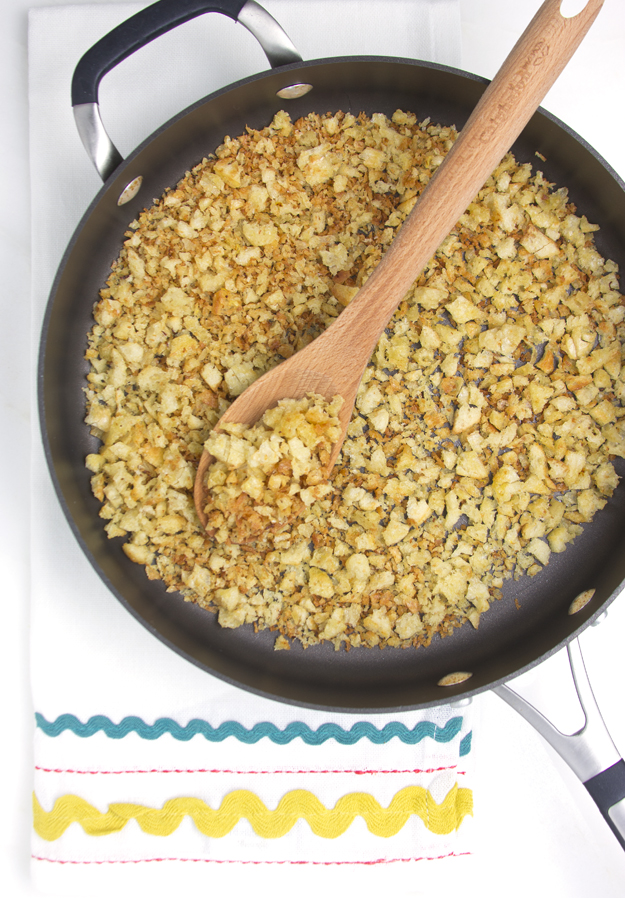 I made this last week when I was alone, so I ate it for dinner, 3 nights in a row. It tasted better each night. I just warmed it in the microwave and then tossed in grated cheese to melt.
Click here to print recipe for Spicy Orichiette with Tuna, Lemons, Peas and Crunchy Breadcrumb Topping.