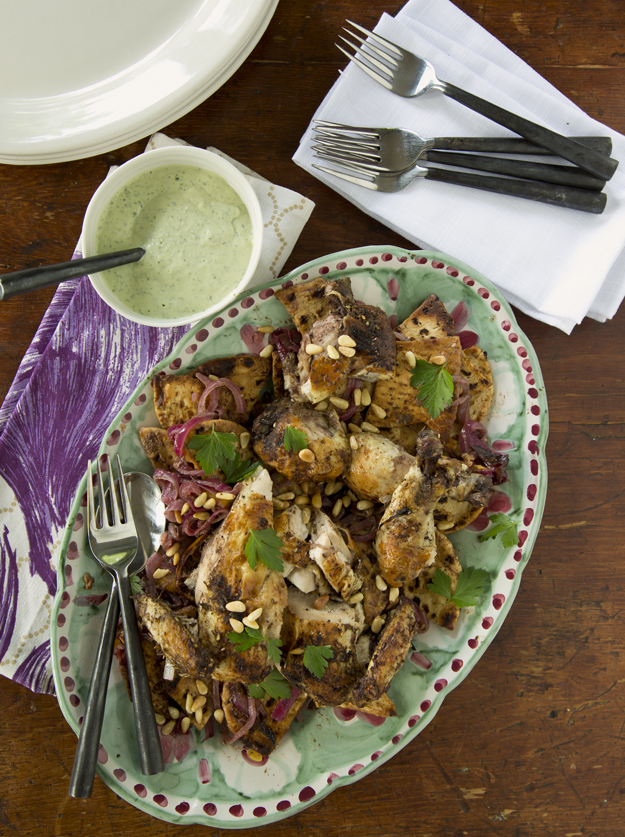 Yes, I admit it's rather bold of me to suggest that you turn on the oven during this hellish heatwave, but stick with me here, and hopefully I'll succeed in convincing you to do just that. It goes without saying that if you're going to roast a chicken in the middle of July, it better be exceptional. This one comes from the master of Mid-East cuisine, Yotam Ottolenghi. Need I say more? This recipe was featured in the August 2014 issue of Bon Appetit magazine.
Start with a heap of thinly sliced red onions.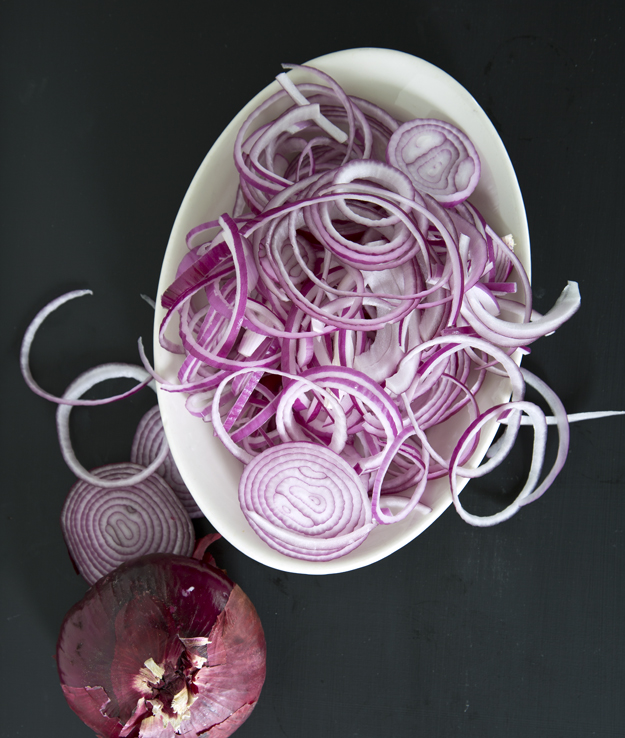 You could roast a whole roast chicken or chicken pieces, but I like to spatchcock the chicken for a more impressive presentation. Basically this just means removing the backbone to flatten the chicken for quicker cooking. You could ask the butcher to do it, or simply use kitchen shears and do it yourself. I have included detailed instructions in the recipe.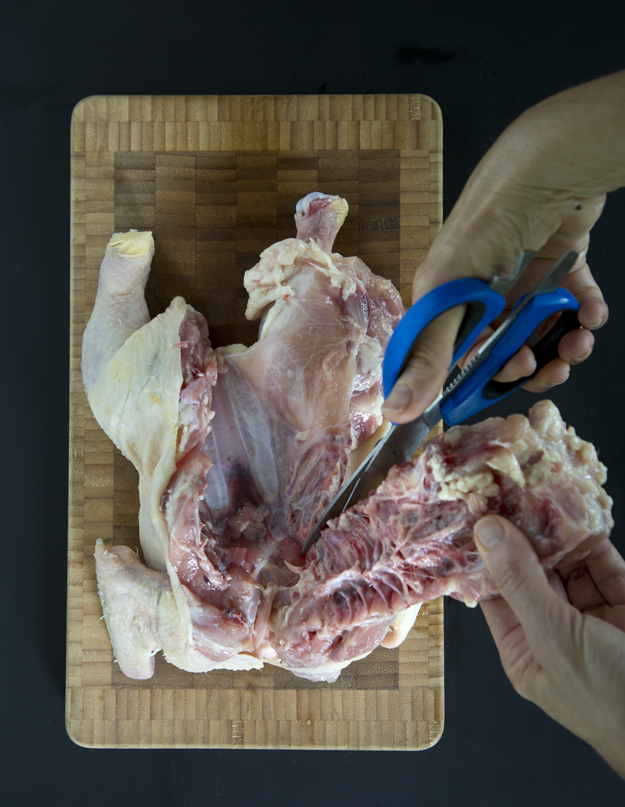 Prepare a marinade of garlic, sumac, allspice, cinnamon, salt, pepper and olive oil and mix withsliced onions and lemons . Give the chicken at least a two hours to soak up all the flavour.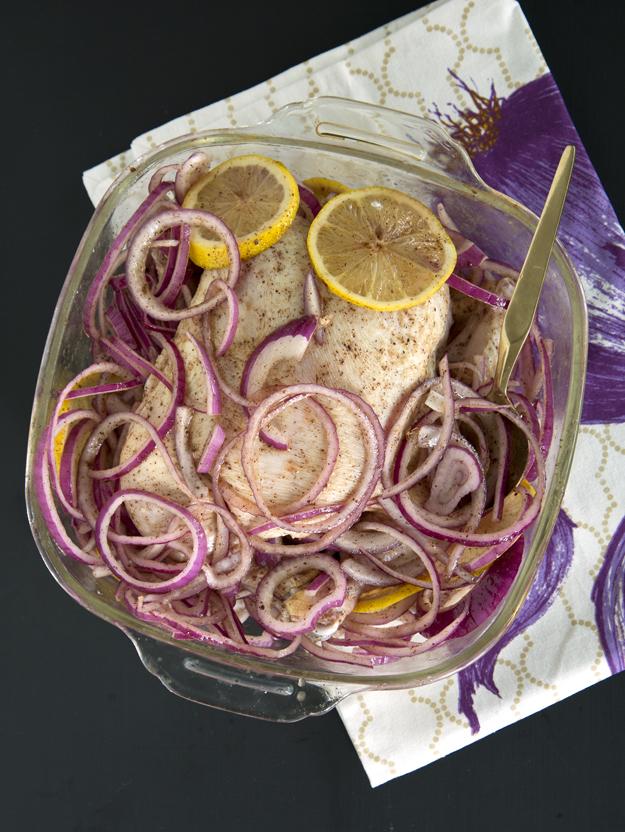 After marinating, generously coat the chicken with za'atar, transfer to a roasting pan and arrange some of the onions and lemons on top of the chicken so that they will get gloriously brown.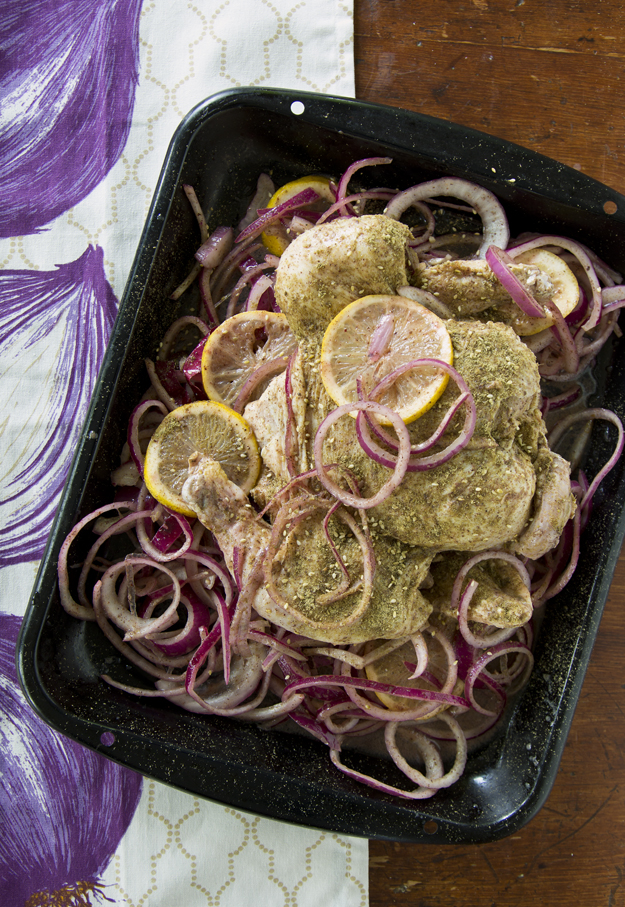 While the chicken is roasting, prepare the green tahini sauce. Have you noticed that tahini seems to be popping up everywhere lately? It's the new darling of the culinary world, and for good reason. It is really quite versatile. Molly made a tahini sheet cake with cream cheese frosting. Ottolenghi made tahini and halvah brownies.  If you need more inspiration, check out these amazing desserts.
Parsley for verdant freshness and vibrant colour, lemon for it's pucker, and garlic for it's punch, all make good playmates for tahini.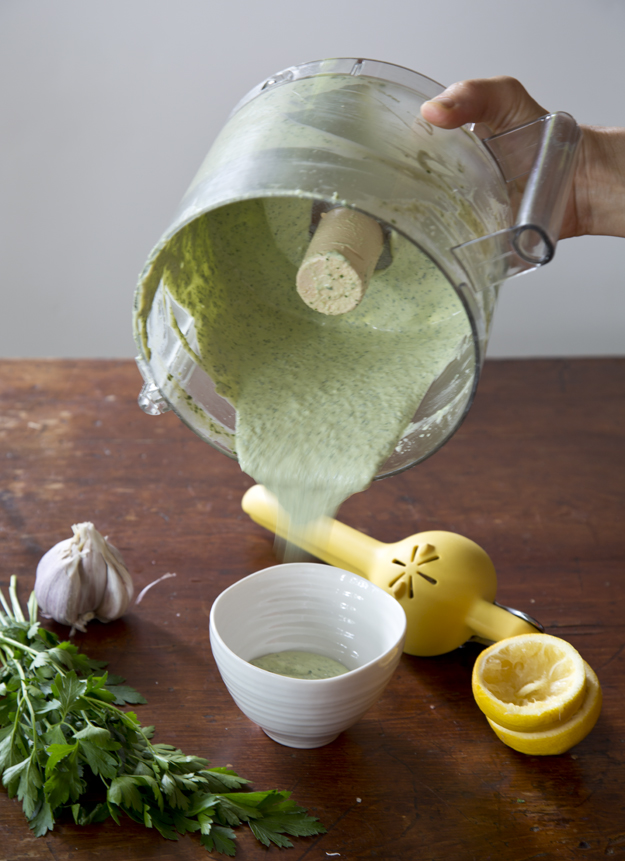 Epicurious.com suggested adding some toasted pita to this recipe. Once the chicken is cooked, remove it, along with the onions and lemons to a baking sheet. Toss some toasted pita bread in all those delicious pan juices. Place the chicken, lemons and onions back on top of the pita in the roasting pan and broil it until the skin gets crispy brown.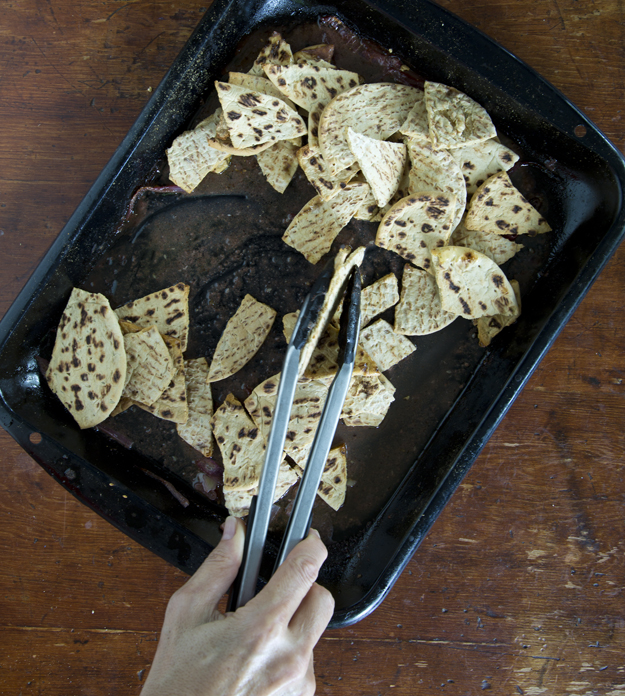 Heap it onto a serving platter, top with toasted pine nuts and serve the sauce on the side.