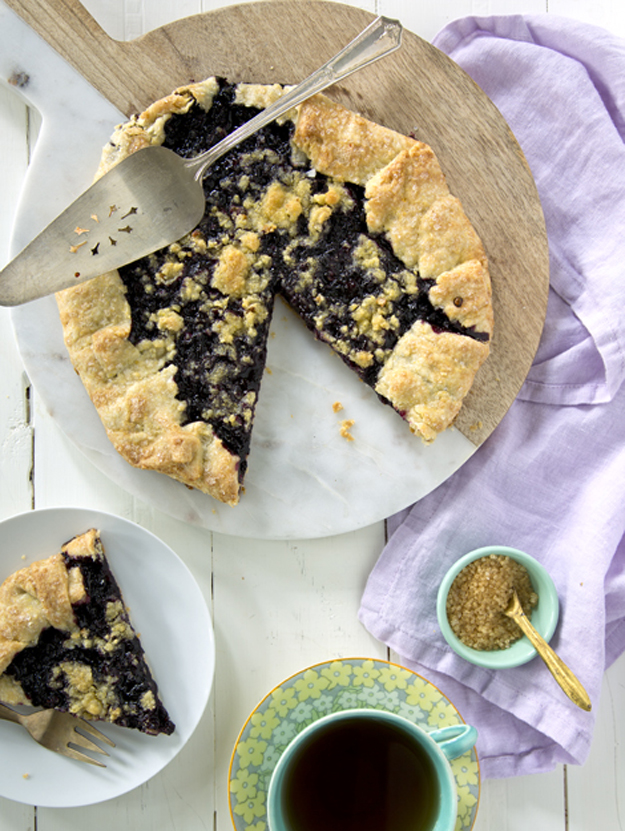 Galette is French for "Lazy Ass Pie." No, not really. It actually refers to a free-form tart. Pies are a lot of work. There's all that stress about making the crust and rolling it out without cracking. Plus, I suck at crimping. But a galette is supposed to be rustic. Rolling the dough into a perfect circle is  not required, in fact, it is frowned upon. (Well, I frown upon perfect circles)
Wild blueberries have arrived and sadly, they're only here for a few short weeks, so I take advantage of the short season and work very hard at eating my weight in wild blueberries during the month of August. This recipe would certainly work with regular blueberries, but you may need to add a bit more sugar, since wild ones are so much sweeter. You could also use frozen berries. The PC frozen wild blueberries are excellent, as are Trader Joe's brand.
OK, let's make a lazy ass pie galette. Start with the filling. Mix blueberries, tapioca flour (also called tapioca starch), sugar and lemon juice.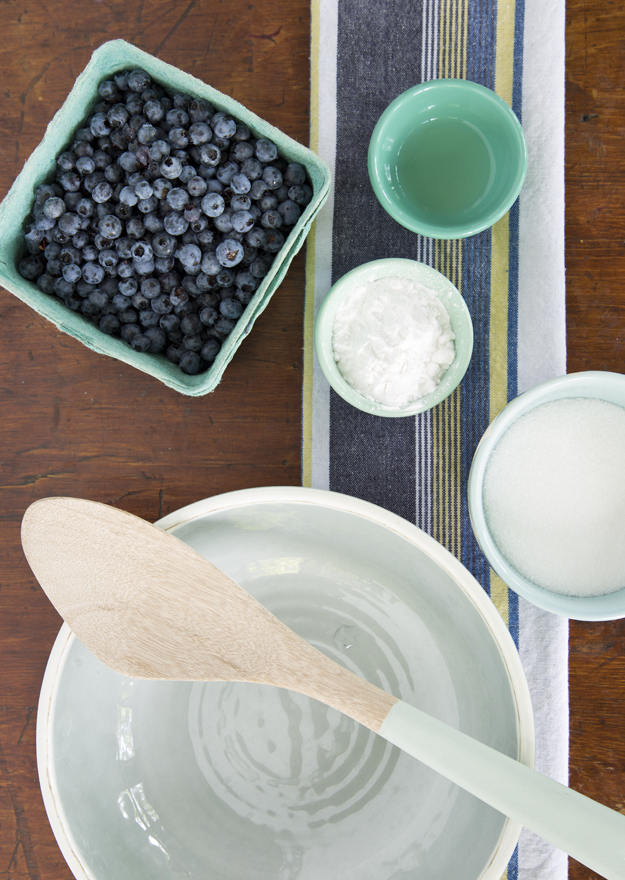 Next we tackle the topping. This corn crisp topping was the genius idea of Bon Appetit Magazine. I saw it in their July 2016 issue, and I knew I had to try it. Such a fun idea to combine blueberry and corn in a dessert. Start with a traditional crisp topping of flour, sugar and butter. Add a touch of cornmeal for added crunch.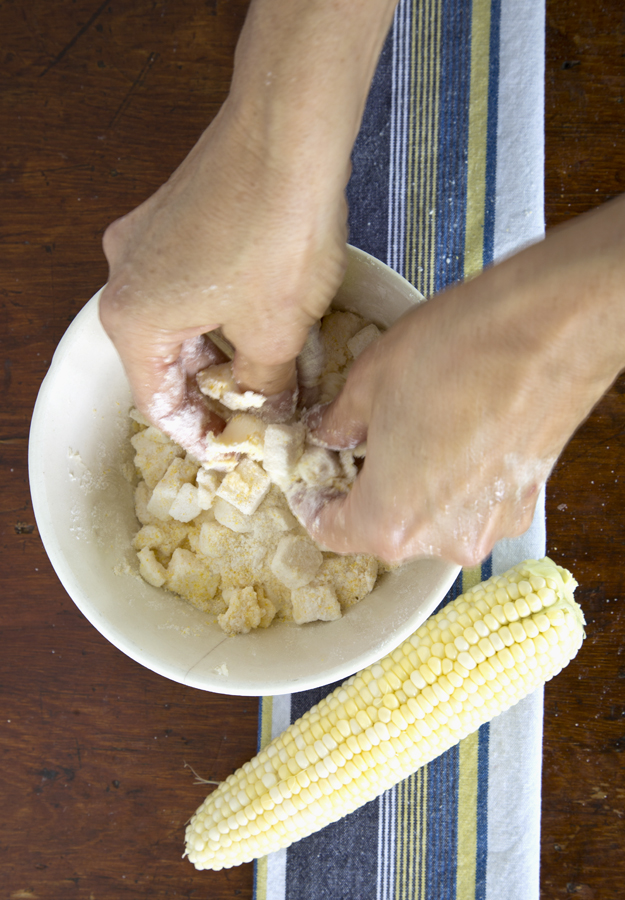 Then cut in fresh corn kernels. Topping done.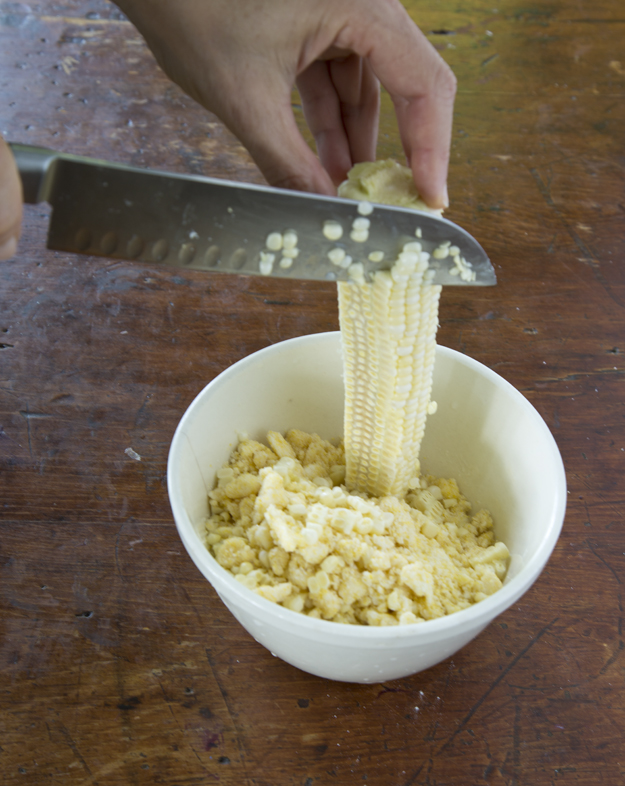 The dough comes together very quickly in the food processor. No need to chill it. Just roll it out right away between 2 sheets of parchment paper, to avoid any fuss.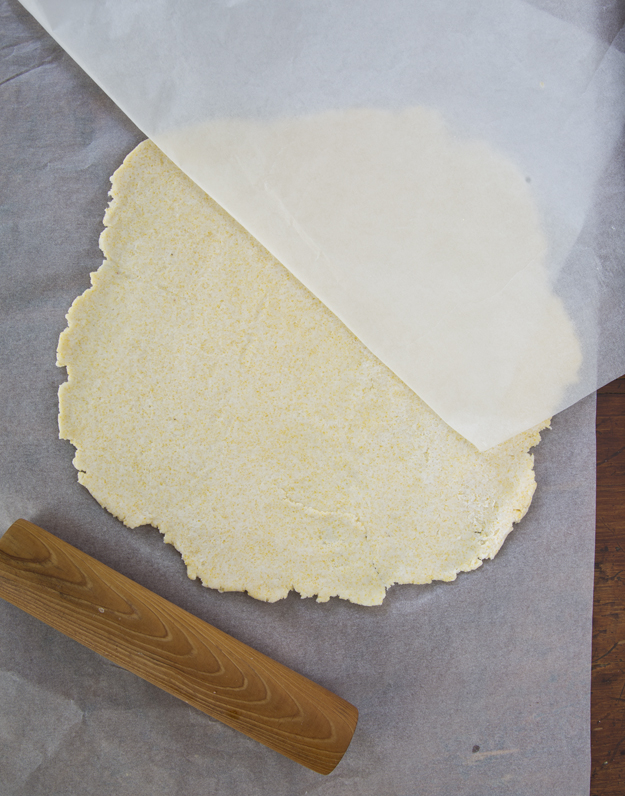 Time to assemble.
I made a dairy free version of the galette last weekend for some friends. I used chilled coconut oil in both the dough and the topping and it was fantastic. The coconut oil was only detected (and rejected) by one friend, but I suspect he's a super taster.