Rosh Hashanah, the Jewish New Year, begins next Sunday night. We have 20 coming for lunch next Monday and I have been busy planning my menu. I wanted to do something creative and pretty for the table setting, somehow incorporating honey which we dip apples in to signify our wish for a sweet new year.
There is no shortage of inspiration on Pinterest. I loved these honey dipper place cards and thought these place cards, tied to the cutlery were just adorable. In theory, I really like the idea of place cards. They are a great way to dress up a table. In practice however, in my family at least, no one really sits where they are told. On my husband's side of the family, they just ignore the place cards and sit where they want. On my side, we at least attempt to be polite about it. Someone, quietly goes into the dining room, before the meal and rearranges the place cards to suit their preferences. (Not mentioning any names here!). So no place cards at my house.
My problem with those spiral wooden honey dippers is the drippy mess they make all over the table. When I did an online search of honey dippers, I discovered these honey sticks. They are the perfect size and I am hoping they will be quite tidy. I ordered 2 varieties, wildflower and blackberry.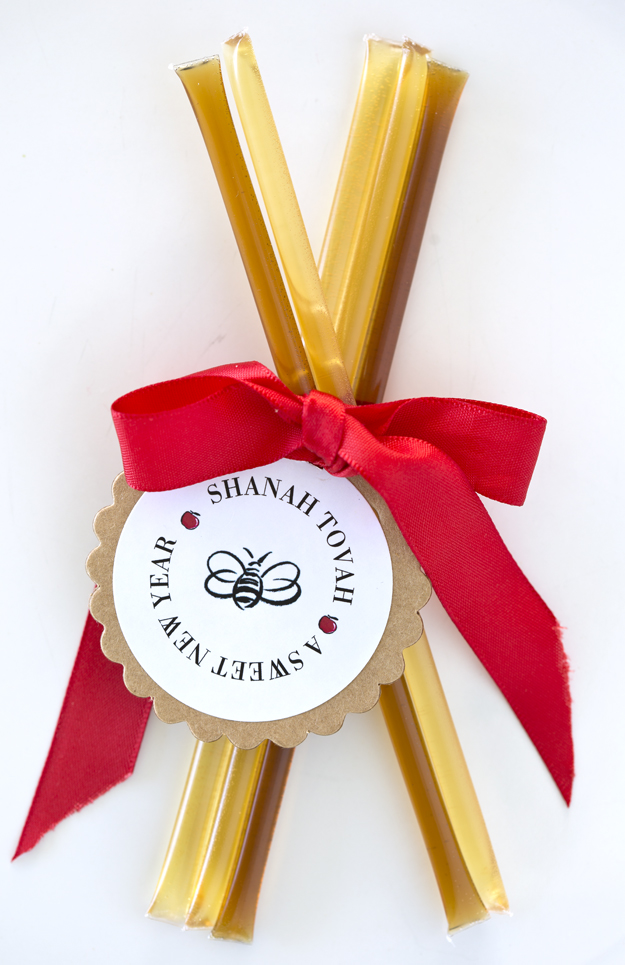 I created these stickers using the Avery online label design program.  It's very user friendly and has many design options. I used these 2 inch round glossy labels  and stuck them on some scalloped round cardboard gift tags I found at Michaels craft store. I tied everything up with a bright red ribbon.
I'll put one at each place setting. Everyone can sit where they want! Wishing you all a sweet and healthy new year.