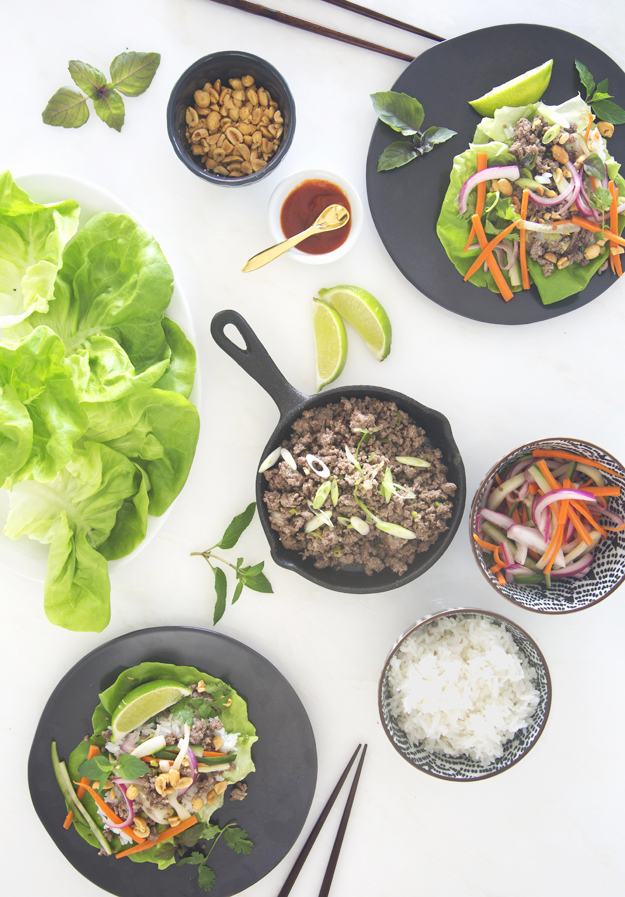 You may know larb (pronounced "lawb") from seeing it on the menu of your local Thai restaurant, but it actually originated in Laos, Thailand's neighbour to the north-east. It has become a staple dish of Thai street food.
Larb is a salad, but not a regular vegetable salad. It is best described as a meat salad. Typically made with  minced pork, chicken or beef, it is seasoned with fish sauce, chili flakes, lime juice and toasted rice to give it a crunchy texture. It is finished with green onions and an assortment of herbs (cilantro, mint and thai basil) to give it a verdant freshness and bring it all together.
Larb, wrapped in a lettuce leaf, (because anytime I can wrap something in a leaf and call it dinner, I am exceedingly happy), with a spoonful of sticky Thai rice, is a magical flavour bomb. Salty, spicy, sour, sweet and crunchy, it hits all the right notes.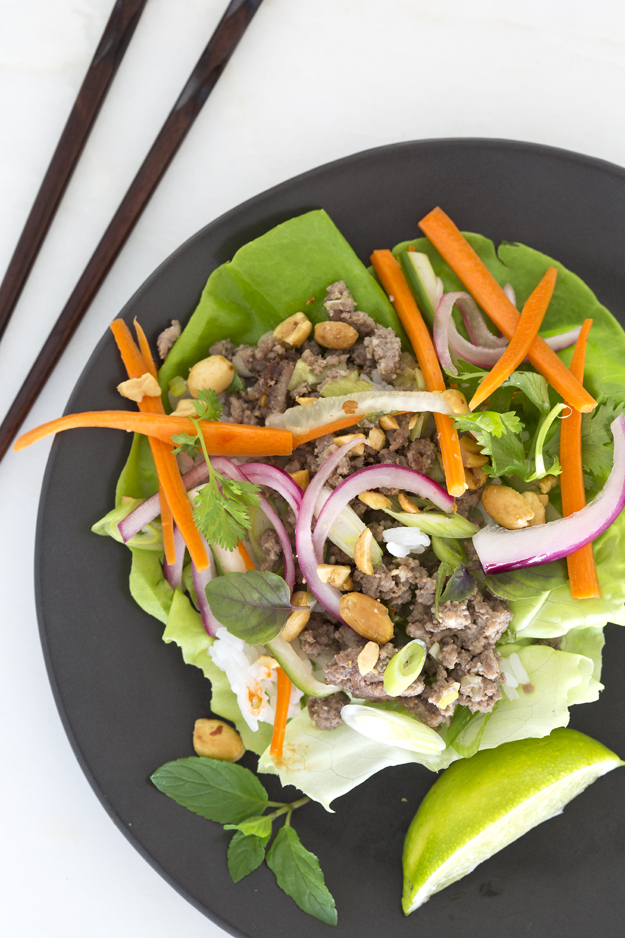 I decided to make it with ground lamb. While not totally authentic, my version is still quite delicious. I think it would also be great with ground turkey or chicken, for a lighter version.
No discussion of larb is complete without chatting about toasted rice. Browned ground rice adds a crunchy bite and a toasted fragrance. Leela over at shesimmers says, " Whenever a Thai recipe calls for toasted rice powder, even just a smidgen of it, don't be tempted to leave it out… This insignificant-looking (ingredient) is what differentiates a vaguely Thai-inspired dish from what a Thai mother serves her family somewhere in Thailand as we speak."
Toasted rice powder is available at many Asian markets as well as on-line, but it is simple to make at home. Start with about 1/2 cup uncooked Thai rice and toast it in a dry skillet over medium heat for about 10-15 minutes, stirring frequently, until light brown and fragrant. (It will smell like you just made popcorn!) Let the rice cool and coarsely grind a few tablespoons at a time in a spice grinder. You only need 1-2 Tablespoons of the ground rice for their recipe. Just store the remainder in an airtight container in the pantry.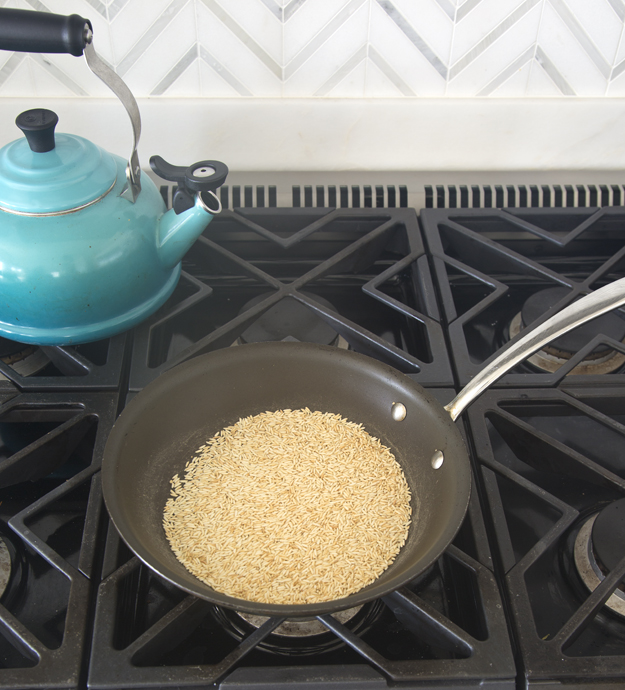 Once the toasted rice is done, this dinner comes together in about 30 minutes, if you follow this timetable.
Start with making a quickle. (That's short for a quick pickle!) Julienne some cucumber and carrots and thinly slice some purple onion. Let them hang out in a vinegar/salt/sugar mixture for about 20 minutes, then drain and discard the pickling liquid. The pickled vegetables add a perfect sour note that contrasts beautifully with the rich lamb meat.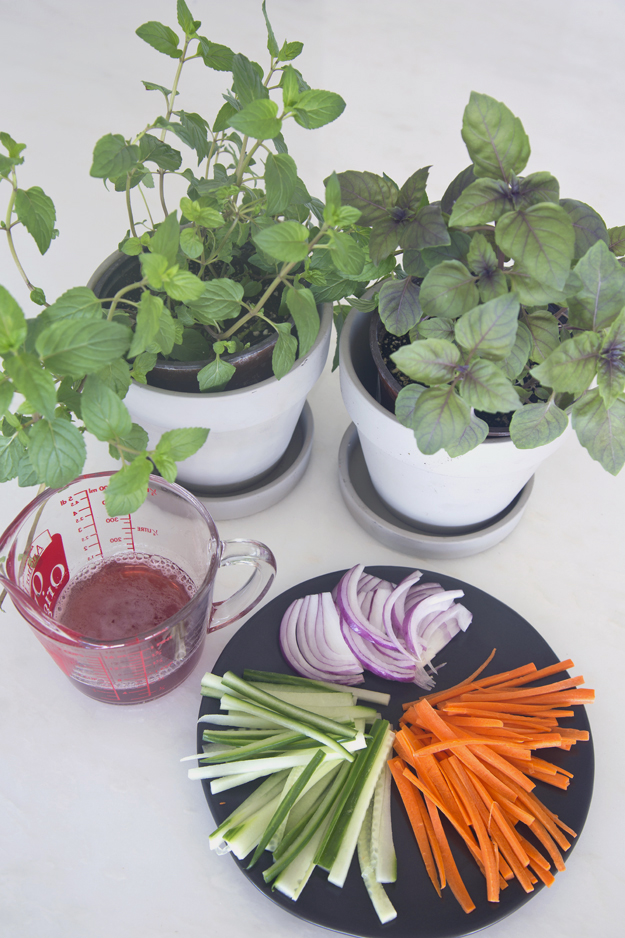 Put some Thai rice on to cook. While a rice cooker turns out perfect rice everytime, I have always resisted getting one because I don't want another kitchen appliance. The reason rice made in a rice cooker always turns out light and fluffy is that it has a mechanism to release steam, which forces out additional moisture that normally gets trapped in a pot resulting in wet rice. Here is my fool-proof method for cooking rice.
I wrap the pot lid in a kitchen towel. The towel mimics the steam release mechanism by absorbing all the excess steam and leaves you with perfectly cooked rice.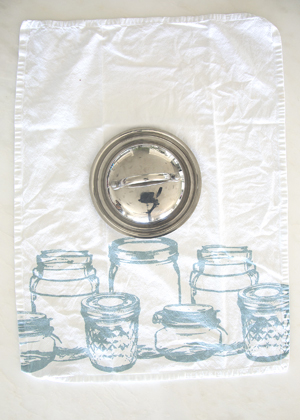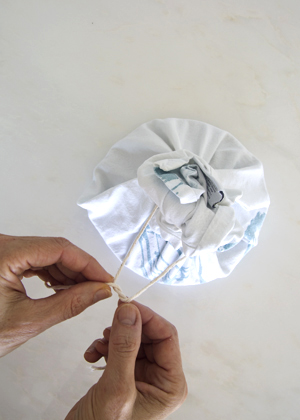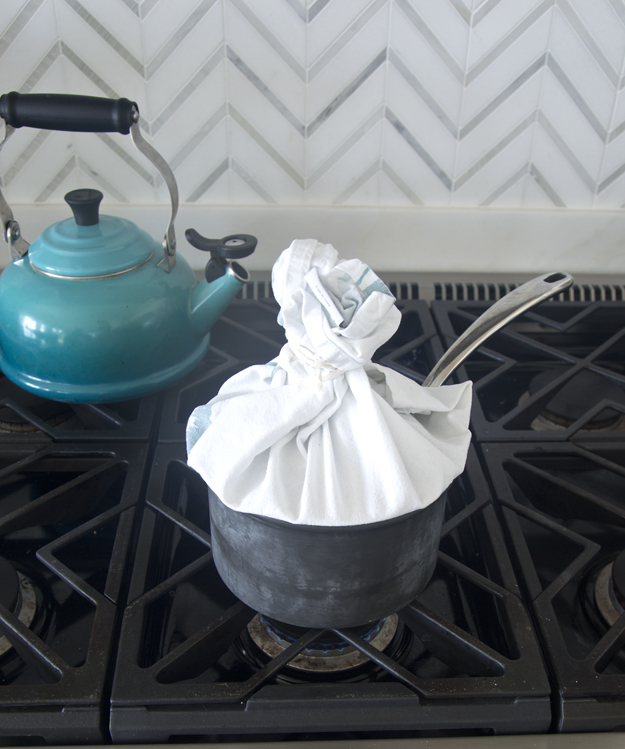 While the rice is cooking and the vegetables are pickling, cook the lamb. I find a potato masher is the perfect tool for breaking the meat up.
Once the lamb is cooked through, take it off the heat and stir in the toasted rice powder. Start with 1 teaspoon fish sauce, 1/4 teaspoon red pepper flakes, 1 Tablespoon lime juice and 1 teaspoon brown sugar. Stir well and taste. Add more of whatever you think it needs. You want a balance of sweet, spicy, sour and salty. Stir in some sliced green onions.
Let everyone assemble their own wraps. Chopped peanuts add extra crunch.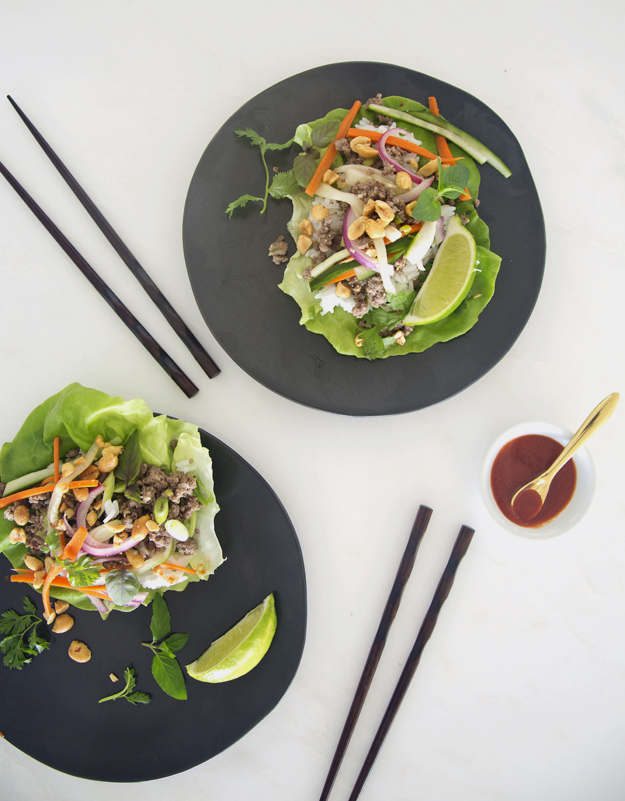 Click here to print recipe for Thai-Lamb-Larb.