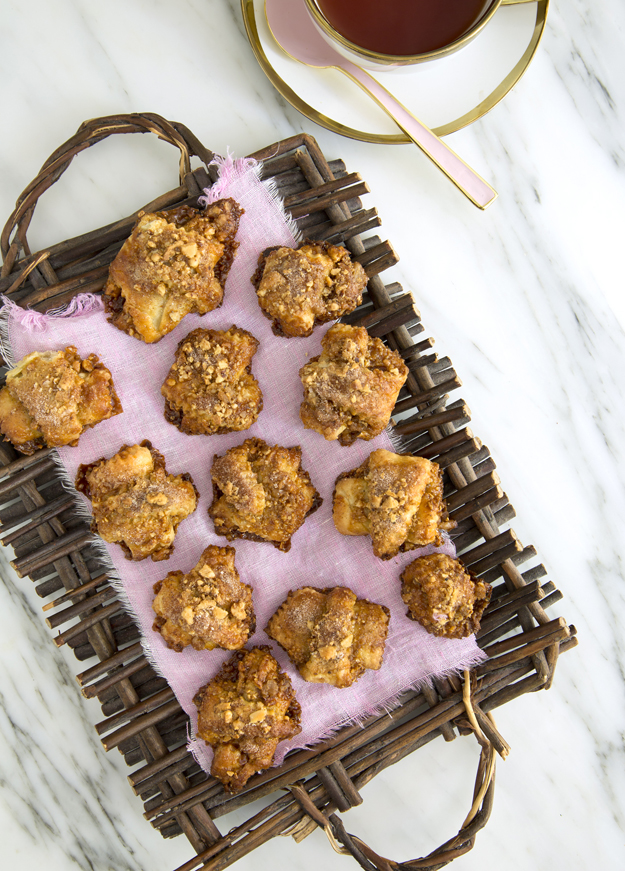 According to my sister Bo, if I post any more of Melissa Clark's recipes I will be veering dangerously close into stalker territory. We both have a bit of a girl crush on Melissa. She is pretty awesome. To date, I have posted 9 of her recipes on my blog. I think that 10 is the line I must not cross or the restraining order will be shortly forthcoming.
Not to worry Melissa, I have a new girl crush. Her name is Mindy Segal. Although her book, Cookie Love, was released in 2015, for some reason, I just discovered it last month. Which, for a cookie fanatic like me, is kind of surprising. Mindy has turned the cookie world on it's ear, taking the classics and updating them into fun and most decidedly delicious little bites.
Deciding which cookie to bake first, from this gem of a book, was not easy. As you can see, I have bookmarked lots.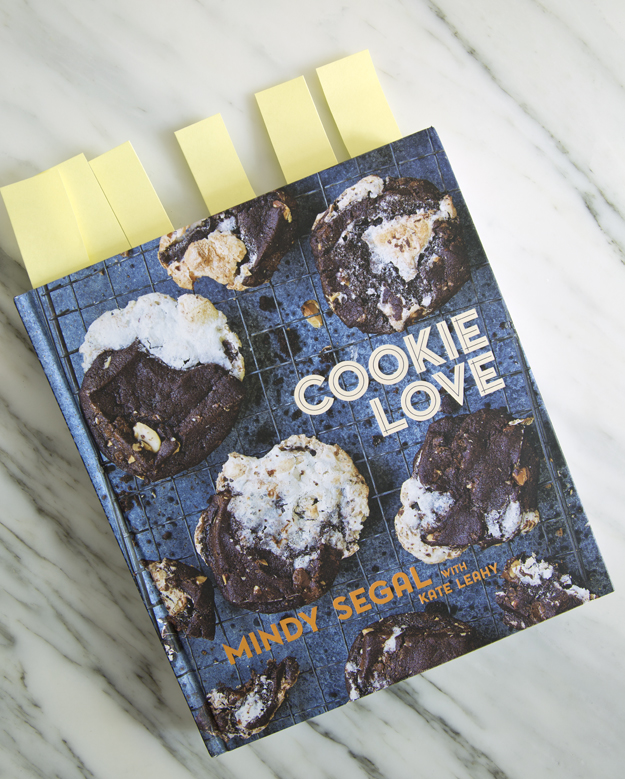 This is not a book for those looking for simple mix and scoop cookies. Many of the recipes in this book involve multiple steps and several "mini recipes" within a recipe. If that sort of thing bugs you, then this is not the book for you. If you are looking to up your cookie game, and enjoy spending time in the kitchen, creating little master pieces, then look no further, you have found your guru.
I decided to start with her cinnamon brickle rugelach. Rugelach, for the uninitiated, are a small Jewish pastry, of Eastern European origin. You can learn more about the history of rugelach in this post.
For these cookies you need to make a cream cheese dough, cinnamon nut brickle, and caramel sauce. All three of these components can be done several days ahead and you can assemble and bake the rugelach on another day if you like.
I started with the caramel sauce. Mindy's recipe makes a generous 4 cups, and you really only need about 1/4 of this amount for the rugelach. But the caramel sauce keeps in the fridge for 6 months and it's always a good idea to have some caramel sauce around in case of emergency.  I don't know about your emergencies, but some of mine can be resolved with a spoonful of salted caramel sauce. You can of course buy caramel sauce in a jar, but please don't. Homemade is so much better.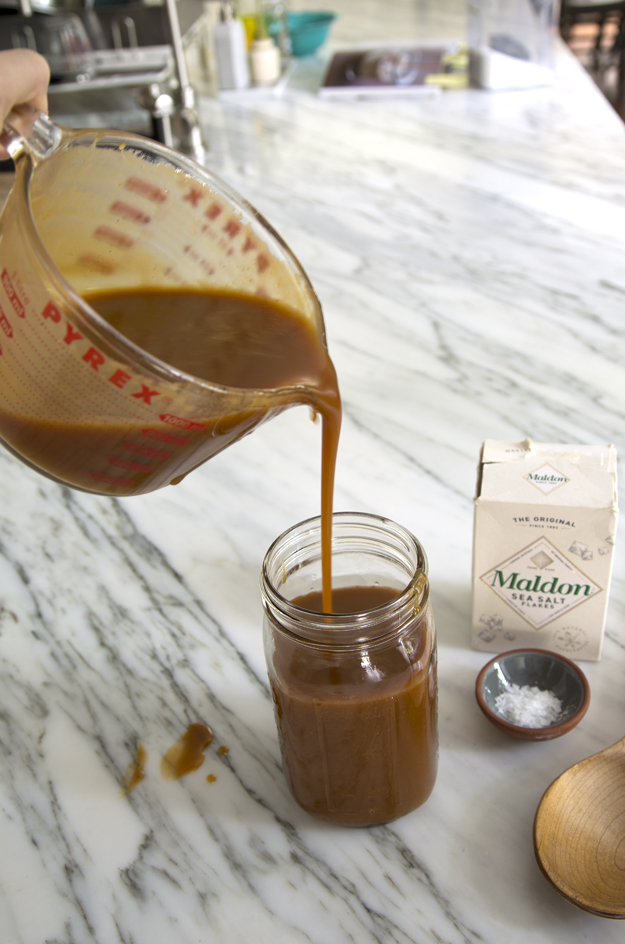 While the caramel sauce is cooling, make the cream cheese dough.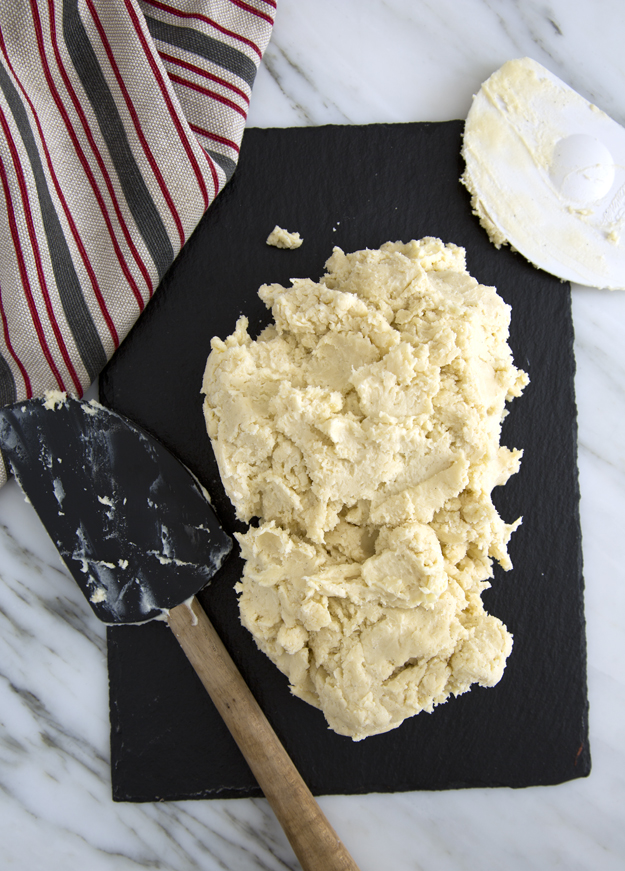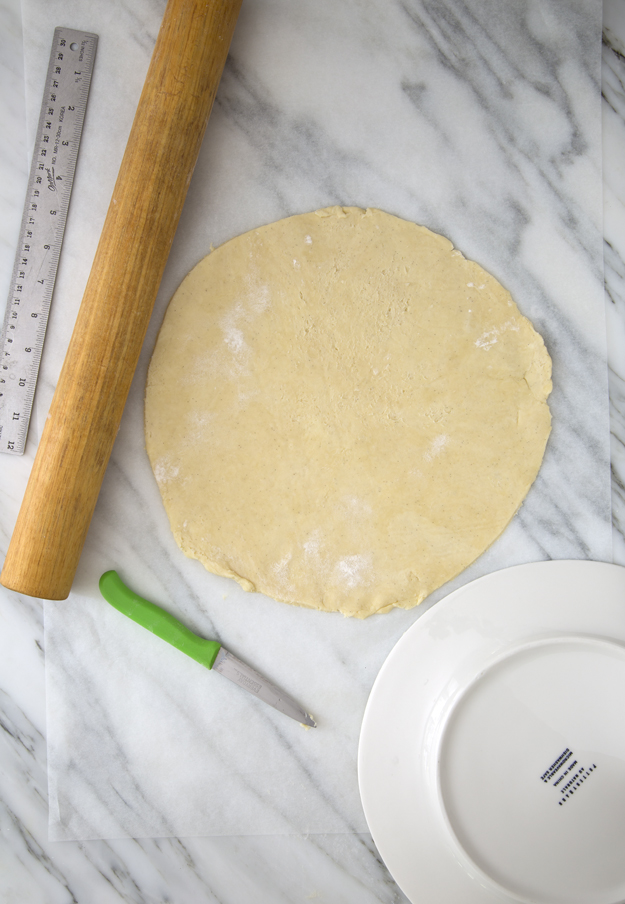 This is a supple dough, easy to roll, with no cracking. Mindy suggests you roll it into a rectangle and then cut it into triangles. I read her instructions for doing this 3 times and could not figure it out. Geometry was never my strong suit. I decided to form mine into a circle, and used a 13 inch round plate to make my circle perfect, because that's how we roll around here.
The dough needs to chill for about 30 minutes before you can make the rugelach, so go on to the cinnamon nut brickle. Brickle refers to something with little elasticity; hence it is easily cracked or fractured or snapped. Does anyone else remember Butter Brickle Ice Cream from their childhood? My mom used to buy the "light" version and we'd end up eating twice as much.
We're essentially making nut toffee here. Butter, sugar and cinnamon are heated until melted. Mixed salted nuts are coated in this concoction and then tipped out onto a baking sheet to harden.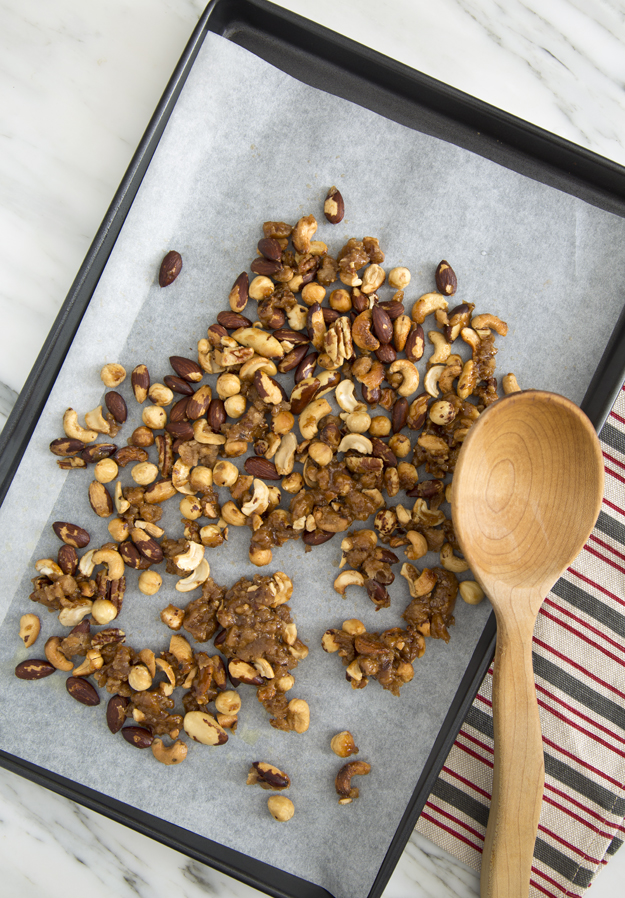 Then get out the food processor and make some noise. There will be leftover brickle after forming your rugelach. It will keep for over a month, and is excellent on yogurt or ice cream, in case of another emergency.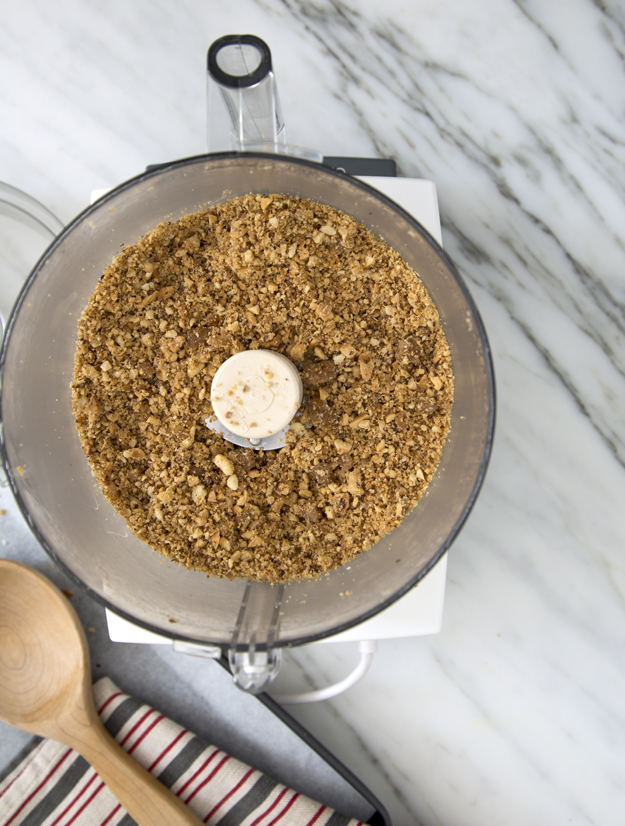 Now for some fun.
I altered Mindy's recipe slightly, using less caramel sauce and less brickle than she does.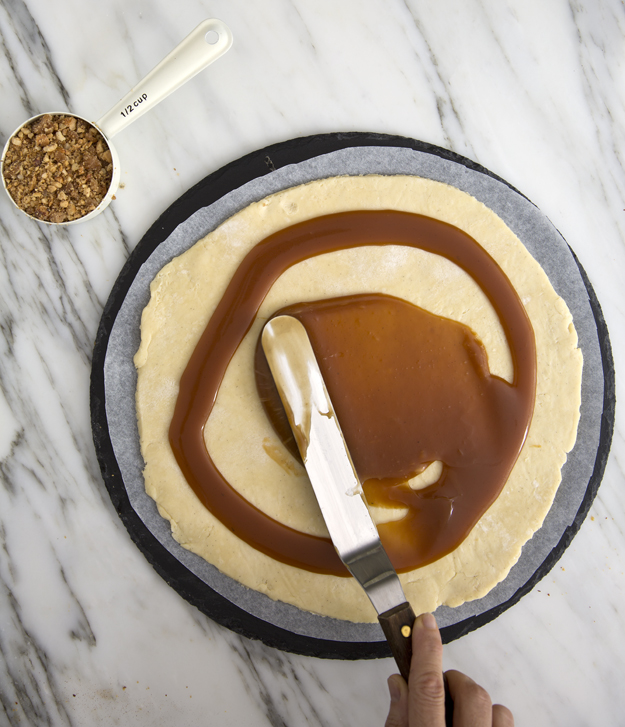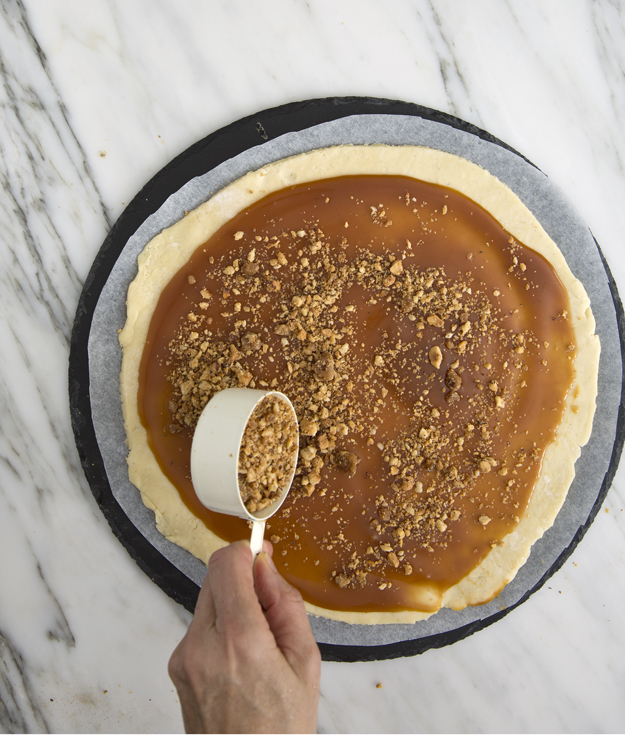 A pastry wheel or pizza cutter make quick work of forming the wedges. You could also use a sharp knife.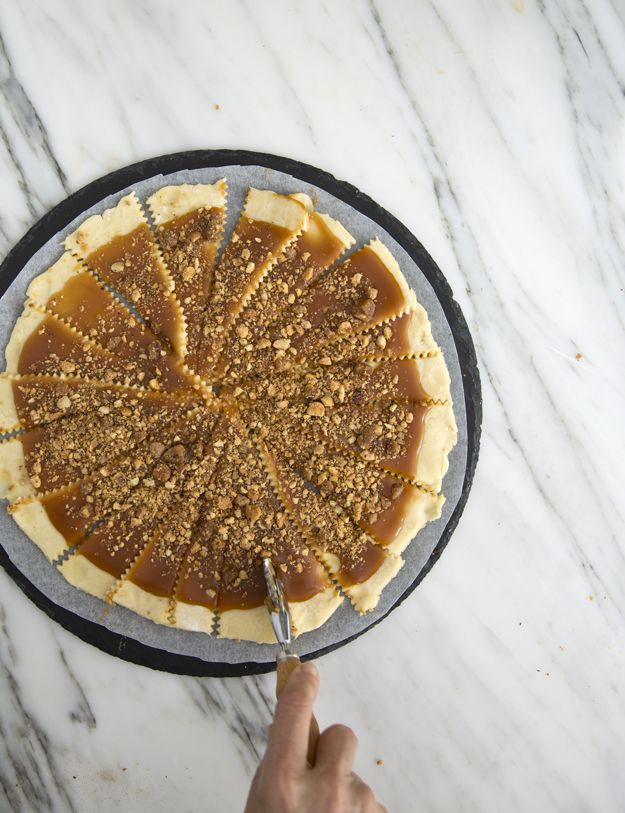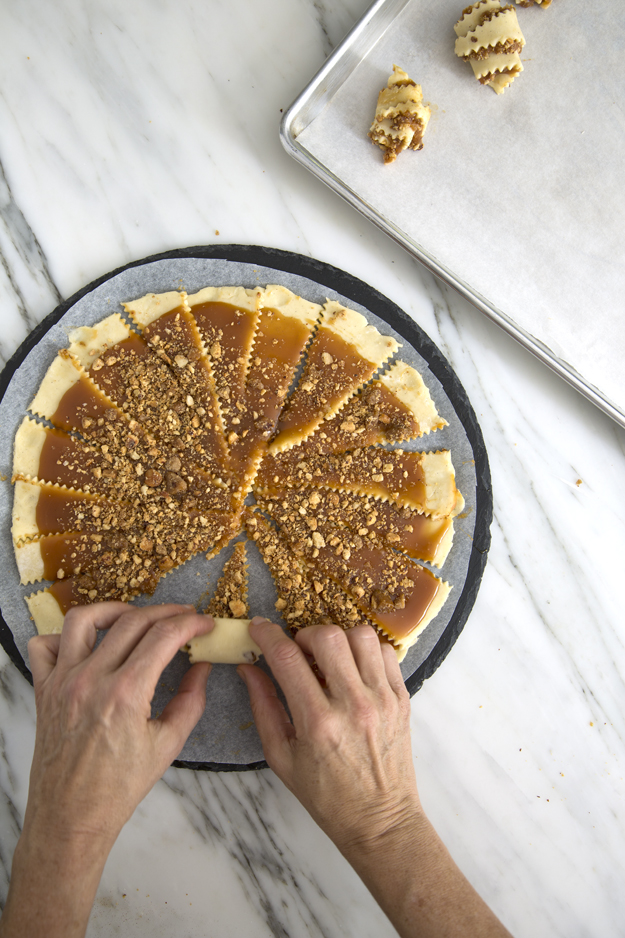 Make sure you brush with beaten egg whites so that the cinnamon sugar will stick. Mindy topped her rugelach with more brickle, but I found that most of it just fell off and burned on the baking sheet, so I left that step out. I did however, sprinkle them lightly with flaked sea salt (Maldon), before baking. The salt really balances out the sweetness of the caramel sauce and brickle filling.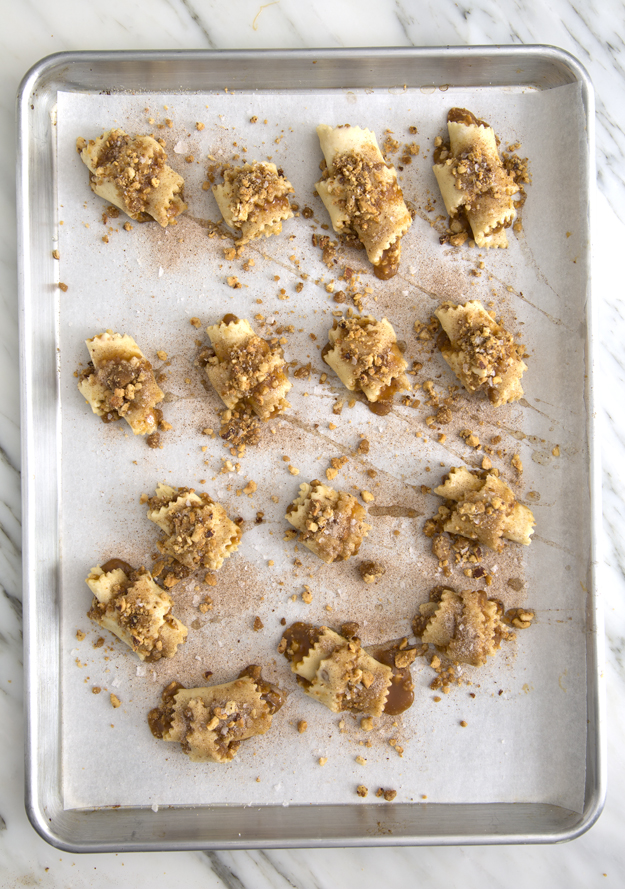 The rugelach will ooze quite a bit of their filling so don't be alarmed. Those little pools of ooze will harden into a delicious toffee. Keep a ring of the toffee around each rugelach for a more delicious treat.