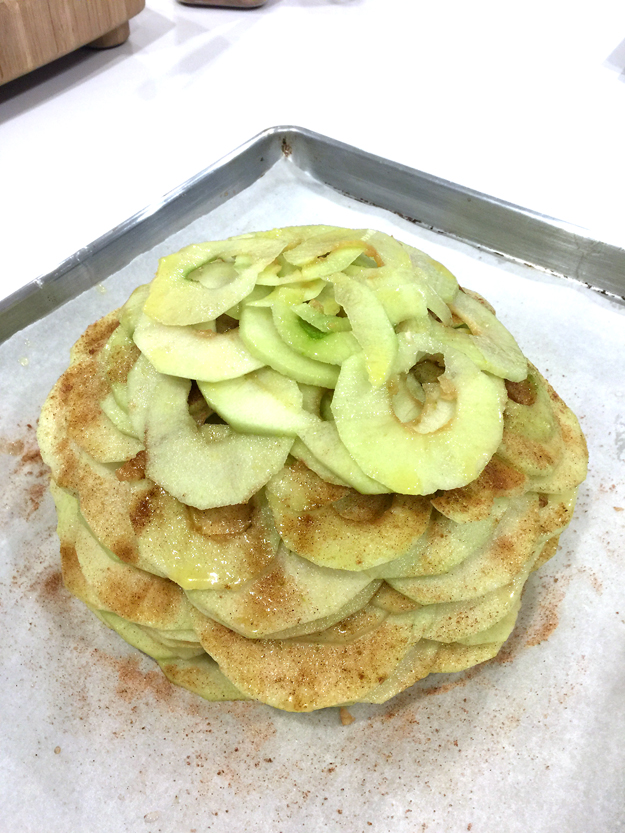 I'm not sure what Elisabeth Prueitt had in mind when she created the Apple Beehive, but my mind immediately went to Rosh Hashanah. For the Jewish New Year, it is customary to dip apples in honey to symbolize our wishes for a sweet year for family, friends and all the Jewish people. There are quite a few sweet options available for us to choose from. Why specifically apples and honey?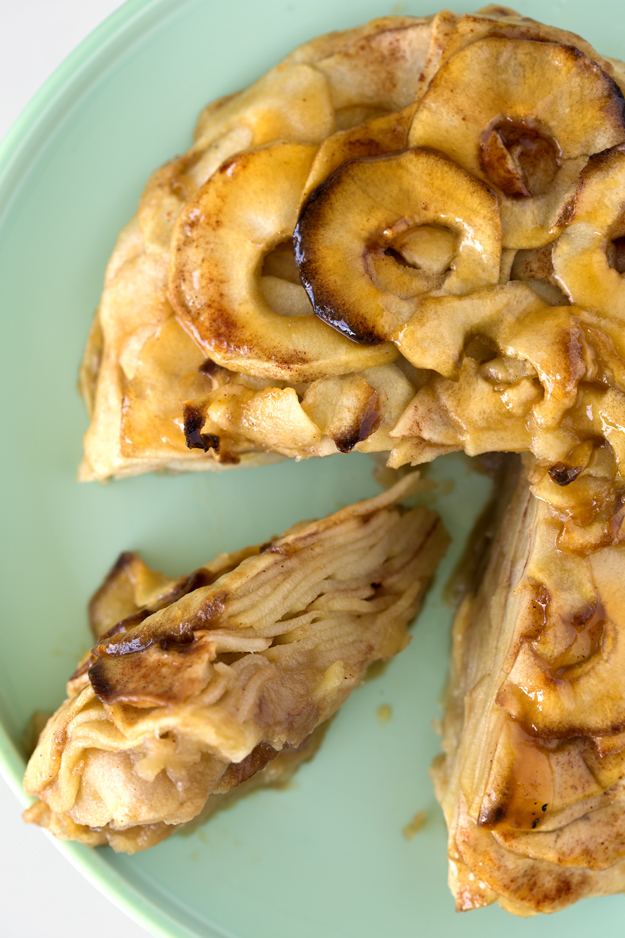 In researching this question, the interpretation I discovered on the website torah.org, resonated quite strongly with me. Their insight regarding the apple part of the equation, is explained this way:
"On most fruit trees the leaves appear before the fruit, thus providing a protective cover for the young fruit. The apple, however, makes a preemptive move by appearing before the leaves. The Jewish people are compared to an apple because we are willing to live out our Jewish lives even if this seems to leave us unprotected. "
The choice of honey was brilliantly explained with this insight:
"A bee can inflict pain by its sting, yet it also produces delicious honey. Life has this same duality of potential. We pray that our choices will result in a sweet year."
This dessert is gorgeous in its purity. Gossamer thin slices of apples are shingled with butter, cinnamon and sugar. That's it. Nothing else. When baked, the apple slices fuse together into a sweet-tart conglomeration that belie its simplicity. This is one of those cases where the whole is greater than the sum of its parts. The flavours are surprisingly complex for so few ingredients.
A mandoline makes slicing the apples easy. If you have stellar knife skills, you can just use a sharp knife. Granny Smith apples are the perfect choice for this as they are tart and hold their shape when baked.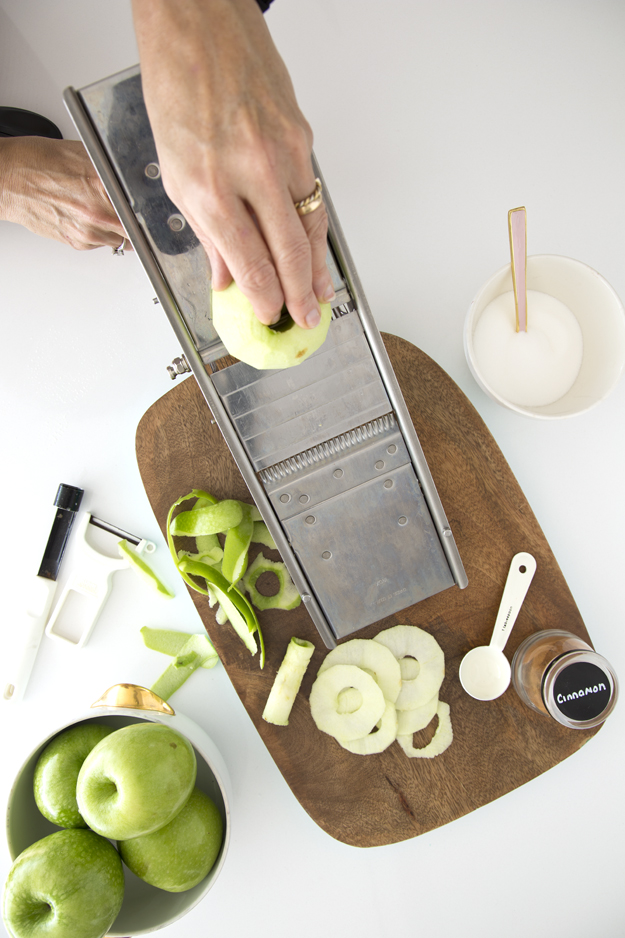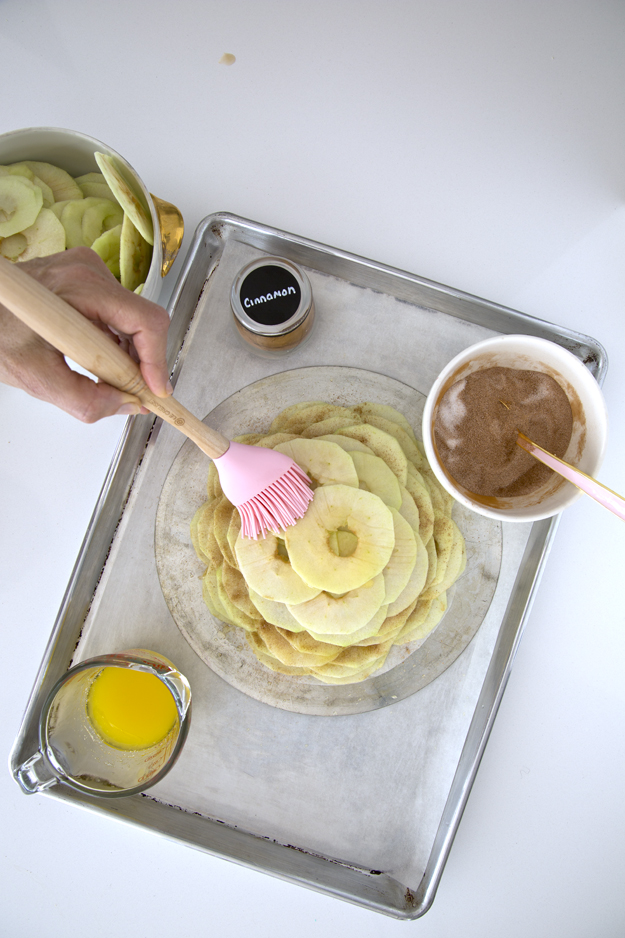 It really looks like a beehive before it goes into the oven.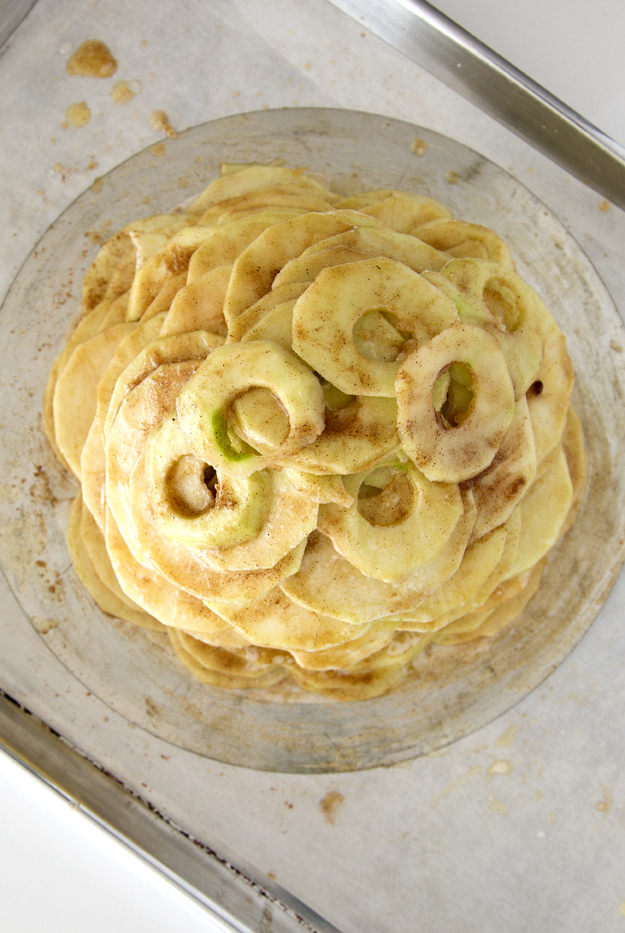 During baking, the apples shrink and caramelize, losing the lofty height it once had. It doesn't quite resemble a beehive as much after baking, but this is so delicious, no one will complain. Just remember to take a before picture to show everyone!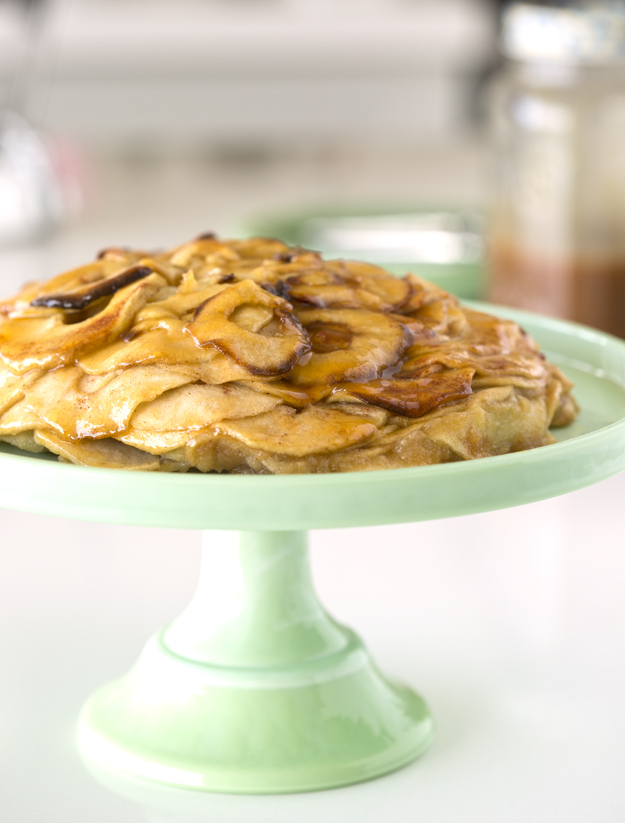 Once the beehive comes out of the oven, brush it with some melted apricot jam to give it a glossy coat.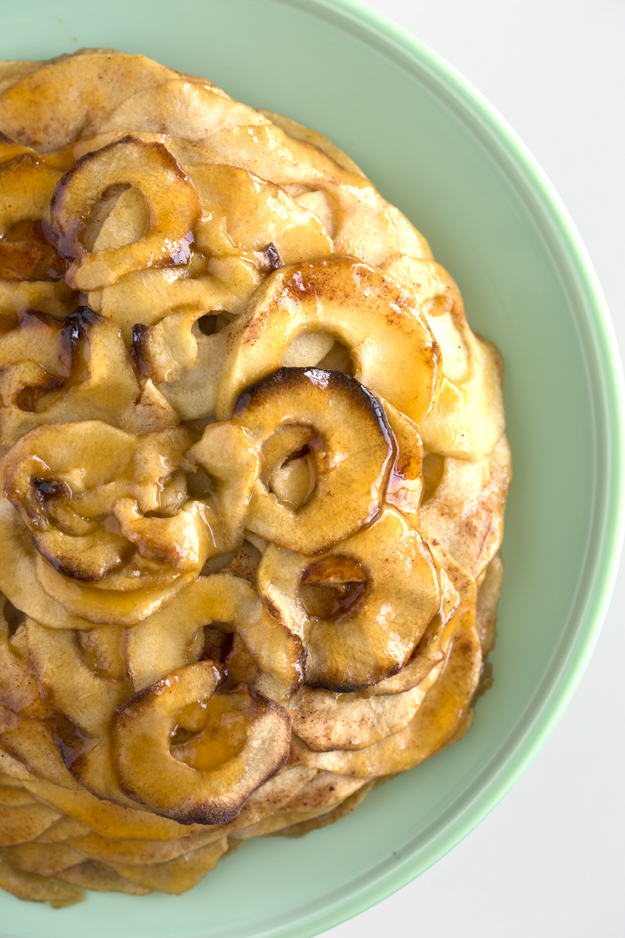 Delicious warm or at room temperature, it can be served plain.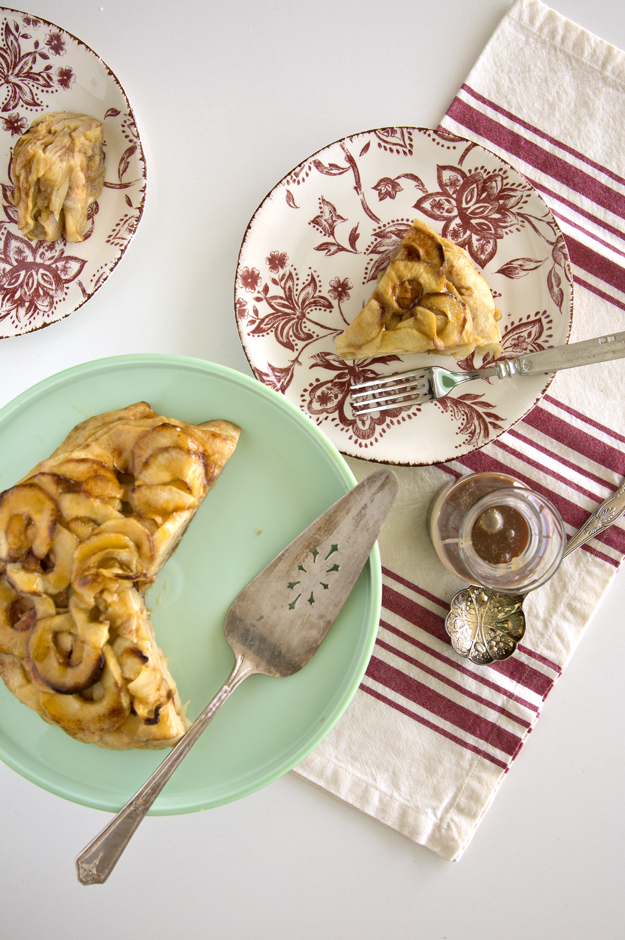 Or gild the lily and add some vanilla ice cream or whipped cream.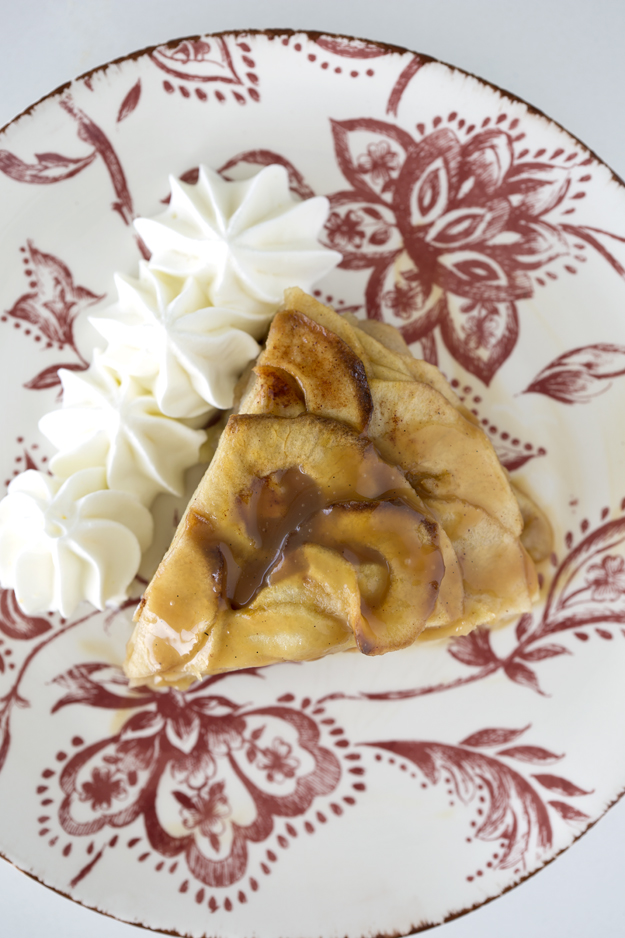 Or do as I did and drizzle it with salted caramel sauce.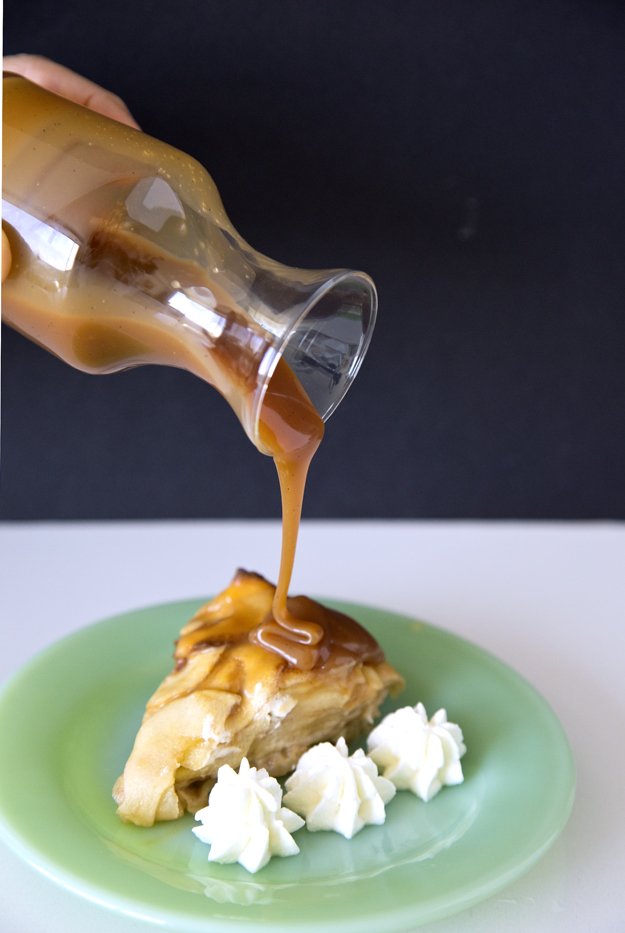 Wishing you all a happy, healthy and very sweet new year.
Click here to print recipe for Apple Beehive.