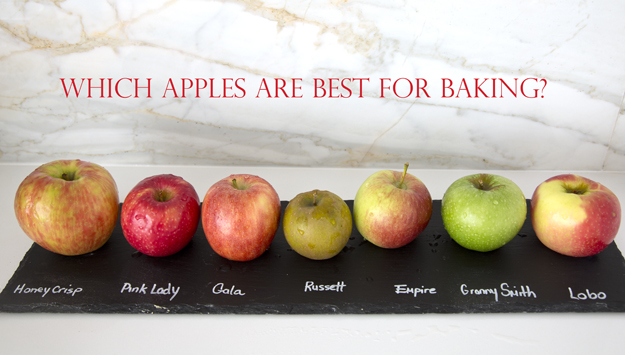 On the weekend we went apple picking. To clarify, we didn't actually pick the apples off the trees, but we did pick them off the shelf at Farm Boy, so that sort of counts as apple picking, doesn't it?
I have been wanting to write a post about the best type of apples to use in baking for some time now. With so many varieties of apples to choose from, it can be a little overwhelming to know which kind to use for which recipe. Although I don't find choosing apples nearly as confusing as buying a pair of pantyhose. The breadth of choice there is mind boggling.
The perfect apple for pie, crisp or crumble (or any of those other baked apple desserts, such as grunts, slumps and pan dowdies) must be capable of holding its shape after cooking but still melt in your mouth. Equally important is that elusive perfect balance of tart and sweet.
We bought 7 varieties of apples.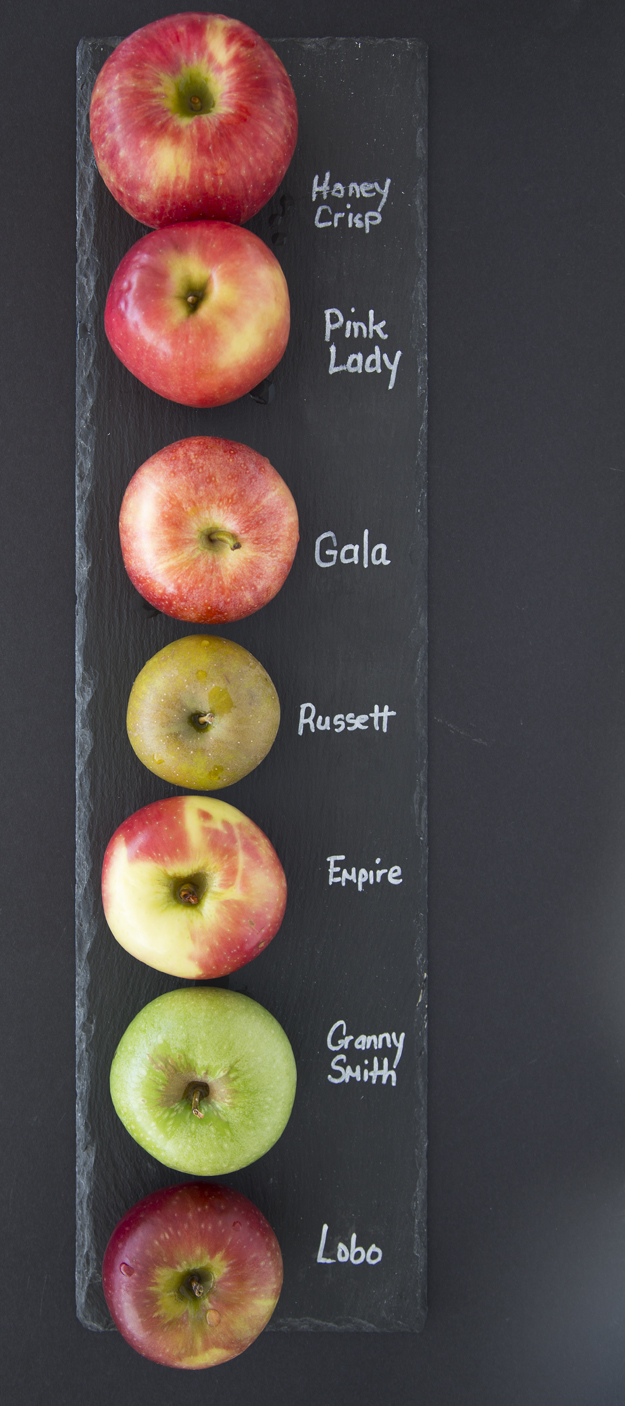 I took a scientific approach to testing, just like they do over at Cook's Illustrated, which, by the way, just might be my dream job. I got out my scale and measuring spoons and peeled, cored and cut into wedges, exactly 9.5 ounces of each apple variety. I didn't want to overwhelm the apples with too many flavours so I kept it basic. Each variety was mixed with 1 tablespoon sugar, 1 teaspoon lemon juice, 1/8 teaspoon cinnamon and a tiny pinch of salt. Initially I planned to bake the apples naked.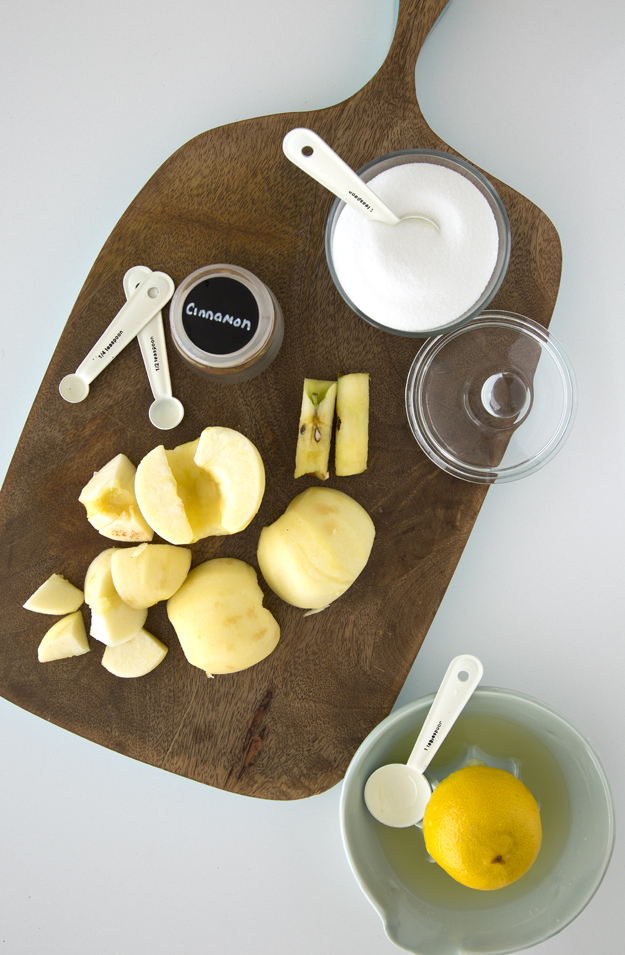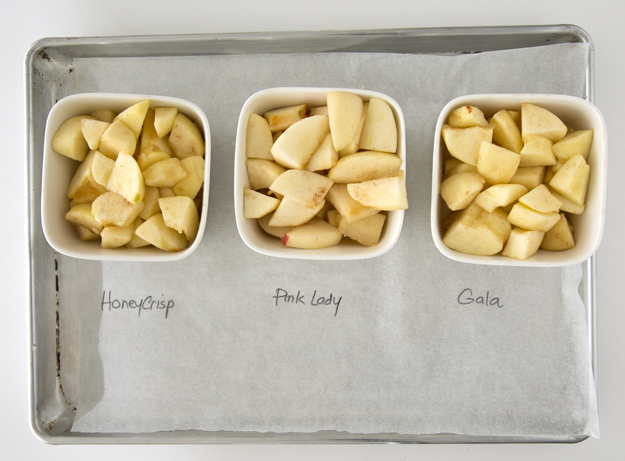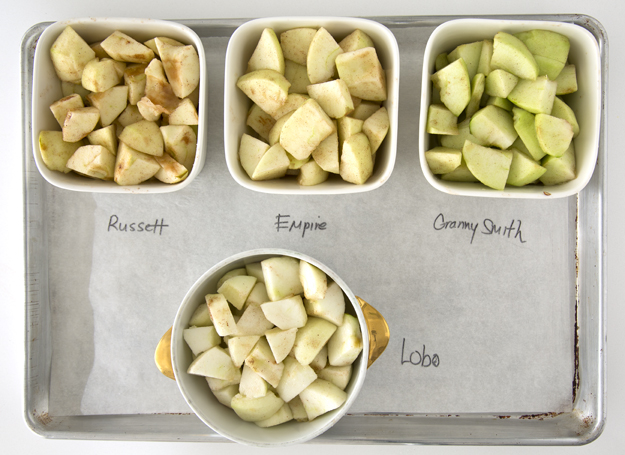 When I explained my methodology to my husband he said, "You mean you're just going to bake plain apples, with nothing covering them??" I explained that I didn't want to have too many other flavours muddying up my experiment. I took one look at his crestfallen face and abandoned my "pure" approach and agreed to cover the apples with crisp topping. It doesn't take much to make that man happy.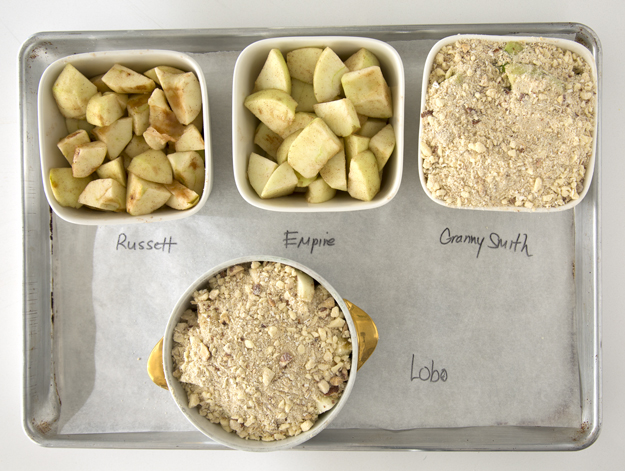 Into the oven they went, dressed with their almond-oat crisp topping.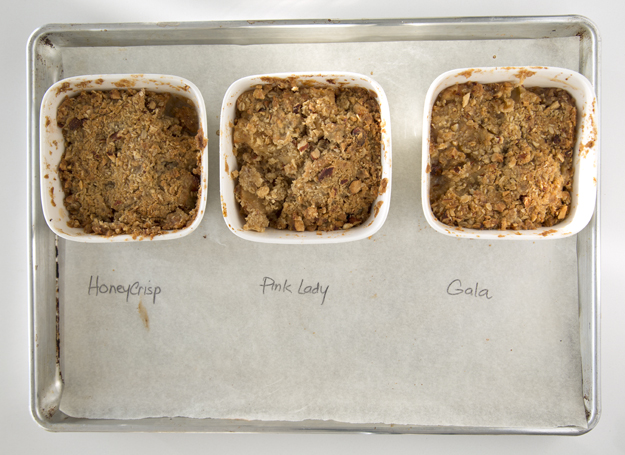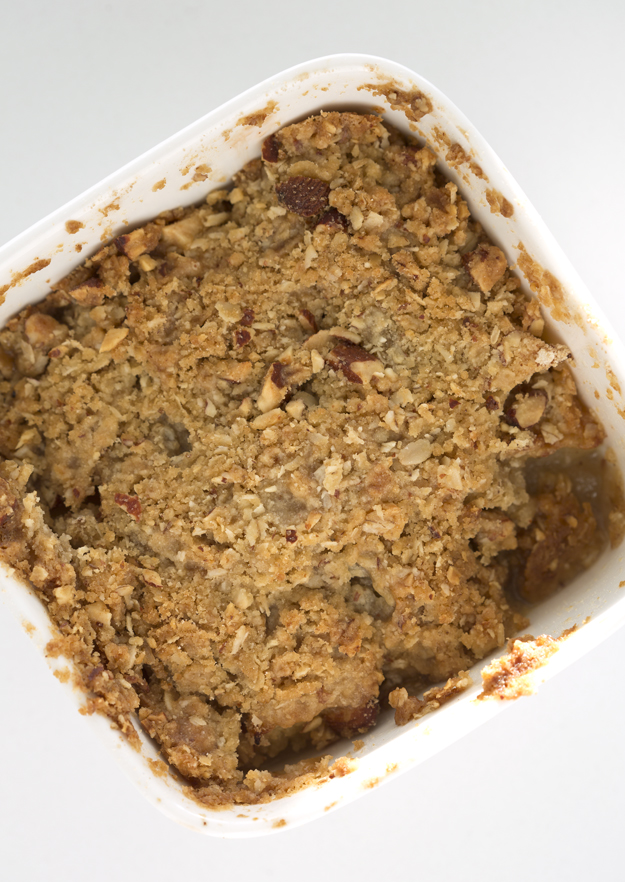 Here are the findings of our very scientific testing!
Highly Recommended :
Honeycrisp: Undeniably, these are my favourite apple for eating out of hand. They are shatteringly crisp, juicy and slightly sweet.
When we baked them they held their shape, but just barely. They literally melted in the mouth. The apple flavour was complex. My husband declared the crisp baked with honeycrisp apples to be his favourite. I liked it but found the flavour to be a bit too sweet.
Russet Apples: I just learned that these are not actually a single variety of apple. "Russetting" naturally happens to some varieties of apples. The skin becomes discoloured and somewhat leathery. As an eating apple, I find the skin to be tough, but the flesh, while not as juicy as honeycrisp, can best be described as powerfully "apple-y". Russetts are an under appreciated apple. 
When baked, the russet apples were not as meltingly tender as the honeycrisp, but I really enjoyed their more gently yielding texture. The flavour of the russet was the most complex and balanced of all the apples I tasted. Slightly sweet but with a bit of tartness. Russets were my number one pick.
Recommended:
Granny Smith: Eaten out of hand, Granny Smiths are crunchy and quite tart, with a bright tangy apple flavour.
Once baked, they held their shape but the texture was quite soft. The flavour of these was more tart, not as "apple-y" as our 2 winners, but still, I wouldn't object if someone served me a pie made with Granny Smiths.
Don't Bother:
Pink Lady: Secretly I was hoping this varietal would be the winner. I mean, Pink Lady is an awesome name for an apple. As the name suggest, these have a lovely pink blush which turns into a deeper red with sun exposure. They are delicious to eat out of hand. They have great crunch and start off tasting slightly tart but end with a sweet finish. These apples have a surprisingly concentrated burst of flavour. 
My Pink Lady crush was over once we baked these. They were the firmest of the bunch, almost to the point of chewy. The apples barely gave off any juice, making for a dry apple crisp, never a good thing. The flavour was more sweet than tart and seemed to have lost it's apple-y nuances once baked.
Empire: This varietal is a cross between McIntosh and Red Delicious apples. Eaten out of hand, this varietal shows off the best of both its parents- crunch from the Red Delicious and tartness from the Macintosh.
Once baked, the Empire apple failed miserably. They became quite mushy, almost to the point of apple sauce. The heat of the oven caused the sugar level to soar and any signs of tartness were gone.
Lobo: Lobos are an Eastern Ontario apples. I had never heard of them until I net my husband and moved to Ottawa. These are the apples of his childhood. An offspring of Macintosh, early Lobos are crisp and tart, but they sweeten considerably as they are stored.
When my husband tasted the baked crisp, he immediately identified it as the one made with Lobo apples. The texture was quite soft, almost mushy. The flavour was pleasant but far too sweet.
Gala: A New Zealand creation, Gala apples are known for their mild sweet flavor and crunch. They are thin skinned and the flesh has a grainy texture.
Once baked, gala apples go quite mushy. They lose their distinct apple taste and the grainy texture is quite unpleasant.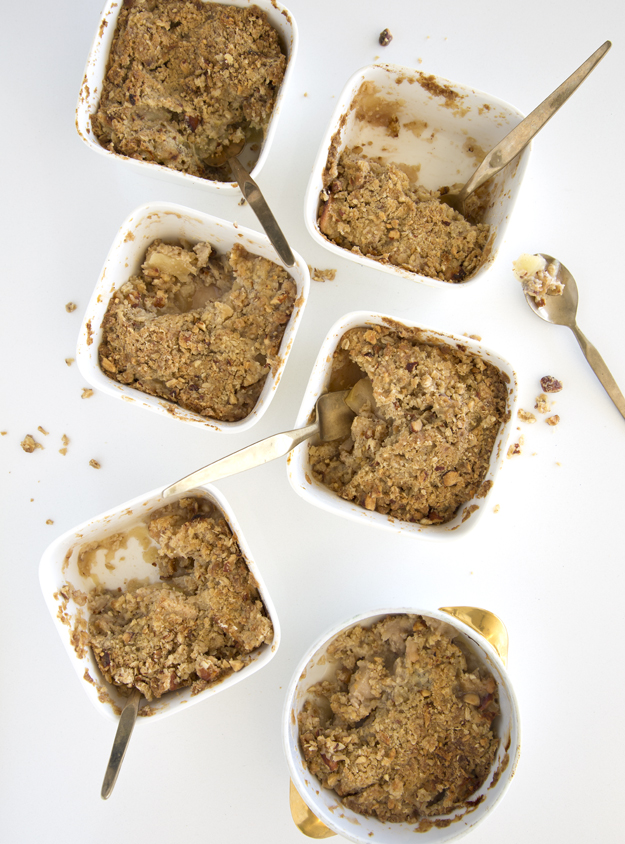 Tasting all these crisps was hard work, but we were happy to do it for you. The dynamic combo of Russett and Honeycrisp apples are about to become my go to pair for all baked apple desserts.
Click here for my favourite Apple Crisp recipe.