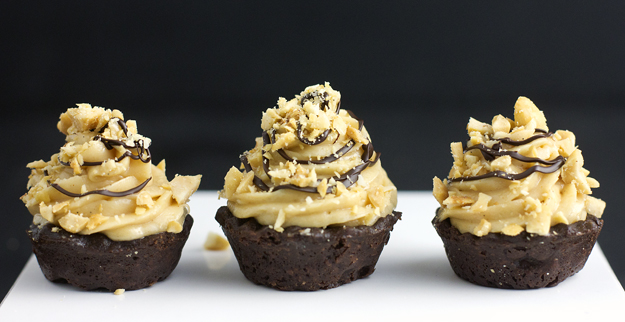 Peanut Butter Cups and I have a bit of a love-hate relationship. I love to eat them, but sadly my hips and thighs protest quite loudly when I inhale too many. My hatred of Halloween likely stems from what I refer to the "Peanut Butter Cup Incident of 1985." It was my first time giving out treats as an official grown up. I bought several large bags of Reese's Peanut Butter Cups in the snack size a week before Halloween. They disappeared within 2 days. I purchased several more replacement bags and discovered that I suffer from a chromosomal abnormality that affects my ability to control my willpower.
Luckily, now that "Big Butts" are back in style, we can all eat Chocolate Peanut Butter Cups with abandon!
These chocolate peanut butter cups are a variation on the original. The cups themselves are crafted from chocolate cookie dough. Once baked these cookie cups become a crunchy vehicle to hold the chocolate ganache filling and the peanut butter and cream cheese mousse topping. These are a very decadent, sophisticated peanut butter cup.