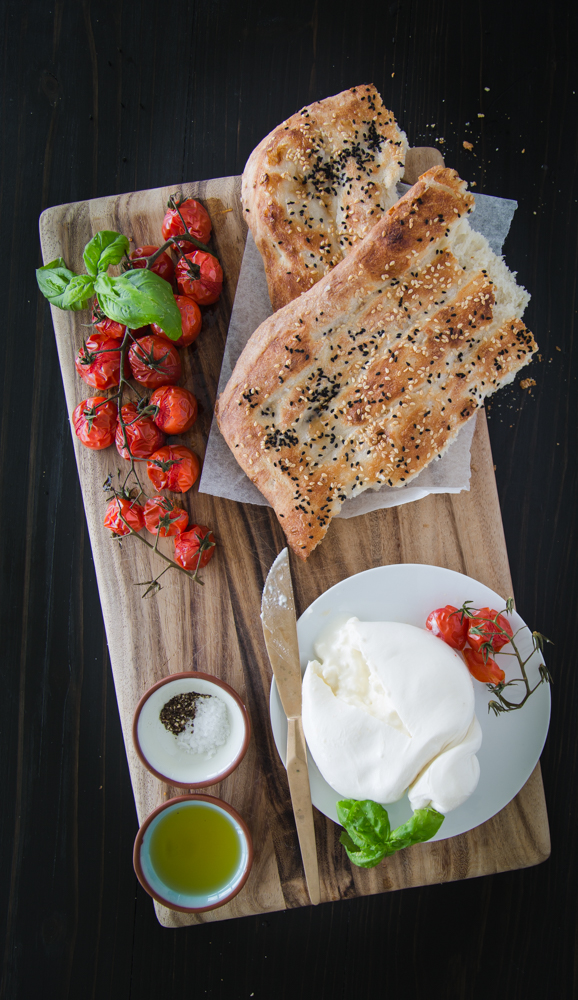 I was first introduced to Barbari bread at Byblos, an Eastern Mediterranean restaurant in Toronto. I have baked many different loaves of bread from all over the world, but I had never encountered Barbari. I became a little obsessed with wanting to recreate it.
Barbari bread is a type of Iranian flatbread. It is fairly thick and more commonly known as Persian Flatbread in North America. Neighbourhood bakeries in Iran bake this bread three times a day for their customers. A typical Iranian breakfast begins with hot sweet tea followed by barbari with feta or salted butter and jam. Kids are greeted with barbari, feta, walnuts and fresh herbs for their after-school snack. Beats Oreos any day of the week!
If you have never baked with yeast before, don't be scared. I'll walk you through what you need to know. There are 2 types of yeast commonly available at the supermarket, Rapid Rise and  Active Dry yeast (also called Traditional). Active dry yeast needs to be dissolved in water before using while rapid rise yeast can be mixed right into the dough. I like to use the active dry yeast because I can see that it is indeed active when I watch it bubble up in the water. Always check the expiry date on the package.
The key is to make sure the water is at the right temperature, between 95°F -115°F. Any hotter and it will kill the yeast, and any cooler and the yeast will take a very long time to activate.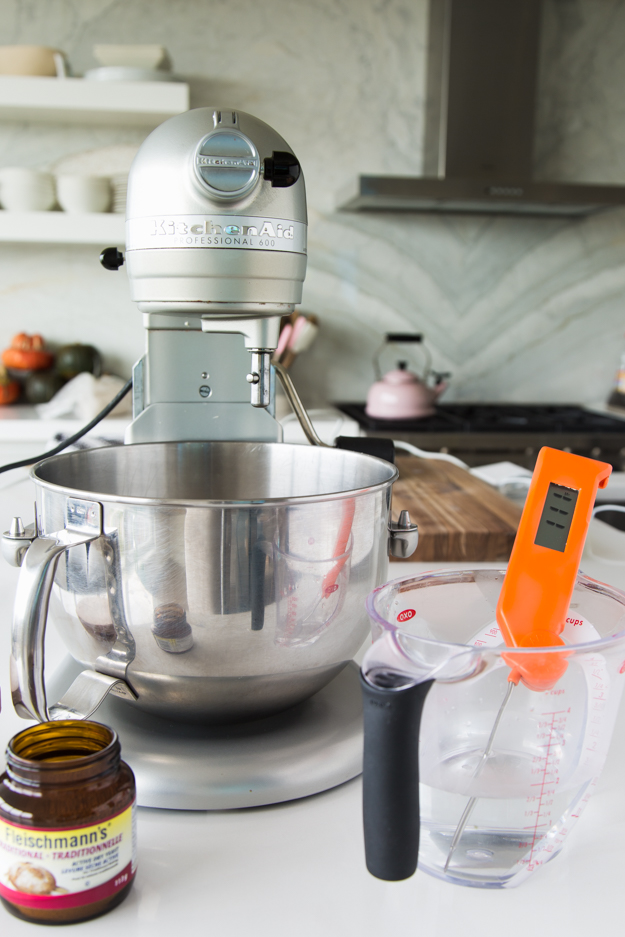 I usually stir a teaspoon of sugar into my water to give the yeast something to help activate it. Yeast uses sugar as food. It takes a few minutes for the yeast to activate.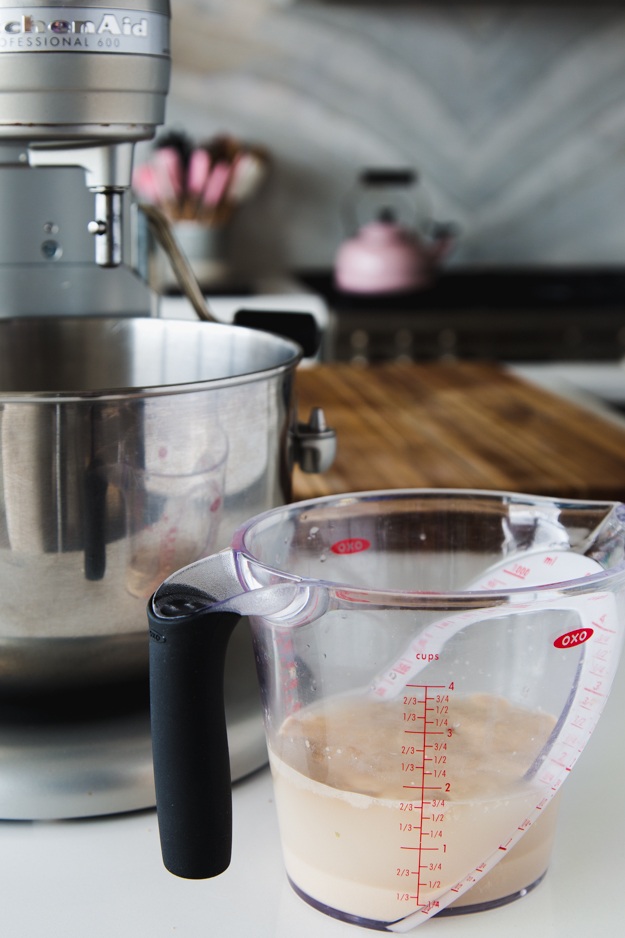 The dough comes together in a stand mixer in about 6-8 minutes. Then set the dough aside to rise for about an hour.
This recipe makes 2 flatbreads. They are easily formed by shaping the dough into two 9 inch logs and then gently stretching each into a 14×5 inch rectangle. To prevent the bread from puffing up too much in the oven, drag your fingers (or the handle of a long wooden spoon) to press five lengthwise grooves into the dough.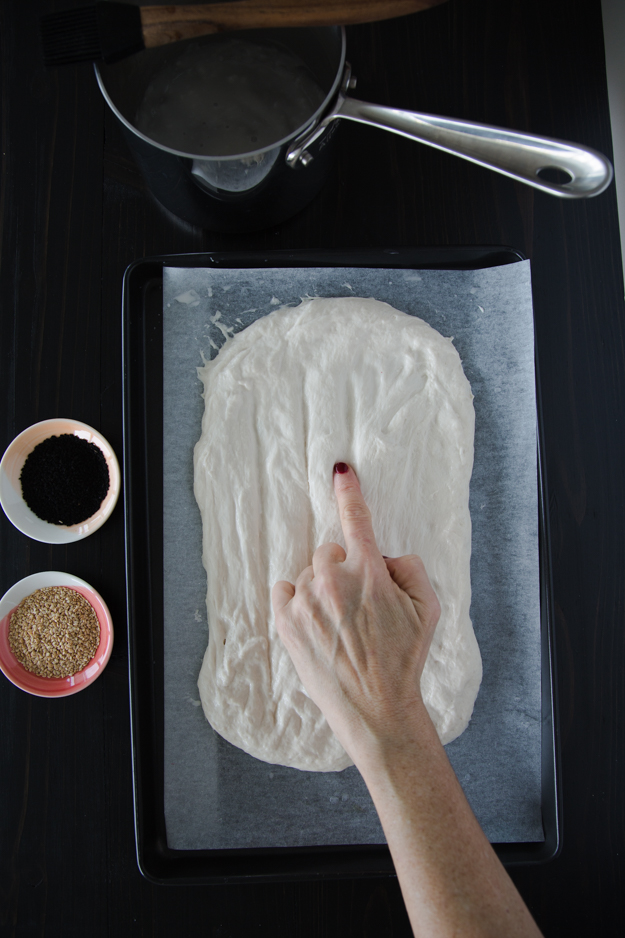 Before baking the bread is brushed with the special glaze made from flour, sugar, oil, and water. It sort of looks like wallpaper paste. This glaze, known as "roomal" is an ancient solution to "steaming" your oven. The roomal adds additional moisture directly to the surface of the bread as it bakes, allowing it to rise fully. It has the added advantage of giving the crust a satiny shine.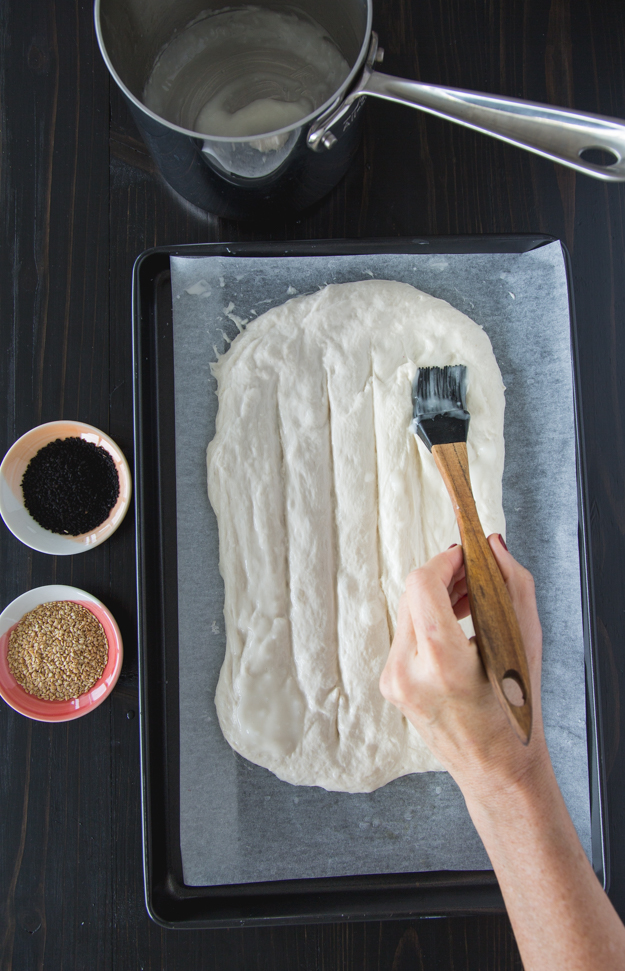 I sprinkled my first loaf with sesame seeds, nigella seeds, and salt.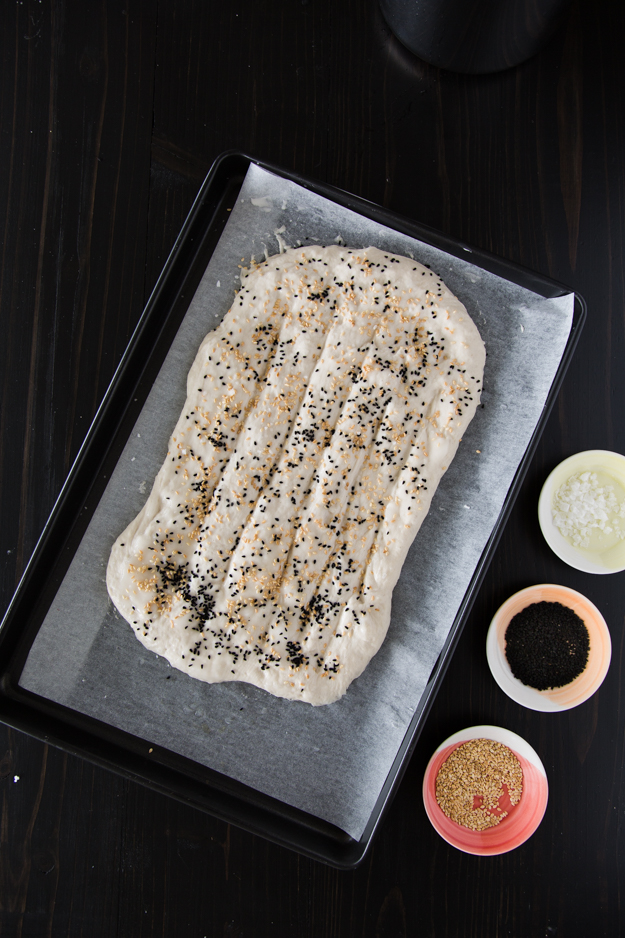 I gave the second loaf a generous sprinkle of za'atar.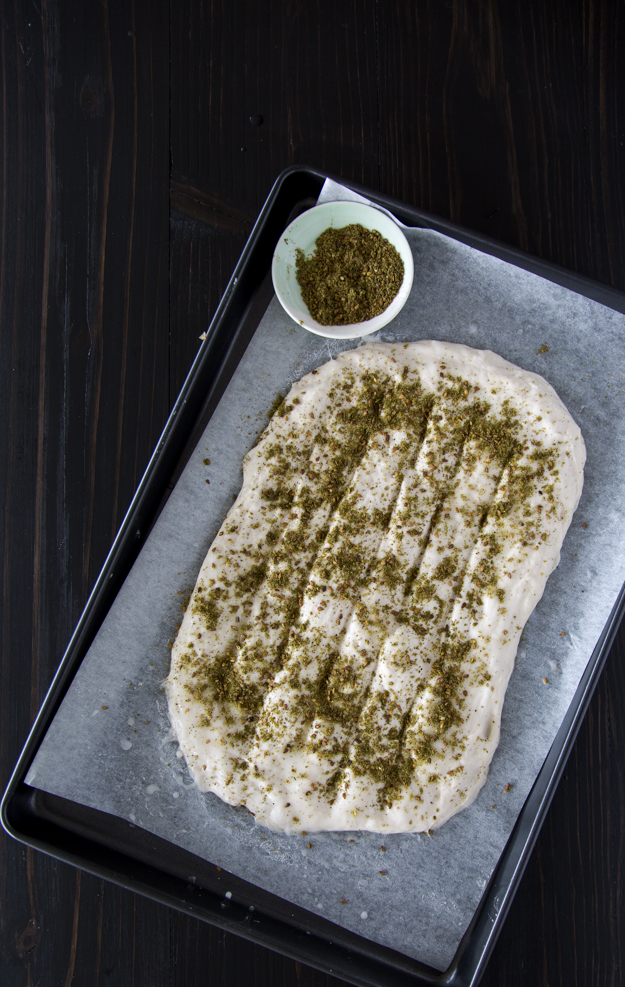 I prepared a batch of honey roasted tomatoes.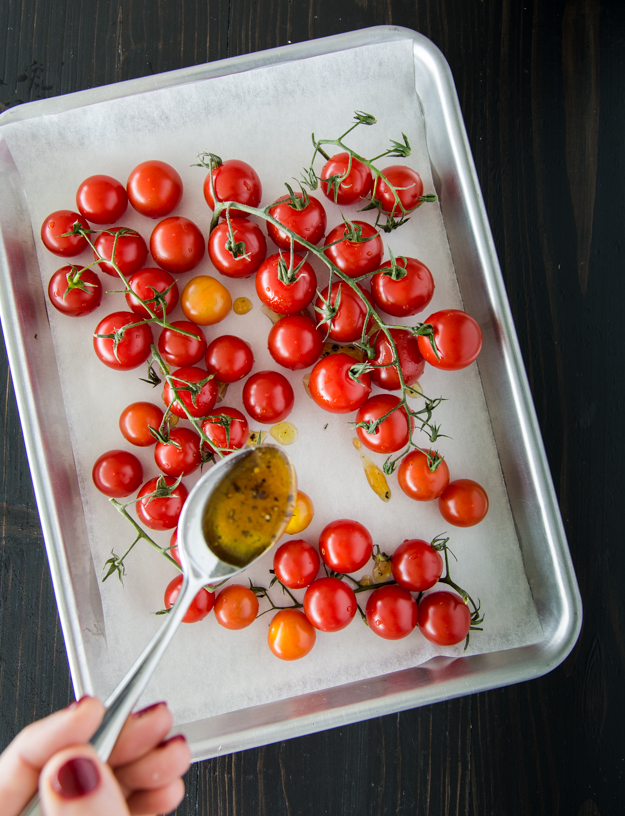 I served the sesame and nigella flatbread with burrata cheese, roasted tomatoes, fresh basil and a generous glug of extra virgin olive oil. Don't forget a sprinkle of coarse sea salt, please.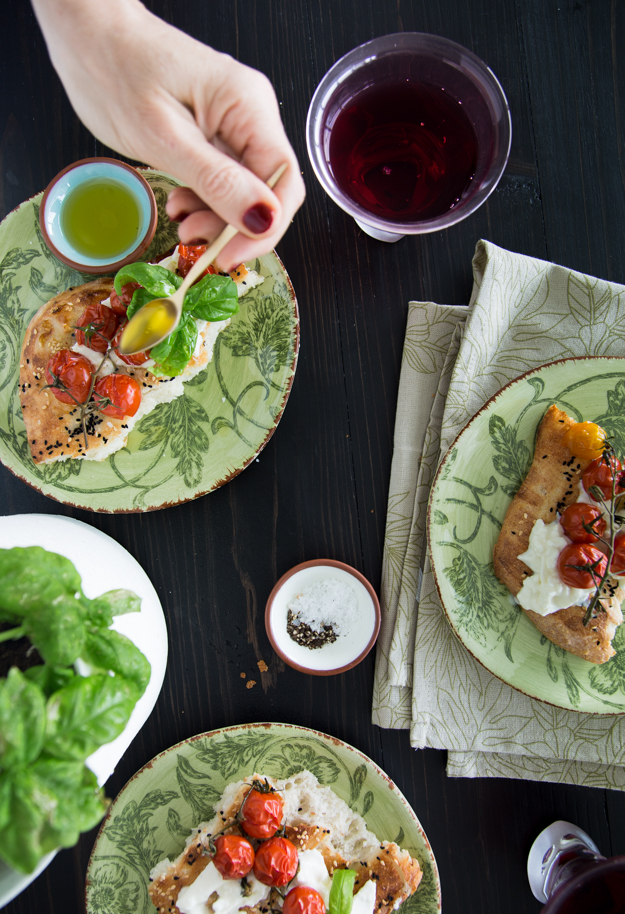 I did a more typical Iranian topping for the za'atar flatbread.  I doctored up some storebought labneh with pomegranate molasses and pomegranate seeds. Labneh (Middle Eastern strained yogurt) is similar to Greek yogurt but thicker in consistency, almost like soft cream cheese. It's tangier and creamier than yogurt. If you can't find it, it's easy to make your own.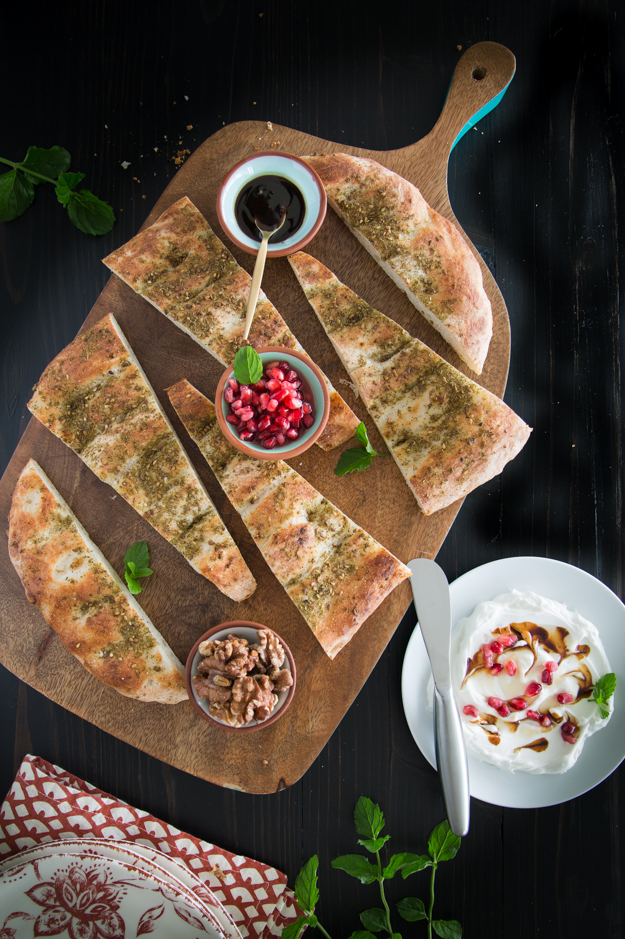 I spread the flatbread with labneh, scattered some toasted walnuts and fresh mint on top and finished it with an extra drizzle of pomegranate molasses.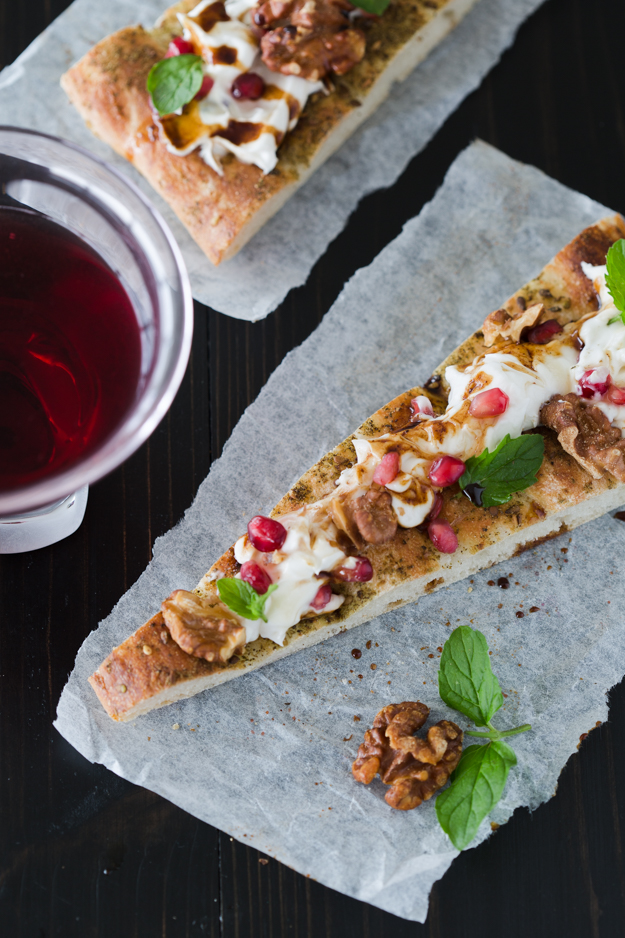 Click here to print recipe for Barbari Bread.