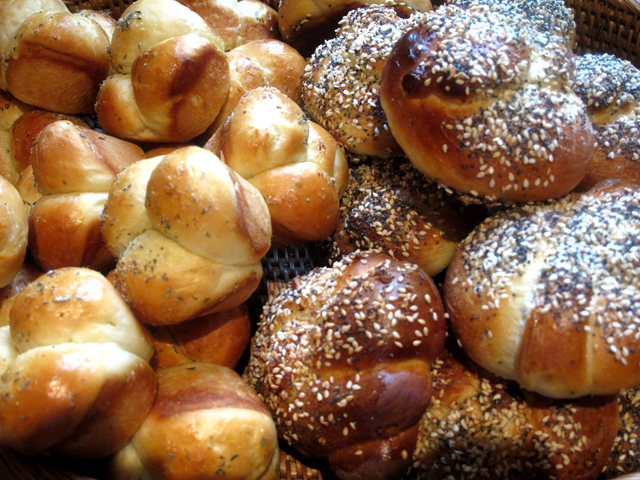 As I turned the page to our next challenge in the Bread Baker's Apprentice cookbook I was a little disappointed to discover that we would be making white bread.  Now don't get me wrong here.  I'm not one of those nutrition nuts who never lets anything put whole grains pass her lips.  And I'm not such a food snob that I would never eat regular packaged white bread.  I happen to believe that certain foods call for squishy white bread.  When it comes to a peanut butter and jam sandwich, the softer the bread, the better. 
No, my disappointment stems from the fact that we are nearing the end of the book and it seems kind of anti-climactic to be making  simple white bread so close to the end.  However, the breads are listed alphabetically in this book and so thrilling brioche, ciabatta, cinnamon buns and cranberry walnut celebration bread were at the beginning of the book and white bread comes near the end.  Perhaps Peter Reinhart should have called it Basic White bread?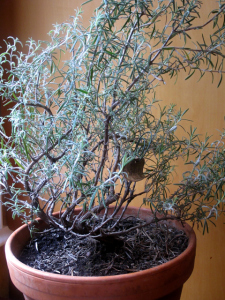 As I stood at my kitchen counter, trying to muster up the enthusiasm to tackle white bread, my beautiful rosemary plant caught my eye and I had divine inspiration.  I was going to give my white bread a makeover.  You know, like on the cover of all those beauty magazines, where they promise that you can go from drab to fab in 10 minutes! My plain Jane white bread would be transformed into little buns in the shape of knots and topped with poppy and sesame seeds and  coarse salt.  I also planned to make a second batch using buttermilk instead of water in the dough.  These would become rosemary and roasted garlic cloverleaf rolls.
Most white bread recipes are enriched with milk of some sort, as well as egg, butter or oil and some sugar.  I used skim milk powder and water in my first batch.  The added fat came from butter and an egg. 
The dough comes together very quickly in the mixer.  Then it is allowed to ferment for until it doubles in size.  This happened in an hour.  I weighed and divided the dough into 18 equal pieces and formed rolled out 8 inch ropes.  After a 10 minute rest the ropes are twisted into knots.
Making knots is a simple way to dress up plain dinner buns.  Think of it like taking your everyday ponytail and twisting it up into a french knot.  Although my hair is never as cooperative as this dough was.  These knots were a joy to make!
After an hour of proofing time the knots received a thin layer of egg wash and a sprinkling of poppy and sesame seeds and some coarse salt. Fifteen minutes in a hot oven and they were done.  Crunchy on the outside from the seed topping and soft on the inside. 
For my second batch of white bread, Peter Reinhart offers a buttermilk variation.  He admits to being a "buttermilk guy".  My kind of guy!  And while we're on the topic of buttermilk, I have a bit of a pet peeve.  Why is buttermilk only sold in 1 litre containers?  I use a cup in the recipe and the rest just goes bad in my fridge.  That is, until I discovered that you can freeze the leftover buttermilk.  So now I can be a buttermilk girl whenever the whim strikes.
To create my little garlic rosemary cloverleaf rolls, I roasted some garlic for about 45 minutes until it was nice and squishy.  I mashed it with a fork and kneaded it into the dough, along with some chopped fresh rosemary.
Once the buttermilk dough had proofed, it was divided into 18 equal pieces.  I used a scale to save my sanity.  Each piece is further divided into 3 and then each little piece is rolled into a ball.  Then the little balls go into greased muffin cups and are set aside for final proofing.
Another hour and they had swollen to fill the pans. I sprinkled them with a bit of chopped rosemary and coarse sea salt.  Into a 400 oven for 12 minutes and they emerged golden brown and adorable.  Almost too cute to eat, but the aroma was too intoxicating to resist.  They were pillowy soft and melted in your mouth.  I really loved them! 
Makeover mission accomplished.  I think our girls were really glamorous!