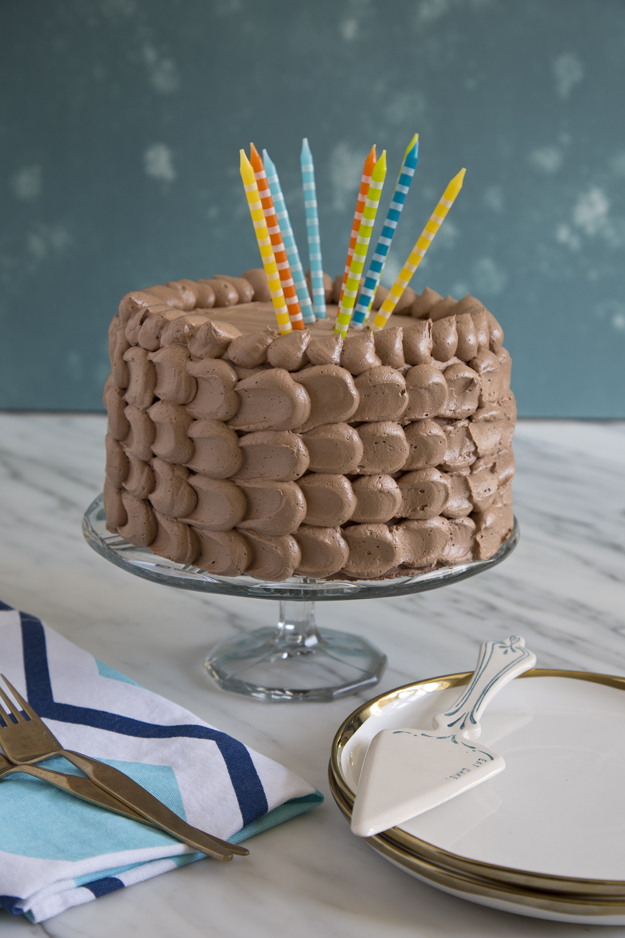 I AM SO EXCITED ABOUT THIS CAKE!! Sorry for the shouting, but I can't contain my elation. As Joy would say, this cake is "Bonkers Awesome." My search for a blog-worthy gluten free chocolate cake has been going on for quite a while now. My youngest son follows a gluten-free and casein-free diet. For special occasions he goes off the wagon, but he doesn't feel all that great when he does. This week is his birthday and I wanted him to celebrate without feeling sick.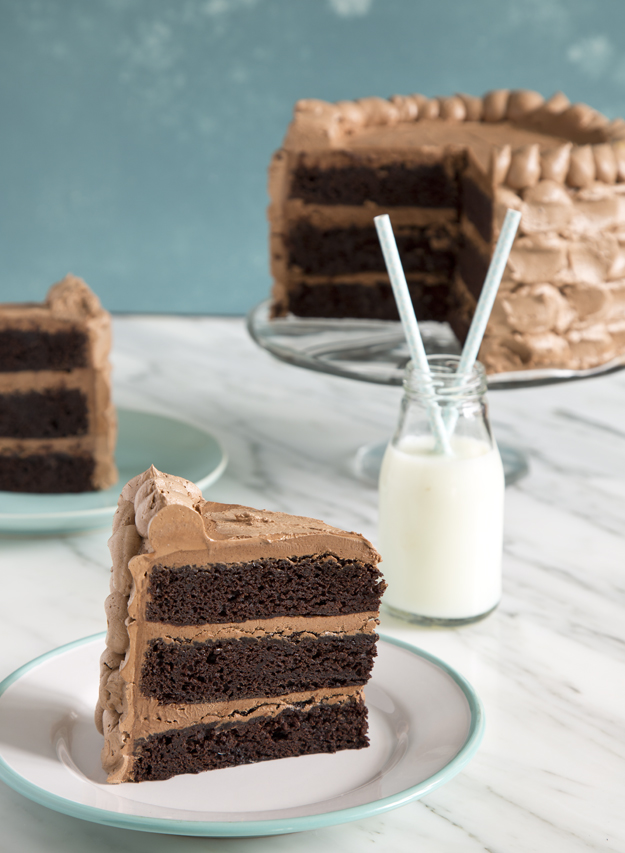 The problem with most gluten-free cakes is that they have a dry and crumbly texture. They often fall apart when you bite into them. The main reason for this is that gluten is a protein that provides structure and strength to baked goods so they don't crumble and fall apart. Gluten also forms air pockets in the batter which leads to light and fluffy baked goods.
The good folks over at America's Test Kitchen have figured out how to get around these problems and created a stellar GF chocolate cake. I made the cake twice. The first one was served to my son's co-workers at his office. No one could believe this was a GF cake. Unfortunately, I could not photograph the inside of that cake, because it would be kind of rude to serve a previously sliced up cake. I made the second cake to have at home with friends and family. To them I served a cake that had been hacked up and photographed, because that's what you do with family.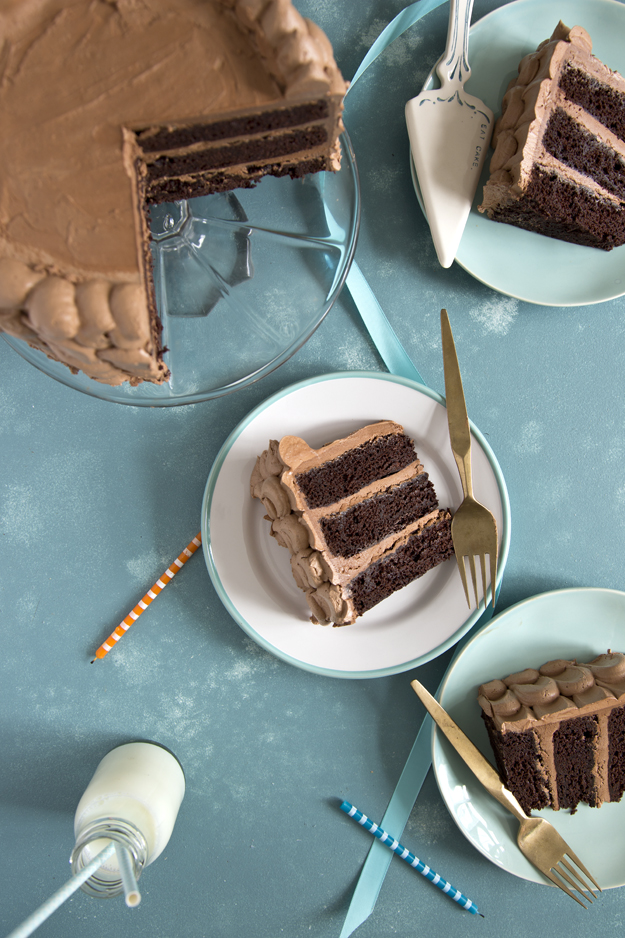 The cake batter comes together very quickly and does not require a mixer. I used Bob's Red Mill 1 to 1 Baking Flour Mix. In gluten free baking, it is important to use a blend of different gluten free flours, not just one kind. Using both melted bittersweet chocolate and cocoa powder provide the perfect chocolate flavour. Baking soda and baking powder give the needed lift and xanthan gum supplies strength and structure. Xanthan gum is a common ingredient in gluten free baking. Without gluten you need something to act as the binding agent for the flour. It keeps things moist and helps to hold the cake together without crumbling.
Vegetable oil, instead of butter is the perfect fat of choice as it keeps the cake incredibly moist. I substituted coconut milk for whole milk, as I wanted my version to be dairy free. Almond or rice milk would work too.
To keep the cake super moist, I brushed the cooled cake layers with a coffee flavoured simple syrup. For the frosting, I decided to make a mocha flavoured Swiss buttercream. I substituted unsalted margarine for butter, because I wanted to keep it dairy free. While the taste and texture of margarine will never beat that of butter, in this application, with the addition of chocolate and coffee to create a mocha frosting, the results were very delicious.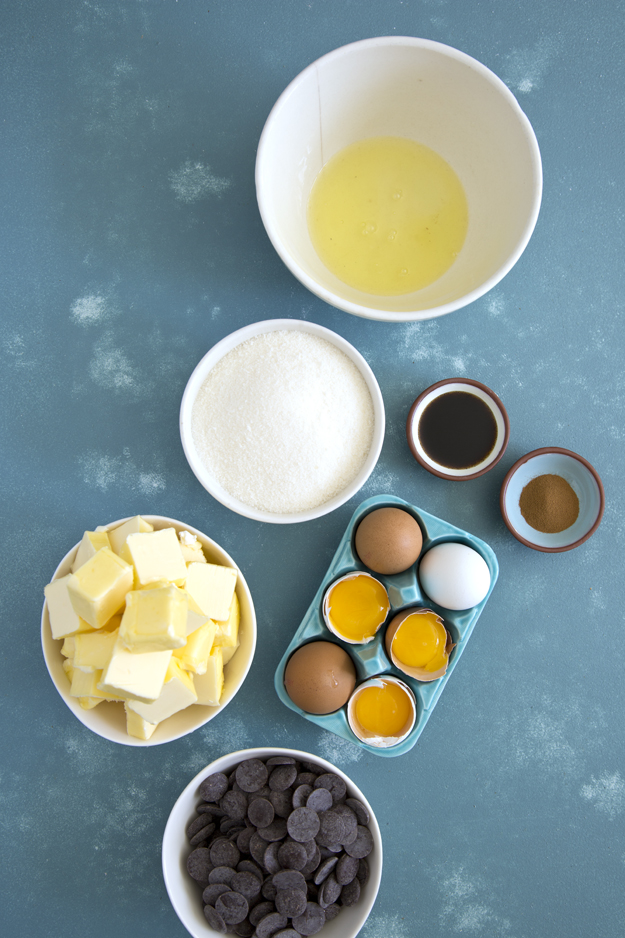 A Swiss buttercream is a bit more complicated than an American buttercream. In an American buttercream you simply beat powdered sugar and butter, and any flavouring you like. With a Swiss buttercream, egg whites and granulated sugar are whisked and heated to 160°F and then whipped into a meringue. Softened butter (and any flavouring) is then added to the meringue. Swiss meringue is smoother, lighter and less sweet than American buttercream. Yes, it's more work, but I think it's worth it. You will need a stand mixer and a candy or instant read thermometer.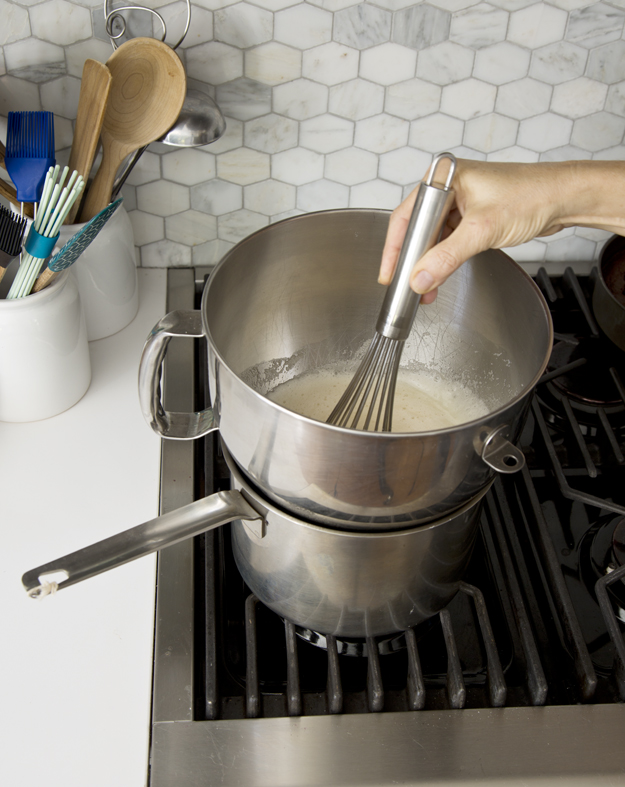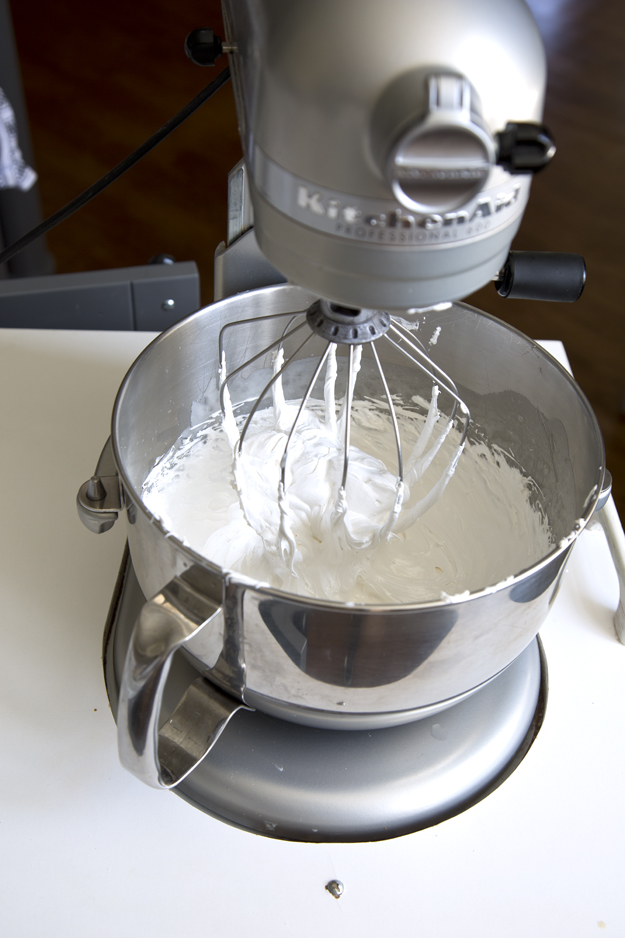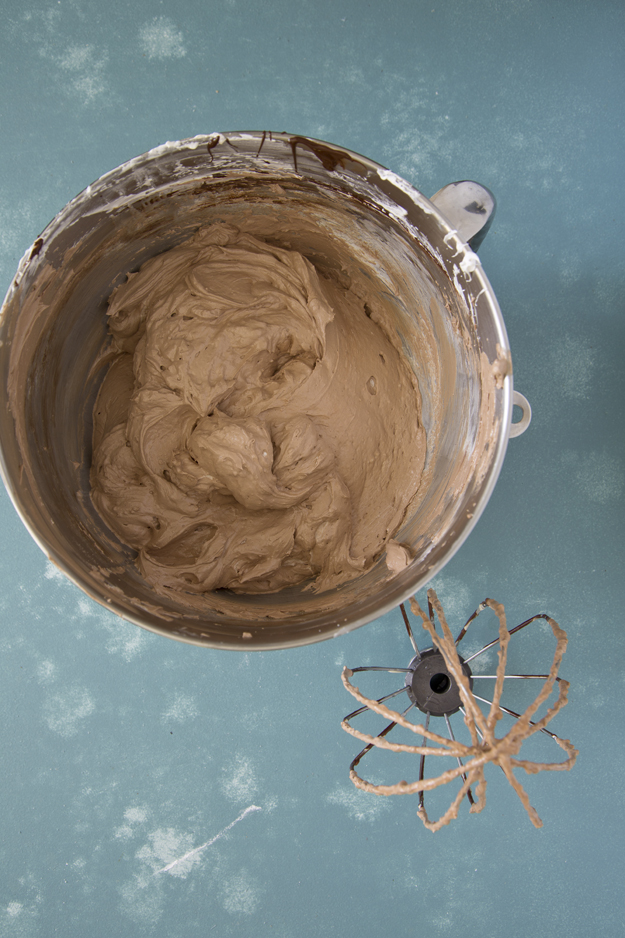 I decided to decorate the cake with a petal frosting technique. It looks quite impressive but is actually quite simple to execute. You will need a 1/2 inch round piping tip, some disposable piping bags and a small spoon or off-set spatula. First, pipe a vertical row of dots. Next, spread the buttercream dots with a small spatula or spoon. This creates the look of petals. Repeat, one vertical row at a time, until you go all the way around the cake.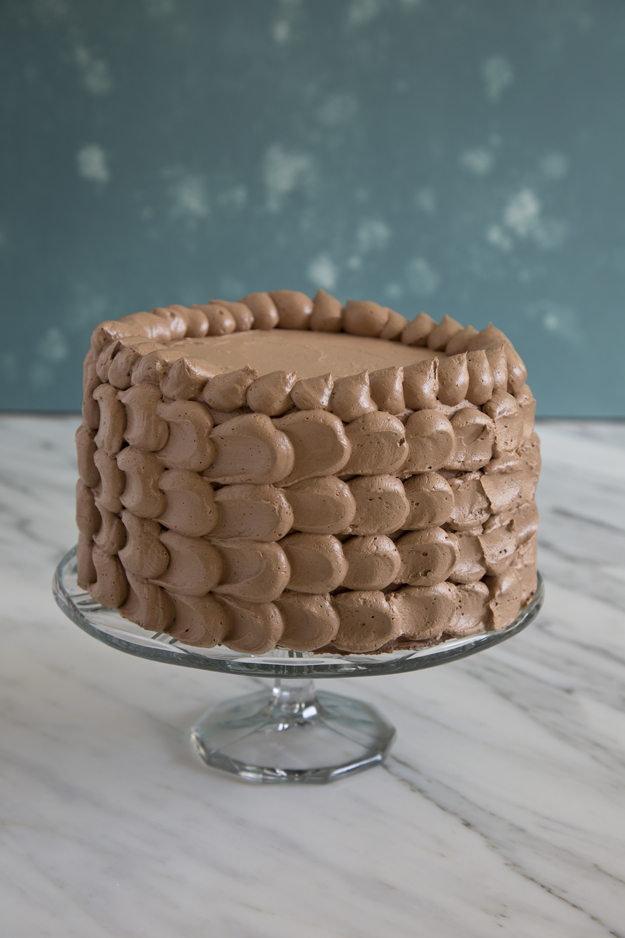 I have demonstrated the technique in this video.