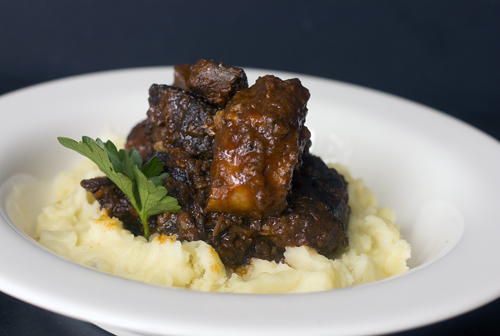 As  food blogger, I struggle with presenting "brown foods". They are not exactly the most appetizing to look at, and, to boot, they are a bitch to photograph. However, that being said, a certain food network host has been known to growl, "Brrrrown food tastes grrreat!"
For those not familiar with Anne Burrell, her larger than life personality and growly voice puts some people off. But I am in awe of her wealth of culinary knowledge. I have learned so much from watching her show, "Secrets of a Restaurant Chef." Every recipe I have tried of hers has come out perfectly. She cooks foods that are full of flavour and her concise, easy to master techniques make her a rock star in the kitchen.
The main reason brown food tastes better, is because of a chemical process known as the Maillard Reaction. If your eyes glaze over at the mere mention of the phrase chemical reaction, then John Willoughby, meat guru and former senior editor at Cook's Illustrated is your go-to guy to explain these things.