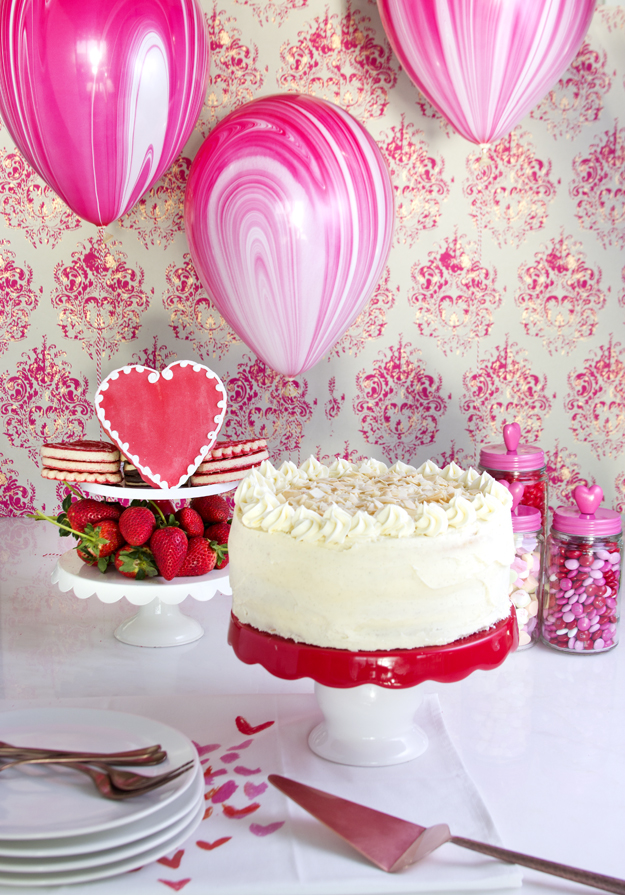 If you have a coconut lover in your life, this cake is the perfect way to declare your love for them. The very first time I had this cake was several years ago. My niece, KK, made it for my mom's 76th birthday. She was only 10 years old at the time. She has been baking ever since she could grasp a spatula. At her house, half birthdays are celebrated with as much hoopla and joy as full birthdays, so with a five person family, that works out to 10 cakes a year and almost 150 cakes in her short lifetime. She has some mad baking skills!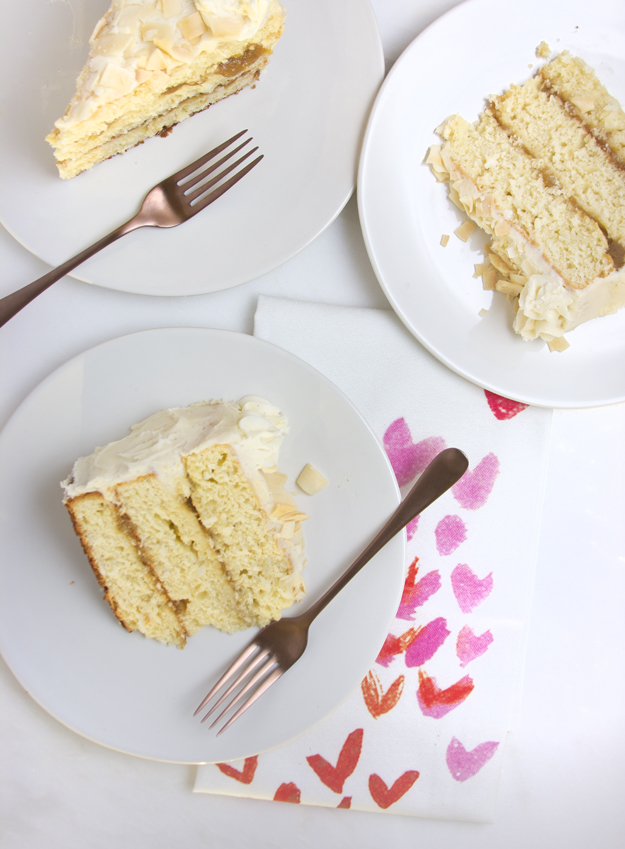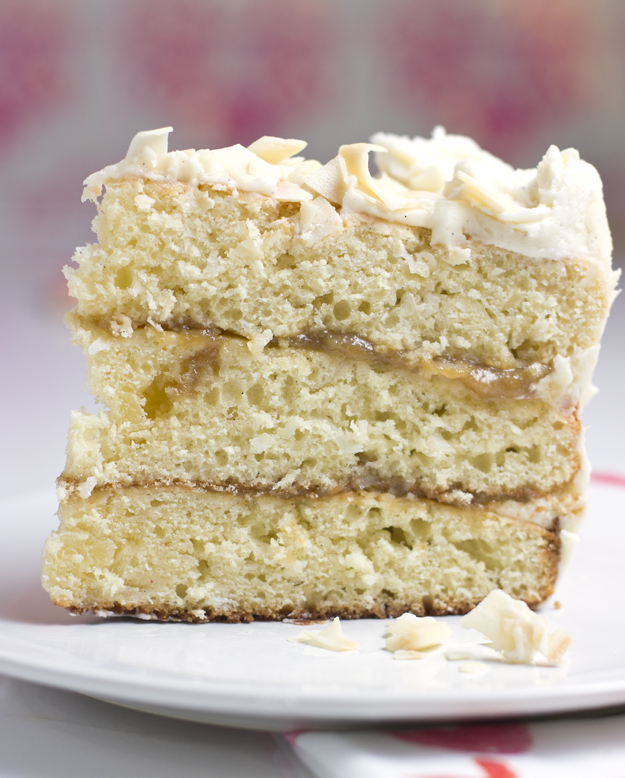 This is my twist on her cake. I have added a coconut caramel filling to spread between the layers. This filling, known as kaya is created by cooking coconut milk, eggs, granulated and coconut palm sugar and pandan leaves over a double boiler until the sugar becomes caramelized and everything thickens into a beautiful jam-like consistency. I learned how to make kaya from pastry chef Anna Olsen on The Food Network. Kaya is traditionally spread on toast and then dipped in soft boiled eggs for breakfast in Singapore and Malaysia. Clearly I grew up on the wrong continent. All I got for breakfast, when growing up was a bowl of Cheerios!
Pandan leaves are long narrow bright green leaves that grow on a tropical plant known as the Screwpine.  Commonly found throughout Southeast Asia, they have been called, "The vanilla  of the east." They can be found fresh or frozen in at Asian grocery stores or online. Vanilla extract is a good substitute if you can't find pandan leaves. 
Making the coconut caramel (Kaya) filling takes time and patience. If you are short of either, just double the amount of buttercream frosting and use it to fill the layers as well as frost the top and sides of this cake. It will still be delicious, but I will say that Kaya pushes this cake further along on the bliss meter.
When you first start cooking the kaya, the pandan leaves will give off a grassy aroma. As they begin to steep in the coconut milk, eggs and sugar, the fragrance becomes more subdued, reminiscent of almonds and sweet cream.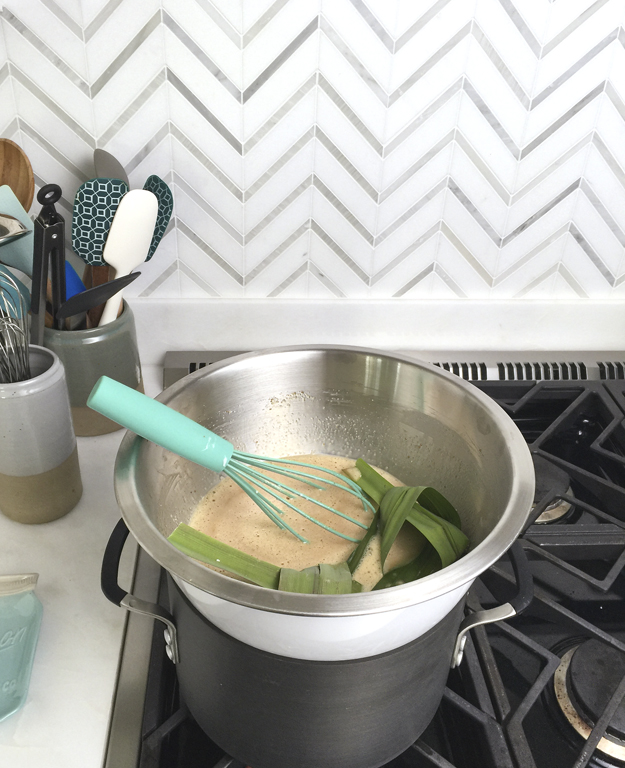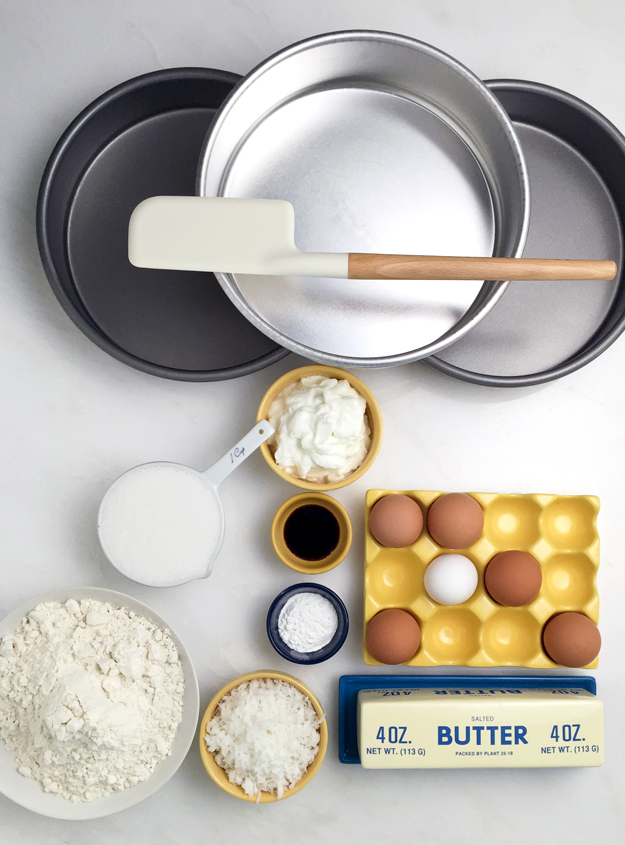 Although my sister would never do this, I weigh the cake batter to make sure I get an equal amount in each pan. That way, the layers all cook at the same rate.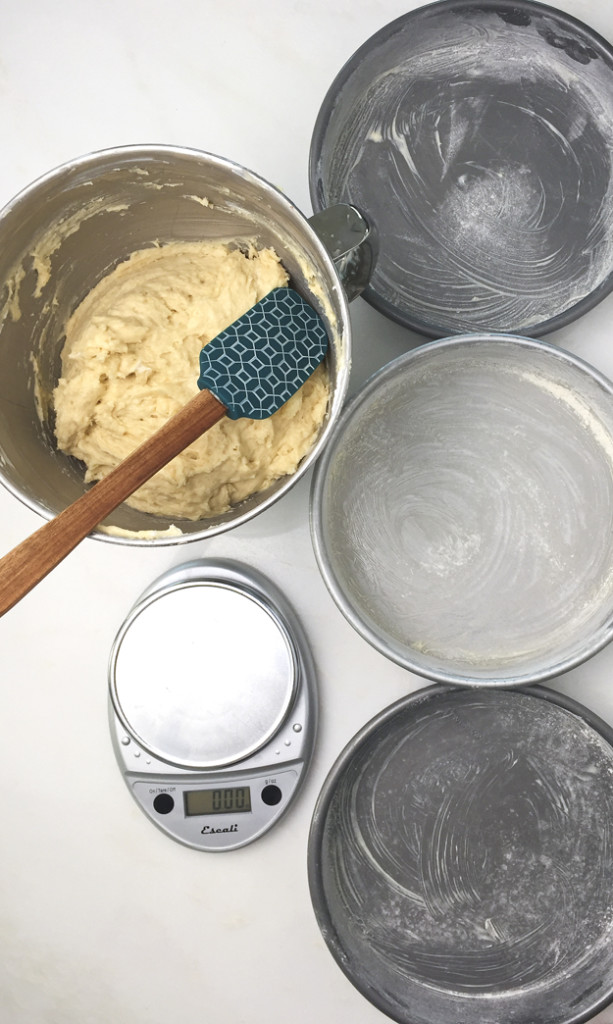 To frost the cake, I made an American buttercream. The recipe I used comes from Nila, over at thetoughcookie.com. She is a buttercream wizard. Check out her Battle of the Buttercream posts. She taught me that the addition of a few drops of lemon juice really brighten all the other flavours of the buttercream without making it taste like lemon. Really cool trick!
I piped a border of buttercream around each layer and then filled the center with the coconut caramel filling. The border keeps the coconut filling from oozing out,