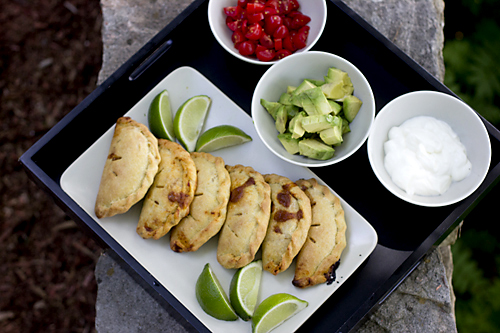 Just the words "Hand Pie" make me smile. Could there be anything more adorable and appealing than a little pie you eat with your hands? To be honest, I'm not a huge fruit pie fan. Perhaps it's because of my peach pie blunder.   Or maybe it's just that if I'm going to ingest copious amounts of butter and sugar, I'd rather partner it with chocolate or caramel rather than fruit. Plus, there's something about a fruit hand pie makes me think of McDonald's deep-fried apple pies. Not that there's anything wrong with that.
But stuff something savory in pastry and I'm all over it!
I was watching The Chew last week and Carla and Clinton teamed up to make Chili Hand Pies. They had way too much fun making them, and I wanted in on it. I think it would be so much fun to have the cast of The Chew over for drinks! Cooking dinner for them would be too much pressure, but I know that certainly after a few cocktails, they'd all be in my kitchen with me cooking away. Michael would be laughing while he prepared some porky goodness, Mario would be grating Parmesan Cheese over everything and Clinton would surely keep the cocktails flowing.
My sisters just read the last paragraph and I know they are thinking that I am turning into my mother, having imaginary parties with my TV friends.
Carla and Clinton did a Beef Chili. I decided to do a vegetarian version, substituting Veggie Ground Round for the beef. I also added some onions to the chili and ramped up the heat, using 3 kinds of peppers: fresh jalapeno, diced pickled jalapeno and ancho chili powder. You want the filling to be quite spicy because the pastry crust is quite mild.
The dough is made with cornmeal. They recommended cutting the butter into small slices, but I took it right from the freezer and grated it into the dry ingredients. This is a wonderfully supple dough and rolls out without any problems. I used a 5 inch tin to cut out my circles. Use whatever you have on hand. Smaller ones would also be a wonderful hors d'oeuvre. You can make the chili and the pastry a day ahead and refrigerate them separately. I rolled out all my pastry circles and stacked them between sheets of waxed paper, before chilling. That way, the next day it was all ready to assemble and bake.
Onions, garlic, red pepper, jalapeno pepper, cumin, chili powder and salt form the flavour base.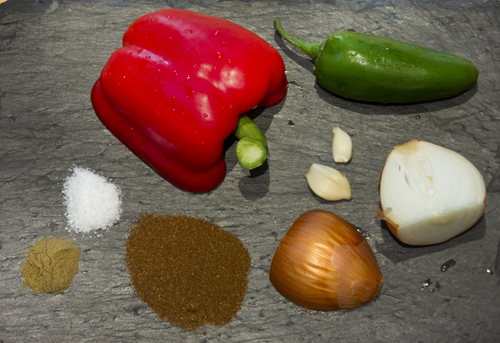 Make sure you let the chili cool before mixing in some grated cheddar.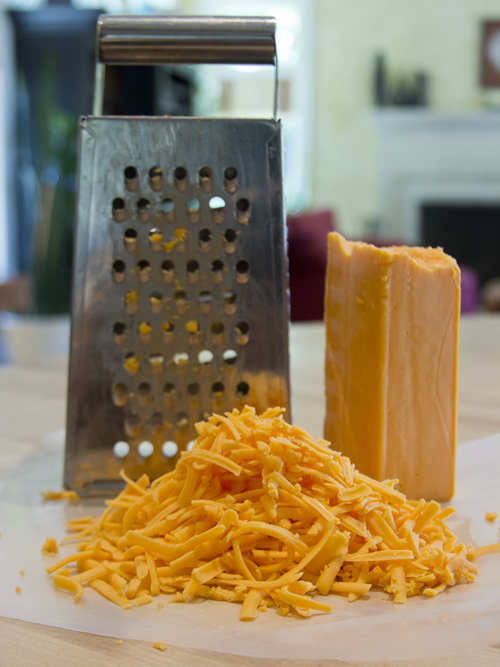 Don't overfill them or you will have trouble sealing them. You can simply press the edges with the tines of a fork, or get fancy and roll the edges like a rope.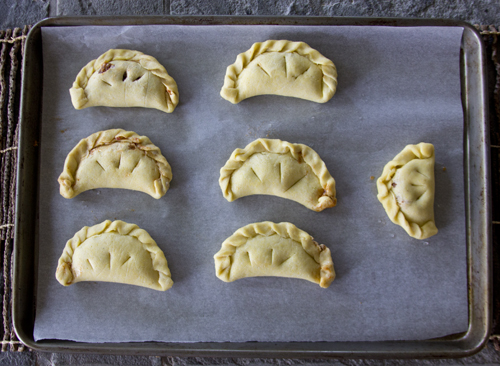 Cut a few slits so the steam can escape. 20 minutes in a 400 degree oven, and they are ready to serve.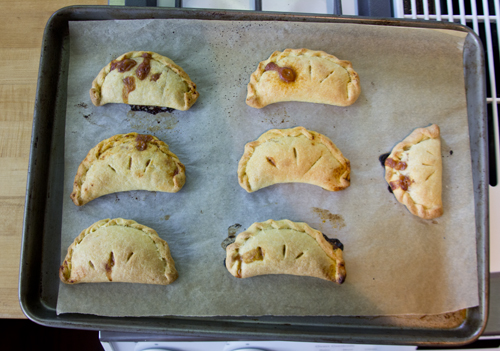 Click here to print the recipe for Chili Hand Pies.