You know that it is time to stop posting new cookie recipes on your blog when your inbox begins to fill up with comments from readers who tell you that they have baked several batches of your cookie recipes and now their clothes are feeling a little snug. Hey people, I got my own tight pants problems here!
So, that being said, I promise that this is my last cookie post for December. These cookies were inspired by Alice Medrich. In her book, Chewy Gooey Crispy Crunchy Melt-in-Your-Mouth Cookies, I was transfixed by a recipe for Salted Peanut Toffee Cookies. After reading her description, I knew I had to try these.
"Encrusted with toffee-coated peanuts and accented with flaky sea salt, these updated peanut butter cookies have a tender, melt-in-your-mouth shortbread texture. "
I whipped up a batch but sadly, I found the cookies to be a bit dry. I was envisioning a chewy peanut butter cookie with a crunchy coating. And then I remembered Mom Mom Fritch's Peanut Butter Cookie recipe. My sister sent me this recipe almost 12 years ago and we had a good laugh over the name Mom Mom.
You see, when my first son was born, almost 23 years ago, he was my parent's first grandchild. We asked my dad what he would like to be called, perhaps Zaidy or Grandpa. He said no, since he called his dad Pop, it only seemed fitting that now he would be called Pop Pop. As a joke, my husband said to my mom, and we'll name you "Mop Mop." We all laughed but somehow the name has stuck and 13 grandchildren later she is called Mop Mop (or more affectionately Moppy) by all those near and dear to her.
As it turned out, Mom Mom Fritch makes killer peanut butter cookies.  There is no flour in her recipe, so they are super chewy and moist. Rolling them in chopped honey roasted peanuts before baking adds a wonderful crunchy texture which contrasts so well with the chewy cookie in the center. I decided to take them up a notch further and pressed a nugget of white chocolate into each cookie as soon as they came out of the oven. (That genius idea was courtesy of Alice Medrich.) Heaven!
Spray your measuring cup with Pam and the peanut butter will slide right out!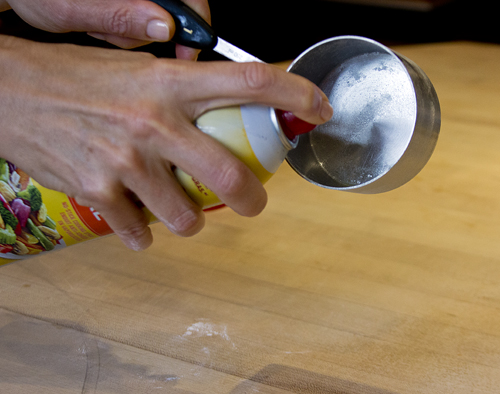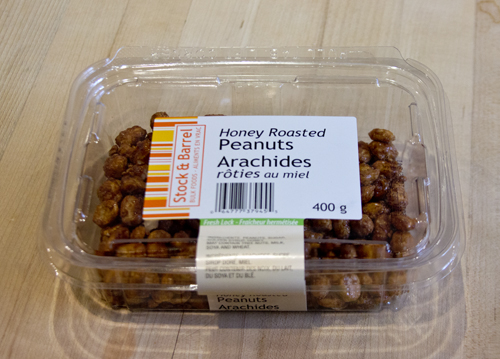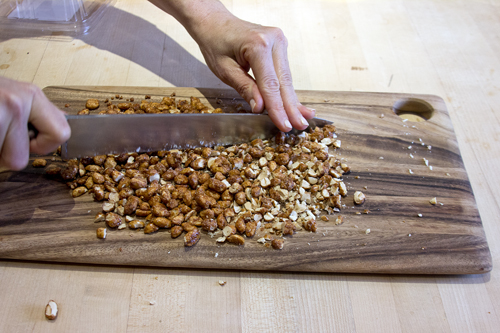 Using a 1 tablespoon spring loaded scoop makes easy work of forming the balls.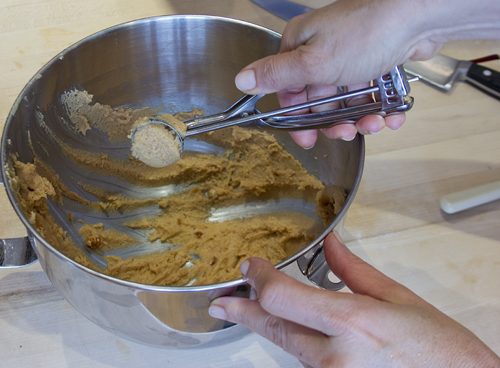 Roll peanut butter ball in egg wash and then into chopped honey roasted peanuts. You will need to press the chopped nuts into the ball to get them to stick.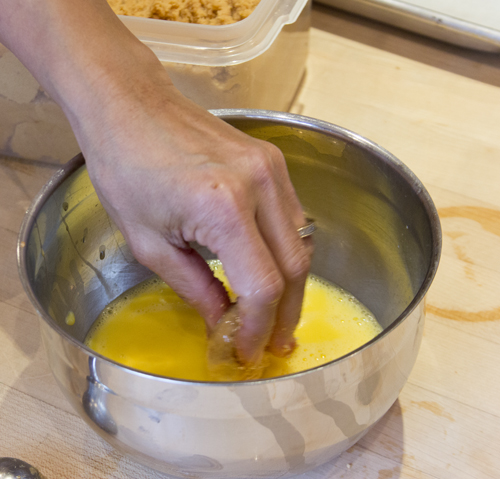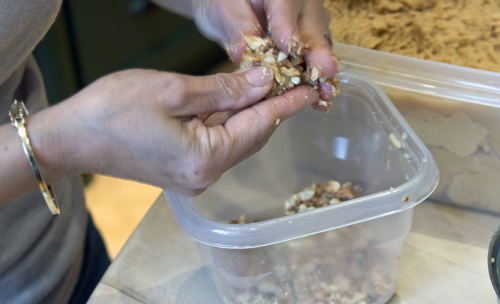 Press a nugget of white chocolate into each cookie as soon as they come out of the oven.