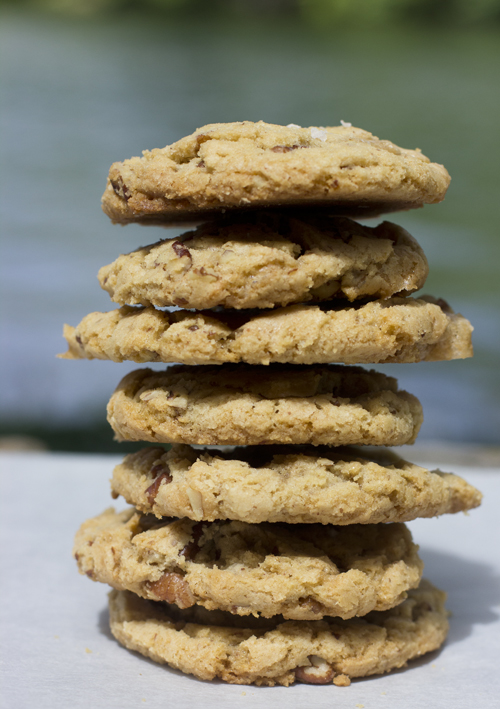 Serendipity can be defined as a happy accident or pleasant surprise; specifically, the accident of finding something good or useful without looking for it. Some of the greatest foods we know today were discovered serendipitously.
Chocolate Chip Cookies are but one example of serendipity in the kitchen. Nannette Richford at Yahoo! Contributor Network explains how that happy accident came to be.
It all began when Kenneth and Ruth Wakefield purchased a Cape Cod-style TOLL HOUSE, located between Boston and New Bedford, in 1930. This house was originally a "toll house" where travelers stopped to pay a toll for using the highway. While their horses were being changed, they enjoyed a home cooked meal in the toll house. The Wakefields later turned the toll house into a lodge and called it The Toll House Inn.
Ruth, and her guests, had a passion for Butter Drop Do cookies which called for baker's chocolate. One day, while Ruth was making these cookies, she ran out of bakers chocolate. As any resourceful woman would do, Ruth looked around for a substitution. She grabbed a semisweet chocolate bar that had reportedly been given to her as a gift from Andrew Nestle of the Nestle Chocolate Company. She chopped this chocolate bar it in small morsels and added them in place of the baker's chocolate. Ruth expected the morsels to melt like bakers chocolate, but instead she discovered smooth gooey bits of chocolate throughout her cookies.
Serendipity recently struck food blogger Mandy Mortimer. I came across Mandy's blog when I was checking out new entries on Food Gawker. Her Pecan Caramel Cookies stopped me dead in my tracks. I immediately clicked on them and went to her blog. Using Jacques Torres chocolate chip cookie recipe as a base, she took out the chocolate and added pecans and chunks of vanilla fudge instead. She expected the fudge bits to stay all chewy in the middle of the cookies, but they melted out and oozed all over the edge of the cookies, making a yummy crispy caramel accident.
I have to say that finding the fudge was the hardest part of making this recipe. Mandy is originally from South Africa but now lives in Ireland. She found fudge chunks made by Dr. Oetker, right in her local supermarket. No such luck here. No prepackaged fudge bits in my neck of the woods. I decided to just buy some fudge and chop it up. Fudge is one of those candies that everyone has heard of but no one sells anymore. Fudge making is at risk for becoming a lost culinary art.
After much searching, I found some at Kilbourne's in Newboro Ontario, near my cottage. Mandy used vanilla fudge, Being the proud Canadian I am, I chose maple fudge! I think that the combination of pecan and maple is incredible. Something magical happens when you combine those two and somehow the whole is greater than the sum of its parts.
Be sure to toast the pecans before chopping them and adding them to the dough.
Chill the dough for a few hours before forming and baking cookies.I like to use an ice cream scoop so that all my cookies are exactly the same size. I used a 1 1/3 ounce sized scoop (about 1 3/4 inches across). A little sprinkle of fleur de sel on top of each takes these cookies to the next level and helps to tame the sweetness.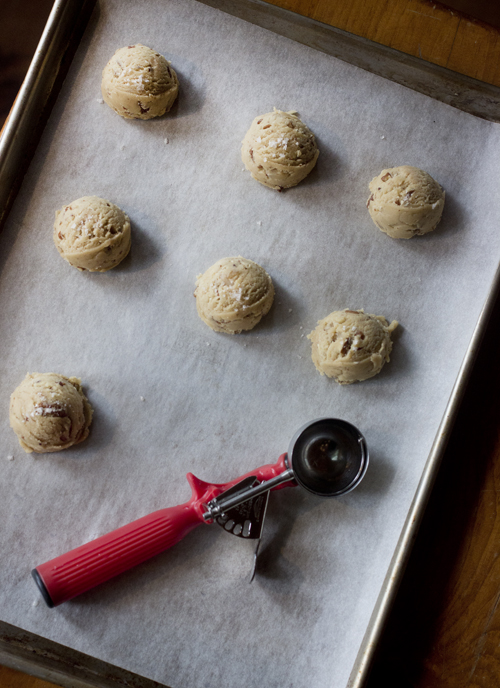 They will still look a bit underbaked when you remove them from the oven, but they will firm up upon cooling. Some of the fudge will ooze out, but don't worry about it. Once it cools, that's the baker's treat!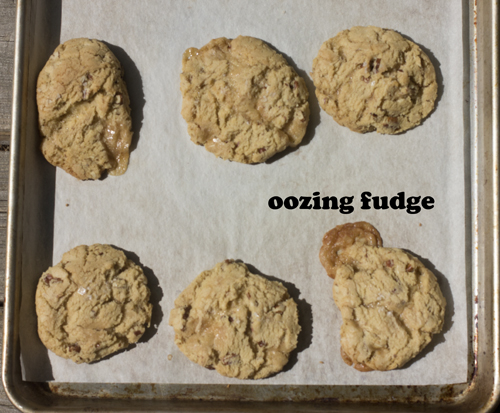 I got Mickey Mouse ears in this batch.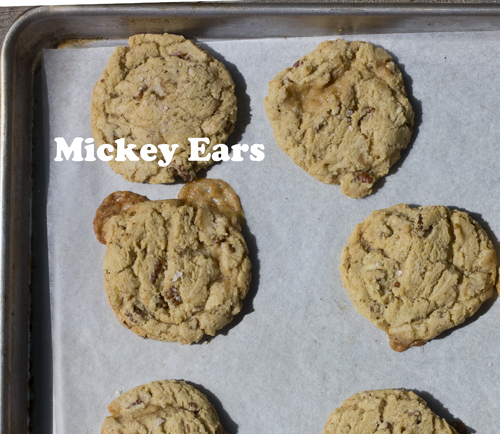 I let them cool a bit and then had a warm one. Crispy around th edges and chewy in the center, nutty and almost butterscotchy. Completely addictive. Mandy warned me, and now I'm warning you. As soon as they cooled, I packaged them up and put them in the freezer so I would not snack on them any more. Well, 4 frozen cookies later, I can attest to the fact that they are even excellent straight from the freezer. I took the rest of them to my hairdresser today because I can not be left alone in the house with them!