In mid-September we took a trip to New York City with our good friends the Grizzlies. Grizzly is not their real name. This is just my pet nickname for them as they share many of the same personality traits as grizzly bears. As you may know, grizzly bears hibernate for the winter.  In preparation for hibernation, they must eat heavily for several weeks prior to the hibernation period, as they will be living off the stored fat for several months.  Apparently this was the weekend Mr. Grizzly intended to pack on his necessary pounds. (And he took us along as hostages!)  I chronicled the first part of our trip in my last post.  Following is Part 2 of our adventure.
Saturday morning dawned sunny and warm! With only half a day left in our New York Adventure, we had a momentous decision ahead of us. Mr Grizzly had originally booked our farewell lunch at Jean Georges. We ate lunch there a few years ago the last time we visited NYC with the Grizzlies. Their lunch special, 2 courses for $38, is renowned among foodies in the know.  While you may not consider a $38 lunch cheap, it is a fantastic bargain for a Michelin starred restaurant.
I can not remember exactly what I ate the last time we dined there, but I do recall that it was quite a hushed and serious place. What I do recall, with unfailing certainty, is the Bon Bon Trolley, that they wheeled over at the end of our lunch. All through lunch, I had been watching the waiter manning the trolley.  As he approached each table he opened a huge glass jar filled with handmade pale pink marshmallows, almost the exact shade as Essie's Ballet Slipper nail polish, and lifted one out with tongs.  Then he proceeded to cut each one in half with very elegant silver scissors.  I inquired whether marshmallow cutting was a position you had to be promoted to.  He responded that it was an entry level job. I seriously considered applying!
This time, we made the decision to cancel our lunch at Jean Georges, and feast at Smorgasburg instead. Please know that this was not a decision we took lightly. Smorgasburg, located in the hot and happening town of Williamsburg, Brooklyn, is an open air food market, featuring over 100 vendors. The New York Times has dubbed it, "The Woodstock of Eating." We figured that Mr. Grizzly could be quite efficient at Smorgasburg, in packing on his necessary pounds for his upcoming winter of hibernation!
Smorgasburg, just a short 30 minute subway ride from mid-town Manhattan, is located in an empty waterfront lot on the East River, between North 6th and 7th Streets. It boasts a picturesque view of the Manhattan skyline. However, we were not here for the views. We were here to feast! We arrived shortly after 11:00 am, and most of the vendors were still setting up.
We were quite strategic in our eating plan. We decided to walk the grounds first to get the lay of the land, see what the offerings were, before we bought anything. You must come with an empty stomach, loose pants and, while some vendors take credit cards,  a pocket full of cash is a good idea. It is also ideal to come with a group of four or more. That way, you can order lots of different items, and just have a taste of each.
We came, we ate, we conquered! Here are some of the yummy bites we sampled!
1. S'more Bakery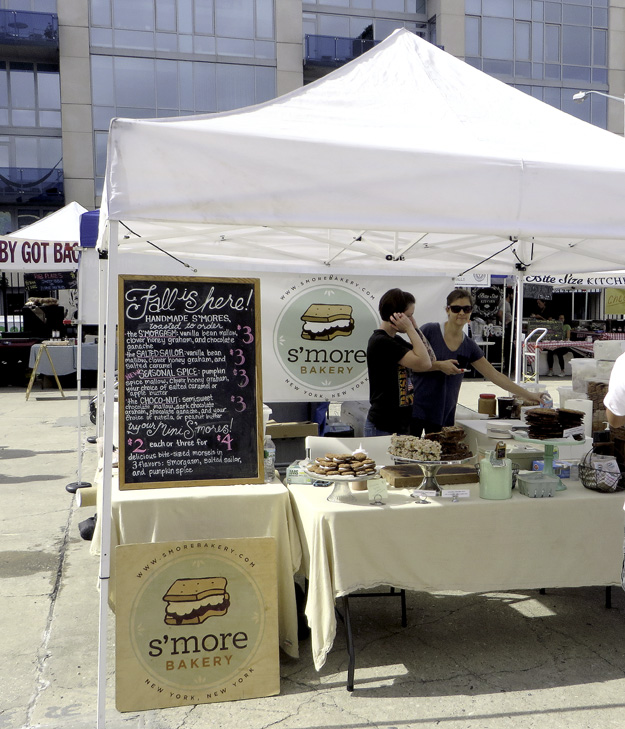 While the "Salted Sailor" (vanilla bean marshmallow and a salted caramel ganache sandwiched between clover honey graham wafers) was calling my name, I got sidetracked by the "All in One Cookie." Salted Oats, chocolate chunks and vanilla bean marshmallow all packaged together in a tidy cookie. It made an amazing first course! It had the ideal cookie texture; caramelized and crispy edges with a softer, chewy center. They packed a flavourful punch of salty and sweet!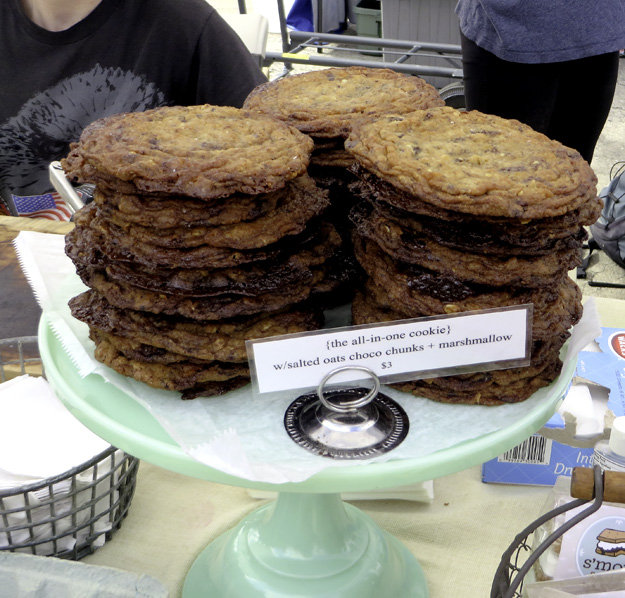 2. Danny Macaroons 

With all they hype that macarons get, macaroons seem like the forgotten sister.  Danny Cohen has not forgotten about them. He gives them all the love and attention they deserve. I am coco-nuts about the Salted Caramel and the Raspberry Jalapeno Jam flavours!
3. Pain D'Avignon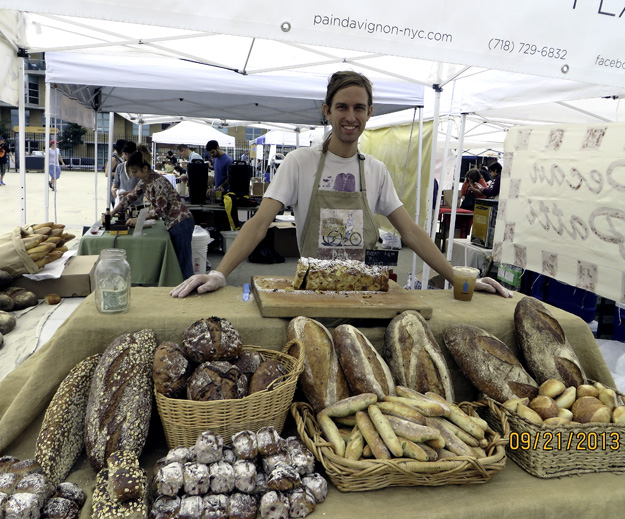 After all that sugar from the cookies, we needed something savory. We sampled the Mini Picholine Olive Rolls. Salty from the olives, aromatic from a bit of fresh rosemary, these mini rolls sported a beautiful open crumb. They were chewy and the crust had just the right amount of crunch.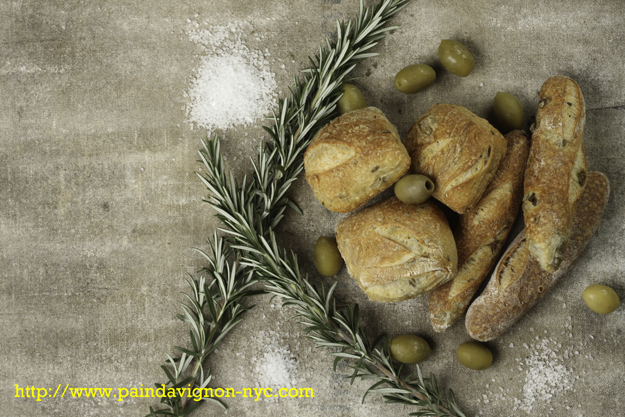 4. Chedbred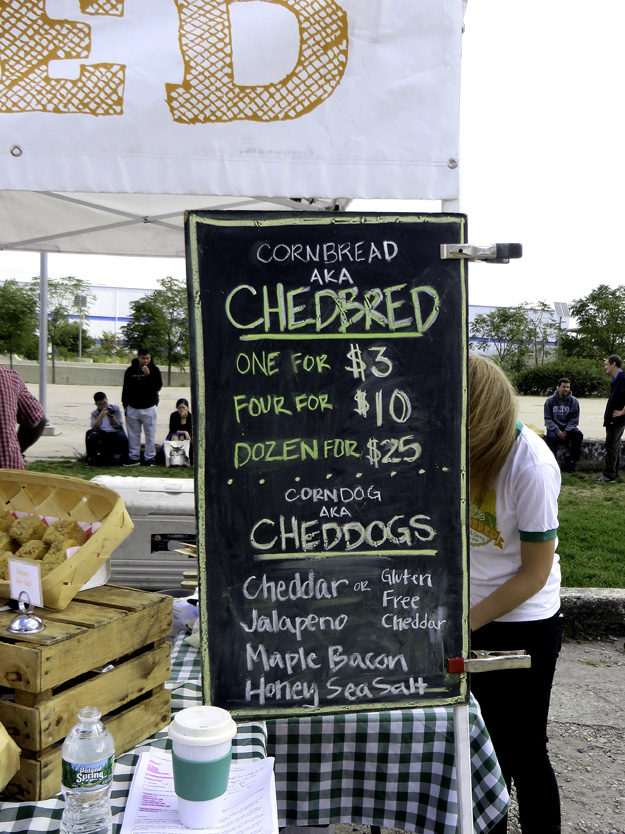 Without question, the honey sea salt chedbred was the best thing I ate all day in Brooklyn!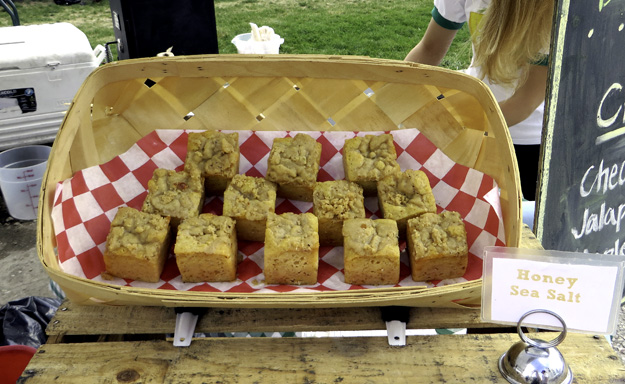 A quote from their web site says it all! "A deceptively simple, bordering on majestic cornbread that thrives off of a subtle sweetness from honey.  Topped with brown butter crumble and sprinkled with sea salt, it strikes a perfect balance through contrast." 
5. Milk Truck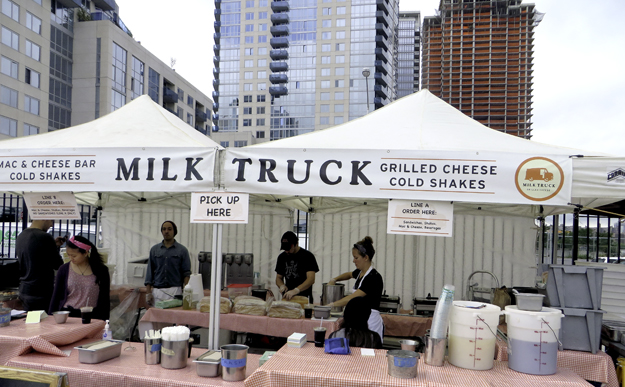 We stopped dead in our tracks when we came upon Milk Truck.  Grilled Cheese, Milk Shakes and a Mac and Cheese Bar. How could we resist? We opted for the classic Mac and Cheese: Three cheese bechamel sauce topped with housemade rosemary bread crumbs, with a mix-in of double smoked bacon. I was surprised that they used farfalle (bowties), as the pasta shape. I am a traditionalist and prefer my mac and cheese with elbow macaroni.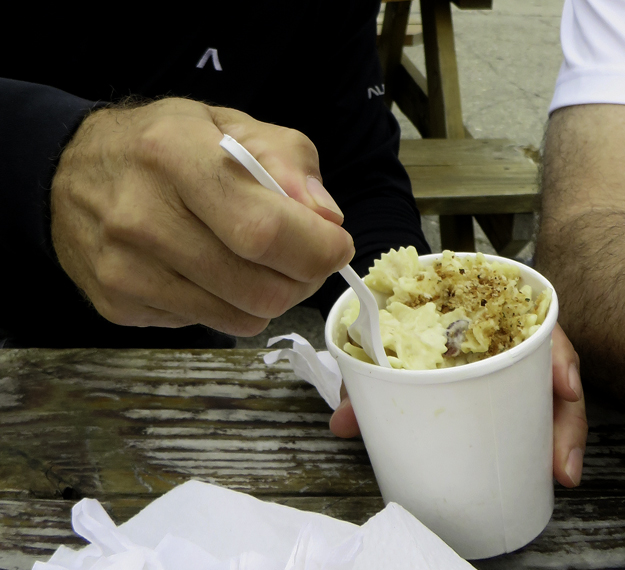 I have since heard lots of buzz about their grilled cheese sandwiches. Should have had one of those instead!
6. Lonestar Empire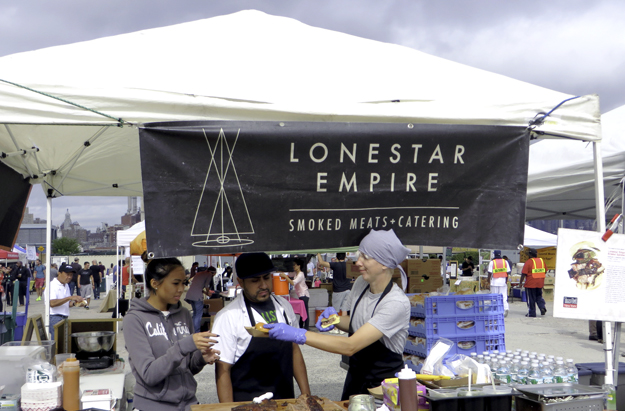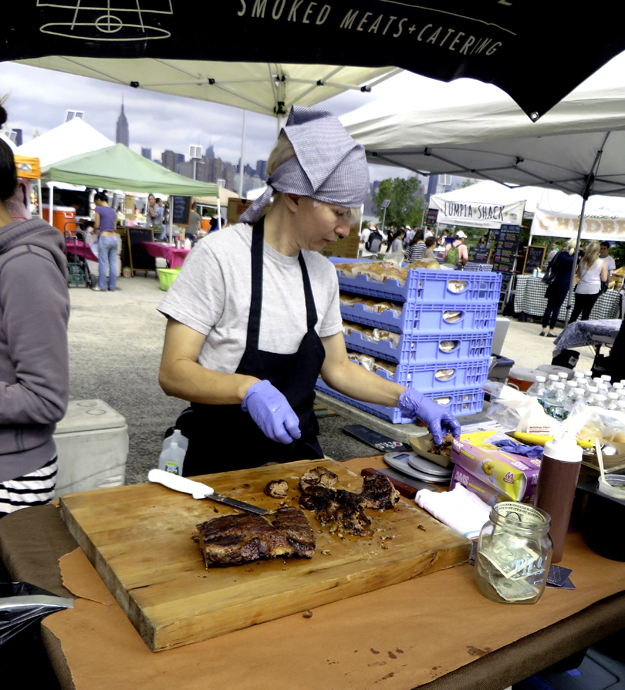 Mr Grizzly started chatting to the lady in the blue bandanna over at Lonestar Empire about their "Slow Smoked Texas Style Brisket Sandwich." She explained that they use Angus Beef Brisket and season it liberally with just salt and pepper. Then they smoke it low and slow- a good 15 hours over Texas mesquite wood. The low and slow method gives the fat in the meat time to render out, making the beef unbelievably moist and tender. She was unequivocal in her recomendation of ordering the brisket "moist" rather than "lean'. Since we were all about calorie loading, we opted for the moist. Hand carved to order, succulent brisket was piled onto  a soft potato roll and topped with a vinegar laced tangy tomato based BBQ sauce.  This sandwich was killer good!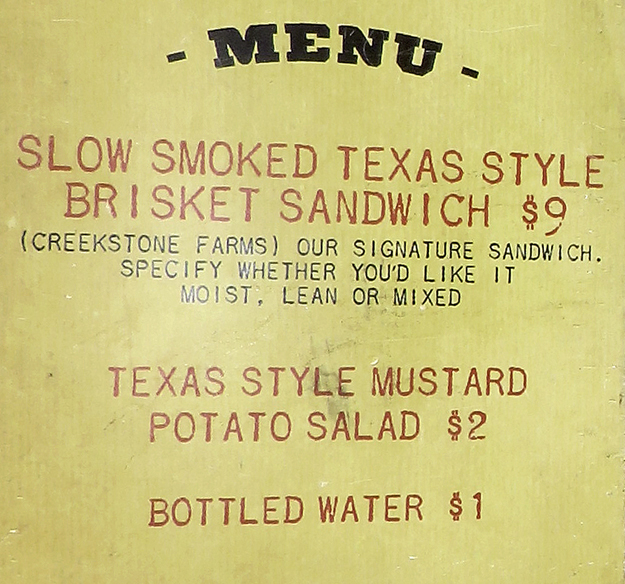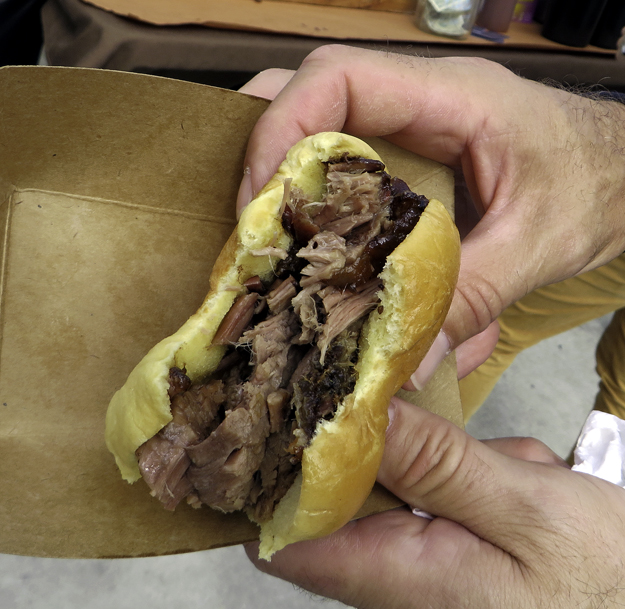 7. Pit Beef NYC 
The brisket sandwich at Lonestar had us craving more meat, so we ordered the "Marz Attack" at Pit Beef. This sandwich was built with pit pulled pork, a fried egg, and topped with chipotle cheddar and BBQ sauce. Sadly, it sounded better than it tasted. The pork was a bit dry , especially when compared to the moist brisket over at Lonestar.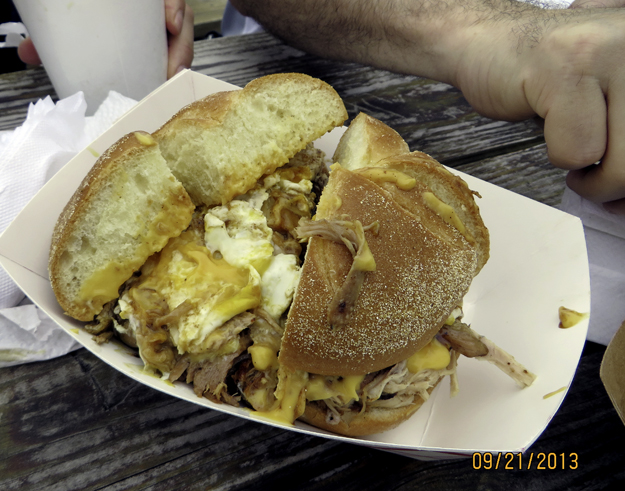 8. Ramen Burger 
When we first arrived at Smorgasburg, we couldn't help noticing a huge lineup at one tent: Ramen Burger. It was barely 11 am, they weren't even cooking yet, and already the lineup was at least 50 people long. What was the deal here we wondered? Could these ramen burgers be the new "cronut"?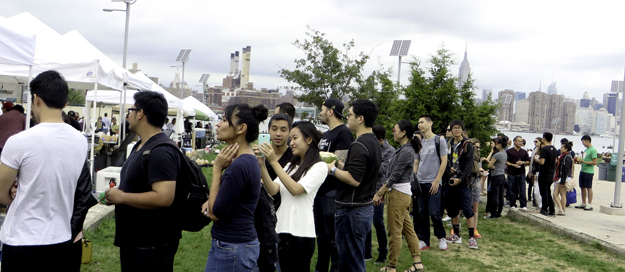 We decided not to join the line and sample some other things first. However, about an hour later, Mr. Grizzly's curiosity got the best of him. He wandered over to the head of the line and started chatting with some of the folks. He got quite an education in the Ramen Burger.
Created by Keizo Shimamoto, this is no ordinary burger. The all beef patty is sandwiched between two discs of ramen noodles, which have been cooked crispy on the outside and soft on the inside. Topped with green onions, a secret Shoyu sauce and arugula, the burger has a sweet and a salty taste. Although I didn't actually taste the Ramen Burger, Mr Grizzly did charm his way into a few bites from some lovely women at the head of the line who had been waiting since 8:00 am! He reported to us that he didn't understand what all the hype was about.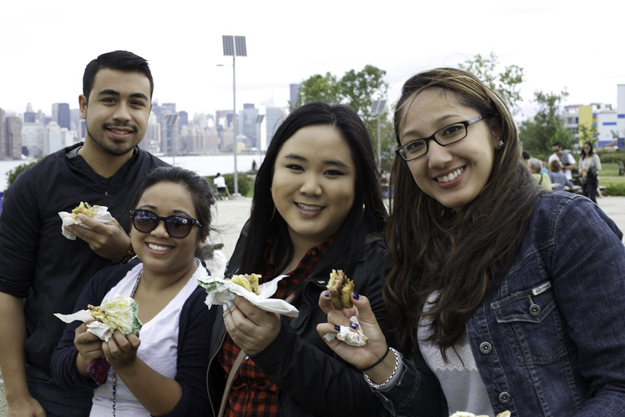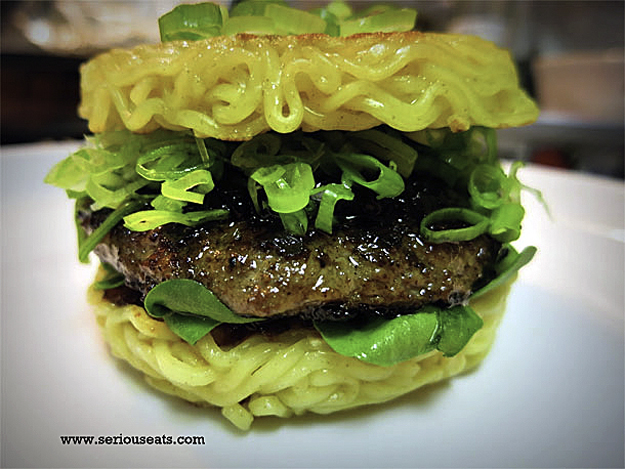 Shockingly there was no lineup at the Quinoa Falafel tent!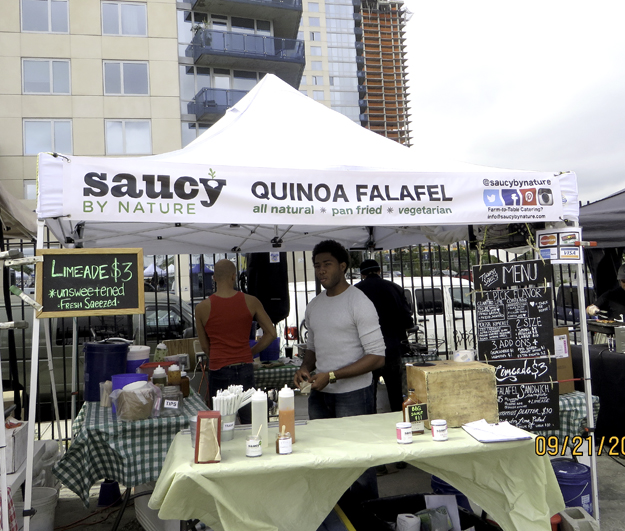 9. BFC (Buttermilk Fried Chicken)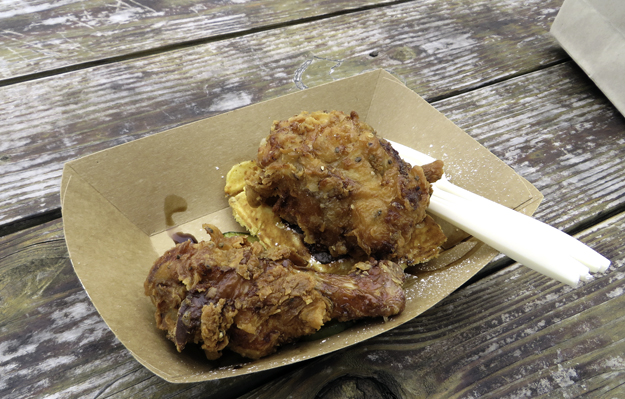 Mrs. Grizzly wandered off on her own and came back with buttermilk fried chicken and cheddar waffles. The coating was so  thick, we could not cut it with our plastic fork and knife. The only way to eat this delicious chicken is to pick it up and eat it with your hands! A shatteringly crispy coating gave way to tender moist flavourful chicken meat. The waffles were good, but really, it's all about the chicken! Don't forget to add a squeeze of their black maple sauce (maple syrup with a balsamic vinegar reduction).
10. Krumville Bakery
It was the bundt cake at the Krumville tent that got my attention. I had never seen a bundt pan in that shape before. Apparently it is called the Heritage Bundt pan. I must get one of these! It looks like a giant pinwheel. We started chatting with the folks at Krumville and we soon discovered that everything under their tent is Gluten Free! We ended up buying the zucchini goat cheese bacon tartlette. Yummy!!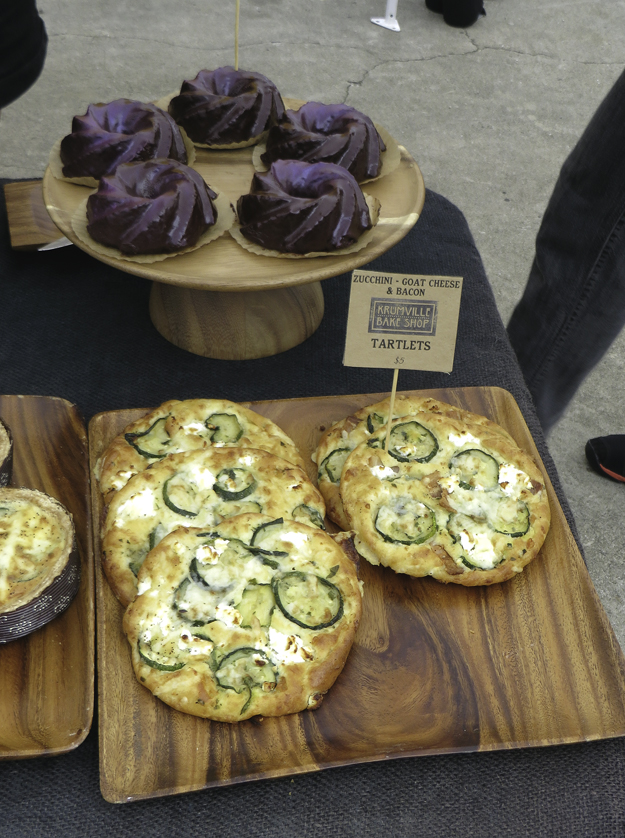 We thought we had hit our limit, but apparently we were wrong. There was still a tiny little corner of my stomach that had room for fries at Home Frites, and Mrs. Grizzly had room for S'more Pie!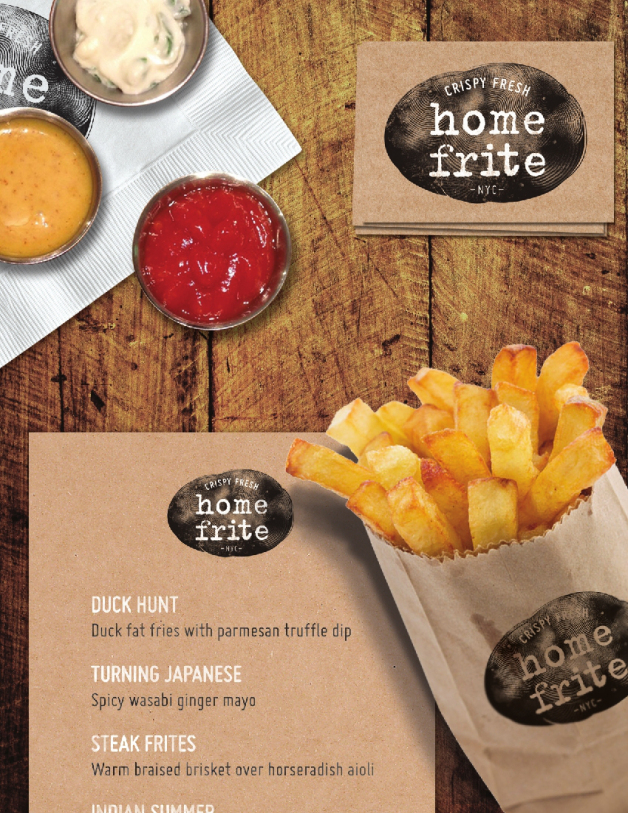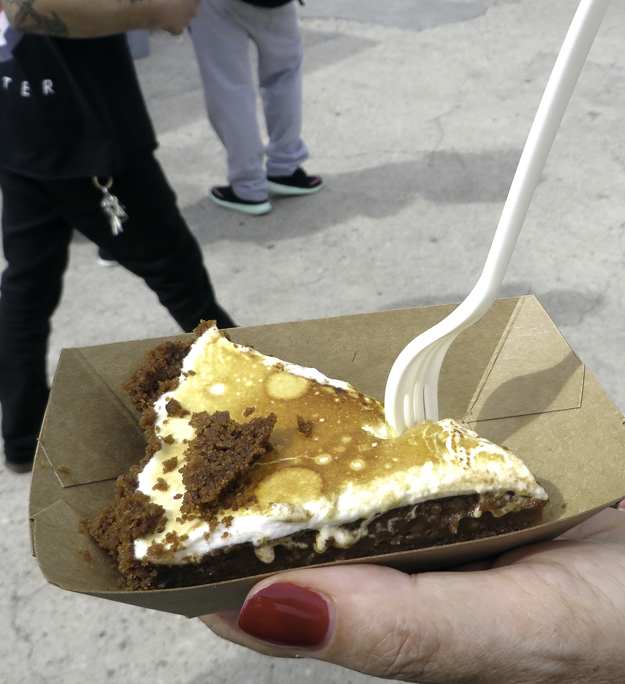 Feeling happy and quite full, we waddled our way out of the fair grounds. A perfect day in Brooklyn!