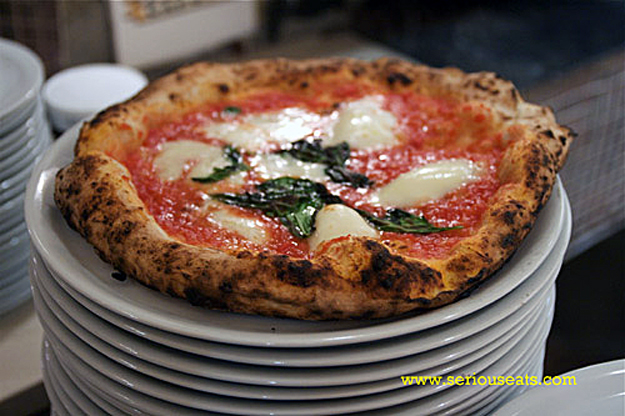 It's possible that I may never look at pizza the same way again. Last weekend we visited NYC with our friends, The Grizzlies. Now, I should tell you that "The Grizzlies" is not their real name. It is an alias I use to protect their identity. They are such fabulous travelling companions, I worry that if I reveal their identity, others will want to travel with them and they will never be free to travel with us.
We decided to go to NYC with them to celebrate my husband and Mr. Grizzly's birthdays (just a week apart). I have given them this nickname as they share many similarities with grizzly bears. As you may know, grizzly bears hibernate for the winter.  In preparation for hibernation, they must eat heavily for several weeks prior to the hibernation period as they will be living off the stored fat for several months.  Apparently this was the weekend Mr. Grizzly intended to pack on his necessary pounds. (And he took us along as hostages!)  
Usually when I travel, I spend many hours obsessing over what to do and where to eat. This time I left the itinerary planning up to Mr. Grizzly. We travelled to NYC with them in 2010 and Mr. Grizzly did such an outstanding job planning our itinerary on that trip that I put myself in his hands again.
The only suggestion that I made was Scott's Greenwich Village Pizza Walking Tour that I had read about on Serious Eats and was intrigued. Plus, I figured if it was a walking tour we might burn off a few calories!
We met in the West Village at 11:30 am to begin the tour. As soon as Scott started his introduction, I knew we were in for a special treat. His enthusiasm was infectious. His knowledge of the history and culture of pizza would put wikipedia to shame.  I was ready to follow Scott wherever he chose to lead us. Scott introduced us to his friend Jared (photo on the right), who would be joining us on the tour. Jared shares Scott's passion for pizza with a fervor that only the young can sustain!
Our first stop on the tour was Kesté  on Bleeker St. " Kesté " in the dialect of Naples translates to "this is it" which is a reference to the simplicity of the pizza here. All the hallmarks of a classic Neapolitan pizza are here – San Marzano tomatoes, Caputo double zero flour, house-made buffalo mozzarella, fresh basil, olive oil and a blisteringly hot wood burning oven.
Once inside, Scott gathered us around the oven and explained the physics of the dome shaped oven at Kesté. Not being a science person, I feel ill-equipped to transfer the knowledge to you guys, but suffice it to say that Scott's eyes lit up and he got a little flushed in his cheeks when he got close to that gorgeous copper domed oven. It is fed with wood from ash trees. The oven gets up to almost 1000°F. It needs to cool down to about 700°F before it is ready for pizza baking.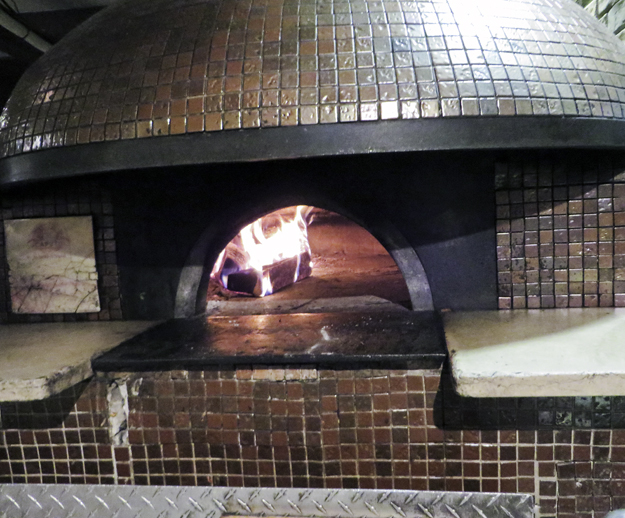 At Keste, there are two guys working in the kitchen to prepare the pizza. The first, "The Pizzaiolo", makes the pizza. The second, "The Fornaio" operates the oven. You can see them both at work in this little video I prepared. Just click on "pizza tour." to view.
As we waited for the pizzas to come out of the oven Scott pointed out the strangely shaped knife each of us had been given. He explained that Neapolitan style pizzas are eaten with a knife and fork and the knife has an angled serrated cutting edge that  to make it easier to cut your pizza while on a plate. He gave each of us a "Pizza Journal" so that we could jot down our personal reflections of each slice we sampled. He said that we would discuss and compare our observations after we ate.
McDonalds move over! Neapolitan pizzas are the original fast food. These pies cooked in a 1 minute and 35 seconds! When it arrived at our table the first thing we noticed was that the middle of the pie was quite thin as compared to the crust, which was puffed and blistered to perfection. There was silence as we all chewed and ruminated. The underside of the crust was slightly charred. The crust had an almost english muffin like chewiness, not a crisp cracker like texture at all. It sort of reminded me of naan bread. The sauce was quite tangy and a bit acidic. The cheese was creamy and a bit salty. The fresh basil and olive oil took this pizza to the next level!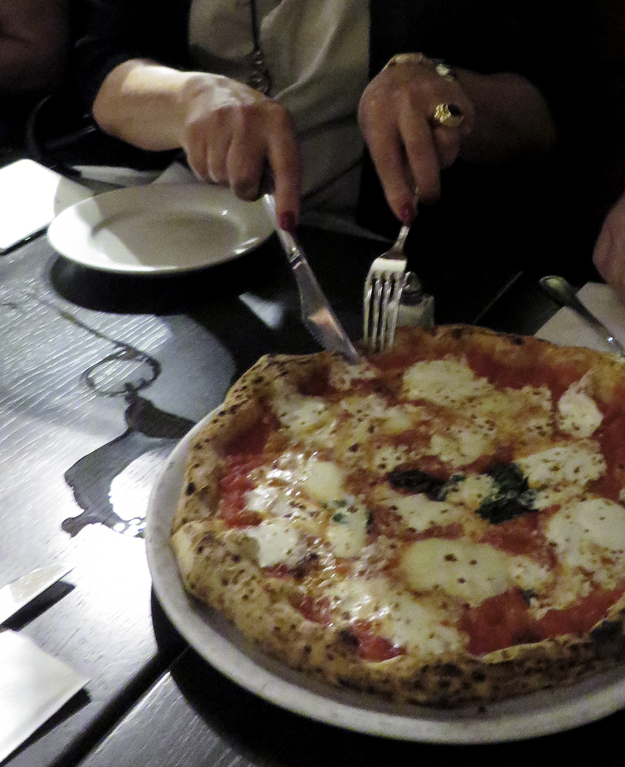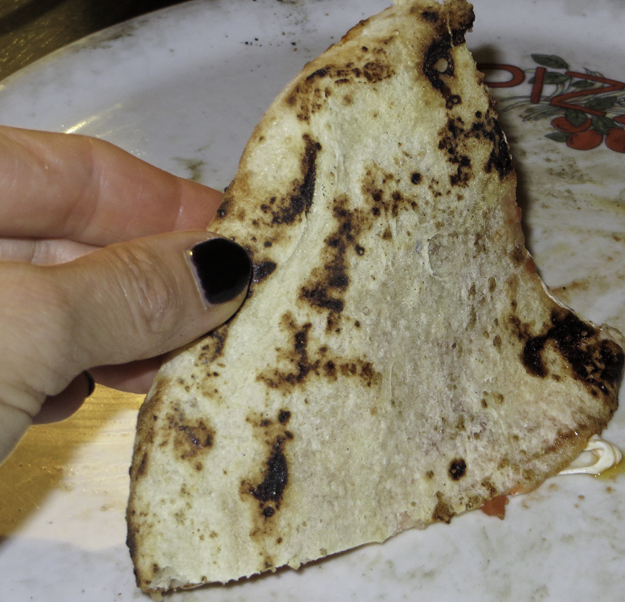 Scott explained that the dough is made with a flour that is quite low in protein, only 11.5% protein content, as compared with bread flour that has a 14.2% protein content. At this point the eyes of several members of our group began to glaze over from too much information. I, on the other hand, got quite excited. It has been a while since I had the opportunity to debate the merits of differing protein levels of flour. The dough spends 48 hours in the fridge, slowly fermenting and developing amazing flavour.
The sauce is basically Ciao brand San Marzano canned tomatoes that are crushed and salted. That's it! No cooking and no sugar added. While we were finishing up our pizza, Kesté's owner, Roberto Caporuscio, showed up. Scott was positively gushing when he introduced us to Roberto. He greeted us all so warmly, explained that he got his start in the food business as a cheese maker, and then brought out some of his homemade mozzarella di bufala and burrata to try. They were outstanding! He was such a generous host and made us feel quite loved. Sadly, we had to leave once all our pizza was gone.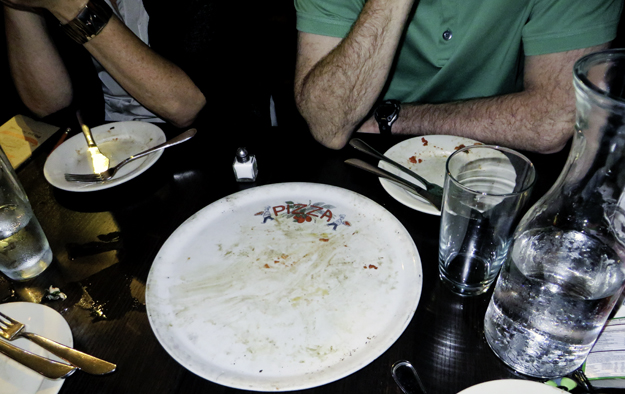 Our second stop on the tour was just across the road from Kesté. John's Pizzeria, an institution in the Village since 1929.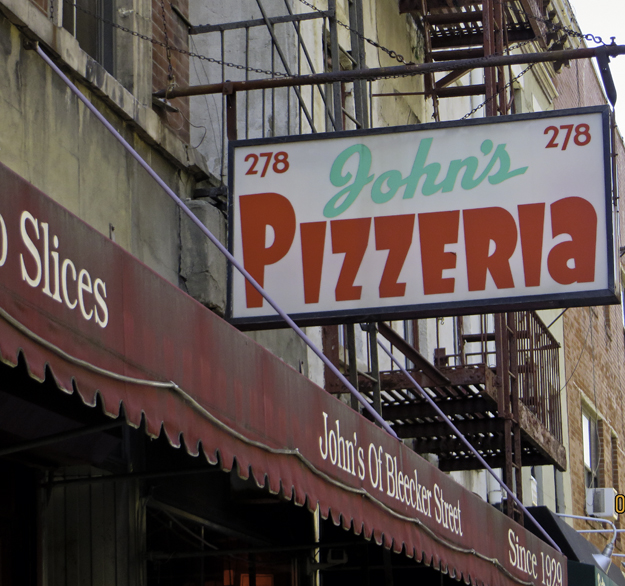 The style of pie at John's is best described as Classic New York pizza. Many have described John's as the quintessential New Your Pizza. The pie is cooked in a coal burning oven. The oven at John's is square, not domed shape. These pizzas are cooked at a slightly lower temperature than at Kesté. (600°f vs 700°F). They take about four minutes to cook.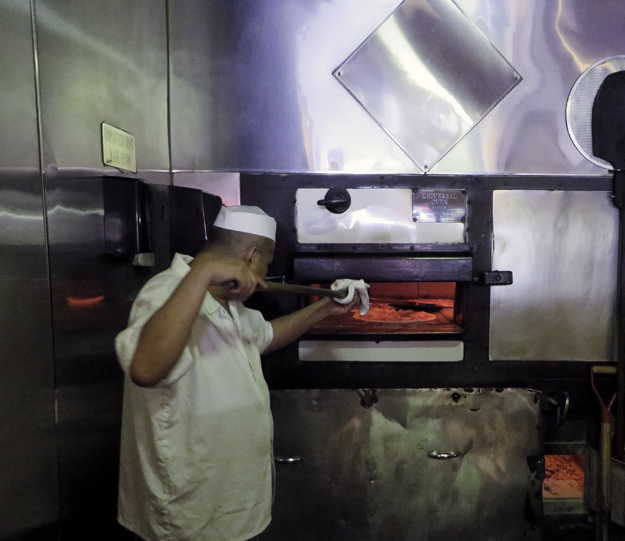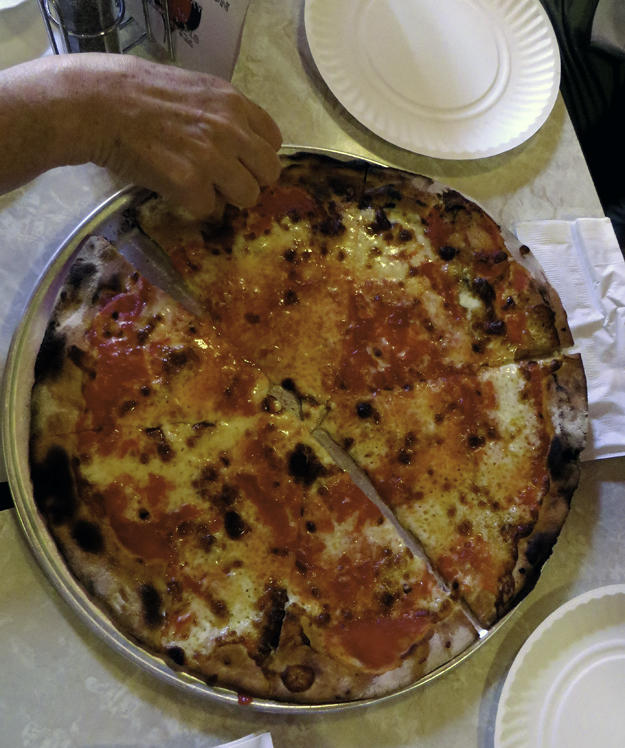 When the pizza arrived at the table, Mr Grizzly eagerly reached over to grab a slice. Scott came trotting over to our table and told us to wait a minute. He reached into his backpack and pulled out… an infrared thermometer??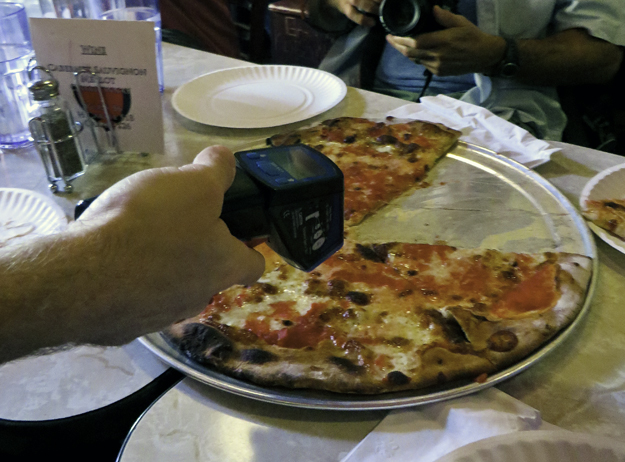 He measured the surface temperature of our pizza and told us that it was still too hot to eat. We would blister the roof of our mouths if we ate it too soon. We needed to let it cool to 175°F before we could sample. Safety first folks! At this point, I began to think that Scott was one of the coolest people I have ever met. Man, I need one of those thermometers!
Finally the pizza reached a safe eating temperature and we dug in. The crust was quite thin and quite a bit tougher than at Kesté. I observed that the sauce was sitting on top of the cheese, so that the sweet taste of John's sauce is what hit my tastebuds first. The cheese was quite stringy and salty, but in a good way. There was a delicious layer of oil, from the cheese that was floating on the top of the pizza. Scott explained that the cheese goes on first here, and then the sauce. They use (Polly-O), a  low moisture mozzarella and it is sliced, not shredded. The crust is made with General Mills bread flour which has a 14.2% protein content, which explains the tougher crust. They allow the dough to ferment in the fridge for about 24 hours.
My first bite took me right back to my childhood. Now this was pizza! Interestingly enough, I later learned about something called Pizza Cognition Theory (PCT). Sam Sifton, former NY Times food critic posited that, "The first slice of pizza a child sees and tastes …, becomes, for him, pizza." I grew up eating Monte Carlo Pizza in Toronto (now called Mama's Pizza). It had that same thin crust, sweet sauce and stringy cheese with a thin layer of oil on top.
On the way to our third and final slice, Scott stopped and took a few minutes to wax poetic on the subject of pizza boxes.

As a collector of pizza boxes for the past 10 years, Scott knows his way around a pizza box. He spent a few minutes expounding on the mechanics of corrugated boxes and pointed out that if a box has no vents, the steam from a hot pie gets trapped inside and the crust can take on the smell and taste of cardboard. All of the sudden, it became crystal clear to me why the crust of Pizza Pizza always reminded me of cardboard. Scott's book on the subject of boxes is being released on November 5!
Our final stop was Famous Ben's Pizza at the corner of Spring and Thompson, in SOHO. There is an adorable statue of ben just outside the shop.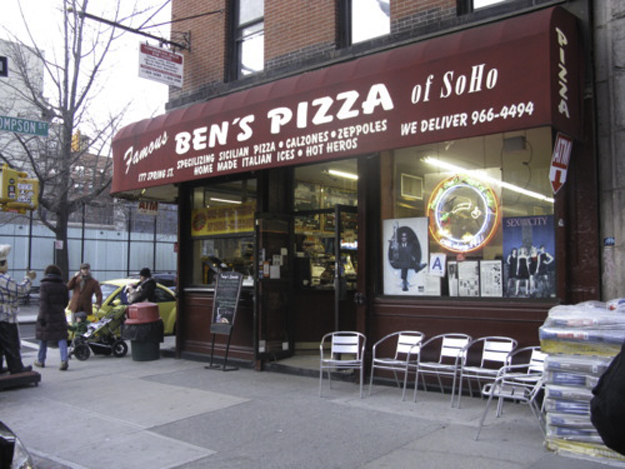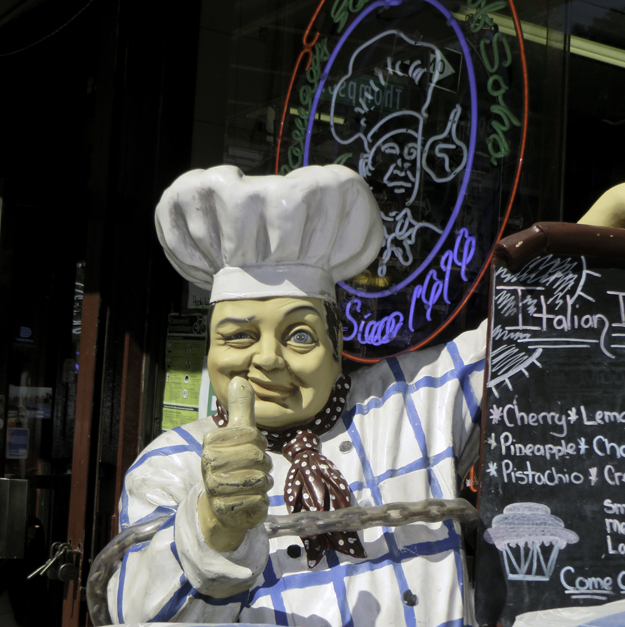 Ben's specializes in Sicilian style pizza. These are thick crust square pies that take about 20 minutes to bake at 550°F in gas fuelled deck ovens. Mrs. Grizzly and I generally don't love thick crust pizzas. We were expecting to be disappointed by this slice.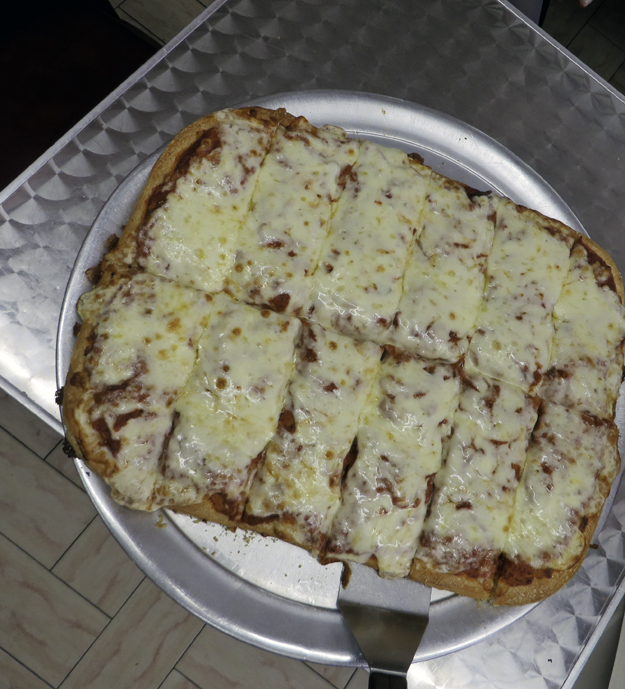 After just one bite we were instantly smitten! We expected the crust to be doughy and heavy but somehow it was the exact opposite. This crust was light and bubbly with an amazing bottom crust crunch, like good focaccia.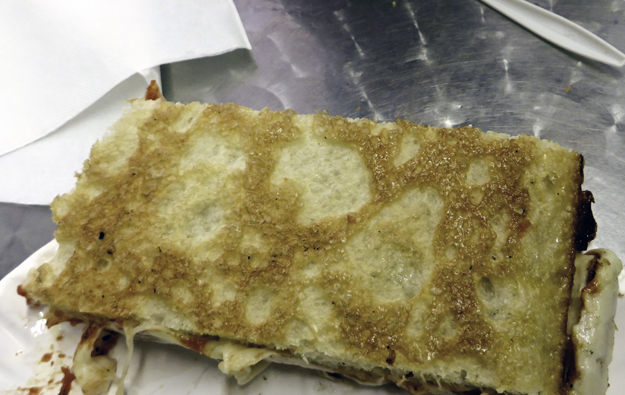 Scott explained how they make the Sicilian style pie at Ben's. The sheet pan is heavily oiled and then the dough is stretched to fit into the pan. It gets a nice long rest, about 2 hours, and then it is topped with sauce. Then it goes into the oven for about 10 minutes to get the crust started. The cheese, lots of it, is added during the last 10 minutes of baking.
It was here at Ben's that Scott demonstrated for us what pizza aficionados like to call "cheese pull".  
This is not to be confused with the dreaded "cheese drag", where all the cheese comes off the top of the pizza in one bite.
It so happened that Mike Kurtz, of Mike's Hot Honey was taking Scott's tour with us that day. Mike treated us all to a squirt of his honey to dip our pizza into. What a yummy combination with the cheese and crust. First you get the sweet and after about 2 seconds, the heat hits you in the back of your throat. Jared and I agreed that it would be so much fun to serve this honey with apples at Rosh Hashanah dinner next year. What a surprise!
If you happen to be in NYC and are looking for a really fun and unique way to spend a few hours, check out Scott's tours. It is hard not to be swept up into his enthusiasm. I am sure his parents must be so proud of him. Really, all parents want from their children is to see them find their passion in life. If they can make a living at it, even better.
Stay tuned for Part 2 of our new York Adventure with the Grizzlys, where we master the NYC subway system and make the trek the Williamsburg Brooklyn for Smorgasburg – the Woodstock of Eating!