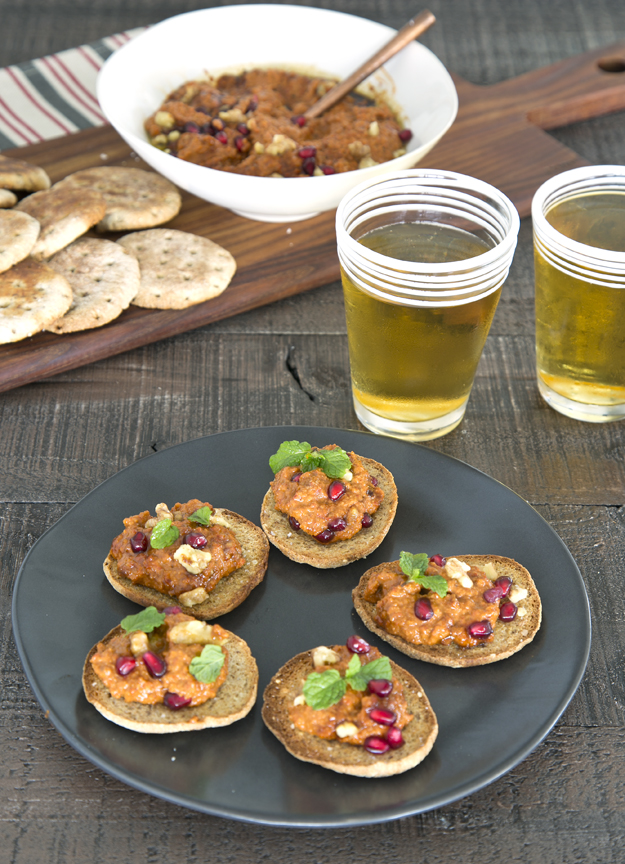 I don't often remember my dreams, but last night's was so vivid that I feel compelled to tell you about it. In my dream, I led a protest march at the McGregor sock factory. We all carried signs, designed by me, that read, "We demand equal rights for all toes." I was so confused when I woke up. I avoid confrontation at all cost, so I can't for the life of me, figure out how I came to be leading a protest. If anyone is skilled in dream analysis, please enlighten me.
Clearly I don't have answers to all the world's injustices, but I can suggest a great new dip for Super Bowl Sunday. Small steps folks!
I first had this dip a few weeks ago at Fairouz, a Lebanese restaurant in Ottawa. When I moved to Ottawa over 25 years ago, it was one of the only great ethnic restaurants in town. We went often, but never on a Saturday night, as that was when they featured live music and belly dancers. Watching them always made me uncomfortable. Sadly, they closed their doors in 2005, and I really missed it.
When I heard that they had reopened, I was thrilled. Fairouz 2.0, as I call it, is just as delicious, but with a fresh modern twist on Middle Eastern food. Luckily we went with a bunch of friends, because we wanted to try almost everything on the grazing section of the menu. Our favourite was the muhamarra dip. Much easier to make than it is to pronounce. I googled the pronunciation and heard it pronounced like this, this and this.
Of course I quizzed our waiter about how to make this dip. All I could get out of him was red peppers, walnuts and pomegranate molasses. I came home, did a little research and got to work creating. Almost all the recipes I found used some sort of binder, usually breadcrumbs. The go-to spices were commonly cumin and some sort of hot red peppers. Since Aleppo pepper is sadly unavailable, I went with a dried Turkish red pepper called Maras (or sometimes Marash).  I buy mine at Damas, a Middle Eastern supermarket in Ottawa. You can easily find it on Amazon as well. Pomegranate molasses (the syrup of boiled pomegranate juice), is also readily available at Middle Eastern supermarkets.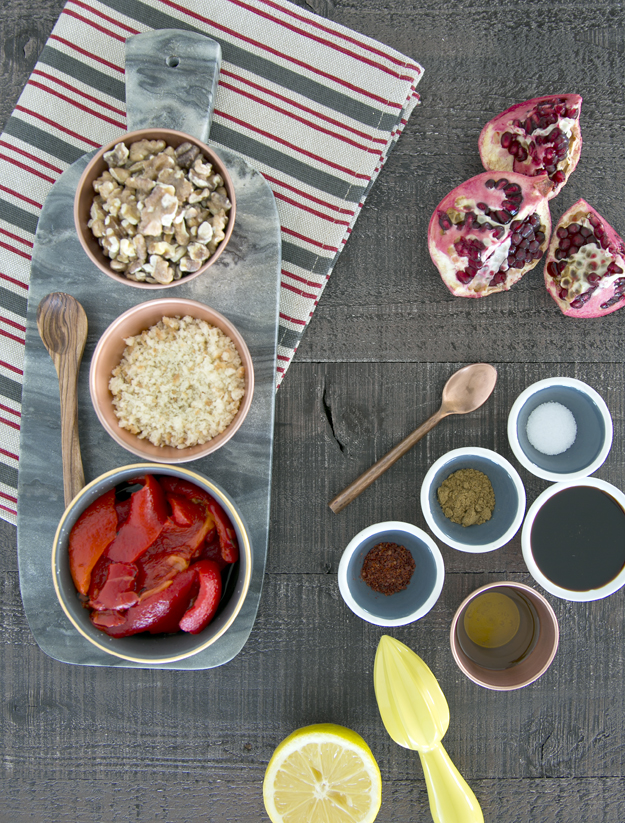 Most recipes called for roasting and peeling fresh red peppers, but I was feeling a bit lazy, so I just used jarred roasted red peppers. Some brands are heavy on the vinegar, so taste the peppers first and rinse them if they taste too vinegary. Measure out all your ingredients and then start processing.
I garnished the finished dip with extra drizzles of olive oil and pomegranate molasses. A scatter of fresh pomegranate seeds and chopped toasted walnuts add a welcome crunch. Fresh mint sprigs look pretty. You can serve it with pita chips or warmed fresh pita. I used whole wheat mini pitas.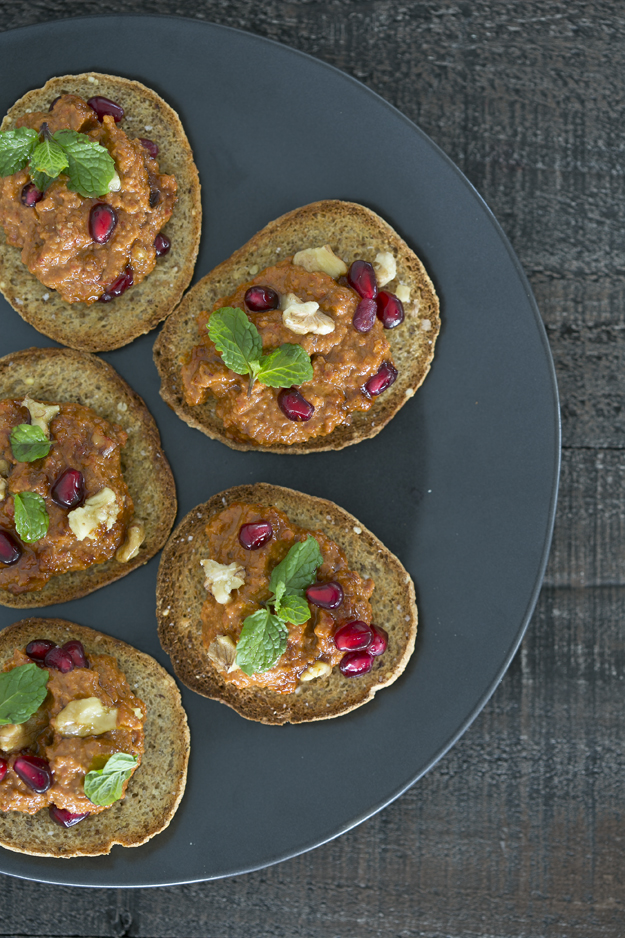 Click here to print recipe for Muhhammara.