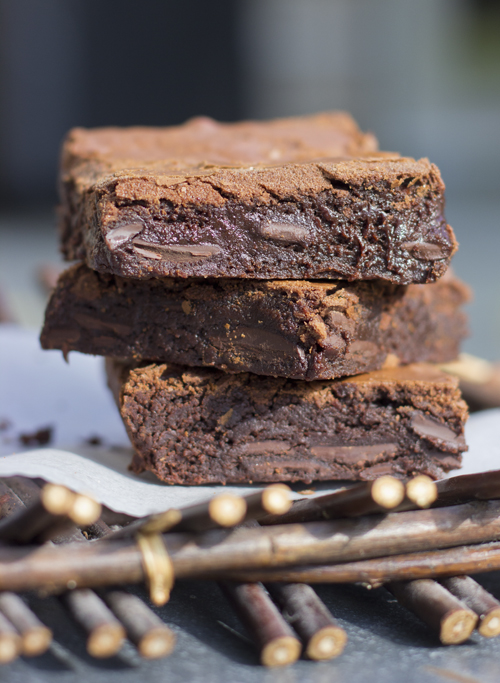 If we are to be completely honest with ourselves, we all have one! I'm referring to celebrity crushes here. You know what I'm talking about; someone in the public eye that you would actually have no chance with, but can't help but like/be attracted to/daydream about. Celebrity crushes are a harmless way to perk up an otherwise drab day.
So here's what I'm thinking. If somehow my darling husband meets his maker and dies an early death, and George Clooney were not available, I would likely hook up with Nick Malgieri. WHO???
Nick is an acclaimed pastry chef, teacher and author, with over 10 cookbooks to his name. I first began crushing on him in 2000 when I discovered his book, "Cookies Unlimited." Here was a man who spoke my language and completely understood me. I think there is no better way to end a meal than a cookie. Nick shares my philosophy and offered me over 400 cookies to choose from. He really sealed the deal when I made his oatmeal lace cookies. Two gossamer thin oatmeal cookies sandwiched together with chocolate ganache.
Before Nick, there was Rance Mulliniks. And unless you are a major league baseball fan from the last century, you may once again say, "WHO??" Check him out in Wikipedia."Rance played third base for the Toronto Blue Jays during their heyday period. He batted over .300 three times (1984, 1987 and 1989) and demonstrated great patience at the plate, regularly posting on-base percentages near .400. In 1984 he was named to Sports Illustrated's Dream Team as a utility infielder."
My husband is not threatened by either Nick or Rance. If you were to Google them you would instantly see why. Neither is genetically blessed with movie star looks, but physical pulchritude is besides the point here. Nick and I would spend our sunset years eating cookies and he would not care one bit how fat I became. Rance and I would watch reruns of the 1992 and 1993 World Series games over and over again. I never grow tired of hearing Jerry Howarth and Tom Cheek announcing, "Now batting for the Blue Jays, Number 5, Raaaance Mulliniks."
As I was thinking about writing this column, it occurred to me that I had never asked my husband who his celebrity crush was. I suppose I should be flattered that it took him a full 8 hours to come up with an answer, and a further 7 hours to recall her name. (It was actress Mila Kunis, in case you are curious.) Upon further reflection, I wondered if his inability to instantly come up with a celebrity name meant he just lacked imagination. Not so, it's just that he is very firmly rooted in practicality. So practical in fact, that he has decided that should I go first, he will take up with one of my good friends, since she already knows her way around the cottage kitchen! You have to admire his pragmatic nature.
Celebrity crushes are really quite innocuous, unless of course you start to take it too far and begin imagining that your crush would adore you if he met you, or start wondering if there is enough closet space for all your clothes at his place, once he tells his wife he's leaving her for you. You know you have moved into danger territory if you start visualizing how your dishes will look in his kitchen and wondering if he would find you too forward if you insisted he paint his kitchen Benjamin Moore 360 (San Fernando Sunshine) as the current paint colour he has offends your strong sense of aesthetic. If this happens, you need to seek help, or a restraining order may be in your future.
My sister has fallen into the stalker territory with her crush on P.E.I Food Network Chef Michael Smith. It all seemed harmless enough at the beginning but once she found out he was separating from wife Rachel, visions of co-parenting their son Gabe, filled her head. Gabe is an amazing little guy, who eats everything his chef dad makes for him! Her hopes were quickly dashed when she discovered he was having a second child with a new love, Chastity Fizzard. Folks, I am not making this stuff up!
My sister has recovered, but Chef Michael's star has somewhat tarnished in her eyes. That being said, she is correct in bragging about his Triple Chocolate Brownies. I have tried many different brownie recipes in my years of baking, but these come close to perfection. Deeply chocolate, chewy, fudgy and very rich and decadent. They could be just the thing to help you get over your celebrity crush.
Melt butter and 8 ounces of the very best quality bittersweet chocolate you can find. Do not use chocolate chips here. Chocolate chips contain an emulsifier in them to help them hold their shape during baking. Buy good quality chocolate (at least 60-70% cocoa content). I like Callebaut 70 %. Lindt bars  (70%) will also work quite well. I melt the butter and chocolate in a large stainless steel bowl set over a pot of simmering water. Make sure the water does not touch the bottom of the bowl.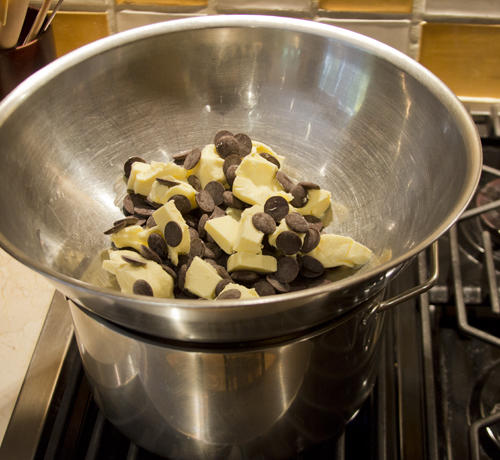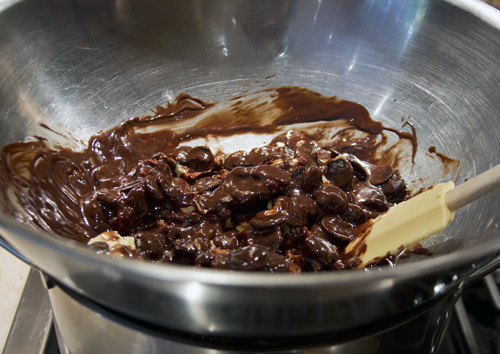 Sift the flour, baking powder, salt and cocoa powder so that there are no lumps.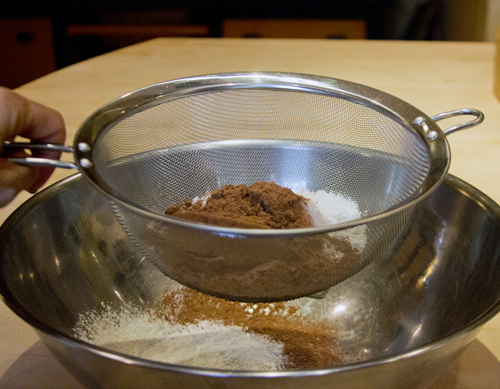 Eggs, brown sugar and vanilla are added. The chocolate in these brownies is ramped up  even further by the addition of chocolate chips. You can use regular chocolate chips for this part of the recipe, but you will have even more stellar results if you just chop up some of the good stuff! (70% bittersweet chocolate)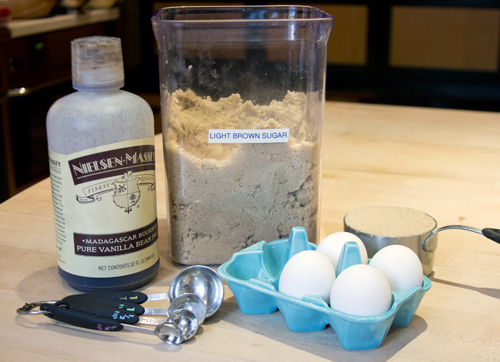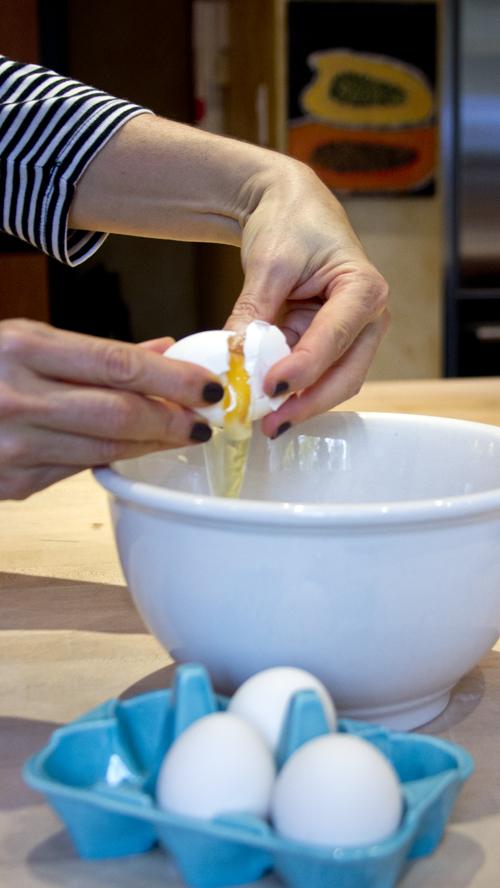 Batter is mixed and poured into a parchment lined 9 x 13 Pyrex pan. You can grease and flour the pan, but parchment makes cleanup so easy and it makes cutting the brownies into squares a snap.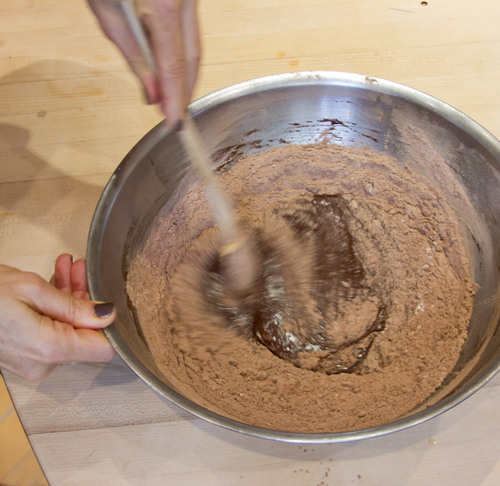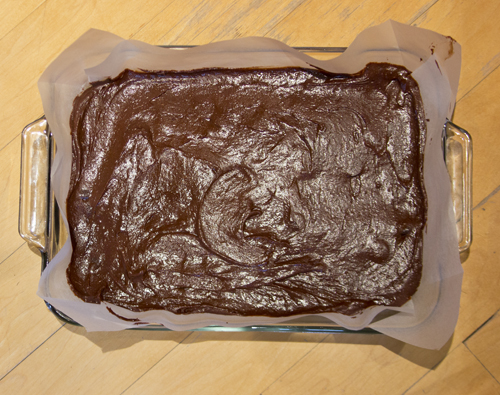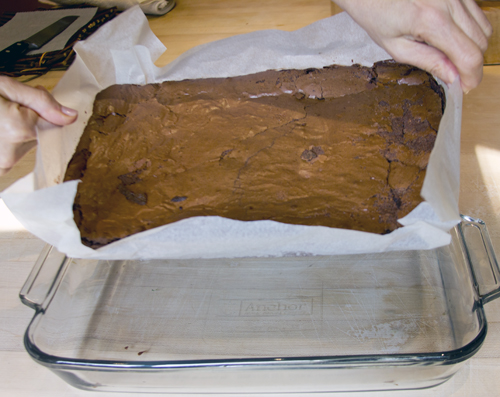 My sister likes to cut them into perfect Isosceles triangles. My fine motor skills are not quite as finely honed, but any shape will be devoured. They are quite moist and fudgy and the addition of chocolate chips to the batter makes for a nice surprise.