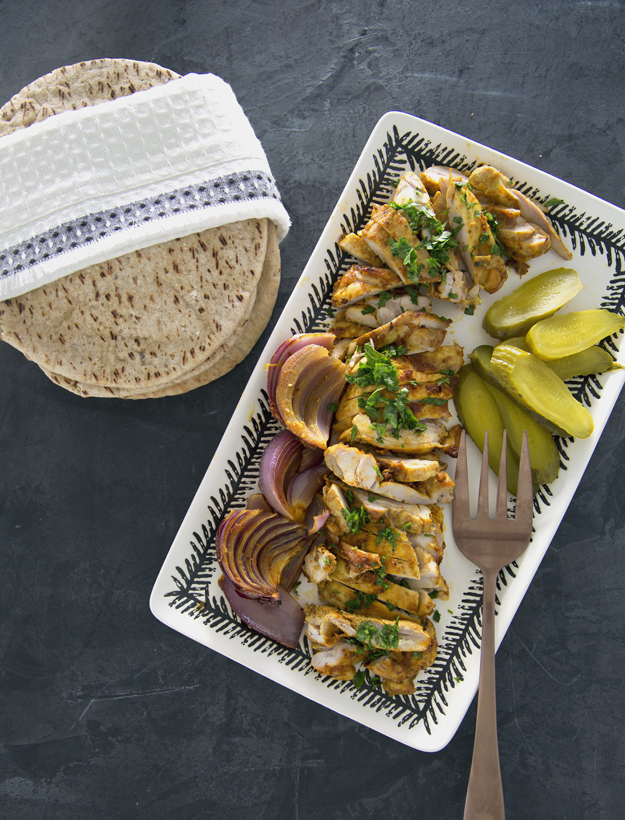 I live in Ottawa, while my mom, brother and four sisters all live in Toronto. I don't get to see them nearly as much as I would like to. Admittedly, we have become a little lazy about communicating with each other. These days, it's mostly emails and texts and very few phone calls.
Last week I got an email from my brother. The subject line read, "Mom passed!!" My heart stopped. Logically I knew that my brother would never tell me that mom died in an email. But in the heat of the moment, I got nervous, and for good reason. My family and I have a bit of a sketchy history when it comes to communicating about death.
When I was in University, I came home one weekend for a visit. I asked my sister where Heidi, our dog, was. Apparently, my parents had put her down a month ago, and no one remembered to tell me. I was also the very last one of my siblings to know that my dad died, although to be fair, the signs were there.
You will be relieved to know that mom did not die. The body of the text read: "Mom passed her drivers test today. 2 more yrs of driving at least. Wish her Mazel Tov!" My mom is 82 years old. In  Ontario, after the age of 80, you must take a test every 2 years to ensure that you are still fit to drive. I fired off an email to my brother with the subject line, "Don't send an email with the heading "Mom passed". It could be misinterpreted." Then I promptly called my mom to say congrats and I love you. For the record, all my sisters had momentary heart failure and my brother properly apologized. 
The recipe for this chicken shawarma came to my attention via a text from my baby sister. She is always sending me links to different recipes she thinks I would like. She said she'd never read a recipe with so many positive reviews.
Recipes are like rumours. You must always consider the source. This recipe is from an impeccable source, Sam Sifton, food editor of The New York Times. If you don't already subscribe to cooking.nytimes.com, get on it right away! It is one of the best food websites. Their Mobile App is fantastic. Not only can you save and categorize their database of over 18,000 recipes, you can also save non-NYT recipes to your recipe box. I finally have a way to save all the online recipes I am inspired by, in one place. Genius! Subscribing to their daily newsletter is free, but they charge $5 US per month for the App.
Boneless skinless chicken thighs are bathed in a highly flavourful marinade.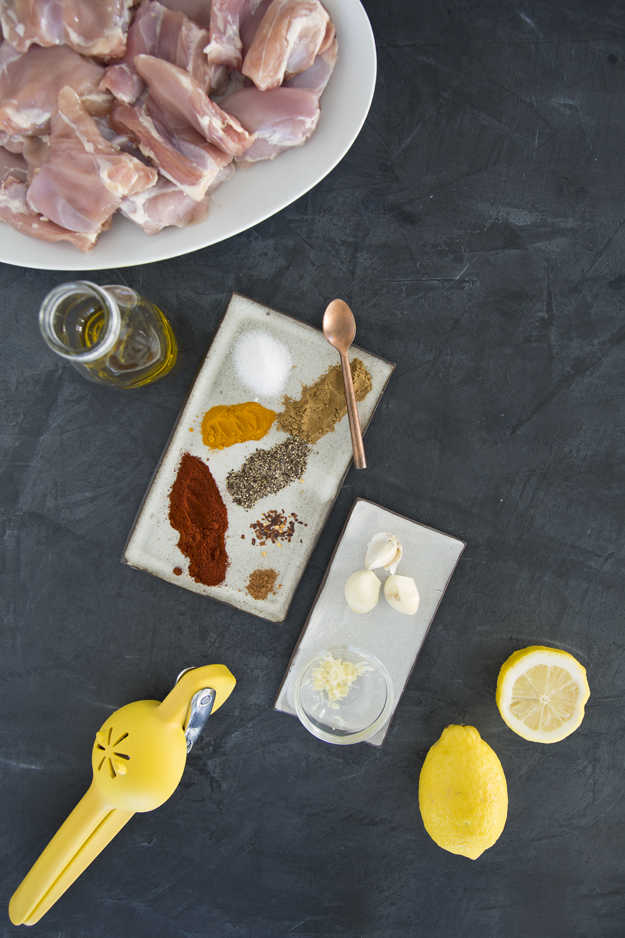 Let the thighs marinate for up to 12 hours in the fridge. If you're short on time, even an hour will still produce spectacular results.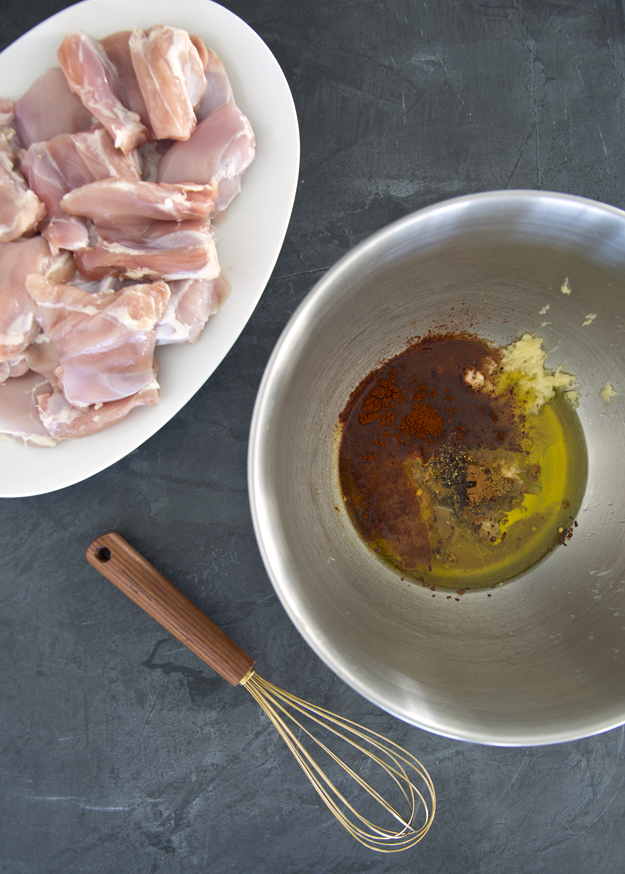 Add a quartered red onion to the sheet pan and bake the whole thing off for 30-40 minutes.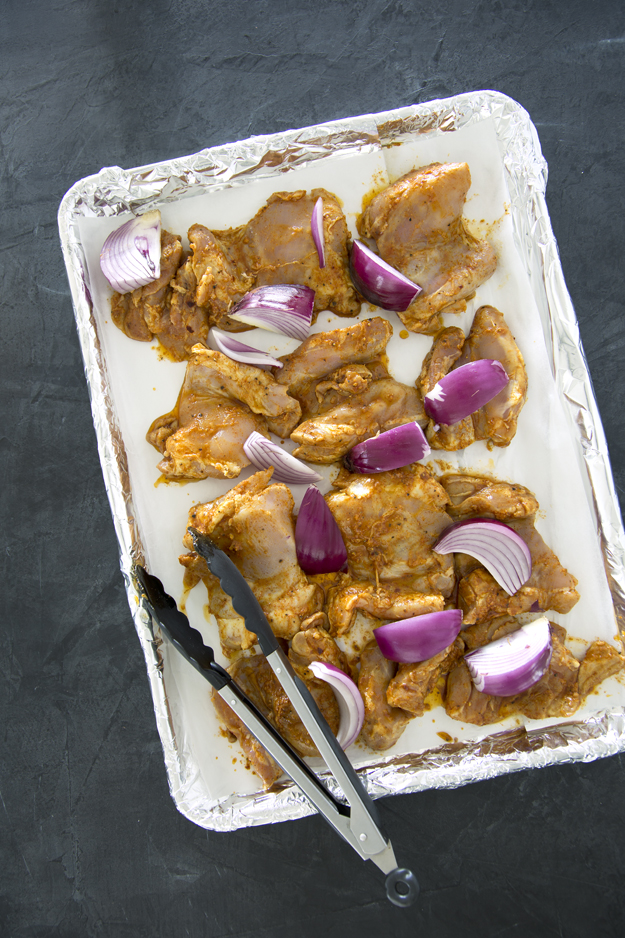 If you have time, mix up some great sides to go with the shawarma. I made an Israeli salad with cherry tomatoes, cucumbers and cilantro and dressed it simply with olive oil, lemon juice, salt, and pepper. I doctored up some store-bought hummus with a sprinkle of smoked paprika,  toasted pine nuts and a drizzle of good olive oil. I thinned some tahini with lemon juice and hot water for a drizzling sauce. I also added some charred corn slaw that I had leftover from last night's dinner. Sour dills and hot sauce are more than welcome to join this party.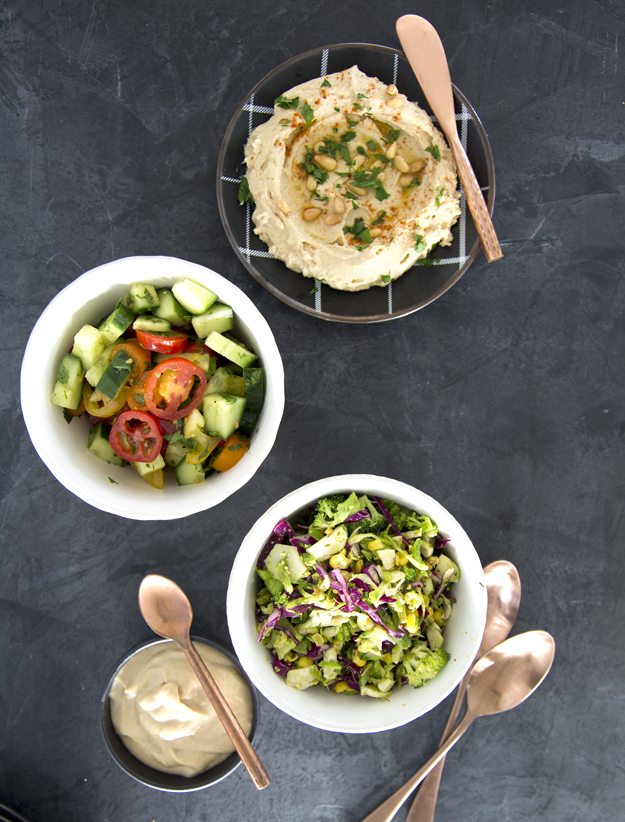 Stuff everything into a pita pocket or lay it flat and roll it up. Whichever way you choose to go, make sure you have plenty of napkins to catch all the drips. This is messy eating at its finest.