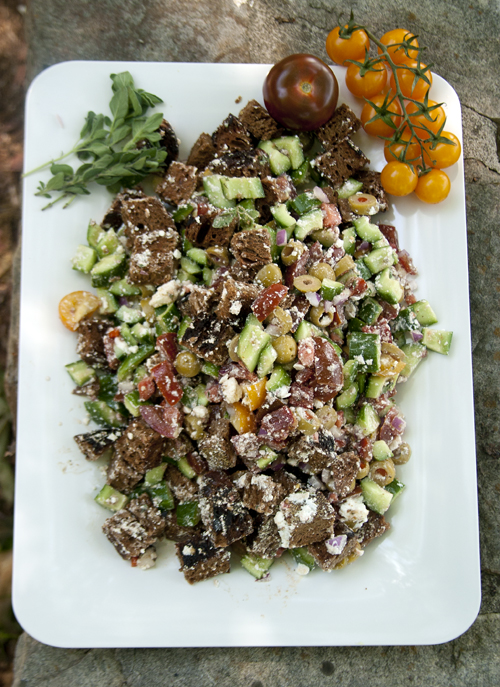 This salad is all about the ingredients. Let me say, right up front, if you can't find any good pumpernickel bread where you live, substitute a sourdough or other hearty type bread. Do not buy supermarket pumpernickel bread. It is too light and fluffy, and when grilled, it will just burn and then become sponge like in the salad.  It is not what you are looking for here. You need a dense heavy bread that can stand up to the rigors of the grill. I once actually made pumpernickel bread. It was good, but not great. Luckily, in Ottawa, where I live, we have the Rideau Bakery. They make a fantastic pumpernickel. Dense and chewy, it is the perfect vehicle for soaking up all the flavours of this salad.
This salad is the creation of grillmeisters Chris Schlesinger and John (Doc) Willoughby, from their book "Let the Flames Begin." Now you wouldn't expect to find a great salad in a book about BBQ, but these guys take grilling everything seriously. They give very detailed instructions for grilling the bread properly.
"Making a good piece of toast on the grill is actually not that easy. You want to get it really toasted – not just grill marked – but to stay tender on the inside. So cut the pumpernickel thick (1 inch) and make sure the fire is medium, not hot."
I overdosed on this salad several years ago, when I made it for lunch every Saturday for 8 weeks in a row. We finally got sick of it and I retired the recipe. But I was having a manicure a few weeks ago and my esthetician was telling me about a Macedonian feta cheese that she always buys. When she is not telling me filthy jokes, we talk food. She is originally from Bulgaria and I have learned so much from her. So when she talks about feta from Macedonia, I listen!  Macedonia, if you don't know (and, I didn't!), is bordered by Serbia to the North, Bulgaria to the East, Greece to the South and Albania to the West.
Macedonian Feta is very creamy, much like goat cheese. If you can't find it, a Greek feta would also do very well in this salad. Just make sure you find a feta that is not too dry and chalky.
Fresh oregano is called for in this salad. It really adds an earthy quality. If you can't find any, substitute fresh basil instead. I like to use a variety of coloured tomatoes in the salad. If you can find Lebanese (sometimes called Israeli) cucumbers for this salad, use them. If not, an english cucumber will also work. I don't bother peeling them, but I do take the time to scrape out the seeds, with a little teaspoon. Just slice the cuke in half lengthwise to remove the seeds. I find that sometimes the seeds can be bitter and they can also make the salad a bit watery.