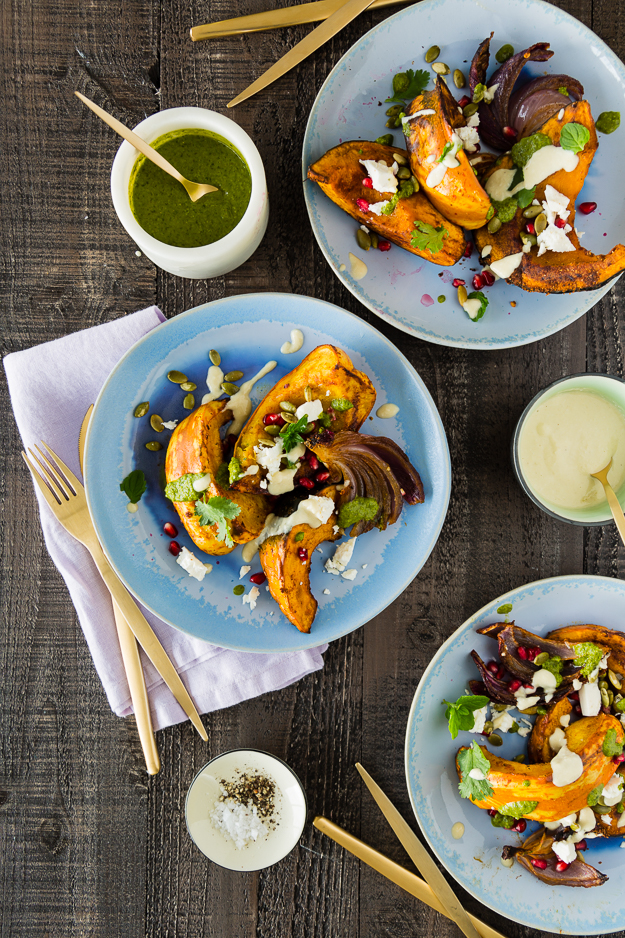 People tell my husband all the time how lucky he is. They imagine that being married to a food blogger is heaven, with something fresh and exciting for dinner every night. I'm here to dispell that image. I like to shoot in natural light. The optimal time for shooting in my kitchen is between 11 am -2 pm. By dinnertime, the food is cold and has been manhandled so much, nobody would want to eat it.
Often he will arrive home to a kitchen that looks like a tornado went through it. When I'm shooting, I try out different plates, bowls, and assorted props to get the right look. Those dishes pile up on the counter and in the sink. He generously and uncomplainingly washes those dishes. Curiously, he is opposed to drying dishes. He just likes to pile them up to let them air dry. But I'm not criticizing.
On days when I'm not shooting a new post, I'm just like you. I have a small repertoire of meals that I make on a weekly basis. Roasted squash is one of those items in the rotation. I either cut it into french fries or round circles. I always use butternut squash. I'm in a squash rut.
On a visit to the market last week, I was inspired to up my squash game and try some different varieties.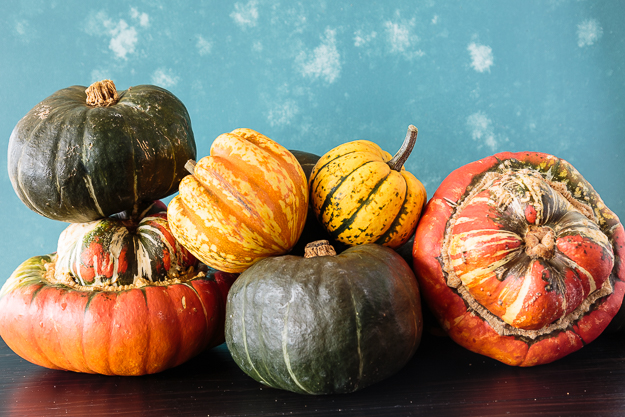 The jade green ones with the light green stripes are Kabocha squash. They are a Japanese squash that is fairly new to North America. Kabocha squash has a delicate honeyed sweetness and a smooth, almost fiberless texture. No need to peel this baby as the skin is very thin and roasts up crispy and delicious.
The deep orange ones, that look like they are topped with a Turk's turban are aptly named Turban Squash. They have so much personality. The taste is quite mild and the texture is floury, making it perfect for soups. Mostly it's used as a decorative squash because it's just so cute.
The smaller orange and yellow squash are known as Sweet Dumplings. Diminutive in size but mighty in flavour, these little guys are sweet and delicious. Bonus points because the skin is edible and you don't have to peel them. I sliced a Kobacha and a Sweet Dumpling into wedges and removed the seeds.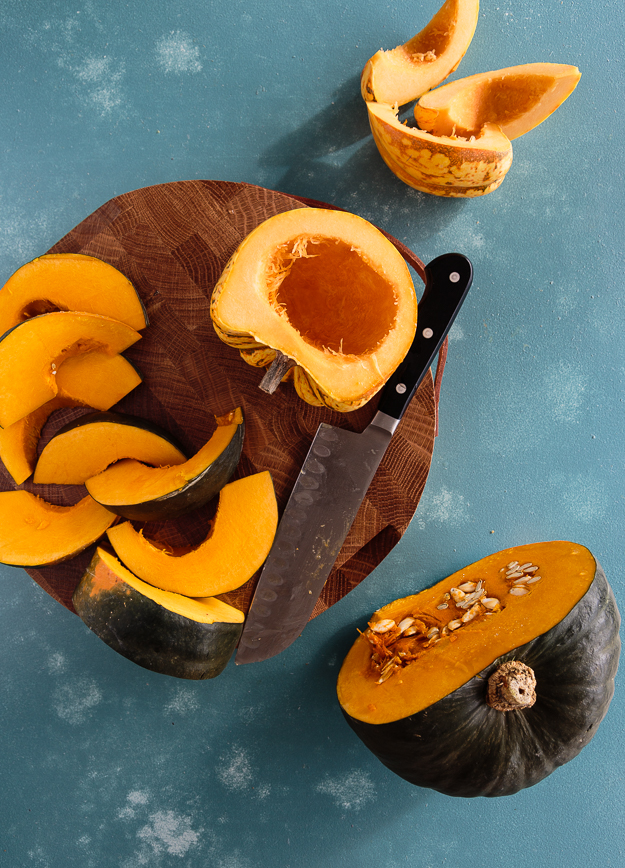 The October issue of delicious magazine was the source for this gorgeous dish. I adapted it slightly.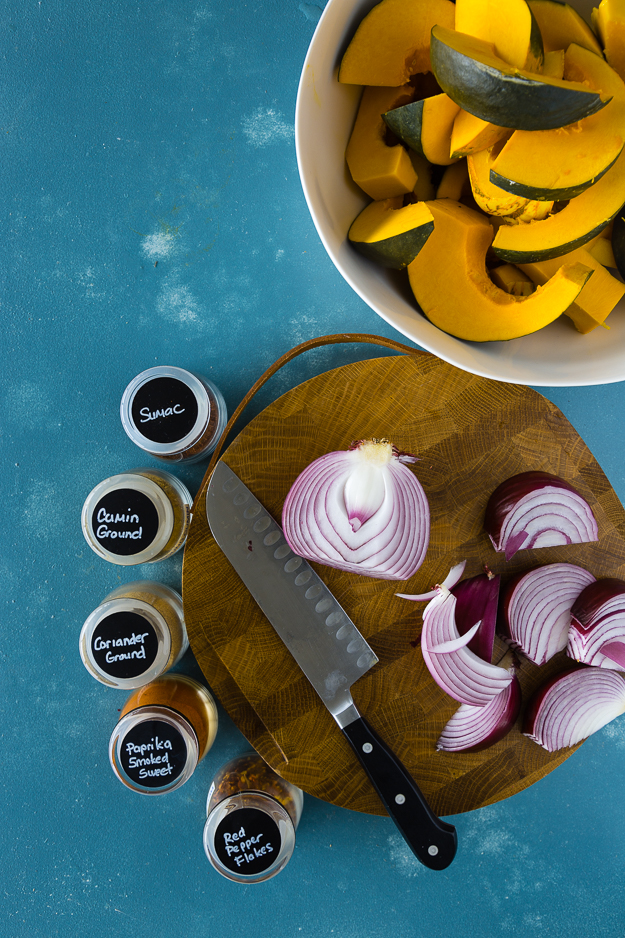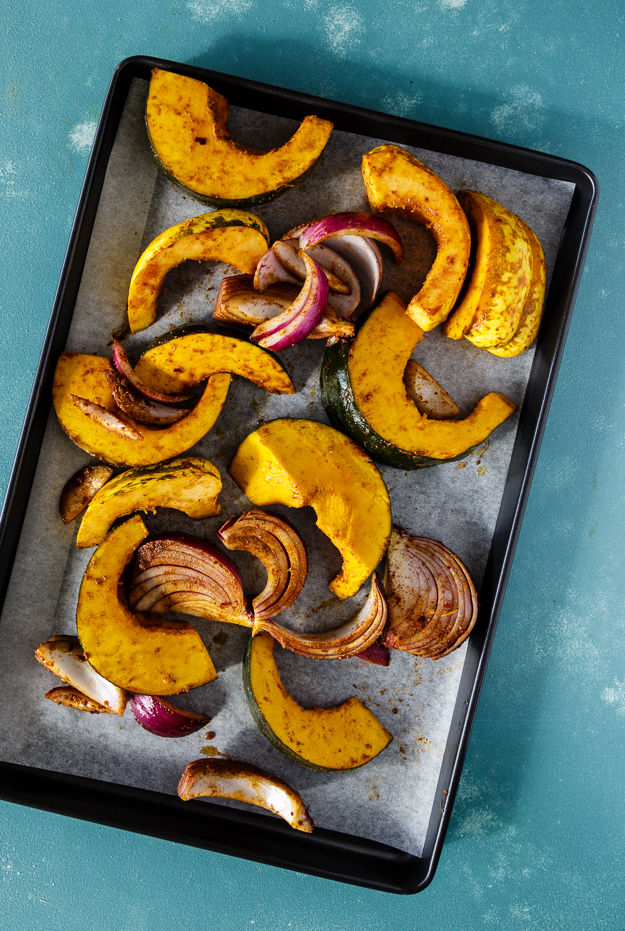 Once roasted the dish is garnished with toasted salted pumpkin seeds and pomegranate. I added some salty ricotta salata cheese, but feta or goat cheese would also be great.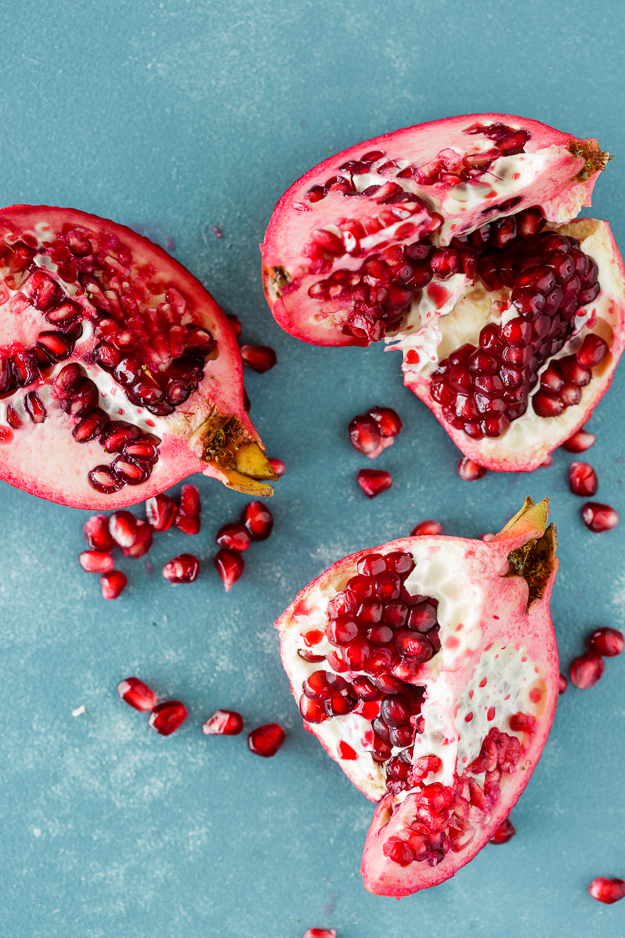 There are two sauces to drizzle on top. The first is a chermoula sauce, a spicy herb sauce often used in Moroccan cuisine.The second sauce is a tahini-based mixture. While you could certainly serve this without the sauces, they really elevate the dish to something special.