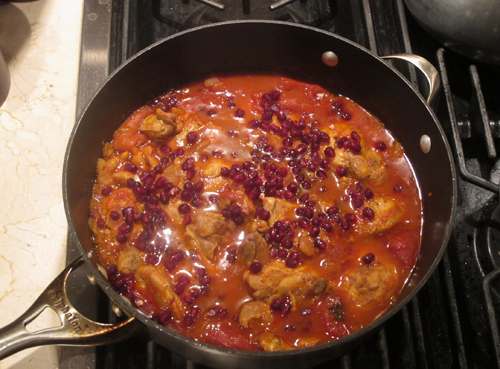 Now here's something you don't hear everyday.  My children are blessed with 23 first cousins!  My husband and I each have 5 siblings.  He has 4 brothers and a sister and I have 4 sisters and a brother.  (Didn't they made a movie about that??)  Every year, over the Christmas holidays, we take a vacation with his side of the family.  Over the years the numbers have ebbed and flowed.  This year we numbered 24.  We spent 11 glorious days on the island of Anguilla.  Going on holiday is joyful.  Coming home, not quite as wonderful.  I managed to avoid cooking for the first 2 days we were back but by the third day, the family was demanding to be fed.  And sadly, room service was no longer an option.  My go-to dish, when I can't think of what else to make, is Pomegranate Chicken.
You may be wondering what is going on here?  Why is she not feeding her family cookies or bread you may be asking yourself.  Regular readers of this blog know that they can count on Salt and Serenity for all things baked.  However, for the next little while, we may have to lay off the baking.  If you followed me through my 8 days of holiday baking and then the Almond Berry Shortbread Torte , followed by 11 days of tropical cocktails, you may have guessed that we have put on a few pounds here.  Or perhaps as my delusional  husband said, "I think the scale is broken!"  So with a little resolve and willpower, we hope to take off those excess pounds this month. Hence, today's post for Pomegranate Chicken.  Besides, I had to use up that wrinkled pomegranate that somehow missed the pre-holiday fridge cleaning.
Begin with grating some garlic and dicing a few onions.  I usually use a jalapeno pepper in this recipe, but only had a Serrano pepper, so I used half of that.  You may notice in the photos below that my fingers look like they have developed some scaly disease.  Fear not, I am just wearing gloves for seeding and dicing the peppers.  I once worked for a chef who told me that he went to the bathroom after chopping jalapeno and suffered mightily afterwards for many hours.  I am an eye rubber and have been burned on more than one occasion so I always wear latex gloves when handling peppers.
When I was dicing the onions, my daughter asked me to make  a video, showing the proper way to do it.  She said that she tried to describe how to do it over the phone to her girlfriend, but couldn't properly explain it, so Christina, this video is for you!
I like to use boneless skinless chicken thighs for this recipe.  I find they have way more flavour than breasts and overcooking them is very difficult to do.  The chicken gets seasoned with salt, pepper and paprika.  Then it is browned on both sides and removed from the pan.  With the remaining fat in the pan, saute the onions, garlic and jalapeno.
A can of plum tomatoes and some pomegranate concentrate are added next.  This is different from pomegranate juice.  It is essentially a boiled down concentrated pomegranate syrup.  It is usually available at Middle Eastern stores.  Then the chicken gets added back in and the whole thing simmers, covered for about 40 minutes.
I was very excited to try Nigella Lawson's method for removing seeds from a pomegranate.  I am happy to report, that while I do not look as gorgeous as her while removing my seeds, her method works quite well and is an excellent stress reliever!
Garnish with fresh pomegranate seeds.
To print the recipe, click here.
P.S.  I was at the bookstore today and bought this.  I know I should be feeling guilty, but I managed to convince myself that it is for research purposes and bedtime reading only.  (And I call my husband delusional.)