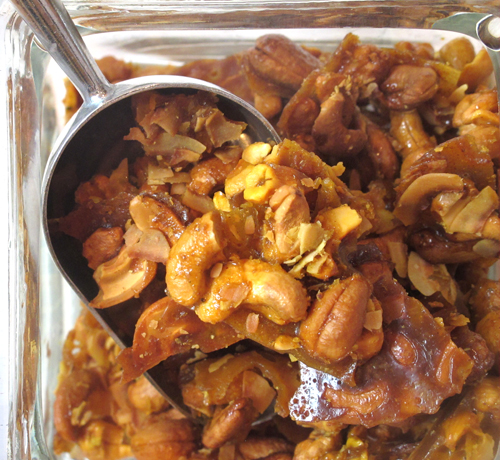 I used to think I didn't like the flavour of curry. And then, a few years ago, my good friend Mrs. Grizzly (that's just my nickname for her!) brought these spiced cashews to my cottage as a little gift. After gobbling down most of the bag, I discovered that,  say… I  like curry! I do like it! I have since branched out and made Roasted Halibut Curry and Bobby Flay's Country Captain Chicken, from Throwdown.
Then, last week I was reading the June issue of Martha Stewart Living and I came across a recipe for Coconut Curry Cashews. I am like a fish attracted to sparkly lures when I see the word coconut. I go right for it and can't think about anything else. Of course I had to make these. (Just a little side note here, I had let my subscription to MSL lapse about a year ago because I was not finding anything inspiring in there. But I picked up the June issue at the supermarket last week and I found so many things I want to try.)
I headed to the bulk food store to get some cashews. There were three cashew bins in a row. The first had cashew pieces. The second held whole cashews and the third was filled with jumbo cashews. Ever wonder why a whole cashew tastes better than a half. And why jumbo cashews taste better than regular? Just one of life's little mysteries I guess. So I bit the bullet and bought the jumbos. (salted, of course!) I had some unsweetened flaked coconut at home from nutsonline. You could also use shredded coconut for this recipe, but the flaked is a little more luxurious.
Melt some butter, whisk in curry powder and then add honey, sugar and water.
Pour mixture onto cashews, mix well and spread out on a parchment lined baking sheet. Bake for about 15 minutes. Top with coconut and bake for an additional 7 minutes until all is golden.
It all baked together into a beautifully shellacked sheet of cashew brittle. Each and every cashew is perfectly and completely coated. After it cooled, I broke it into little bite sized pieces and tasted. This is buttery, toasty, crispy goodness with a kick of curry. It is highly addictive. You will find yourself eating one cluster, then another and then another until  finally, your hand reaches the bottom of an empty bag. You will be hooked.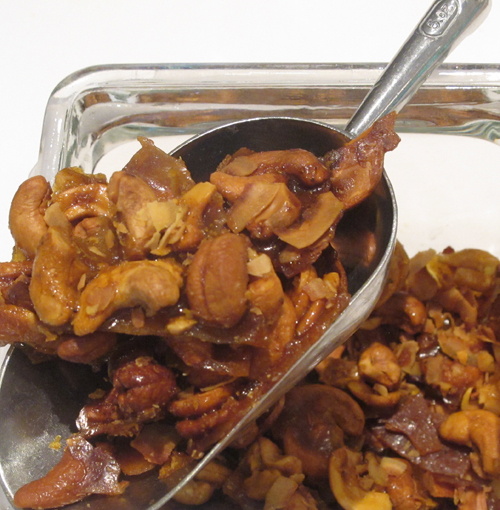 To print the recipe for Coconut Curry Cashews, click here.