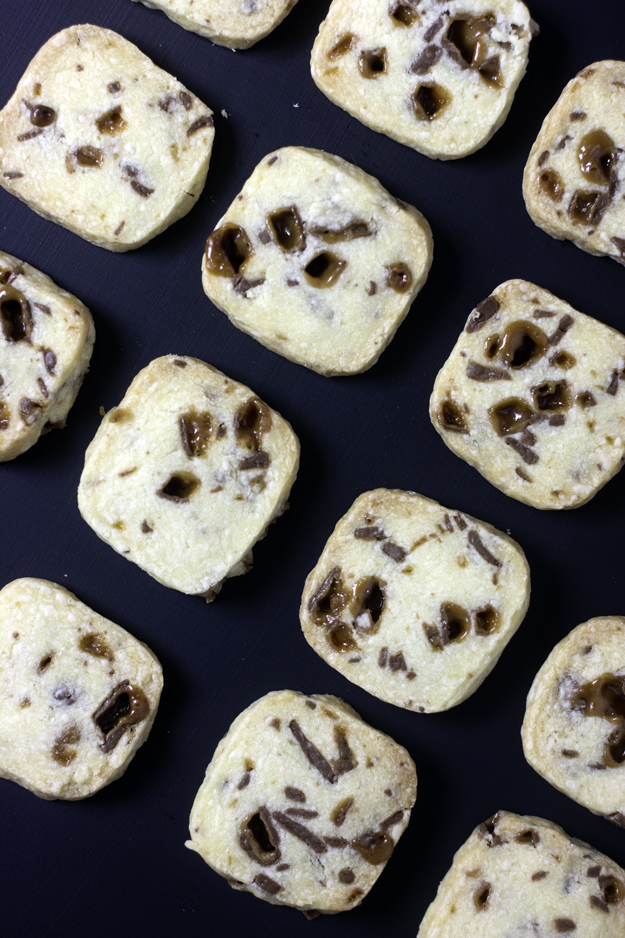 If a cookie could be my Spirit Animal, (and in the fertile playground that is my mind, why the hell not), Salted Skor Bar Shortbread would be mine. These cookies embody everything that I aspire to be. Well balanced, little bit sweet, a little bit salty, with a bittersweet surprise mixed in.
The recipe is based on Martha's Holiday Shortbread. In December 2012, my blogger friend Bobbi, over at Bob Vivant, wrote about her sister's adaptation of them, which included the addition of lots of coarse sea salt and chocolate chips. She called them "addictive little buggers." I deleted the chocolate chips and added chopped up Skor Bars (Heath Bars if you live in America). I think thay are cookie perfection.
If my husband and kids are reading this, please make sure that these cookies are served at my funeral. I am thinking that they could be passed around just before the eulogy starts. If they can pass out candies to throw at Bar Mitzvahs, why not Salted Skor Bar Shortbread at a funeral? I think that a little nibble while listening to all those funny, touching stories about me, would be quite fitting.
My girlfriend Sandy was helping me make these cookies last week. She is a curious person and asks lots of questions, a very endearing quality! She asked me why her oatmeal raisin cookies spread so flat in the oven and mine, using the exact same recipe, spread only slightly. The problem, I suspect is with her butter. Most cookie recipes call for room temperature butter. That does not mean butter that has been sitting on the counter all day. Take the butter out of the fridge and cut it into 1/2 inch cubes. Let it sit for about 30 minutes and it will be at the perfect temperature. Cool butter creams perfectly with sugar, trapping and holding onto air, allowing you to create a better dough.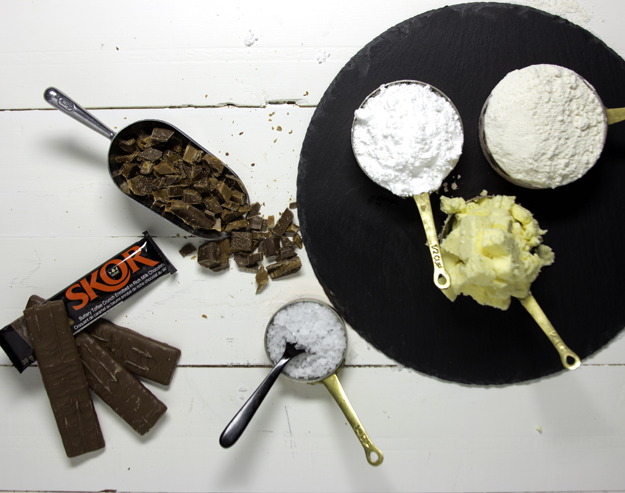 Once the dough is made, form it into a log and chill. You can make a round log or a square log. Square logs are simple to form.
These square cookies look so neat and tidy after slicing.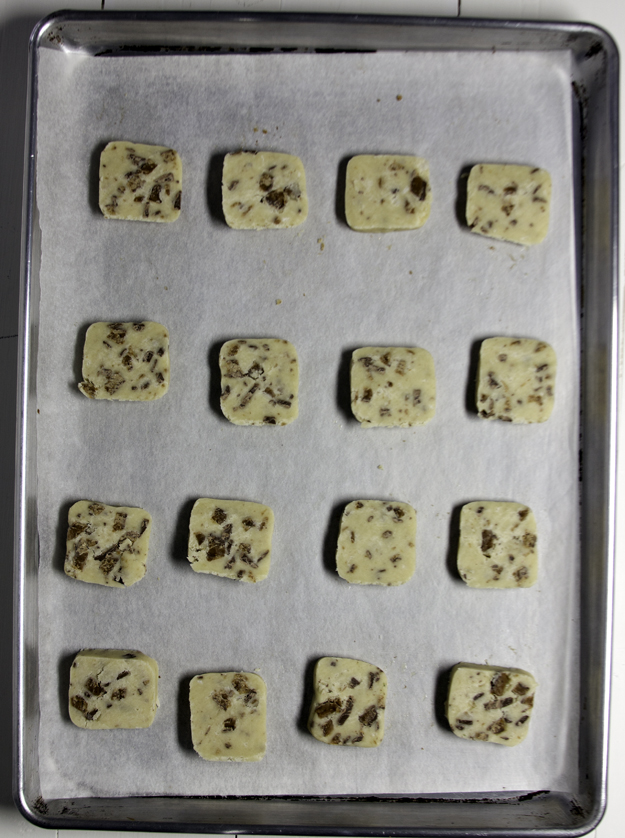 Then all hell breaks loose in the heat of the oven and rogue bits of toffee escape from the dough, forming delicious nooks, crannies and tails of very deeply flavoured toffee, just on the verge of being burnt, providing a wonderful bittersweet flavour and very crunchy texture.