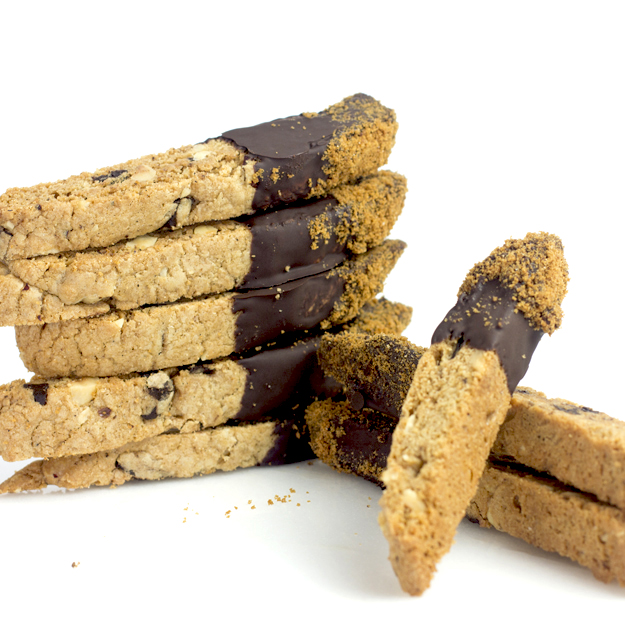 Before we get down to biscotti business, can we just chat for a few minutes about the PBS series "The Great British Baking Show". Is anybody else as obsessed with with it as I am? I can't seem to get enough of it. These are supposed amateur bakers who are blowing my mind with their sweet skills. Plus, the drama and controversy is really quite riveting to watch. The Real Housewives of Beverly Hills have nothing on these Brits!
I was totally "Team Martha" until sadly, she was eliminated last week, Only 17 years old and already so accomplished. Creative, artistic and cute as a button, I predict big things ahead for her.
OK, now onto more important matters, Cookie Butter Biscotti! When I mentioned to my husband that I was planning to blog about biscotti this week he got very excited. Then I had to gently break it to him that I wasn't planning to make those biscotti, but a new recipe instead, since I already posted about those biscotti already a few years ago. "Why bother making a different kind of biscotti, when your white chocolate, dried cherry, coconut biscotti are the ultimate?" he asked me. Not sure he really gets the concept of a food blog. You can't post the same recipe over and over again. Oh well, I was convinced that once he crunched into one of these sweet and spicy babies, he'd come around.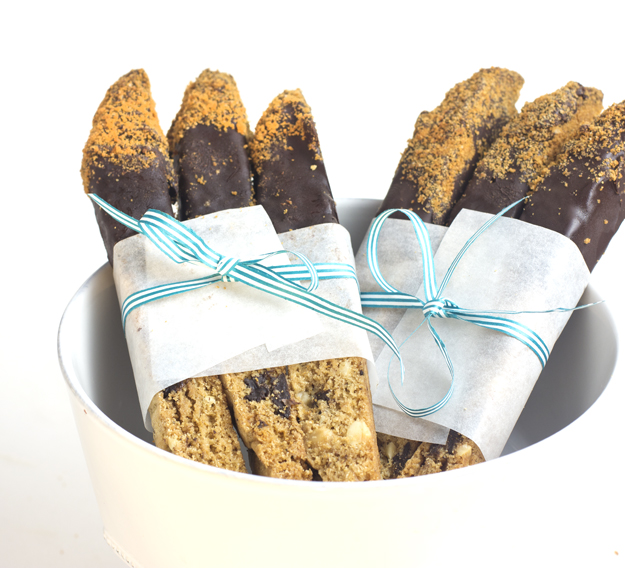 The inspiration for this recipe came from my sister Bonnie. She is always sending me recipe ideas and photos. The original recipe was for peanut butter chocolate biscotti. But since I had lots of cookie butter in the cupboard, left over from making these, I decided to substitute cookie butter (speculoos spread) for the peanut butter.
Cookie Butter is just ground up Speculoos or Biscoff cookies (a gingersnap type Belgian cookie), sugar and oil. If you live in the U.S., Trader Joe's carries their own brand. In Canada, the Lotus brand is available at Loblaws.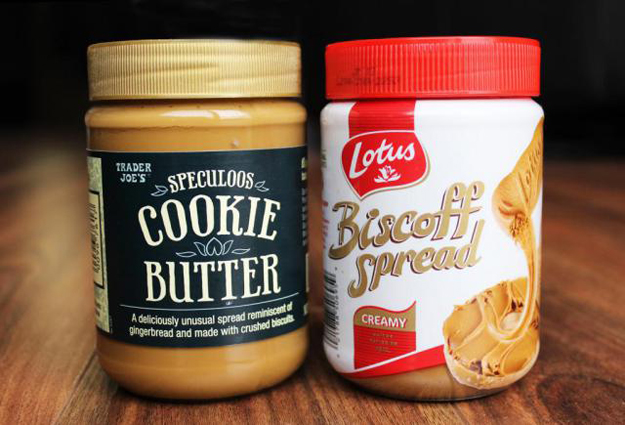 I thought that the buttery rich flavour of toasted hazelnuts would really complement the spicy ginger in these biscotti. And of course, bittersweet chocolate is always invited to any cookie party.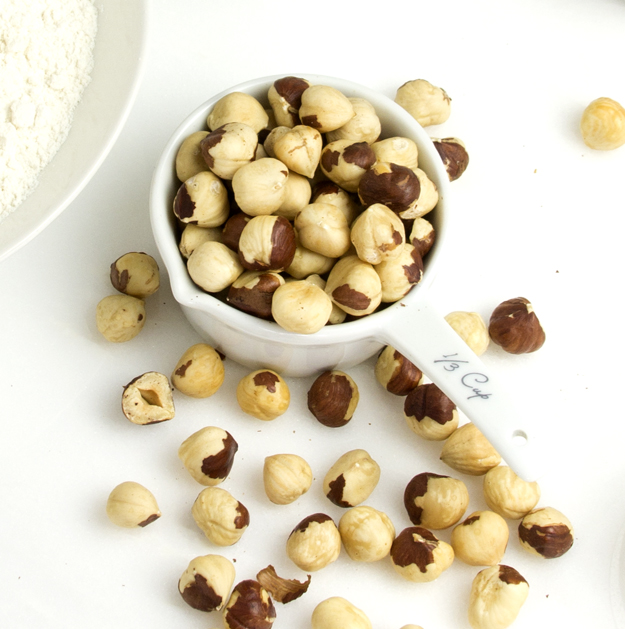 Hazelnuts come with a thin skin on them, which can taste bitter. Removing the skin is simple. Toast hazelnuts on a baking sheet in the oven 10 to 15 minutes, or until lightly coloured and skins are blistered. Wrap nuts in a kitchen towel and let steam 1 minute. Rub nuts in towel to remove loose skins. Don't worry about any stubborn skins that don't come off. Let cool completely.
The dough gets divided into thirds and using your hands, form 3 flat logs.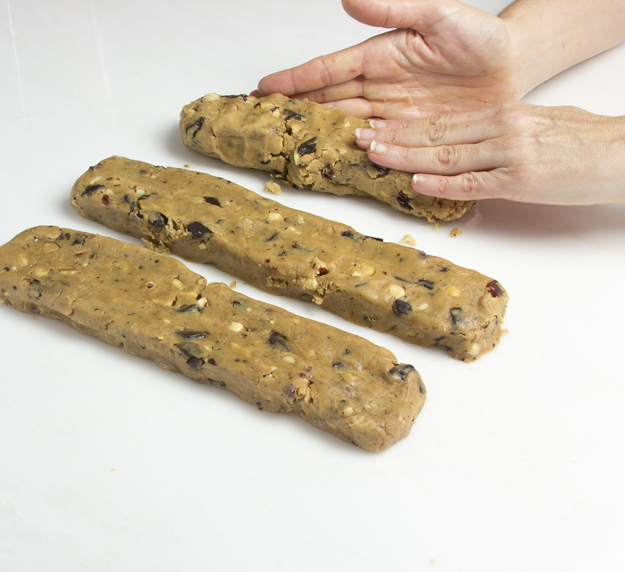 The logs spread quite a bit, so give each log its own baking sheet. Here's a before and after shot of the first bake.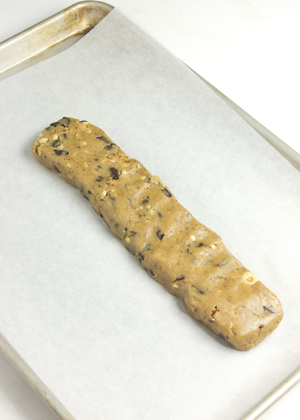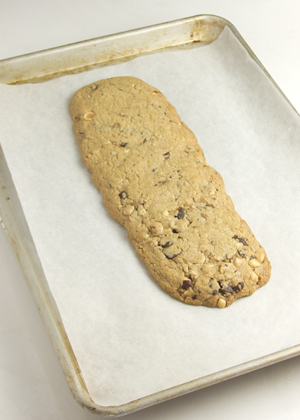 Cool the logs for at least 30 minutes and then slice on the diagonal into 1/2 inch thick biscotti.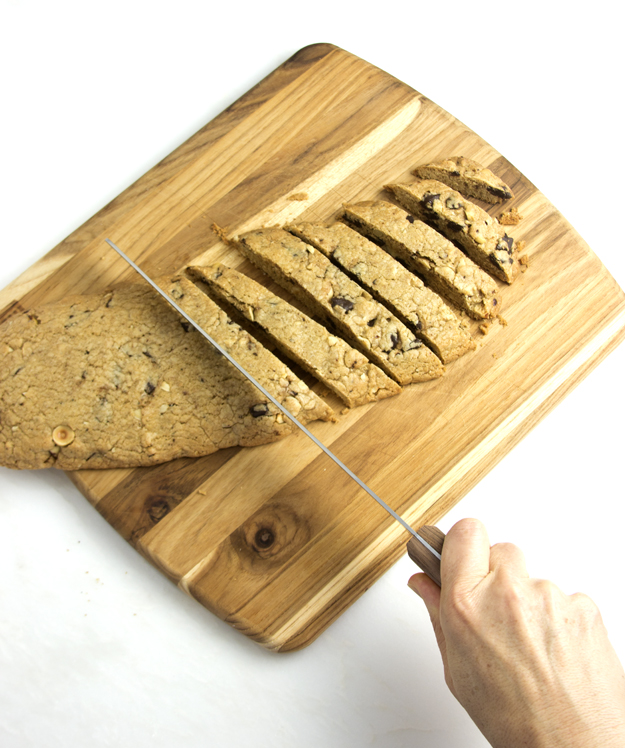 Back into the oven for a second bake (Hence the name biscotti – or twice baked!)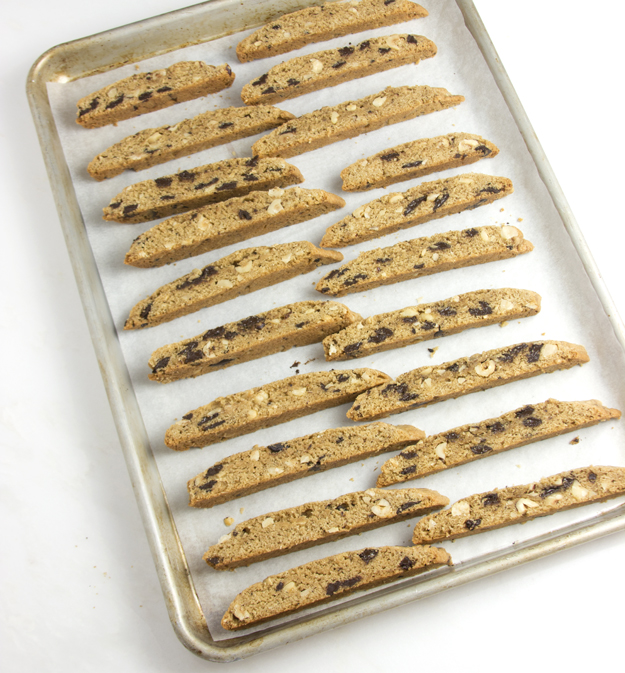 While the cookies are baking, melt some bittersweet chocolate and grind up some Speculoos or gingersnap cookies.