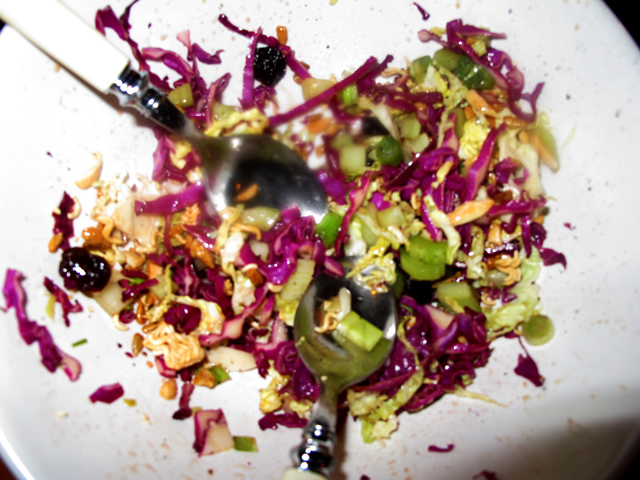 My friend Lanie served this delicious salad to me, last summer.  The original recipe comes from Susie Fishbein's book, "Kosher by Design". This is my adaptation.  The recipe makes more dressing and crunch mixture than you will need.  Extra dressing keeps well in the fridge for 2 weeks.  The extra crunch mixture will keep well in an airtight container at room temperature.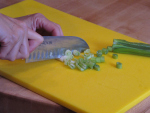 Crunch mixture
1 package of Ramen noodle soup (discard spice packet)
½ cup sesame seeds
½ cup slivered almonds
½ cup honey roasted sunflower seeds
Dressing
1 cup vegetable or canola oil
2 tablespoons soy sauce
¾ cup sugar
½ cup red wine vinegar
1 teaspoon kosher salt
¼ teaspoon pepper
Coleslaw
½ purple cabbage, thinly sliced
½ Savoy or Napa green cabbage
3 green onions, thinly sliced
2 celery stalks, diced
½ cup dried cherries
1.  Preheat oven to 350 degrees F.  Break the Ramen noodles into small pieces and place in a large bowl.  Add sesame seeds and slivered almonds  to bowl and toss to mix.  Transfer contents of bowl to a large baking sheet and bake in oven for about 8-10 minutes, until golden brown.  Remove from oven and set aside to cool. When cool mix in the honey roasted sunflower seeds.
 2.  Place ingredients for dressing in a large jar and shake well to combine.
 3.  Place cabbages, green onion, celery and dried cherries in a large serving bowl.  Toss to combine.  Just before serving, add about ¼ cup dressing and 1 cup of crunch mixture to coleslaw.  Toss well to combine.  Taste and add additional dressing, salt and pepper, if desired.