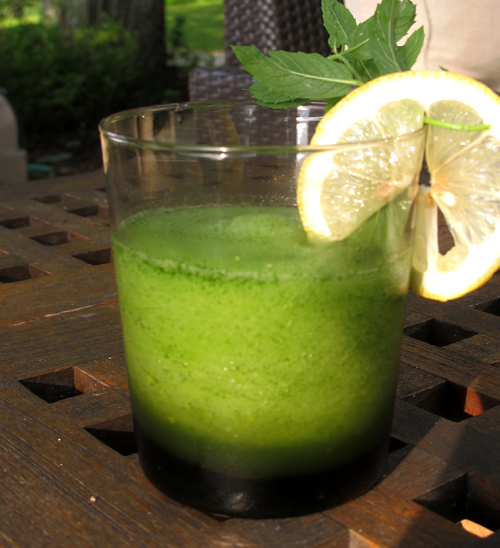 Ok, so Sept 1 is probably not the ideal time to be posting about frozen lemon mint mojitos. I mean, come on you slackers, it's back to school, back to work, time to clean out your closets , dust those summer cob webs off your brain and get serious about life again.  On the other hand, maybe just one more mojito and then we can get serious about life again. After all, we still have Labout Day weekend coming up, so summer is not quite officially over yet.
The inspiration for this drink came from a popular non-alcoholic Israeli beverage. Ice, lemonade and mint are blended into a slushy brain freeze inducing concoction known as Limonata. In 2009 I had the good fortune of visiting Israel 4 times. My daughter was spending the year there and, what can I say, one of us had terrible separation anxiety issues! Each time I visited I would drink a Limonata and think to myself, "Oh, this would be so good with some vodka!" Then I would get home and forget all about it. Perhaps too much vodka?
Last weekend my sister, brother-in-law and kids were visiting at the cottage. My brother-in-law (I'll just call him Mr B.) is a blender virtuoso. I do believe he might have been a professional mixologist in his past life. it was cocktail hour and we were looking around the kitchen for something to create. The day before we made Bellinis and I could just tell that Mr. B. was a bit disappointed with that choice. Too pedestrian and ordinary. He was itching to create.
My sister had prepared a batch of simple syrup earlier in the day and it was chilling in the fridge. I looked in the freezer and unearthed a bottle of Lemon vodka that my son and his friends had not yet discovered. Suddenly I remembered the Limonata and we got busy creating. I squeezed some lemons, chopped some mint and we were on our way.
When I handed Mr. B. a measuring cup and asked him if he would mind keeping track of quantities, he got that wounded look on his face, like when his sainted Toronto Maple Leafs lose to the Ottawa Senators. Measuring is not in the lexicon of a culinary creative genius. When I explained to him that I wanted to feature him and the drink in my blog and that I needed to provide an exact recipe to my readers he perked up a bit and forgave me for my slight. He was excited to be featured in Salt and Serenity!
Our first batch was a bit too tart. The second batch, not quite enough mint. We hit perfection on the third batch. I'm warning you, these go down mighty quickly!