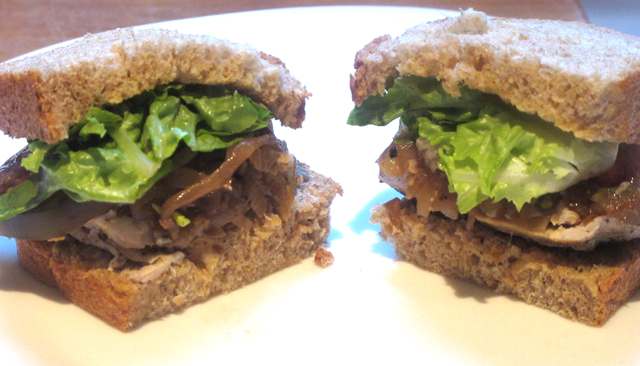 This week in the Bread Baker's Apprentice Challenge we tackle whole wheat bread.  I had been warned by fellow challengers that this bread was not a favourite.  One of the best things about participating in this challenge is the fraternity we have created.  We share our successes and failures (not that we have had too many of those!) as well as our knowledge.  I have discovered that bread bakers are a very generous people by nature.  They are willing to help one another and share what they have learned along the way. 
Mags shared her tip of adding vital wheat gluten to the dough to improve it.  Txfarmer shared 6 wonderful tips (including a longer autolyse time, double fermentation as well as longer kneading times) with us on how to improve this bread on our google group page.  As I read these helpful hints, I felt grateful to belong to such a giving group of bread freaks. 
Of course, by the time I actually got to baking this bread, several weeks later, my aging brain completely forgot about these helpful hints.   So I have no one to blame, but myself,  for my less than stellar results.  
Although this was the 41st bread in our challenge, this was actually the first time I had formed my bread into a "sandwich loaf" and baked it in a loaf pan.  Although this had been suggested as an option for many of the breads in this  book, I had always resisted, thinking that using a loaf pan made the bread look a little too uniform in shape and thus institutional and not artisnal or homemade.  My misshapen wonky hand formed loaves were made with love and no one could mistake them for factory bread!  However, I figured that shaping into a loaf to be baked in a loaf pan was another skill I should master before this challenge was over, so I went for it.
My little institutional bricks needed about 90 minutes of proofing before they crested up over the sides of the pan and were ready for baking.
The loaves baked for about 40 minutes and then I patiently waited the requisite 2 hours for them to cool so I could slice and taste.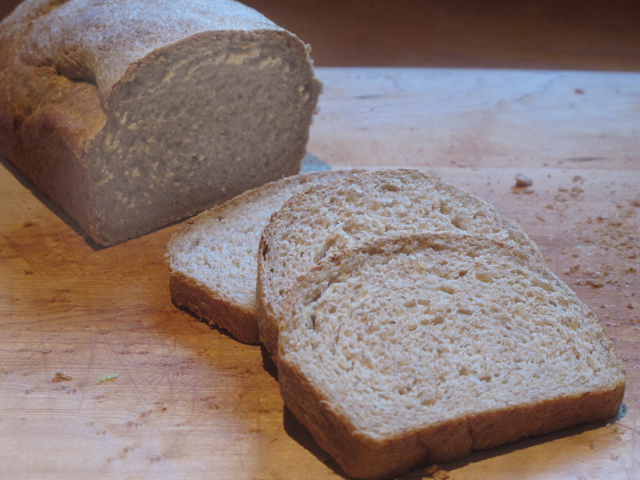 Oggi was right.  This bread was dry and crumbly.  And it was bland too, just like Sally said.  I was planning to serve this bread for dinner but was not exactly thrilled with the results.  This bread needed something to wake it up!  I whipped up a batch of smoked paprika mayo (garlic, lime juice and smoked paprika mixed with plain light mayo).   I sprinkled some chicken breasts with chipotle chile powder and grilled and sliced them up.  I caramelized some onions in olive oil.  I sliced some Kumato tomatoes and washed some leaf lettuce.
Killer chipotle chicken sandwiches with smoked paprika mayo!!